You are about to release your film Opie Gets Laid (formerly Sunnyvale) on DVD, which you wrote, directed, and starred in. Can you tell us what the film is about ?
The film is an edgy, off the wall comedy about the World's Biggest Loser. And how he ends up dating (and mating) three very different women at once. A pot dealer chick named Thai (played by April Wade), her blonde, butch and beautiful leather wearing lesbian girlfriend Dakota (Ute Werner), and Rain (Jesselynn Desmond), a free spirited, gun-toting girl who gets her rocks off answering anonymous internet personal ads.

If you like the darkly comic films of Wes Anderson, Hal Hartley, Edgar Wright, Woody Allen, the Coens, you'll love our film.
I heard the film described as an unromantic comedy. Would you agree with that ?
Yes, I would. But I'd go even farther and call it a romantic unromantic comedy. The film has comedy aplenty and it has it's fair share of romance as well. But it's all done from a slightly askew point of view. It's a romantic comedy for people who hate romantic comedies. And love them. We'll take on all comers.
What inspired you to the story of this film ?
It's semi-autobiographical. I was living a life not unlike the main character Opie for a few years. Living a pathetic comedic existence or eating way too much junk food, watching far too much TV, and basically not going out much. James Bond is an interesting character because he's extreme. He's the most badass, cool mofo on the planet. Opie is an interesting character for the same reasons. He's extreme. He's the most hilariously pathetic, sad sack loser on the planet. The polar opposite of a James Bond character. Extremes make characters cool and interesting.
What were some major influences for the film ?
Directors like Hal Hartley, Wes Anderson, Martin Scorsese, Quentin Tarantino, Bob Fosse, Paul Thomas Anderson, Woody Allen, Stanley Kubrick. A lot of great stand-up comedians influenced the writing of the script over the many drafts. Sam Kinison, Richard Pryor, Eddie Murphy. I'm someone who can draw influences from almost anywhere.
The film's website/mySpace/whatever else ?
www.myspace.com/opiegetslaid
www.opiegetslaid.com
How easy/difficult was it to get a good cast for Opie Gets Laid, and could you say a few words about your lead actresses ?
It just takes posting ads online or in the local acting trades. And then going through resumes and headshots, looking at online acting reels. You just have to go with your gut. I knew pretty much right away I had the right three main actresses for the film. And after their auditions I was even more sure.

April Wade, Ute Werner, and Jesselynn Desmond are fantastic actresses. They're funny and smart as well as sexy. We had a great supporting cast as well with actors Mark Wood, Samantha Turk, Gina DeVettori, Hutchi Hancock, Ellen Hughes, stand-up comic Chris Mitchell, and Heidemarie Fuentes. Heidemarie Fuentes also was the executive producer on the film, she was a great help getting the film made, an amazing person and producer. Anyone would be lucky to have her working on their project.
As an actor, how much did you enjoy to play the film's lead Opie ?
Acting is not as easy as it looks. It's one thing to endlessly rehearse your lines over and over in your apartment. But it's another when you have a camera and a crew and a boom mike and lighting and a set and other actors all around you. It can be about as comforting as a firing squad. You're mind is racing a mile a minute and you're praying you don't screw up your lines. It's tough, baby, it's tough. My hat's off to all the actors out there who don't break down under the pressure. I didn't, I'm proud to say. But it ain't easy. Especially when you're also juggling the creative powderkegs of screenwriting, directing and producing on the set as well.
Opie's women ...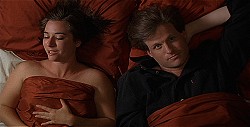 ... with April Wade ...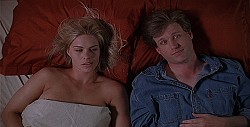 ... with Ute Werner ...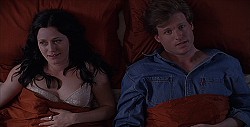 ... and with Jesselynn Desmond
He's your brainchild and you play him in the movie ... so how much do you think you have in common with Opie ?
I was never as lucky as Opie was to be juggling three women at once. But never say never, right? We have some of the same interests in geek culture. Comics, video games, the internet, cult movies, sci-fi. Maybe Opie is my wannabe alter-ego.
What do you enjoy most, directing, acting or writing, and why ?
Writing. It's a solitary thing and you can just keep polishing it over and over until you get it right. I'm getting faster and better with my writing though. But directing can be amazing as well. Directing a scene you've written with actors, camera, crew is an incredible almost surreal feeling.
Moving away from Opie Gets Laid for a bit, what can you tell us about your previous filmwork ?
Mostly it was a lot of spec scripts for movies and TV and student films. With Opie Gets Laid I finally decided to take the plunge and make my own film. Just jumped right in.
Why and how did you get started in films ?
On my own really. Just started by seeing films. Seeing them over and over. Then you start to develop an eye for how films are made, how the camera moves, how editing works, how comedy works, drama works, how sequences are staged and shot.
Your biggest influences as a director ...
Stan The Man, Stanley Kubrick. I love the lighting in his films. The look of Eyes Wide Shut, The Shining, Full Metal Jacket, A Clockwork Orange. Also the Coen Brothers, Sergio Leone, Frank Darabont, David Fincher, Martin Scorsese, Hal Hartley, Paul Thomas Anderson, Quentin Tarantino, Steven Spielberg, Lucio Fulci, Chan-wook Park, Sam Raimi, Oliver Stone, Sidney Pollack, Dario Argento, Clint Eastwood, Tim Robbins, David Lynch, Spike Lee, Bob Fosse, Woody Allen, Robert Townsend, John Woo, Francis Ford Coppola, George Lucas. With Lucas I love his first three films the best. THX 1138, American Graffiti, Star Wars. I like the original versions. The directors cuts are okay but I prefer the originals. Why mess with an already great film? I mean why pick up a happy baby, right?
... as a writer ...
Pulp writer Jim Thompson, Hal Hartley, Ayn Rand, Joel and Ethan Coen, David Lynch, Woody Allen, film critic J.C. Maçek.
... and as an actor ?
Robert DeNiro, Christian Bale, Martin Donovan, Bruce Campbell, Eddie Murphy, Harrison Ford, Malcolm McDowell, Tim Robbins, Morgan Freeman, Woody Allen, Clint Eastwood, Yun-Fat Chow, Brad Pitt, Jack Nicholson.
Recent movies you really liked ?
Zodiac, 3:10 To Yuma, No Country For Old Men, Once, The Assassination Of Jesse James, There Will Be Blood, The Host.

Feeling lucky ?
Want to
search
any of my partnershops yourself
for more, better results ?

The links below
will take you
just there!!!

Find James Ricardo
at the amazons ...

amazon.com

amazon.co.uk

amazon.de
Looking for imports ?
Find James Ricardo here ...
Something naughty ?
(Must be over 18 to go there !)

Your alltime favourites ?
A Clockwork Orange, Trust, Wall Street, The Shining, Blood Simple, Blue Velvet, All That Jazz, Raising Arizona, Apocalypse Now, Deep Red, Simple Men, Taxi Driver, The Exorcist, They Shoot Horses, Don't They?, Evil Dead II, Blade Runner, Oldboy, The Good, The Bad and The Ugly, Goodfellas.
And of course, which movies do you really deplore ?
Any of these endless piss poor remakes that get churned out. A remake can sometimes be good and even almost surpass the original in rare instances. Scorsese's Cape Fear comes to mind. And these lame big screen parody movies we get nowadays. But I guess even the people making those films have a passion for movies so you have to respect that.
Any future projects you'd like to share ?
I've got my next feature film already written. Another comedy. It is a sort of Lost In Translation-type comedy and weird love story. About two people who find an unlikely romance together with an unexpected twist. I love the title. It's called Nuke Me Slowly.
Anything else I've forgotten to ask but you are dieing to talk about ?
Yes! Everyone please check out Opie Gets Laid! It's a comedy that's actually funny. How often do we get that experience at the movies?
Thanks for the interview
and good luck with your film.
Thanks, man. You rock.