Ever wondered what youíre actually learning on a corporate training course? Building a tower out of Lego? Orienteering with the weird bloke from IT? And falling backwards off a table into your colleagues arms to prove that you Ďtrustí them?!?
Well, at least you didnít have to go on the course that Denzel unwittingly finds himself a part of in Shooting Incidentís new movie Phase Three. Rob Ireland [Rob Ireland interview - click here] squared the circle and ran it up the flag pole to see who saluted (thatís how these corporate types talk isnít it!?!) with Director Jamie McEvoy and Actor Ian M. Wilson [Ian M. Wilson interview - click here].
Hi Jamie. First of all, tell us about your background, and your role in the movie?
I am writer, director, shooter and editor on Phase Three. Basically, the movie is my baby and I have controlled all aspects of the production. I guess I am something of a control freak when it comes to movie making.
I started out in video production at the age of 15. One day it suddenly occurred to me that I want to be a film director. I canít explain how or why that thought entered my head Ė it just did! I was always passionate about watching films and how they provoked an emotional response from me, but on that day I made the decision that I wanted to be a film director. So the next step was to get a camera, which I wasted no time in doing. I got my friends onto the filmmaking bandwagon and put them in my films to start with. Iíd shoot in my back garden, then it progressed from the back garden to the local woods, to the streets, to shooting at 3am in the local shopping centre. Within 2 years of doing it as a hobby, I had enough work to start showing to people.
Fortunately, I met with a producer who runs his own studio and I showed him my work. He was hugely impressed and took me under his wing. We have been working together ever since.
So itís definitely got your stamp on it! Whatís the film about?
Phase Three is about a man with a plan. That man is Lucius Foy (Ian M. Wilson [Ian M. Wilson interview - click here]) - a noxious businessman with a crazy yet genius ideology. One night a teenager named Denzel Marsh (Mwansa Bwalya) tries to mug him but it gravely backfires. Denzel inadvertently becomes the subject of Luciusí crazy business training regime. He is set a series of tasks which if not completed will result in his death. Denzel chooses to embrace the journey out of fear for his life. He progresses from life on the streets as a small-time thug to one of the cityís most prosperous outlets. Itís a movie that challenges the audience to decide who is the good guy and who is the bad guy. That is something that I have rarely seen explored in cinema. Usually, films clearly illustrate who are the antagonist and protagonist, but in Phase Three, it is left up to the audience to decide. Even I am undecided.
What was the inspiration for the movie?
I love films that pull the wool over the audienceís eyes i.e. The Matrix, Inception, The Prestige, etc. I love a good twist at the end of a movie too. I enjoy films when they make the audience think they know what is going on, only to be revealed something that completely throws them off. I have based Phase Three on that very notion.
Sounds intriguing. How long have you been trying, and what did it take, to get this project of the ground?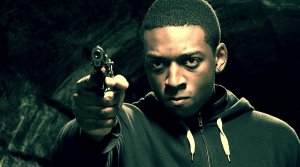 Mwansa Bwalya
I wrote the script in February 2011. Production began the following month. I work as a filmmaker in a busy studio in Leeds, so production was fairly easy to get off the ground. I also work with actors in the studio on a regular basis, so that enabled me to speed up the casting process. The idea of Phase Three actually came to mind during an acting class with Mwansa who plays Denzel in the movie. Mwansa, Jay (my producer) and I were discussing possible short film ideas, and I said Iíd go away and think of something. Over the weekend, I locked myself in a dark room and came up with the idea of Phase Three. It was originally intended to be a short film but I felt it was too unique of an idea not to be expanded into a feature film.
How long did the process take to get to the finished product?
It has taken one year to complete the production of Phase Three. The reason for that is that I was suckered into flying to Germany to DOP and then edit another feature film. That halted the progression of Phase Three. Due to the amount of time I had to spend on the German movie, Phase Three was shelved for at least three months. I wrote the script in February 2011 and production is scheduled for a February 2012 completion.
Even with the three month hiatus, that doesnít sound like too bad going, considering youíre fitting it in round the day job. Did you have to overcome any problems whilst making Phase Three?
We originally cast another actor for the role of Lucius Foy, but it didnít quite work out. Recasting such an important character in the story took up a lot of time and slowed down production greatly. In the meantime, weíd shoot all of the scenes that only involved Mwansaís character, but it was strange to shoot those scenes without knowing who was going to portray Lucius Foy. Thankfully, after a couple of months of searching for the right man for the role, Ian M. Wilson [Ian M. Wilson interview - click here] turned up and put in a great audition and I immediately offered him the role.
Good news for Ian as well! Who influences you as a director?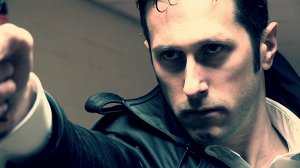 Ian M. Wilson
I draw much influence from Christopher Nolan, especially. I think that he is one of the most talented filmmakers alive today. Memento, The Prestige and Inception are all fantastic movies that really challenge the audience, in a good way. Those movies do not spoon feed the audience, which is what I have aimed to do with Phase Three. I am also a huge Stanley Kubrick fanatic. A Clockwork Orange is one of my favourite films, due to the sheer off-beat and unpredictable feel of the movie, and how it takes the subject of criminology and actually makes it look like fun! Iím also influenced by Paul Greengrassí work on the Bourne-movies. I love the handheld cinematography technique used in those movies. Itís not for everybody, but it works in abundance for me. I think it creates a feeling of Ďin motioní, like the narrative is being discovered there and then. It feels real is what Iím trying to say.
Do you think the thriller genre is for you, or do you want to go somewhere else next?
What I have learned about my filmmaking over the years is that I am purely action/thriller kind of guy. I wouldnít really know where to start with a romantic comedy, for example. But with action/thriller I understand the techniques required to produce a good product. I canít ever see myself diverting from that path. The film I DOPíd and edited in Germany was a drama/comedy, and I canít really say that it was my cup of tea. Obviously I put in the work and gave it my all, but I never truly connected with the story or script. I like cool and serious movies.
Would you like to say a few words about the people you were working with?
The cast and crew have been amazing. Everyone has worked so hard on this film. Mwansa and Ian have put in fantastic individual performances. They have great potential; hopefully Phase Three puts them on the map. My runner Mark Nelson has also been an amazing help. Also, I have to thank my producer Jay Spencer for supporting me throughout the production. If it werenít for him, I wouldnít be in a position to make these kinds of movies.
Who is the ideal audience for Phase Three?
If youíre into movies such as the Bourne-movies, Inception, Heat, Collateral and The Game, to name a few, then you should enjoy Phase Three. It is certainly along the same lines as the aforementioned.
Have you seen any movies recently that really impressed you?
Yes, Kill List. Itís a low-budget British film and it really blew me away. The acting and direction was superb. Itís a very strange film and Kubrick-esque, and the ending will leave you with a lot to think about, but Iíd certainly recommend it. Get it watched.
Iíll second that, itís brilliant. If youíd been working for Warner Bros, and budget had been no problem, what would you have done differently with this film?
Certainly. First and foremost, Iíd have bought a generator, and taken more lights with me on location. You can never have enough lighting equipment on set. Secondly, Iíd have hired a sound guy. We actually didnít have a sound guy with us on set. Most of the dialogue is going to be dubbed over in ADR. Thirdly, Iíd have hired a coffee truck. It can become quite excruciating on set on those cold nights when you donít have a cup of coffee to turn to.
What are your ambitions for Phase Three? What would you like to achieve with it?
I have huge ambitions for Phase Three. I believe in the product, I believe people will be impressed by it. It is a non-budget production with a big movie feel. Phase Three should inspire filmmakers to get out with their cameras because when you see it, you wonít believe that it was made with a crew of around 2-3 people. I believe industry professionals will see Phase Three and appreciate the talent on display. Iím going to enter it into the film festival circuit to get it some exposure. I really believe the movie will go places. How far it will go; who knows? Thatís the exciting part.
What advice would you give to someone who wants to make a movie?
Be fearless. Write a script, see the movie in your head, and then just go and make it. Base the movie around places that you can physically shoot in. Thereís no point in writing a high-speed car chase that ends up at Washington DC, because that is not practical to shoot on a low budget. Keep it simple; most filmmakers start out by making a really simple movie. But thatís the genius of it: itís so simple yet it looks so amazing. Thatís what will get you noticed in this industry.
Iíve been meaning to ask you, what does the name Phase Three actually mean?
Only the movie can answer that question. Thereís no way I could explain the title Phase Three without spoiling the movie.
What do you think you would do in Denzel Marshís position?

Feeling lucky ?
Want to
search
any of my partnershops yourself
for more, better results ?

The links below
will take you
just there!!!

Find Jamie McEvoy
at the amazons ...

amazon.com

amazon.co.uk

amazon.de
Looking for imports ?
Find Jamie McEvoy here ...
Something naughty ?
(Must be over 18 to go there !)

Itís a tricky question. My initial reaction would be to run away, as far and as quick as possible. But the nature of Denzelís character makes him embrace the journey offered to him by Lucius. Deep down, Denzel is scared, but at the same time excited. Heís just a thug, mugging kids on the streets, until Lucius comes along. Denzel can see that Lucius is the real deal and can offer him a path in life. So if I were Denzel, Iíd probably just go along with it, as Iíd have nothing to lose. Whatís the alternative, going back to hanging around on the streets, attacking innocent people?
Have you been on any nightmare corporate training days yourself?
I have not.
Right then. Time for a kooky question. If you died and came back as a ghost, what would you do?
Haunt director Joel Schumacher for not only casting George Clooney as Batman but also giving the Batsuit nipples. He redeemed himself with Phonebooth to be fair.
Surely the man who made The Lost Boys is forgiven anything! Thanks for your time, Jamie. Before you go, anything else you want to plug?
Check out our production companyís website: www.shooting-incident.co.uk
Thank you for the interview!