Your new movie Chosen - in a few words, what is it about?
Chosen is a World War Two romantic-thriller narrated by a 95 year-old Hungarian Holocaust survivor Papi (Harvey Keitel) to his great grandchild Max (Julian Shatkin) in present-day New York, USA. Papi narrates a story about Sonson (Luke Mably) expecting his first child with his Jewish wife Florence (Diana Cavallioti) at the end of the WW2 in Debrecen, Hungary. In the first act, their intimate story about young couple, soon to be parents, is set against the rapidly changing historical events in Hungary at the time. It's a bad time to start a family but many, like Sonson and Florence, did just that thinking the war will be over before the baby is born.
Chased by Russians, the Nazi army, retreating from the Eastern Front, takes their revenge on local Jewish population by imposing new brutal laws whereby all Jews are banned from state institutions like hospitals and courts. More than 500,000 Jews were transported from wartime Hungary to the Nazi death camps by Adolf Eichmann, with the collaboration of Hungarian authorities. When Sonson's pregnant wife, Florence, falls sick, a local doctor (their former friend) refuses to treat her in his hospital fearing pro Nazi militia reprisals against his staff. Sonson, aspiring lawyer with promising future before the war, now humiliated and demoted to breaking rocks in the forced labor camp, watches his wife die with his unborn child inside her whilst unable to do anything to help. Just before she expires she begs Sonson to promise her to keep an eye on her younger mischievous sister Judith (Ana Ularu) who hangs out with local rebels, a bunch of former law and medic students who replaced pencils with guns.
Judith's bold character soon attracts attention of a local spy-woman who follows her to the forest at the outskirts where local rebels have their little hideout. Spy-woman informs local militia, rebels' hideout is stormed and all are taken to the police station before passed on to Nazis. However, a few rebels manage to escape and come to Sonson's empty dark cave of a former loving family home asking for help. When they tell him that his wife's younger sister Judith is amongst arrested rebels he joins them and introduces them to a clever ploy, which enables them to confront corrupt militiamen and rescue rebels. But Judith has been already taken onto the death-train and is on the way to notorious camps in Poland. Sonson must keep his promise; he must leave his little town and his country and embark on epic journey across war-torn Eastern Europe hoping to find Judith - alive or dead.
You'll have to go and see the film to find out the rest. Sonson's action-side of the story is inspired by real life Hungarian Jewish rebel David Grosz who forged state and Nazi documents so well that no one could tell them apart from genuine ones. One of the survivors writes in his memoirs: "We stood there, determined tough young men, who undertook that risky adventure of distributing this life-saving piece of paper in spite of being aware of immense danger and that we could be shot at any moment. My forged identity was, for instance, Horvát Vincze, born in Gyöngyös, May 15, 1922, Protestant. I had to memorize the names of the parents and many relatives of my new family. We passed military police patrolling the area without looking directly at them and went on indifferently as though they were transparent and of no concern."
Still, Sonson's entire story is pure fiction invented by the writer. This is a classic example of how fiction based on history works where a novelist or dramatist uses certain real historical detail as an inspiration to tell his own fictional story where real historical detail is used as a small element or inspiration to make fictional story work better.
Chosen has everything that one would expect from a war-epic – stunning widescreen cinematography, an emotional, intimate and sensual story set against epic grandiose canvas. Tension, thrills, action, spectacular battle scenes, all weaved together with Harvey Keitel's moving and thought-provoking narration. There is a cinema release in the USA and the UK soon.
How did the project fall together in the first place?
My producer Mike Riley and I were already working on our other project when Gabriel De Mercur's script Chosen arrived. We talked about it, we knew it's going to be very tough and we decided to take a chance.
Gabriel's script presented us with many production challenges, being a complex multilayered story with a large ensemble cast, constantly combining intimacy with the production value of a war action thriller, all to be shot in Romania with mainly Romanian cast and crew. I think for both of us this was a walk into unknown and one wrong move could bring the whole thing tumbling down on us.
Since my student days I always privately wanted to make a WW2 movie. I lost my paternal grandparents in WW2 and my dad grew up as a war orphan. I grew up in former Yugoslavia watching hundreds of WW2 movies in those days on TV, particularly during state anniversary days and was always fascinated by them. And thirdly, getting a WW2 movie under your belt as a film director, I felt, is always a big plus for any filmmaker. It somehow upgrades you to a higher league, people start taking you more seriously, I guess. And I can say now that is done I am very glad and proud I did it.
What can you tell us about Chosen's scriptwriter Gabriel De Mercur, and what was your collaboration with him like?
We met number of times and he talked a lot about Eastern European history. Being Eastern European myself we instantly found a common ground. He is passionate talker. You can't help but agree with whatever he says. He has an open mind and loves joking, which suited me perfectly. He is a historian and former barrister. He lived in numerous countries around the world, speaks many languages, and is more aware of the history of former Yugoslavia than I am. Once he quizzed me and Mike asking, us to name any country that first comes to our mind and he would say a few words in that country's language.
He is aware that this was his first film script and was happy to let Mike and me just get on with it. During the shoot he was on the set every day but never interfered with anyone and let us all get on with our jobs. He was very curious and fascinated watching how a film is actually shot, such a huge creative and business undertaking and how many creative people are there on the set every day non-stop giving orders to each other and doing hundreds of different jobs in order to faithfully execute something he has wrote. During editing he would silently arrive at the preview screenings and silently exit, then send us his feedback notes afterwards, never insisting on anything, always saying: "Use it if it helps. If not, discard it." A very nice gentleman, indeed.
Since your movie's set in World War II - how much research did you do on the subject to bring everything across authentically?
My secondary school graduation history thesis was on Yalta Conference when Stalin, Truman and Churchill met to decide future of Europe after WW2. For me the script was not about recreating historical events, battles, etc. In Chosen a battle is just another battle. It's not about look or size of someone's hat or accuracy of uniform detail which is only known to experts and historians but about everyday people trying to survive prejudice, racism and injustice, trying to stay alive one more day. Do you sit and wait to be gassed? Or do you take action knowing that you will die any day anyway?
Since it is a Second World War movie set in particular part of Europe, it has to look and resonate likely and plausibly in general terms. No one can shoot film in Romania and hope to recreate accurate Hungary with Romanian actors and extras pretending to be Hungarians and Nazi Germans whilst the entire film is in English and only few can speak English. It's not possible! And it's not needed anyway because what majority of our world audience wants is to engage with the story, to be moved, thrilled and provoked to think rather than two hours of boring historical accuracy.
My production and costume designers were doing thorough research but I kept reminding them during pre-production that the chaos of war is the best form of historical accuracy. The more anarchic and chaotic it looks on the screen the better. We looked at the pictures from the last year of the war showing everyone wearing anything, army deserters, refugees, dead bodies, rebels, all mixed up, you couldn't clearly see who is who, civilian or soldier, etc. And Chosen is about these chaotic last days of WW2 where hardly anyone knew what will next day bring and therefore tried to make most of it whilst it still lasts. Chosen is a fictional story completely invented by its writer. It starts as an intimate love story between two young people, soon to be parents (Sonson and Florence), then after about half an hour of film time this intimate story turns into a bloody and brutal battleground, a bit like The Deer Hunter, very much a humane and anti-war movie with very powerful anti-war message.
For me, Chosen is more a movie about the present and what is going on in the world today than about past. This is why I placed that sound-montage over the opening credits where we hear American radio news broadcasting live anti-racist riots in America, gunshots being fired, protestors clashing with the police, etc, and only a dozen minutes later this "chaotic" present America cuts to a scene from WW2 Eastern Europe and we see civilian man's head kicked by a militiaman only because that man belongs to a different race. This way the past and present is cinematically muted into one suggesting symbolically that nothing has changed since WW2, we have today the same prejudice and racism still dividing us. Humankind didn't learn much in the last 70 years. Nothing good has ever come out of prejudice nor will ever come out of it, and yet majority is still doing it whilst small honest minority keeps one eye blind to it. This is why films like Chosen are so important as a reminder alerting us to realize where we were 70 years ago and where we are now. Films like Chosen are like mirrors, which reflect our human nature as I have shown symbolically in that mirror-scene when Sonson looks at himself in the mirror and can only see rage, hatred, horror and destroyed lives.
There should be organized screenings in the schools, universities, community centers etc. Everyone should see Chosen because Chosen provokes the good in people and reminds us how far humanity has come and how important it is to teach our children the difference between right and wrong.
What can you tell us about your directorial approach to your story at hand?
For me the most important thing was to remain honest to Gabriel's script and to all those people who really experienced these horrors all those years ago. It was important to cast actors that didn't look too modern in their appearance but have something "period" or rather "World War Two-ish" about them. Also, my directing principal is that I am not primarily interested how good someone is as an actor but predominately how the actor looks, his natural demeanor and appearance that are only unique to him. I hate Second World War movies where the director tries to achieve authenticity by pushing actors to act "period" with all those "period mannerisms", stiff upper lip talk whilst the actors look so wrong.
I was very lucky with Luke Mably, Diana Ciavalloti and Ana Ularu whose personalities perfectly clicked together on and off the set and who naturally look like characters, who just walked out of a French impressionistic painting.
The other interesting thing for me was that in Gabriel's script all Jewish characters are described as blond with perfect facial features and all have blue eyes. They are all described as Arian! So, I asked Gabriel: "But aren't the Nazis supposed to be looking Arian?" And he smiled and said: "What? You never saw a blond Jewish beauty with blue eyes?" And again, he was right. As a teenager I was obsessed with Spielberg's first wife Amy Irving and watched her nonstop in Brian De Palma's horror movies, stunning beauty with curly blond hair, perfect blue eyes, perfect in every way and yet she is a Jew. And suddenly I understood that Gabriel was trying to turn tables on how Jews are always stereotyped throughout history and in almost all Holocaust movies. Instead of helplessly malnourished creatures, walking skeletons, with Nazi soldiers spitting on them, Gabriel took a completely opposite approach in Chosen, making Jewish characters have typically Arian features (blonde hair, blue eyes), all active and taking their destiny in their own hands. And so we turned tables on stereotypes associated with Holocaust movies and in Chosen Arian looking Jews attack Nazis and pro-Nazi militia and kill them in brutal way. This way we are turning tables on usual narrow minded perception and prejudiced stereotyping ethnic groups judging them as only one kind rather than rich ethnic group with variety of different personalities and looks.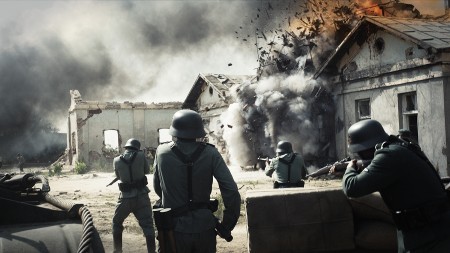 What was the collaboration between the producer Mike Riley and you actually like, and how did you first meet, even?
Michael Riley and I met about 15 years ago regarding some German project. I met him with two other German producers and we all instantly clicked. Three of us are closed friends today, Torsten Newman runs Oldenburg Film Festival which screened Chosen about a month ago and Iris Summerlatte is the producer in her own right. At the time, Mike and I were neighbors, we lived ten minutes drive from each other and we started playing tennis every weekend. He would take me on his motorbike to a game of football, then next week I would drive to his place for a game of tennis as he had lovely tennis court in his backyard. Afterwards, we would end up going for a beer and talking movies. We have our own private film libraries and we started exchanging movies. Mike is the only UK film producer who has seen all my student short films, and sometimes refers to them when we talk about certain scene or casting idea. And he always was and is very complimentary about my work and my feature film Beautiful People.
We are both experienced and very pragmatic filmmakers. We know straight away what will work for us, what is achievable and what makes sense. Mike also gives me space and freedom with casting and working with actors. He is not one of those producers with sharp pencil in their hand checking every line in the script or breathing down my throat during the shoot or editing. However, during the final stages of editing we may disagree about whether to cut out certain shot or a scene. It's usually he wants to cut the scene I want to keep in, and I want to cut the scene he thinks should stay in. There is lot of bla, bla, bla going on, then a decision is made and we move on. We've both worked in the film industry for a few decades now, we've both shot films in many different countries with many different international casts and crews.
I think the most important thing between the producer and director is a quick understanding when time is short and this is where we are very good. One glance and he knows or I know. We have the same sense of humor, which is kind self-deprecating dark humor and when things are not working we often end up mocking and teasing one another. It's very important to always keep a positive mindset and communicate things constructively.
War movies demand their fair share of action almost by definition - so what can you tell us about that aspect of your film, and how were these scenes achieved?
In Chosen we have many different action scenes: we have fight scenes with knives and with guns, we have battle scenes with firing light and heavy weapons including tanks firing and being destroyed as they move, we have all kinds of light and heavy pyrotechnics, explosions, at one point in the movie entire house explodes. Chosen gives the value for the money with all that spectacular battlefield stuff along with moving intimate drama.
War action takes about two thirds of entire movie time. We have a number of battle scenes and the last battle mega-sequence is more than 20 minutes long. It all requested complex stunts undertaking which included stunt people running and falling along moving vehicles, falling from buildings, under the tanks etc and performing with extras, which are basically ordinary people who have never seen a real gun in their lives let alone handled one. All of them had to be trained almost overnight by our chief stuntman and made into a believable rebels and Nazi soldiers in front of the camera.
Each battle scene was meticulously drawn, rehearsed and choreographed like a ballet number on National Opera stage. Every single move had to be planned and worked out before the actual shoot so that no one gets injured and nothing is lost in the chaos of the shoot. Thank God no one got injured, except me. I fell into a ditch and injured my leg and I ended up in a Romanian A&E until 2 am. But apart from a heavily bandaged foot, I was fine and ready to shoot next day.
Since I'm a big fan, you just have to talk about working with Harvey Keitel for a bit, and how did you get him even?
Harvey liked the script and was keen to play a 95 years old Hungarian Holocaust survivor who narrates his life story to his 13 years old great grandchild in his Long Island conservatory. I instantly thought that CUT from present to past at the beginning of the movie, from Harvey Keitel to an Eastern European young Jewish laborer in a little obscure Eastern European town at the end of WW2 would be just spot on. And it is. Harvey's face has very Eastern European features. His mother is Romanian and dad Polish, so he was just perfect fit for a film with Eastern European facial landscape as most of our actors are Romanians.
Also, Harvey playing a Hungarian Holocaust survivor and narrating about how once when he was young he was this tough guy action-hero is exactly what real Harvey was in his younger years in films like Mean Streets, Taxi Driver, Reservoir Dogs etc. It was one of those lucky casting moments when the actor's personality, ethnic background and looks fits naturally.
We clicked from day one. A brief glance at my face and he already knew what I was about to say and is already calling for another take: "I know Jazz.. One more please!" I would just giggle and let him get on with it because I know he is trying to get into his little zone.
He is very honest actor. What you see on his face is what's in his heart at that moment. When it works it works but when the magic moment is gone, he will rise his hand and say: "Jazz, if you want me to act I'll carry on acting so you get your coverage, but it's gone... It's not there anymore..."
He works very hard on his parts before the shoot and comes thoroughly prepared, sharp and ready to go which makes life easy on the rest of us. I wished we'd had one more extra day or two together just for him to get to know me better before the shoot. But still his performance, in particular with the kid in the doorway, which closes the movie, was very moving. Those magic moments that Harvey gives you… no one can direct that.
What can you tell us about the rest of your cast, and why exactly these people?
Three things determined my casting decisions and they are - screenplay, director's and producer's strategy. Often with low budget films it is the producer who will tell you, this is the budget we have and the best way to achieve all we need to achieve is to cast and shoot this way. Then you as a director adjust the script, your casting and your directing strategy to make possible for him to produce the thing with the budget he has.
90 % of Chosen script takes place in Hungary and Poland. It was financially impossible to shoot in those countries because we did not have a budget for it. So, right there, any historical or whatever accuracy goes out of the window.
But we could shoot it in Romania using their cheaper locations, actors and crewmembers. Obviously, anyone from Hungary or Poland watching this film will see straight away that our actors are not real Hungarians, just like Ralph Fiennes, a very English actor, is playing make-believe English speaking Hungarian in The English Patient. For the world audience our Romanian actors would be seen as believable Eastern European, which should be more than enough to make story and characters on the screen resonate as believable or plausible.
Harvey Keitel and the child actor playing his great grandchild are American and Luke Mably playing young Harvey is English. We have had also a few of English actors playing Hungarian and Polish rebels who blended with the large Romanian ensemble cast. We were also fortunate with Luke Mably who plays Sonson (young Harvey Keitel). Harvey and Luke have similar natural presence, their appearance and natural aura commands instant respect and authority as natural leaders.
I was worried about casting two Romanian actresses, which played the sisters Florence and Judith in the film because it is often very hard to get two actresses who would naturally look and "feel" as believable sisters. Plus, these two women are crucial for the story because it is them that start turning the dramatic wheel, it is them that push Sonson into action and turn the former pedantic white-collar lawyer into raging bull action hero who brutally kills and destroys everything in his way, a bit like Clint Eastwood in Unforgiven.
Whilst I was doing location recces in Romania I accidentally stumbled on Ana Ularu's picture on IMDb. She looked exactly like described in Gabriel's script - a blue eyed rebellious provincial beauty with a gift for getting herself into a pickle. And without even meeting her, I asked the producer to call her agent. The producers knew that she is an international star and would not be easy to get her into the movie. She thought her part was too small in the script and after I promised I would expand it and give her more film time and space, she eventually agreed. Then I asked my Romanian casting director if Ana Ularu has someone she is very close to who can act because I needed to see that close bond on the screen. I was told that Diana Cavallioti is Ana's best friend. As soon as I saw her I knew she will be perfect older sister, serene face, angelic smile which served as sharp contrast to her younger, rebellious sibling played by Ana and to Luke's alpaa-male character. Diana is this beautiful tender flower, which Sonson was madly in love with and one could see why he would go to the end of the world to protect her and keep promise he gave her.
Once I had these three main actors in the bag I knew I had had my dramatic triangle, which is the movie's main dramatic engine that pushes the story forward and makes film emotionally and dramatically strong and unique and I could get on with casting rest of the large ensemble cast.
Do talk about the shoot as such, and the on-set atmosphere?
Like any shoot, there were good days, frenetic days, etc. A lot had to be done in limited amount of time with large number of people with different foreign backgrounds, speaking different languages etc. But despite all those obvious challenges and obstacles, the atmosphere was very cordial and very working. Everyone was very busy, disciplined and on top of their game. For me it was like being a coach during a tense football game, the time is ticking fast and my team has not yet scored enough goals to qualify and I must not panic nor lose control whilst edging everyone forward. We have had great Romanian cast and crew and in particular our Romanian AD and our British DP which made big contribution and I am immensely grateful to all of them. The production team led by Mike and Tim Dennison were very supportive and fantastic collaborators throughout the shoot and all their hard work and huge production value is now evident on the screen.
I also had a wonderful Romanian production designer Adi with whom I worked very closely. I remember both of us being very upset because we just could not find any WW2 looking train with steam engine which would be our Nazi deportation train. We looked everywhere and all we could find is those typical Romanian communist diesel engine trains. And one day, when we lost all hope and we were certain we will have to scrap that transportation scene, Adi ended up lost in a little forest near train repair facilities. I couldn't find him. Suddenly he called me: "Over here! Look!" I couldn't believe my eyes. Two half demolished antique train wagons were left there abandoned for God knows how many years, completely covered by weeds, trees and wild bushes. One had the roof smashed, the other had one third of it missing, but Adi said he can repair them, paint Nazi signs on them and they'll look like real WW2 Nazi transport trains. And we shot entire transportation scene with only those two antique wagons, which in the scene the Jews were boarding. The other wagons were modern diesel engine wagons which our digital painter made to look match those two antique ones. And the deportation scene is in the movie. That's a perfect example of how this low budget Second World War film was made. It was combination of sheer coincidence, good luck and perseverance.
Anything you can tell us about audience and critical reception of Chosen?
We are currently waiting for film to be theatrically released in USA and UK. Then we should know more about audience reaction. As I said, we screened the film a month ago at Oldenburg Film Festival where the film received excellent reception. I was worried about how Germans will react, but they thoroughly enjoyed it and enthusiastically chatted to us about it during our Q&A session after the screening. Everyone wanted to know where to get the soundtrack, which is a huge credit to our composer Phillip Shepherd. Someone in America asked me if there is any film category regarding Chosen that could be regarded as a possible candidate for Academy Award nominations. And I said Philip Shepherd for original score.
Any future projects you'd like to share?
Mike and I are right now putting funding together for our next project. It's something we both feel strongly about but I can't tell you more except that it is a comedy written by me and it's set in present-day London.
Your/your movie's website, Facebook, whatever else?

Feeling lucky ?
Want to
search
any of my partnershops yourself
for more, better results ?

The links below
will take you
just there!!!


Jasmin Dizdar's Facebook, IMDb and Wikipedia pages:
https://www.facebook.com/profile.php?id=100012613955533
http://www.imdb.com/name/nm0229026/
https://en.wikipedia.org/wiki/Jasmin_Dizdar
Chosen Facebook page: https://www.facebook.com/ChosenFeatureFilm
Trailer: http://www.traileraddict.com/chosen-2016/trailer
Chosen website: Should be up and running soon...
Thanks for the interview!
Special thanks to Richard S Barnett, founder of IIWYK!!!