Your new movie The Hit - in a few words, what is it about?
In literal terms, itís about a hard-hearted hit woman who falls in love with her suicidal mark. If you go beyond the superficial plot, itís really about how we can be our own worst enemies as a result of the seemingly minor choices we make.
Basic question, why make a hitwoman the lead character of your movie? And was The Hit at all inspired by other hitwoman flicks?
When it comes to fiction, Iím drawn to murder and mayhem since it gives me an opportunity to explore all the stuff that I couldnít and wouldnít do in real life. Itís cathartic and also a ripe arena for comedy. But metaphorically, I think thereís something interesting about a person who plays God, but with cash dividends. A hitwoman is so much more fascinating than a hitman. Men are historically more aggressive so itís less surprising. I love a female character whoís kickass. And thereís more curiosity about how she came to her profession. Of course, I try to answer that rather glibly, but I think that adds to her dimensionality. I do love the fact that thereís a whole genre of hitwoman films and television from Prizziís Honor to Killing Eve, and Iíve seen most of them. Unconsciously, Iím sure I was influenced. When Iím writing, however, I let the characters tell me what theyíre going to do.
(Other) sources of inspiration when writing The Hit?
Honestly, when I was writing this, my thoughts were strictly about the charactersÖ why are they the way they are, and how does that move the story forward or backward or to the side. On top of that, add thirty plus years of internalized cinematic, literary and pop culture absorption that I bring to the table.
The one movie I turned to as a reference was The Mechanic with Charles Bronson. Heís a hitman for hire and I just wanted to get a flavor of his jobs, which, because it was the 70ís, seemed much less complicated.
My original opening scene was a very elaborate poisoning at a coffee shop, where my lead character was disguised as a barista; once she delivers the doped java to her mark, she takes a break, despite a long line of people waiting. She strides through the back room where the other baristas are bound and gagged and exits out into an alley where she removes her costume to reveal her business attire. She walks around the corner just in time to see her mark gurgling to death on the sidewalk out front. But budget and time precluded that. It would work for the feature.
You call The Hit a "cromage noir" - could you at all explain that term?
Itís kind of a joke. The idea is that I was blending so many different genres together and giving homage to themÖ so if you break it down, itís a crime-romance-comedy-noirÖ and itís also a little cheesy, so if youíre French or French Canadian, it is like a ripe fromage (aka cheese). Maybe itís more of a choke? [cheesy joke?]
To what extent could you actually identify with Marcy Frumpkin in your movie? And with Norman Winter for that matter?
I identify with both of them: Marcy takes her inability to value herself in relationships and acts out in, letís say, anti-social ways. And she also has a bad romantic track record where she wasnít able to value who she is. Normanís a cranky guy who hates himself. Come to think of it, there isnít a character in the film who I donít identify with. I think Iíve been all of themÖ except maybe the guy whose car is stolenÖ that guy is a complete jerk.
[NOTE TO INTERVIEWER: Jason A. White plays the guy whose car is stolen.]
What can you tell us about The Hit's brand of comedy?
I like to think it goes from slow-build to ďkitchen sinkĒ. You start off intrigued, thereís an opening that has a bit of visual irony: the girl scout with a gun, and then the jokes, mostly visual, start to come more rapidly until they reach an absurd pitch (especially in the ďfalling in loveĒ montage). Itís not freewheeling and random humor. Itís very much on story with these two people doing what they do and that being the source of the humor. So, it is character-based. The montage is pure parody (though I donít think itís remotely possible to make a serious montage anymore). I used it deliberately, complete with green screen and fake looking background plates, as I needed to shorthand their escalating relationship. I was playing with the convention of it.
The humor is certainly not sophisticated, but Iím proud that I didnít resort to bathroom humor, which can be hilariousÖ but can also be too cheap, easy and unfunny if you donít build up to it, the way the Farrelly Brothers do.
A few words about your directorial approach to your story at hand?
I was trying to be as artful as possible. Thereís an understood rule that comedy needs to be brightly lit and should be in wide shots so you can see the actorsí bodies and their language. And thatís mostly true, especially if youíre working with a great physical comedian.
That being said, I wanted the visuals to pop and be thematic, revealing to the audience who these characters are. Our lead, Marcy, is deep down a lonely person. I wanted to isolate her in shots or show how removed she is from her own vulnerability. The times when she does share the screen (before falling in love), the characters are either dead, about to die, or thereís lots of space between her and them. I created a lookbook for my DP that included Edward Hopper paintings and frames from Antonioniís Red Desert and Godardís Contempt. Once the two leads fall in love, they come directly toward us and then theyíre shot more classically, where theyíre both in frame and their close ups and reverse shots. I was hoping that it would play on the audienceís subconscious.
As a director, you have to get all departments on board to enhance the theme, and I think I fomented an atmosphere where everyone could summon up their creativity in service to the story. Costumes and make-up, in particular, are instrumental in helping create character arc, just watch any Hitchcock film. My directions to them were all about Marcyís character Ė sheís uptight in the beginning, controlled hair, gray and black clothing, but when she falls in love, her hair becomes softer, her clothes become lighter and floral. Itís not exactly subtle, but itís on point. And you make the connection between her and Norman to her with his clothes. When they meet, theyíre both symphonies of gray, black, and white. Itís their outlook on life, until they get together, then their outfits get sunnier.
Do talk about The Hit's cast, and why exactly these people?
I hedged my bets. I didnít have a lot of experience directing actors, but I knew most all of these folks and thought if I could work with friends, it wouldnít be so awkward if I didnít know what I was doing. But more importantly, I knew I could rely on their abilities.
Iíd met Hilary Barraford (Marcy) [Hilary Barraford interview - click here] through friends a few years back and was struck at her projected strength. I knew she was prolific, but I was always disappointed to see that she was not centerstage in her feature films. When I was writing, I envisioned her as the lead and I thought this would be a fun opportunity to showcase her talents as well as giving me the chance to work with her.
Matthew Rochelau (Norman) I knew tangentially from my years studying improv. He has this look that cuts so many ways Ė sitcom dad/everyman/sad sack/potential psycho killer Ė and the skill to switch in and out of those characters seamlessly. Plus, heís a good contrast to Hilary.
Craig Cackowski (Client) was one of my improv instructors and heís a genius improviser himself. Heís been on so many different TV shows, including Veep and Curb Your Enthusiasm. I knew he would bring a lot to his role. Iím sad that I didnít use him more or highlight his talents. I actually cut out a small bit of business that he did that was hilarious, but I am ruthless in editing.
The ex-boyfriend is another actor I did improv with, and I also cast one of my best friends and her husband, neither of whom are professional actors, in separate roles, because I knew they could deliver. It was a dream to work with all of them, especially with little to no rehearsal. It was a rare instance to have more than three takes and then, it was only because I was unsure.
What can you tell us about the shoot as such, and the on-set atmosphere?
I felt like I was high. I was so happy to be there and working with a great crew and great actors. If anything, I was probably the most superfluous person on set. I definitely had a one-way love affair with my DP, Ilya. I say one-way, because heís intensely focused on the camera and lighting to get the best-looking shot. His work and inventiveness was brilliant. Though Iíd storyboarded the entire thing with my very crude drawings, there was one scene I stumbled over because it had to convey so much information. Ilya came up with a brilliant one-shot solution and itís my favorite one in the filmÖ when Norman walks down the street.
We crammed a lot into three days. It was ambitious, what with eleven locations. I know I made many mistakes, but for a first directorial effort, I think my team and I accomplished what we set out to do.
The $64-question of course, where can The Hit be seen?
Right now itís available at https://www.lashortsfest.com/comedy-program3 or at https://youtu.be/q1VI8-E6fCk Ė still part of LA Shorts, but you can thumbs up or thumbs down it or write a comment and I can see whoís seen it.
Iím currently doing the festival circuit before I try to sell it to one of the many potential streaming outlets.
Anything you can tell us about audience and critical reception of The Hit yet?
Itís very bittersweet that I finished the film and the pandemic hit which precludes my being able to see it with an audience. On one level, it saves me from breaking out in flop sweat during the screening, but, too, I donít get to hear if and when people are laughing, which is incredibly helpful for a comedy writer and director.
In terms of audience feedback, well, friends, family and acquaintances seem to like it Ė they think itís very indicative of me as a person, which I take as a compliment. But I got a great review from you and very nice review from another on-line publication. I meant it to be entertaining and cinematicÖ I think it succeeds on those two levels. If I made a perfect film, or thought I did, Iíd have to kill myself. I mean, where do you go after perfection?
Any future projects you'd like to share?
Iím gearing up for my next short, which is a family mystery (a fystery? Or a firstery?). A young girl discovers her cat has been murdered and realizes one of her immediate family members did it; now she has to figure out who and why. I think everything I write is ultimately comedyÖ even the serious stuff.
I have a couple of features Iím rewriting and a TV-series Iím pitching, based on a childrenís book character that I created. So, thatís some stuff.
What got you into filmmaking in the first place, and did you receive any formal training on the subject?
The training I got was sitting in movie theaters from age six til the pandemic. My parents made the mistake of taking me to the Old Post Office Cinema in East Hampton, New York to see a Marx Brothers movie, and I was hooked from then on. I was a devotee of all sorts of movies, especially the international arthouse ones that played the great revival houses that used to populate New York City. I still remember double features Ė like Knife in the Water and Les Diaboliques (at Carnegie Hall Cinema) and Blithe Spirit and Kind Hearts and Coronets (at the Regency). [The latter film definitely informed The Hit in its somewhat cavalier attitude towards murder.]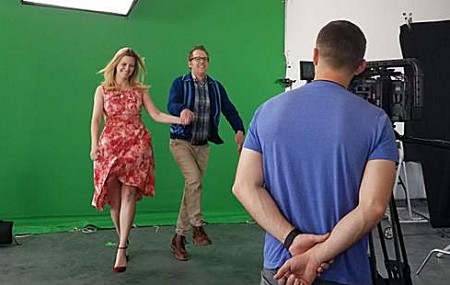 I studied English and Film Theory in college, where I co-founded a filmmaking club, though I only made one Super 8mm movie at the time. After school, I went into production, working as a PA on low-budget movies and an occasional TV-show. I ended up being an apprentice sound editor on a horror film, back when you edited on a Steenbeck. I took a job in script development, as writing was always my interest, but moved from there into Documentary Programming at HBO. I kept taking jobs that were time consuming and parallel to what I actually wanted to do. After moving from New York to Austin, TX, then out to LA, I managed to get some writing work in advertising and on TV. I got to work with people I never imagined I would work with, but not being the creator of any of the shows is, in the long run, kind of frustrating. So I dove into something bite-sized wherein I could be the one who makes the ultimate decisions. Creating The Hit has been so incredibly fulfilling. But like many a drug, it has left me wanting to do more. Now Iíve got to work like hell to make that happen and Iím game for it.
What can you tell us about your filmwork prior to The Hit?
I wrote and co-wrote a couple of shorts, and I directed a no-budget music video, which had me throwing cooked and sauced spaghetti at the band. When I put the camera down, they threw it back at me. I also co-wrote a feature that had both Eric Roberts and Seymour Cassell in it. I was not the progenitor of that film. I came in to try to clean it up.
How would you describe yourself as a director?
I know a lot about cinema. And I know about story. And I know what makes me laugh. I like when people know more about something than I do, so I can learn from them. And I like collaboration a great deal. Itís lonely sitting in front of my computer writing.
Filmmakers who inspire you?
Old and new, I can give you a laundry list: Preston Sturges, Buster Keaton [Buster Keaton bio - click here], Ernst Lubitsch, Anthony Mann, Luis BuŮuel, Samuel Fuller, Tex Avery, Lynne Ramsey, Bi Gan Ė (whose film Long Dayís Journey Into Night blew me away), Barry Jenkins, Alejandro Landes, Yorgos Lanthimos, Catherine Breillat, David Fincher, Pedro Almodovar, Park Chan-wookÖ I mean, I could go on. Iím really a full on film geek, trying to make my way through the films Iíve never seen, while cozying up to the comfort ones. It was only in the last ten years or so that I got into westerns, of which, as a kid, I liked very few. My friend, who gets the final thank you credit in my film, and I have a game we play: name a director whoís made three great films in a row. Itís obviously very subjective, but surprisingly difficult. I think Kubrick and Buster Keaton hit the markÖ the rest are debatable.
Your favourite movies?
They change dramatically with mood and age. But if I were stuck on a desert island, Iíd definitely want to laugh a lot and be absorbed in something to forget about my troubles, so my tastes go to more nostalgic comfort films e.g.: Love and Death (which could be an alternate title to my short), Groundhog Day, Sherlock Jr., Horse Feathers, Breaking Away, The Bandwagon, Itís Always Fair Weather, Nashville, Kind Hearts and Coronets, Winchester í73, Rules of the Game, 2001, The Heartbreak Kid (1972), Let the Right One In, The Lady Eve, Nights of Cabiria and Repo Man. But thinking about that scenario, I doubt Iíd have electricity on a desert island, let alone a TV, Blu-ray player, or computerÖ
... and of course, films you really deplore?
Film is my religion, so when I go into a theater or start to watch something on TV, the only expectation I have is that Iím somehow changed by the movie Ė whether itís amused, provoked, or emotionally affected. When that doesnít happen, I used to get angry. Now I use it as a learning experience, trying to see what that filmmaker did wrong, where the misstep was, if there was only one. Itís very analytic but itís helpful. I think you can learn more from a bad movie than a good one, because what makes a good movie is magical alchemy. But itís tricky to judge a film by seeing it only once. When I saw Once Upon a Time in Hollywood the first time, I absolutely hated itÖ but I was expecting something other than what the movie was, which is a buddy, mood piece. I knew the acting was good, but I was looking for plot! When I saw it the second time, I loved it.
That being said, Iíd be happy to name check some movies I hate off the record. But as Iím really starting out as a director, I feel like itís bad karma to publicly denounce work by people whoíve put a lot of effort into stuff that many people enjoy. Though I can tell you, I prefer personal movies to tentpole blockbusters.
But I admit to liking some genuinely crappy movies, like the 1967 Casino Royale. It is a lumbering elephant of a flick, with five directors and as many (or more) screenwriters. Tonally and storywise, itís a mess. But I saw it as a kid, and it imprinted on me.
Your/your movie's website, social media, whatever else?
You can find the film and my info at: www.thejasonawhite.com
Instagram: @thehitshort
Twitter: @TheHitshort
Facebook: @thehitshortmovie
Hashtag: #TheHitShort

Feeling lucky ?
Want to
search
any of my partnershops yourself
for more, better results ?

The links below
will take you
just there!!!


Anything else you're dying to mention and I have merely forgotten to ask?
Well, we didnít talk about editing, which took more than the three days we shot the movie. I told both my editor and producer that, even though it was an eleven page script, I wanted the film to be the length of a Bugs Bunny cartoon, which is around seven minutes. If I can impart any words of wisdom on your readers or future comedy filmmakers, let me just say, if you canít be funny, be brief. Thatís a credo I live by in art and in lifeÖ though the answers to these questions seem to belie that. Iím relying on you to edit out the dross.
Thanks for the interview!
Thanks for your time and for really capturing the essence of what I was trying to do with the film.