Your new movie is graced with the beautiful title Strip Club Slasher. In a few words, what's the film about (apart from the obvious)?
Sex, drugs and rock-n-roll!!! Along with a big ass masked slasher that likes to stalk and slash hot stripper chicks!!! Yeah, nuthin new but I think we did an excellent job with making the movie exciting, bloody, gory and loaded with thrills and a handful of chills as well!!!
What inspired you to make Strip Club Slasher in the first place?
I've always been a fan of slasher flicks and shot 3 short films in that genre prior, You`re Next 1-3 that have recieved pretty good feedback so I thought what the hell... Let's make a feature length slasher flick and really try and fuck shit up!!! I'm more than happy how things have turned out with Strip Club Slasher!!!
What made you choose a strip club as the location of your film?
I'd like to say I had some sort of relevation that YES... Let's make movie magic in a strip club... it would be genious... But yeah, me and the NFTS Productions gang work on micro budgets and we had ins with the owner of a hole in the wall strip club (The Border Lounge in Hager City, Wisconsin) that we shot bar scenes for in our prior movie Terror Overload: Tales from Satan's Truck Stop (2009) - so yeah, I was like lets make a stripper slasher flick and spill even more blood and show even more boobs in the same location but use the sniffers row this time around!!! As an indie filmmaker ya gotta make things happen with whatcha can get access to so that's what we did!!!
With Strip Club Slasher essentially being a slasher movie, is this a genre especially dear to you?
Maybe just a little, LOL, already reflected upon it a bit earlier with mentioning my short film trilogy You`re Next 1-3, in particular is Part 3 best known as Pajama Party Massacre (2008) is just a hint as to just how much I'm a fan and wanted make my own mark in the slasher genre!!! But yeah, I'm a huge fan of the famous slasher flicks like the Halloween-series, Friday the 13th-series, Slumber Party Massacre-series, and the list goes on!!!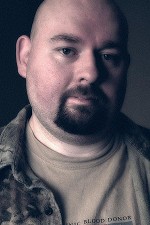 Joe Knetter
A few words about Joe Knetter, who not only plays the lead in your films, he has also written it and has worked on some of your films before this one?
A few words about my sick and twisted blood brother Knetter!!! He is soooo in tune with what kind of movie magic I want to make that yeah, I can send him a 5 word idea (as with Strip Club Slasher) like strippers, club, blood, boobs and gore and well a few days later I have one bad ass script waiting to made into reality!!!
No strip club without strippers - so what can you tell us about the girls performing in your film?
Ha, ha... Many of the girls in Strip Club Slasher (2010) are Indie scream queens that I have worked with on past muvee's that I can count on to deliver the goods so they got to come back and help make things happen again including my fiends, errr friends Scarlet Salem, Elske McCain [Elske McCain interview - click here], Rachel Grubb, Leah Avery, Lindy Starr alongside a bunch of new super cool up and comming scream queens with Saint Deville, Obituary Mary, Corrine Manning, Lm Williams amongst many other surprises!!!
A few words about the rest of your cast?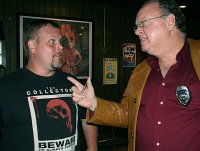 Jason Stephenson with Joel D.Wynkoop
First off with Strip Club Slasher... I got to work with one of my fave veteren B-HORROR-MOVIE veteren's Joel D. Wynkoop [Joel D.Wynkoop interview - click here] best known for Truth or Dare (1986), Wicked Games (1994), Creep (1995) amogst many, many others!!! That was a priceless experience that I will never forget!!! Not only that but I had a one day shoot with Manzin stunt double for the actual rock'en roller Marilyn Manson and lets not forget the comical and some what gory scene with Patrick Olson... DJ for Minnesota's best hard rock radio station 93X!!! Lets just say Strip Club Slasher (2010) might be theee best thing on DVD to have ever been on DVD!!! lol
Concerning the strip club part of your movie's title, how far do you go in terms of sex and nudity?
All I can say is yeah... It is one complaint away from an XXX rating!!!
... and speaking of the slasher part of the title, how far do you go concerning violence and gore?
Hate to give away theee fine details but yeah, these scream queens get violated and butchered in a a handful or more different ways!!! gotta see Strip Club Slasher (2010) tooooo believe it!!!
Where is the film available from?
Strip Club Slasher (2010) is NOW AVAILABLE on DVD at the official website here: www.stripclubslasher.com
Let's leave Strip Club Slasher behind for the moment and dig deep into your past. What made you go into filmmaking in the first place, and did you have any formal training?
OOOOOOHHHH YEAH, I was corrupted early on with seeing flicks at the drive-in as a little kid like Young Frankenstein (1974), Jaws (1975), The Incredible Melting Man (1977), Orca (1977), The Boogens (1981) and yes The Exorcist (1973) on TV back in the day!!! As for formal training... my drive-in past and bootlegging VHS days during high school must have been my training cause once I bought my 1st vid cam I was all about shooting some sort of sumthin scary!!! Film school is overrated and my guess over-priced!!! LOL
Your first feature was Off the Beaten Path in 2004. What can you tell us about that film and your on-set experiences as a debut director?
Off the Beaten Path was my nod to a pair of fave horror flicks Evil Dead (1983) and The Blair Witch Project (1999)... Still dig how we shot that film and I can also say that because how cool an experience that was to shoot... I am still making Minnesota horror movie magic to this day!!!
Then came Doomed to Consume - a few words about that one?
My nod to theee zombie film genre!!! Wasn't quite what I wanted but zombie muveee fans seem to dig it still to this day and yes, I will chok it up as one big and super involved learning experience!!!
Could you tell us something about your short You're Next 3: Pajama Party Massacre, and were there actually You're Next parts 1 & 2?
Reflected upon this trilogy earlier!!! And YES... all 3 parts exist, LOL!!!
You also directed an episode of the horror anthology Terror Overload. Could you talk about the movie as a whole and your contribution for a bit?
Actually I directed 1 episode and also the wrap around story for this kinda sorta anthology... Originally Terror Overload started out as a drunken idea between me, my NFTS partner in crime Kevin Myhre and my horror fiend, errr friend of mine Brant Johnson over waaaaay to many drinks one wasted night!!! Sure as shit, we remembered bits and pieces of things and yeah, we got together a few more drunken nights with ideas and yes, Terror Overload wuz realized and made a reality!!!
Any other films you have worked on which I have forgotten to mention for one reason or another?
Only ones I can think of are forgotten NFTS Production shorts like The Locksmith and Separation Anxiety... Of which Separation Anxiety is forgettable but The Locksmith is kinda sorta still making the rounds with a Canadian DVD release called Suburban Madness!!!
Any future projects you'd like to talk about?
Hellz yeah, Housewarming Party for the Dead, working title is well underway for 2011!!! Sounds funny but when I release the actual title... Be prepared, WELL prepared!!! Nuthin funny about it!!! Nod to The Entity (1982) and 13 Ghosts (2001) with an ALL OUT Minnesota horror movie twist!!!
A few words about your production company, Not For The Squeamish Productions?
NFTS (Not for The Squeamish) Productions "kicks ass for the lord" Minnesota style and totally believes in "total bodily dismemberment"!!! Nuff said!!!

Feeling lucky ?
Want to
search
any of my partnershops yourself
for more, better results ?

The links below
will take you
just there!!!

Find Jason Stephenson
at the amazons ...

amazon.com

amazon.co.uk

amazon.de
Looking for imports ?
Find Jason Stephenson here ...
Something naughty ?
(Must be over 18 to go there !)

A very basic question: What makes a family man from Minnesota like yourself go into horror filmmaking?
Ha, ha... ALL THE DAMN DRIVE-IN FLICKS my parents took me to as weeee young horror lad back in the day!!! Thanks pops, LOL
Directors who have influenced you?
Sam, Wes, Tobe, Stanley, and a fuck load of splatter fiends like Andreas Schnaas, Jörg Buttgereit and yes my personal german splatter fave... Olaf Ittenbach!!!
Anything else you'd really like to mention and I have merely forgotten to ask?
Not sure u forgot but... Be sure to check out www.nftsproductions.com revamped and highly diggable ALL new site coming soon... along with www.doomedtoconsume.com, www.terroroverload.com and yes, www.stripclubslasher.com
Thanks for the interview!
My blood and babes filled pleasure!!! Cheers from Jason Stephenson, founder and filmmaker for NFTS Productions!!!