Your upcoming movie Devil's Fork - in a few words, what is it going to be about?
A married couple with a troubled relationship find themselves taken hostage by a couple of maniacal drifters who put them through a series of "tests" to prove how far they will go to "survive" both as a couple and as individuals.
How did the project come into being to begin with, and what drew you to the movie's subject matter?
I've always loved road movies, and I think I had watched Badlands & 2 Lane Blacktop recently, and was listening to Rob Zombie's song based on the latter and thought "you know what would be really cool? A movie that took some style and characteristics of both of those films & added a violent aspect to it where a married couple was forced to test how far they would go to keep each other and themselves alive and confront the darker side of themselves in the process". I thought that could be really interesting, cool to look at and frightening in a realistic way. I find people to be scary. They are the real monsters we see on the nightly news.
To what extent do you, especially as a director, identify with "The Preacher"?
I don't identify with preacher at all. I find him an extremely interesting character though. I don't find it a huge stretch to believe that there are people out there like him. We hear about cult leaders and fanatics pushing their views all the time, often leading to violent and tragic ends.
But at the end of the day, I just tried to think of a maniacal villain to drive the story along and push this couple to some really dark places that would also be a lot of fun to watch (from the safety of the other side of the movie screen).
What can you tell us about the intended look and feel of Devil's Fork?
I mentioned 2 Lane Blacktop & Badlands already. I would also throw Electra Glide in Blue out there in terms of visuals. Maybe even a little bit of Easy Rider and Bava's final film Kidnapped aka Rabid Dogs [Mario Bava bio - click here]. It will have a very 1970's road movie sort of look. Contentwise I would throw Natural Born Killer & The Hitcher into the mix. I grew up watching and loving the same movies Zombie & Tarantino did, so we're sort of borrowing from a lot of the same influences.
The story of Devil's Fork seems to have a very sadistic streak to it, so how far are you planning to go in terms of violence, gore and the like?
It will be violent. The story dictates the violence. It simply doesn't work without it. We are taking the audience on the same trip that Ted & Carol are being taking on, and taking them to those dark places with them. Just a glance at my previous work will tell you I have no problem taking a film to a excessively violent & disturbing place so...
There is however one scene that has been a hot spot between myself & my screenwriters Toby Tolbert & Tim Harvey that may or may not make it to the screen. Not because I am afraid to film it, but because I'm afraid it takes things so far that it becomes unbelievable, & it's very important to me that the film never veers outside of something that could really happen.
Gore is a tricky thing. There is a LOT going on psychologically with the characters and at no point do I want that to be overtaken by special FX, so we'll see how it goes. I don't see any way to do it without any blood or gore so...
Devil's Fork is to star horror icons Debbie Rochon [Debbie Rochon interview - click here] and Tina Krause [Tina Krause interview - click here] - why them, and how did you get them?
I thought of Debbie as Carol right off the bat. As soon as I had the idea. I've been a fan of hers for many years & we had started corresponding on MySpace (remember that website?). I sent her a script for a slasher film Toby and I had written called Dead Waters (which never got made, but maybe one of these days we'll get it made with Debbie, Tina & Tiffany Shepis [Tiffany Shepis interview - click here]. That'd be cool right?) and she really liked it. Even though that script is still sitting on a shelf waiting for slasher films to be hot again, it started a friendship. There was a point where the idea was tossed around to take my idea & whittle it down to an episode of an internet anthology series, at which time Tim & Toby were brought on board to write the script from my story. For various reasons the project was dropped from the series & we decided to extend it to a feature. As soon as the first draft was done I sent it to Debbie & she said yes immediately. She saw it as a chance to take on a lot more character than she often gets to work with, so she's been behind it from the day the script was written.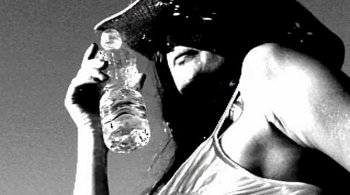 As far as Tina, I had seen some of her stuff, had become friends with her online & pitched the part of Autumn, the crazy sexy hitchhiker & Preacher's accomplice. I believe I told her I thought of the character as similar to Sheri Moon's character in House of 1,000 Corpses but a bit crazier. She read the script and felt the same as Debbie.
What can you tell us about the rest of your cast, and why exactly these people?
Jared Cyr will play the role of Preacher. He is a Kansas native & a mutual friend of a college buddy of mine. I saw a short film he wrote, directed & starred in called Hardcharger, & the moment I heard his voice & saw his delivery I knew he was Preacher.
Allen Lowman is a local KC actor and good friend who has appeared in Nailbiter & played dual roles in Bonnie and Clyde vs Dracula with Tiffany Shepis & Trent Hagga. He is a phenomenal actor.
I met Tristan Risk many years ago when she was touring with a burlesque group & rockabilly band & approached her about appearing in the film long before her recent appearance in American Mary. She's a born performer and a great person.
Krystal Heib will also make an appearance. Another fantastic KC actress who portrayed the lead in my latest feature The Taking of Savannah, which is currently undergoing a little bit more post production before being unleashed on the world.
As far as I know, you're presently still raising funds for your movie - so what can you tell us about your fundraising efforts?
We have had some false starts & stops, like most films do. At one point we were in a package deal of films to be produced & that fell through. I have a producer really interested, but he wants to re-cast & I do not, so we have taken to Kickstarter to ask the public to help us get enough preproduction funds to lay the groundwork. Airline tickets, hotel rooms, salary for key cast & crew, etc.
We have 2 Black Magic Cameras already promised to us to film with, and I have shot 3 feature films for nickles & dimes, so I know that once these basics are squared away I can get everything else in place.
http://www.kickstarter.com/projects/1800192553/devls-fork-a-twisted-road-movie
Once the funds are raised, what's the schedule, and any idea when the film might be released yet (and I know it's waaay too early to ask)?
Ideally, if we hit our Kickstarter goal we will hopefully be filming August 2014.
Release? Who knows, we'll just have to see. Those that support us via Kickstarter will get a look, but beyond that we'll have to see where it goes & when. I have a sales agent that has loved the idea since I told him about it, so it WILL get out there.
Any future projects beyond Devil's Fork?
Hopefully The Taking of Savannah will see a release soon.I have several projects in various stages of development: a female action/revenge film that I hope to be directing next year sometime, a sort of redneck action revenge flick that Tiffany Shepis [Tiffany Shepis interview - click here] is attached to play the lead in, a remake of a 70's home invasion film, a graphic novel called Zombie Punks from Beyond the Grave, and I have been approached to look at a script centering on members of a support group for abused women being targeted by a serial killer. I may also produce a twisted little short film for my good friend John Barnes. I will probably also release a collection of short extreme horror fiction sometime in the winter or spring that makes my films look like Disney movies. I'm keeping busy.
You have recently also directed a short for The ABCs of Death 2-competition, M is for Matchmaker - want to talk about that one for a bit?
It is a LOT of story for under 3 minutes, but I think it packs a punch and is disturbing on a very realistic level. I tried to touch on an idea that was sort of outside of the horror genre, then bring some of the macabre into it.
Check it out and gives us a like. Tina Krause actually produced it [Tina Krause interview - click here]: http://26th.abcsofdeathpart2.com/entry/m-is-for-matchmaker-1/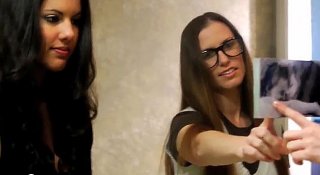 M is for Matchmaker
How did you get into filmmaking to begin with, and did you receive any formal education on the subject?
I've always loved movies, and I fell into a video production program in college by sheer accident because I couldn't decide what to major in. Most of what I learned there was aimed toward corporate video, but once I shot a student film I was bit by the bug. Everything I've learned about "filmmaking" I've learned on my own, from others I've worked with or from other films & filmmakers that I respect & admire.
What can you tell us about your filmwork prior to Devil's Fork?
You can definitely see a progression in my filmmaking from my debut feature Roadkill to our ABCs entry, but the sensibility & stylistic influence of 70s films & grindhouse/exploitation films is still there, just polished a little.
Roadkill & Survive! are straight up 70s style exploitation. Roadkill treads on the same grounds as Texas Chainsaw Massacre, but is definitely more perverse. Survive! is an homage to Last House on the Left & I Spit on Your Grave. They're both pretty grimy. The Taking of Savannah steps outside that box a bit & is a lot more stylized, but I think still reflects the influence of old grindhouse movies. I would describe it as Reservoir Dogs meets First Blood with a hot chick & some twists and turns.
How would you describe yourself as a director?
That's probably a better question for my actors, but I would say I'm a very collaborative director. I cast people I feel are right for the part & let them bring what they have to the table. Same with cinematography. I have certain lines & certain shots that I know I want, but otherwise I'm pretty open to other ideas and improvisation. If I don't like it we'll do it another way. I feel like I get more natural performances & some things I never would have thought of. They are the talent. I'm just there to steer them from point A to point B and capture it on film.
Filmmakers who inspire you?
Jack Hill, Roger Corman [Roger Corman bio - click here], Fred Olen Ray, Jim Wynorski [Jim Wynorski interview - click here], Monte Hellman, Brian DePalma, Larry Cohen [Larry Cohen bio - click here], Claude Chabrol, Jean-Luc Godard, Lloyd Kaufman, the Duplass Brothers & of course Quentin Tarantino.
Your favourite movies?
Too many to mention, but off the top of my head; (in addition to all those mentioned above) Breathless (Godard), The High and Low, Cannibal Holocaust, Devil's Rejects, any Tarantino film, any De Palma film up to & including Body Double.
... and of course, films you really deplore?
Hostel 3 & Insidious.
Anything The Asylum or SyFy touches! They have ruined the "killer animal/nature run amok" sub genre and are destroying the indie genre film industry with movies like Sharknado.
Pretty much any Michael Bay movie & pretty much anything Cameron did after Aliens.
Your/your movie's website, Facebook, Kickstarter, whatever else?

Feeling lucky ?
Want to
search
any of my partnershops yourself
for more, better results ?

The links below
will take you
just there!!!

Find Jeff Chitty
at the amazons ...

amazon.com

amazon.co.uk

amazon.de
Looking for imports ?
Find Jeff Chitty here ...
Something naughty ?
(Must be over 18 to go there !)

I'm pretty much online all the time, so follow me on Facebook & Twitter:
https://www.facebook.com/pages/DIGITAL-GRINDHOUSE-ENTERTAINMENT/123636920980116
https://www.Facebook.com/devilsforkmovie
https://Twitter.com/dgrindhouse_sent
https://Twitter.com/devilsforkmovie
Check out my first 2 films, a slew of old grindhouse & cult movies & some other random stuff for free on my YouTube channel: http://www.YouTube.com/guerillaentertainmen
Check out the Devil's Fork Kickstarter here & PLEASE do what you can to help. Every single Dollar & share helps us! This won't get made without the public backing us!
http://www.kickstarter.com/projects/1800192553/devls-fork-a-twisted-road-movie
Anything else you are dying to mention and I have merely forgotten to ask?
I've probably rambled on long enough, but PLEASE support indie film! Its REALLY hard for us to get films made and its getting harder.
Thanks for the interview!
Thanks for giving me the time!