Your new movie Theresa & Allison - in a few words, what is it about?
After a one night stand turns disastrous, Theresa (Arielle Hope [Arielle Hope interview - click here]) finds herself drawn into a world of vampiric savagery, all the while tempted by the beautiful and immortal Allison (Sarah Schoofs [Sarah Schoofs interview - click here]).
How did the project come together in the first place?
I knew writer/producer Charles D. Lincoln [Charles D. Lincoln interview - click here] through the indie horror world. His dad played one of the killers in Wes Craven's Last House on the Left. Charles had written this brutal, uncompromising low budget horror feature and was seeking a director who wouldn't compromise or be afraid of the graphic nudity and gore. My short film The Minions, a nocturnal tale about witches and madness, had that gritty yet beautiful visual style Charles was seeking, so we made a deal and off we ran.
What can you tell us about Theresa & Allison's writer/producer Charles D. Lincoln, and what was your collaboration like?
Charles is a depraved New York character. He has no censor and tends to unnerve some people. He's a hustler, and his pirate-like take-no-prisoners attitude is what wills projects like this into existence. His madness and my discipline made us an unlikely pairing; we couldn't be more different. But we both cared about this film and wanted it to be unique, grotesque, daring and sincere.
With Theresa & Allison being a vampire movie, is that a genre at all dear to you, and some of your genre favourites?
While I love vampire films like Abel Ferrara's The Addiction and Larry Fessenden's Habit, I thought of this more like a William (Maniac) Lustig sleazefest love letter to the underbelly of New York. The cast is almost entirely female, playing characters who aren't just supporting the male lead. That also appealed to me. Actress Sarah Schoofs [Sarah Schoofs interview - click here] was reminded of the rogue's gallery of female killers singing the Cell Block Tango in Chicago.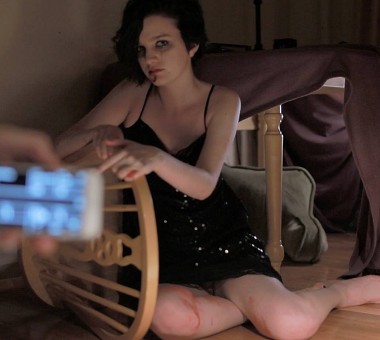 Arielle Hope
Do talk about Theresa & Allison's approach to vampires, and what do you think makes Theresa & Allison stand out of the crowd of vampire flicks being produced?
Vampires in this story are predatory animals with lethal addictions. In this film, they are unapologetically venal and scummy. They don't sparkle and the sex is far from romantic; it is immediate and dangerous.
A few words about Theresa & Allison's take on horror in general?
Instead of being scary it's more about dread, anticipating how bad things will get and how low our characters will go. Since Theresa has a conscience, there's an inherent tension as we follow her dark night of the soul. That said, Charles wrote some witty nasty dialogue, and his humor makes us able to bear the extremities Theresa & Allison puts the viewer through.
What can you tell us about your directorial approach to your story at hand?
Director of photography Christopher Bye and I pushed the weirdness and alienation as far as we could go. We went for daring camera angles and extreme lens choices. It's a bizarre nighttime Alice in Wonderland style, but the Brooklyn locations kept us grounded and real.
Do talk about your key cast, and why exactly these people?
We went through a long audition process for every role. The exception was Sarah Schoofs [Sarah Schoofs interview - click here], a wonderful actress who has appeared in many genre films including Gut, Meme and Phobia. As soon as she walked into the room she claimed the role as her own, bringing a cat's playfulness and selfishness to Allison.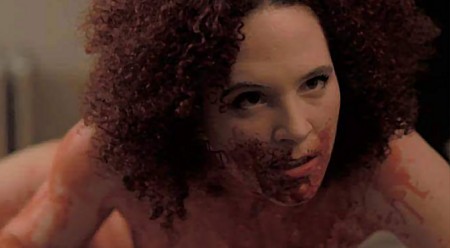 Sarah Schoofs
Theresa was harder to cast, but eventually Arielle Hope [Arielle Hope interview - click here] surprised us with her vulnerability disguised by a wise ass smirk. She's damaged goods, and aroused our sympathy. Sarah, nobody's fool, was far more experienced than Arielle, which she used to her advantage in their scenes together. I confess I teased Arielle incessantly to keep her on her toes.
A few words about the shoot as such, and the on-set atmosphere?
It was a never-ending shoot staggered over time, in freezing cold conditions and rat-trap apartments. Theresa & Allison was made in pain and terror, with the budget always threatening to collapse, but luckily the cast and crew were gung-ho, fighting to the finish.
The $64-question of course, where can Theresa & Allison be seen?
We're submitting to genre festivals now.
Anything you can tell us about audience and critical reception of Theresa & Allison yet?
Charles thinks the two hour cut says everything he wanted to say; I wish we were pared down to a lean mean 90 minutes. I'm reminded of the different cuts of Dawn of the Dead by George Romero (longer) and Dario Argento (shorter). Ultimately the theatrical cut of Romero's classic was in-between those visions. The movie belongs to the audience now and they'll tell us if they like it or hate it, so we shall see.
Any future projects you'd like to share?

Feeling lucky ?
Want to
search
any of my partnershops yourself
for more, better results ?

The links below
will take you
just there!!!


We're in development on a monster movie feature based on the proof-of-concept short film Slapface, and this month I'm directing a grisly horror short called Perfect for actress-producer Ashley Tyler who so memorably played the alleyway victim in Theresa & Allison. That project involves body parts and is more Mary Shelley than Bram Stoker. I'm looking forward to that nasty piece of work.
Your/your movie's website, Facebook, whatever else?
http://kippfilms.com/main.html
https://www.facebook.com/theresaandallison
https://twitter.com/theresanallison
Thanks for the interview!