Your new movie The Last Laugh - in a few words, what is it about?
Itís about a standup comedian named Myles whoís about to play the biggest show of his life, the one that could make his career. But thereís a killer loose in the theater and Myles is suffering from a traumatic event that has him on medication and questioning everything he sees. These two factors conspire to put his career-making night in jeopardy.
Is it fair to say that The Last Laugh is at least partly inspired by giallo movies of old, and if so, what drew you to the genre?
Itís very fair. Giallo is a horror subgenre I really enjoy. Theyíre really fun and theyíre incredibly stylistic. I think the style of them is what drew me in initially. Theyíre like these over-the-top whodunit stories with a heavy dose of technicolor eye candy and surreal amounts of gore. Another aspect I love is the surreality of them.
(Other) sources of inspiration when writing The Last Laugh?
I listened to a lot of Black Sabbath while I was writing. It seemed to fit the mood. Itís funny because The Last Laugh is more in the vein of a Dario Argento giallo such as Deep Red (which is my favorite of his films, by the way). But Argento isnít my favorite giallo filmmaker. That would be Mario Bava [Mario Bava bio - click here] and he didnít make many films in the proto slasher style like Argento did. But he was definitely a big inspiration as well. His films are beautiful and I never get tired of watching them. I think if we got the opportunity to make a sequel I would definitely want to push the stylistic qualities much further.
The Last Laugh is very much focused on its protagonist Myles - so to what extent can you identify with the character and his inner and outer turmoil?
Not so much his outer turmoil - Iíve never been stalked by a psychopathic murderer, unfortunately - but his inner turmoil feels very identifiable to me. Stand-up comedians are artists, just like filmmakers. And the world of stand-up comedians is one that functions as its own subculture, just like filmmaking. Mostly those feelings of self-doubt and nervousness and how incredibly daunting the journey can beÖ I could relate to those feelings.
A few words about The Last Laugh's approach to horror?
Our main character being a comedian was at the forefront of my mind. I wanted a little of that humor to infect the overall tone of the film but I was also very aware that I didnít want the film to feel like a horror-comedy. I thought it was important that the dialogue feel natural and that the conversations were entertaining without sacrificing believability.
What can you tell us about your overall directorial approach to your story at hand?
I love psychological horror in films and the ones Iíve directed all have a touch of that. I like that the events unfolding on screen can be questioned and even doubted to an extent. I tried to suffuse the subjectivity throughout with the quick flashbacks and the imagery thatís clearly only in Mylesí mind. I wanted the viewers to question what it is theyíre seeing at all times.
Do talk about The Last Laugh's key cast, and why exactly these people?
I love the cast and they all brought something key to these characters. Myles was the character I was most stressed about. At first I really wanted to cast an actual stand-up comedian in the role. My logic was that the stand-up moments in the film, though they are few, were the most important in selling that character. If you didnít believe that Myles might actually have some talent then I think the whole movie falls apart. There are no stakes if Myles isnít a good comedian. Steve Vanderzee surprised me though because he really seemed to understand the rhythm of the stand-up moments and he felt believable right away. He also had these large, haunted eyes that sold the other aspect of Mylesí character that was so important to convey.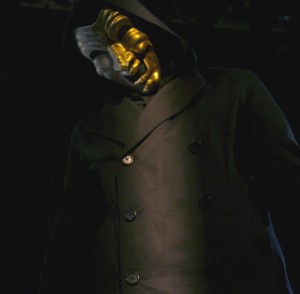 Marcus Leppard and Meranda Long were so great as Andy and Bethany. I auditioned a lot of roles in pairs to see how different actorsí chemistry worked together. But these two were the most important to me as a pair and I think their chemistry together is amazing. Theyíre both incredibly endearing and genuine and I think anybody watching the film roots for them.
Nelson was another difficult character to cast. The agent whoís been there and done that but has gotten in his own way too often and is now heading towards rock bottomÖ itís a lot of notes to play to convey where heís at in his life and career. And I think Eric Stone did a great job of walking that tightrope. Nelson is a bit sleazy but he also cares about Myles, he wants to get ahead but he also believes in his client. In a way heís atoning for his past professional sins.
Lowell Deo as Reggie Ray was a phenomenal find. Reggie is an important character because he headlines the show, he guarantees a massive audience, and heís a symbol of what Myles can achieve. But heís also a warning sign. Heís everything Myles wants to achieve and everything he despises. Theyíre polar opposites and enemies in a highly competitive field that can be rife with jealousy. Lowell really sold this character that you have to believe could hold the stage and demand the attention of a huge audience.
Angela Dimarco is a longtime friend and incredible actor. Donna was a person you had to suspect and feel sorry for all at the same time. Sheís a femme fatale but to what degree? I knew Angela could bring all the nuance that was needed to bring Donna to life and she did not disappoint.
You of course also have to talk about the theatre The Last Laugh was filmed at, what was it like filming there, and how did you find the place even?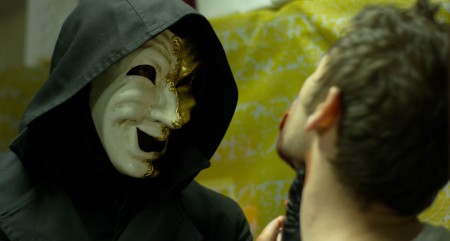 The main theater we filmed in for the stage and auditorium was The Pantages in downtown Tacoma, Washington. I had been there several times before and loved it. It was part of the homage to giallo films that there needed to be some incredible architecture and a feeling of old style. The Pantages was my dream location. Honestly I didnít think weíd get it. Our budget didnít have a lot of room for extravagant locations. But everybody was so impressed with the look of the place that we just decided to make it happen. A good location like that is so incredibly important for the production design of a film and how authentic it looks and feels. We couldnít film there for the entire time though so we alternated locations between The Pantages and The Historic Everett Theater. The Everett Theater was much smaller and more modern but some of the spots in it were actually better for what we needed.
A few words about the shoot as such, and the on-set atmosphere?
It was a fun shoot. There were definitely stressful moments due to how much we were trying to capture on a schedule that was shorter than we would have liked but the cast and crew were consummate professionals and I was always impressed with what we were able to accomplish. We had good, quality people in front of and behind the camera and that made for a fun atmosphere on set between shots. I was always excited to go to the set and see those people.
Anything you can tell us about audience and critical reception of The Last Laugh?
The film hasn't been released officially yet. Itíll drop on DVD and streaming on September 15th. So far the few people that have seen it have really enjoyed it and loved the characters and the interplay between them. Itís been very gratifying to see the reactions, whether itís the fun people have or the anxiety and heartbreak. The ending is the thing thatís the most divisive to viewers, intentionally so. Itís something that encourages discussion and opinion and Iíve loved having those conversations with people about what they think happened.
Any future projects you'd like to share?

Feeling lucky ?
Want to
search
any of my partnershops yourself
for more, better results ?

The links below
will take you
just there!!!


Thereís a crime thriller I directed last year thatís currently in post-production called Martingale. Weíve been slowed down a lot by Covid and quarantine but weíll have it finished up at some point and released. So keep an eye out for that.
Your/your movie's website, social media, whatever else?
Check us out at TheOctoberPeople.net to see the latest news for the film.
Anything else you're dying to mention and I have merely forgotten to ask?
That covers everything. Thank you for your time!
Thanks for the interview!