Currently, you are in pre-production of two projects, Tales from Beyond and Fat Chance - in a few words, what is each of them about?
Tales from Beyond: Volume 1 is the first in a series of creepy audio drama CDs featuring 3 true stories on each volume relating to hauntings, cryptozoology, UFOs, and other paranormal activity (such as premonition of death, astral projection, and wildly improbable coincidence). Each volume of stories will be professionally performed in the style of the classic radio dramas from yesteryear by some of the best voice talents in the industry and hosted/narrated (in The Twilight Zone-style) by beloved actor Daniel Roebuck (star of The Fugitive, Glee, Matlock, The Devil's Rejects, Rob Zombie's Halloween, US Marshals, Ghost Whisperer, and more).
Tales from Beyond is written and produced by Kevin Herren (Fall of the House of Usher, Legend of Sleepy Hollow) and myself and will be distributed by Schiffer Publishing. It also features the talents of Robert Picardo (Star Trek: Voyager, Stargate: Atlantis), John de Lancie (Star Trek: The Next Generation, Torchwood), Reggie Bannister (Phantasm, L.A. Law), Cerina Vincent (Cabin Fever, Two and a Half Men), Kyle Hebert (Dragonball Z, Wreck it Ralph), and Mary McGlynn (Blade, X-Men, Naruto).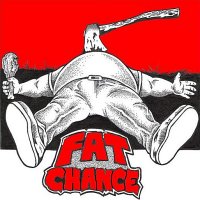 Fat Chance is a horror/comedy in the style of the films from the '80's. Tossing aside the grim, gritty realism of torture porn and other modern fads, Fat Chance prides itself on being a wild rollercoaster ride from beginning to end. It's best described as The Biggest Loser meets Friday the 13th! The plot is, basically, this… ten obese men appear on a competitive reality show geared toward weight-loss. As the competition grows more intense the contestants realize they are losing more than just weight; they are losing competitors. Are the contestants dropping out voluntarily or is something more insidious going on?
Fat Chance is written by Daniel Emery Taylor (The Return of the Swamp Thing, Road Trip) and is directed by Daniel and myself. The film, also, features the talents of John Dugan (The Texas Chainsaw Massacre), Scott Tepperman (Ghost Hunters International), and G. Larry Butler (Fist of the North Star).
As far as I know, you are presently running fundraising campaigns for both these movies - so what can you tell us about your campaigns, and how can we, the audience, help out?
Yes. We currently have 2 fundraising campaigns hosted on the IndieGoGo website that are offering a lot of really cool perks, including being able to order advance autographed copies of the projects, having the opportunity to act in the projects opposite the stars, getting production T-shirts, meeting the actors, and much more. There are humorous videos on each project page explaining what we are doing and how you can personally get involved. We greatly appreciate everyone's support of these projects!
Tales from Beyond can be found here: www.IndieGoGo.com/TalesFromBeyond
Fat Chance can be found here: www.IndieGoGo.com/FatChance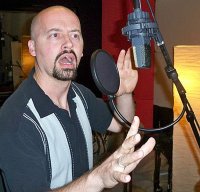 Jim O'Rear in the recording studio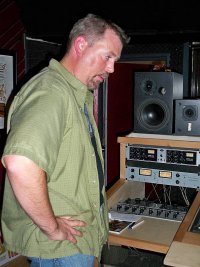 Kevin Herren
Let's start with Tales from Beyond - why audio drama, and how do you approach the medium stylistically?
Audio dramas are a lost art form from the past. Everyone involved in Tales from Beyond is a huge fan of the old-time audio drama, and we feel that it's an art that should come back into the public's eye. These are a lot of fun because it allows your imagination to get creative and piece together images in your head based on the sounds, music, and voices you are listening to. Orson Wells panicked the nation many years ago when he broadcast the radio drama War of the Worlds. These types of projects have a certain way of touching your imagination like nothing else can and you have to approach it from the point of what sounds, words, and music will evoke the most visual responses in the listeners brain. It's a challenge, but the end product is always a blast to hear.
Why an anthology series, what were your inspirations for the series as such and the individual stories, and what can you tell us about your writing (and producing) partner Kevin Herren?
Kevin is the "man behind the curtain" at Macabre Mansion (www.MacabreMansion.com). He's featured audio dramas on his website for several years and came up with this idea. Kevin and I had worked together on 3 full-length audio dramas previously, Fall of the House of Usher, A Christmas Carol and Legend of Sleepy Hollow. We're both fans of shows like The Twilight Zone and Outer Limits and thought it might be cool to try an anthology of shorts in that style. Since there is an increased interest in the paranormal, cryptozoology, and UFOs, we felt that a dramatization of true stories that had to do with those topics might be something that would be unusual and of interest to both horror and paranormal fans. We plan on having 3 different stories on each disc.
Tales from Beyond has a quite prominent voice cast - so why don't you talk about some of the people you'll feature, and how did you get them?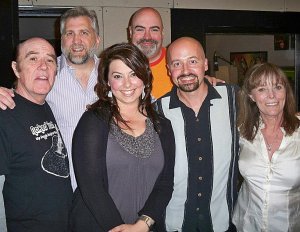 Reggie Bannister, Daniel Roebuck, Tiffany LaBarbera, Kyle Hebert, Jim O'Rear, Eileen Dietz
The cast is super talented and we're grateful to have them all on board. I think I mentioned all of their names previously, but we may also have a couple of surprises pop up in the cast, too. I can't talk about those, though, until later. I've known most of these actors for several years and have done other projects with them, so I just picked up the phone and made a call to see if they were interested. Many of us worked on Legend of Sleepy Hollow and A Christmas Carol together and had so much fun that everyone wanted to do it again. The only one I hadn't worked with previously was Robert Picardo. I had done some convention appearances with him, but never worked with him. Kevin Herren reached out and made contact with him and, as coincidence would have it, Robert was going to work on a film the following week with Daniel Roebuck and said that if Danny was doing it then he was doing it, too. Daniel and Robert were kind enough to shoot the humorous promo video that's on the Tales from Beyond IndieGoGo site while they were on their movie set together.
Fat Chance is described as "a fun and campy throwback to the over-the-top, gross-out slashers of the 1980's" - is that a genre at all dear to you, and how true do you remain to the genre formula?
Daniel Emery Taylor and I grew up on the campy horror films of the 1980s. To this day, I still believe those are the horror films that are the most fun. They never took themselves too seriously, the gore was silly and almost comic-book-style in nature, and they just wanted to let the audience escape for 85 minutes and have a good time. So, that time period in horror is dear to both of us. We are definitely staying true to that style and formula in the making of Fat Chance.
You of course have to talk about Fat Chance's co-director and writer Daniel Emery Taylor for a bit? And how do you two plan to tackle your subject at hand?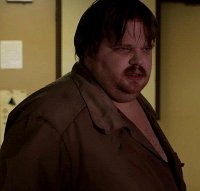 Daniel Emery Taylor
Daniel Emery Taylor, whom I refer to as DET, is probably best known fromThe Return of the Swamp Thing and his small role in Road Trip, however he is a die-hard horror fan and has appeared in several genre films. Just wait until audiences see him as "Stanley" in The Hospital, which is being released later this year. The public is about to see how talented this guy really is. Not only is he a talented actor but he's also a fantastic writer and has a good grip on the process of filmmaking. We both like the same types of films and have a very similar vision when it comes to films of this style, so we're going to attack it as fans of this genre making a film for other fans of the genre. We're going to make what we'd like to see on screen… and I think the audience will really enjoy it.
The slasher genre is almost automatically associated with blood and guts - so how far do you plan to go, how explicit do you plan to get in the gore department?
There will be gore and it will be over-the-top in nature. It has to be in order to emulate the films from the 80s. The difference is that the films of that time were not so realistic in their depiction of the violence and gore. They were almost laughable, in a lot of respects, while at the same time being gory. There's a certain campiness to it. So, while the gore will be over-the-top, it will also be fun.
You of course also have to talk about Fat Chance's projected cast for a bit?
Again, we've got a couple of surprises in the wings to add to this cast that we can't talk about, yet. It all depends on how successful the fundraiser is. But, there are a couple of cool names interested in being involved, but we've gotta reach our fundraising goal first. The cast that I mentioned previously that are attached to this project are fantastic talents that pour their hearts into what they do. John Dugan, from The Texas Chainsaw Massacre, is always a blast and Scott Tepperman, from Ghost Hunters International, is successfully evolving from reality television into a true genre actor.
Once your funds are raised, how do you plan to proceed with each project, and any idea when and where they'll be released onto the general public yet?
If we reach our goal on both projects, we hope to go into production on both of them in April or May. Fat Chance will be shot in Alabama and Tales from Beyond is being recorded in Los Angeles. We have a distributor for Tales from Beyond, already, who will probably have the product in stores by the end of the year. With Fat Chance, we will have some select screenings of it for fans at horror conventions and then let a distributor pick it up for release on DVD towards the end of this year, as well.
Any future projects beyond Tales from Beyond and Fat Chance?

Feeling lucky ?
Want to
search
any of my partnershops yourself
for more, better results ?

The links below
will take you
just there!!!

Find Jim O'Rear
at the amazons ...

amazon.com

amazon.co.uk

amazon.de
Looking for imports ?
Find Jim O'Rear here ...
Something naughty ?
(Must be over 18 to go there !)

DET and I will also be working with Scott Tepperman on a film he wrote called I Scream in the near future. It's also another campy 80s style film that will have a lot of cameos in it from genre stars of the 1980s. But, more about that later!
Your/your projects' website, Facebook, IndieGoGo, whatever else?
Tales from Beyond Facebook page: www.Facebook.com/TalesFromBeyondCD
Tales from Beyond Fundraising Campaign: www.IndieGoGo.com/TalesFromBeyond
Fat Chance Facebook Page: www.Facebook.com/FatChanceMovie
Fat Chance Fundraising Campaign: www.IndieGoGo.com/FatChance
Anything else you are dying to mention and I have merely forgotten to ask?
You can always keep an eye on my website (www.JimORear.com) for more news and updates. My website also has a link to my Facebook page, so between those two sites you should be able to get a lot of news and info!
Thanks for the interview!
Thank you for your interest in these projects!!