Your new film The Dark Place - in a few words, what is it about?
The estranged heir to a wine fortune must unravel a conspiracy that frames him for murder, threatens his inheritance, and endangers his very life itself!
What were your inspirations when writing The Dark Place? And honestly, to what degree could you identify with your character Keegan?
Family, for a lot. We are more or less stuck with them. Even the families that we find or that we make, weíre stuck with them, too. Good points and bad. They, in turn, are stuck with us. So what happens when you have pretty particular way of seeing the world? What does that do to your family dynamic? And then, what happens when a huge threat strikes and takes it all away? I packaged all of that up in the trappings of a mystery-thriller and away I went.
It's funny. People ask me how much Iím like Keegan, or how much I identify with him, when really itís how much Iím like all the characters and I identify with each one. Theyíre all shards of me blended together, remixed with dramatized elements from situations I found myself in, heard about from others, or thought wouold be pretty wild to live through.
Okay, like Keegan, I can be a bit of a dickÖ.
With The Dark Place being a mystery, is that a genre you're at all fond of? And how easy/hard was it to not let your complex story just slip away?
My main loves are sci-fi and horror. Thatís a lot of what I watch and read. But mysteries and thrillers are the lighter, slightly less fantastical versions of both of those things. So Iím attracted to those stories, too. Iím drawn to things that make you feel and make you think.
Very difficult, actually. I spend a lot of my time paring back ideas. Simplifying. If I say Iím a complicated guy, it comes across as being pretentious, but I donít mean it in that sense. I think about things a lot. Have the deep conversations with people. Love stories you have to follow along and do some work to keep up with. So that winds up cropping up in my work. The key point is not to get too confusing, deep, or complicated. I donít want to lose folks. So that was a challenge in all the revisions of this story.
How would you describe your directorial approach to your story at hand?
ďNudging.Ē If you are lucky ó and I was on this set ó you find good people with lots of talent and a deep passion for their roles. The only thing you really have to do then is nudge them in the right direction and theyíll take it the rest of the way, surprising you as a result. Same works with the crew, the DP, or the editor. If Iíve done the work with the script and found the right people to execute, theyíre going to make magic. I just have to keep everyone going in the right direction.
What can you tell us about your cast, and why exactly these people?
Many of them Iíve worked with before, either on Judas Kiss, which I produced, or in shorts that Iíd made. Iíve known Sean / Brent Corrigan for years. Heís a wonderfully talented actor. I love seeing what he does with the variety of characters heís played. Timo was a find on JK. He became a good friend. I saw him as one of the leads. Allison I met on the festival circuit. And Eddie just blew me away in the audition process. They're all fantastic actors.
Blaise was just pure luck. Our original lead dropped out at nearly-the-last-minute for personal reasons. I had no idea how we were going to find someone who could pull off all the levels required for Keegan. In walks Blaise, says he read the script twice because he identified so strongly with the character, then proves it with his acting. So glad I found him. Such a multi-talented guy.
Do talk about your shoot, and the on-set atmosphere!
We had some initial production problems that made the first few days tense. They were totally unforeseen and came out of left field, but they still stressed everyone out. It took some fast work on my part, on (producer and editor) Steve Parkerís part, and the other producerís part to deal with things, get everyone back on the same page, and drive on to the ending. I think weíd have gone another week, we were running so well by the end.
It was a good team.
What can you tell us about audience and critical reception of your movie?
Itís been interesting. We made a movie with gay characters as leads. Itís not a ďgay movieĒ though. (Endless late night conversations unpacking all of that!) I think it puzzled people at first. To divide the world in two, gay festivals wondered if it was gay enough and straight festivals wondered if it was straight enough. Audiences enjoyed it in every festival, gay or straight, it played in though. Even won an award for Best Mystery / Thriller from TLA. But yes, itís been an interesting reception.
Any future projects you'd like to share?
Next up is a horror comedy. Iíll tease it with one word. ďGreenĒ. Will hopefully have more news about it in 2015.
What got you into filmmaking in the first place, and did you receive any formal training on the subject?
My background is as a therapist and social worker. My first Masters is in Counseling Psychology and Human Development. First 12 years or so of my professional life was working with a variety of populations and some tough mental health issues. But even while all of that was going on, I was writing, making shorts, working on other productions, going to film festivals. I guess building my craft. A few years back, I got accepted to UCLAís MFA program in Screenwriting, so I went back to school, got another degree, learned so much from so many talented people, and have been fortunate enough to make a go of it as a writer / director / producer. So, overall, a bit of both
What can you tell us about your TV-series Inside/Outside the Beltway?
You found that, did you? In the early 1990s, in Northern Virginia, there was a small and vibrant LGBT filmmaking scene, doing both scripted and doc. One of the scripted projects was Inside / Outside the Beltway. It was a full on drama / soap series, created by Dennis Brooks. We basically did everything Queer as Folk ó the British version, let alone the American version ó did, years earlier and with a hell of a lot less money to work with. We made 31 episodes over five years. At the height, we were seen on public access stations in about 14 cities in the US. And despite the popular perception, we won a bunch of awards for the quality of the program we made.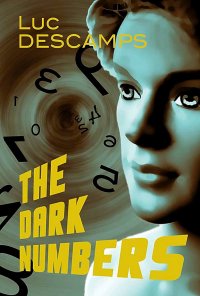 Alas, we were too early to the party. The social media technology wasnít there. Digital video ó we did everything analog, with linear editing machines! ó just hit the year we wrapped. We were never able to break out of the box. Today, we probably could have done it. But Iím pleased with what we made. It was my first writing gig shown before a critical and opinionated audience. The best teachers, possible.
Other film and TV work of yours you'd like to talk about?
Iím excited about the book series my company optioned. Itís called The Dark Numbers ó I know, I canít get away from things with ďDarkĒ in the title ó and itís basically Harry Potter meets Doctor Who. IPG came on board to help get it off the ground in Hollywood. Pretty exciting!
One can't help but notice that your films and TV shows frequently pick up gay themes. Care to elaborate?
Yes! Theyíre fun! When I was growing up, there just werenít that many gay images on screen, definitely not outside the after-school special / campy / tragedy kind. That made an impression on me, so much of my initial work was writing and creating to that need, whether real or just internal to myself. The wonderful part is that itís only in the last five years that gay characters have been appearing in stories from genres like sci-fi, fantasy, and horror. So whatever stories are told, theyíre new and fresh, in a way profoundly different than whatís already been seen.
With how much has changed over the last decades, uniquely gay stories are somewhat ó somewhat ó less important than they were years ago. We now have one generation and are fast working on a second that have never known a time when they couldnít see a gay, lesbian, and now trans, character on TV or in the movies. And not just stereotypical characters. Itís pretty amazing.
Moving forward with my own work, Iíve shifted from that specific an audience to a more general one. The beauty is, I can include gay characters now without being pigeonholed and sidelined into a specific niche. Itís a wonderful advance!
You have formerly also worked as a therapist and social worker. So in what ways does this influence your writing and film work?
Itís tainted and brined it all. Itís helped me to find the ďrealĒ in the ďunreal.Ē Iíve loved the most fantastical of stories that are somehow grounded in reality. It makes you think the fantastic is really possible. So I think my background has helped me to lash my characters to real thoughts and feelings, even if the expression of those are in heightened and far more dramatic worlds than what we regularly find ourselves in.
Also, on a more practical level, Iíve seen the real world. I know how tough it is for many people. I know the pain we all carry around inside of us. It makes it easier to relate to actors, producers, studio people, crew. Iím not perfect, but I think I can keep things in perspective that way. Movies are important. Movies are made while people are still starving in the streets. Like I said, perspective.
How would you describe yourself as a director?
Reassuring. Decisive without being overbearing. Calm. I think I only raised my voice once while on set. Okay, my voice can boom like Smaug in Erebor, but thatís usually only when the batteries died on my walkie. And I needed a fresh cup of coffee. And didnít know where theyíd moved craft services to.
Filmmakers who inspire you?
Iím so much more wrapped up in the writing side of things when it comes to names and technique. Serling, Gaiman, Espenson, Chayefsky. New and old, I watch, read, and aim to be half as good as those people.
For filmmakers, itís usually more movie-by-movie. I get amazed at what people accomplished in certain films. Like Park Chan-wook and Chung-hoon Chung in Stoker, James Cameron in Terminator or Aliens, Sidney Lumet in Running on Empty or The Verdict. Even Kurt Wimmerís b-movie Equilibrium. I try to figure out how they did what they did. Enjoyment, depth, action scene, performance. I try to be like them in those movies. I have a ways to go, but itís fun to try.
Your favourite movies?
Too many to list. The first movie-drug I took was Star Wars when I was 7. Iíve been addicted ever since. And a good film in any genre just grows my addiction
... and of course, films you really deplore?

Feeling lucky ?
Want to
search
any of my partnershops yourself
for more, better results ?

The links below
will take you
just there!!!

Find Jody Wheeler
at the amazons ...

amazon.com

amazon.co.uk

amazon.de
Looking for imports ?
Find Jody Wheeler here ...
Something naughty ?
(Must be over 18 to go there !)

Given how difficult it is to make a movie, I sort of celebrate anyone who has made it through and released a flick, especially when the budget was more than a few dollars. So I try to be appreciative of the effort they made to produce something from nothing.
Your/your movie's website, Facebook, whatever else?
The website for the film is at http://thedarkplacemovie.com. You can find it on Facebook. My personal website is JodyWheeler.Com, though I really just post to Facebook/TheOneTrueJody.
I have film production company with Steve Parker, the editor and producer on The Dark Place, called Cthulhu Crush Productions. You can find that and some idea of the new movies weíre working hard to make real, at CthulhuCrush.Com.
Anything else you are dying to mention and I have merely forgotten to ask?
One of the more comprehensive interviews Iíve given. I feel naked and exposed. I like that. Are you free for dinner?
Thanks for the interview!