Though we have talked about it at quite some length before [click here], do bring us up to speed: Your about to be released As Night Falls - what is it about?
As Night Falls is about kicking the holy shit out of some ghost, zombies, and anything else we can throw at the cast of characters. The main focus is about Elizabeth Croft (played by the amazing and beautiful Deneen Melody [Deneen Melody interview - click here]) and how she struggles to keep her family together. After her parents buy a rustic farm house their father dies. So the mother picks up work and is never home. So, it's Izzy's home or at least it feels like it. What they don't know is that the land is cursed because way back in the 1930's some crazed parents (played by the sensational Debbie Rochon [Debbie Rochon interview - click here] and giant of a man Michael Ellison) killed their daughter Amelia (played by Grace Chapman). So every year on the anniversary the parents return to kill whoever's on the land. This time they just didn't expect an ass kicking female, her inept boyfriend, and her bull of brother to fight back.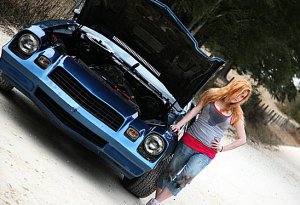 Deneen Melody and the Camaro
Ghosts, undead hillbillies, samurai swords and pumpguns, zombies and a portal to hell - now seriously, what went through your hand when writing As Night Falls?
Just that. I am a avid fan of Raimi and Jackson. When I was a kid I must have watched Evil Dead and Brain Dead a million times. They were fun, crazy, and just this side of campy. Which is the best way to make a film. My background is improv comedy and I love horror films. But I didn't want to go too far one way or the other. So, I tried to balance it all out. I like characters who react naturally to situations such as what our characters are going through. And just when I thought they had seen enough, I wanted to give them more. And when you've got a van like the one we had you write it in. And a Camero. And zombies. I know what most expect from horror films like ours. And it's not much. So I wanted the fans to really enjoy it. Get some laughs, get some blood, get some sexy girls, and do it while our heroes are fighting for the last 30 mins of the film.
Despite all your crazy ideas, As Night Falls also has quite a few traditional slasher elements to it - a genre at all dear to you, and some of your genre favourites?
Exactly! I keep with some things that I love in the movies I watch. That moment in Friday the 13th in the woods with the stalking predator, that sinking feeling you get when you're alone, and we need some good old fashion beheadings. The films that I admire are ones like Orphan, Poltergeist, Evil Dead, Split Second, Freddy vs. Jason, 1980's action films from Shane Black, and anything that has to do with portals to hell, like Hell House, The Lords of Satan, and anything on the occult really. Fighting hell demons is so much fun!
As Night Falls features quite a bit of violence and gore - so what can you tell us about that aspect of your movie, and was there ever a line you refused to cross?
There is no line I refuse to cross when it comes to action and gore!! Well, maybe. I don't want to go too campy. Funny is one thing, over the top campy is another. And watching people fight monsters and demons and ghosts and zombies is what horror is all about. I don't want to go too gory either - so, basically I'm a hypocrite I guess, since I said there is no line I wouldn't cross. But the over the top gory is one. I'd rather watch a bad ass chick kill monster with a sword than see someone get their skin peeled back.
The action is the Shane Black side of me. I love action films from the 1980s. Not the ones from today. Some are good but mostly they are too CGI. If you look at something like The Last Boy Scout you see a great mix of comedy and action. Or John Carpenter's Big Trouble in Little China. That's a perfect movie. And I think that's where I come from as a writer. And I like strong female leads. I'd rather watch a woman in tight jeans anyway.
The bathroom scene for example is both violent and gory and it's so much fun! Halie Clark was awesome in that scene!
How would you describe your overall directorial approach to your story at hand?
I had been wanting to shoot this film for about three years at the time we had found financing. It was long road and a bit of a struggle. So when the time came to shoot I was reflecting what we went through from the characters point of view. Charlie and Otto specifically get a fair share of beatings and that was the whole process of the film. Just a constant barrage of relentless beat downs. At one point early on I had a film director tell me that the film would never be made and I was foolish for trying to look for funding. But in the end we won. I feel.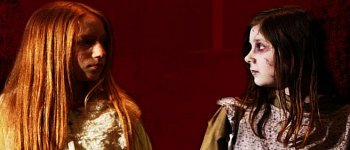 Lily Cardone, Grace Chapman
On the actual directing side I spent a lot of time with my production team and Brian Bourke, the director of photography. I also had about 200 pages of storyboards on hand. I spent about a year story-boarding the movie. Deneen and the stunt team spent about a week rehearsing the finale zombie fight scene while Dwight Cenac, Michael Ellison and I rehearsed our fight scene in the shed. But when it came to character development and character interaction I sat with the actors and discussed a lot of avenues. Deneen especially wanted to know her character in and out. And Lily Cardone and Grace Chapman we amazing to direct. Such talent in those young ladies. Dwight on the other hand... I just let him go nuts. He's like a fire ball of zaniness. The bedroom is complete improv.
There was so much going on. Debbie Rochon [Debbie Rochon interview - click here] was amazing. She and I go way back...all the way to Germany in fact! She is very dear to me. She is a riot to have on set too. I did feel bad for a bit because the contacts killed her eyes. But she was allowed to punch me every time they hurt her. Needless to say I started keeping my distance. And those who don't know Andre Riessig who played Pennywise, he is a true friend. He and I have made five films together. And he does everything he can to be keep everyone happy and laughing.
You of course have to talk about your location for a bit, and what where the advantages and challenges filming there?
We shot in Moon Lake. It's a rednecky section of Pasco County Florida. One of our investors knew of a farm house that we might be able to use and as it turned out, we could! It wasn't too much of struggle at all. In fact the surrounding neighborhood discovered we were shooting a film and starting popping in. So we set up a set tour day and inviting everyone out and walked them through set. It was fun. Several pieces of the location were built by Britany Stevenson, our production designer. She is truly amazing. She built the barn/shed we destroy and the entire mine shaft. Which was in two pieces; a large bottom piece and a top section that lifted off. The biggest challenge was the weather. It was the coldest in Florida ever. One night is snowed. Well, it flurried a little but it melted before it hit the ground. It was magical. We stopped shooting and just watched the snow bits float about.
What can you tell us about your key cast, and why exactly these people?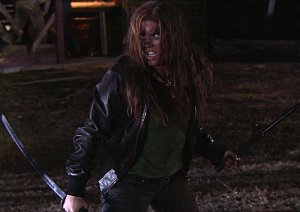 Deneen Melody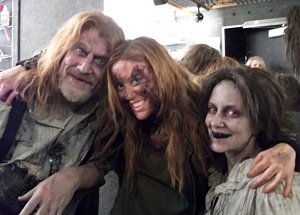 Michael Ellison, Deneen Melody, Debbie Rochon
Ok. Deneen Melody [Deneen Melody interview - click here] was my first choice. She was recommend by Ted Geoghegan I believe. Once I saw her I was like this is the one! Michael Ellison I met on another set where he played a bar tender and I was" you are being used in all the spots buddy." Debbie of course was a no brainer, the same with Raine Brown. She and I had worked on three films together already. And it was fun to have her back on set. She so brilliant and her eyes are amazing. Lily Cardone was picked from a line of actresses. She was perfect. She came in to the audition and I asked if she needed a script and she smiled and said no, I'm off book - and she was. In fact she knew everyone's lines. And often reminded us who's line it was. Grace Chapman came in to audition literally right after Lily. In fact I asked Lily to stay and read with her. Those two together was exactly what we were looking for. Dwight threatened me at gun point, so he got in. But seriously Dwight and I had made Experiment 7 (with Raine) and he and I are like twins, not identical obviously but mentally...or something. He had to be in the film. No one else could have played Otto.
Do talk about the actual shoot and the on-set atmosphere for a bit?
It's exactly how you would think, we had a blast. Sure it was long days and sometimes we had bruises but in the end we loved every minute of it. Since I like to keep everyone happy and be the funny man I tried to be just that. I'm not an aggressive director. I'm open to suggestions and enjoy input. If we were having trouble coming to a point we would discuss it for a moment and then find the solution. We did have a swear jar and somehow I think I still owe Lily like a million dollars in quarters. I don't have a filter and sometimes I say some odd things. I think I learned the most on As Night Falls. From production to relationships. But I wouldn't change a thing. Ok. Maybe a little bit.
So what can you tell us about critical and audience reception of your movie?
I honestly don't know. So far the reviews have been great! But our first viewing was an all out disaster! I mean think of the worst thing that could happen and multiply that by fifty. We had brought the wrong edit of the film. And ended up showing the rough cut with slugs, missing titles, action cues, and everything else. But, we rolled with it in front of the audience. Afterwards I went back to my hotel room an contemplated suicide by drinking myself into a vodka fueled cry fest and cuddle with the pillows until I had drifted off to sleep like a man-baby. That was perhaps the second worst night of my life.
I just hope people understand what it is and they enjoy it. Have a party, drink up, smoke some bud if you have to and just enjoy the movie.
Any present/future projects you'd like to share?
Indeed! I just directed a film in Alaska titled Frost Bite (an action horror film with gun fights and zombies) that is in the distro phase now, and have moved into the video game sector. The film stars the lovely Cassandre Leigh (again I'm all about the strong female lead), Stephen Waalkes (current middle weight title holder in the MMA AFC) and Cheyenne Buchanan who plays the main bad guy. And he's awesome. The story line is that the world has suffered a zombie outbreak and now Reagan (Cassandre Leigh) is walking the Alaskan tundra alone trying to survive.
I am also developing a FPS/RPG with game company Lion Wolf Games. It's set on a distant planet named Arcadia after a vicious alien battle. The battle has left the planet in ruins and several hundred aliens stranded on the planet. Now a hundred years later the world is rebuilt and it's up to you if you want to side with the humans or aliens in the revolution. It's very Steampunk meets alien tech. The title of the game is Steam Works. And it's being developed for PS4 and Xbox1.
Your/your movie's website, Facebook, whatever else?

Feeling lucky ?
Want to
search
any of my partnershops yourself
for more, better results ?

The links below
will take you
just there!!!

Find Joe Davison
at the amazons ...

amazon.com

amazon.co.uk

amazon.de
Looking for imports ?
Find Joe Davison here ...
Something naughty ?
(Must be over 18 to go there !)

https://www.facebook.com/pages/As-Night-Falls/259223171512
https://www.facebook.com/WelcometoFrostBite
https://www.facebook.com/steamworksthegame
https://www.facebook.com/joeygigglepants
Anything else you're dying to mention and I have merely forgotten to ask?
I'd like to mention I recently opened a studio in Largo, FL with my partners Megan Chapnick and Jeremy Lester. It's where we are developing the video game with Lion Wolf and shooting live action trailers for Steam Works. We plan on pushing the game out followed by a kickass feature film. I'm thinking of doing a science fiction film titled The Dead Quiet. A zombie space film that takes place on a abandoned military science ship that has a zombie outbreak.
Thanks for the interview!
As always. My pleasure!