Your upcoming film A Blood Story - in a few words, what's it about?
A Blood Story is a dark and twisted blood-drenched love story of sorts that starts with three strangers who meet on their journey to find the truth of an age old legend seeking the fountain of youth but uncovering much more. The evil that follows is delved in the deepest of bloody historical secrets… BATHORY!
What were your inspirations when writing A Blood Story?
A few of us have had multiple discussions over doing a lower budget film between 10 and 20 thousand dollars. A film that could be shot and edited and right out the door. Can it be done, yes, but for those like Wolfgang Meyer [Wolfgang Meyer interview - click here] and myself, there has always been the issue of the look and value of the film. It's easy to shoot a film for a few grand and end up with a film that has no lighting style or design and no value with talent, so, the film makes no money. They are a dime a dozen in this business. They get deals and sit. Netflix and Amazon are great but it wont pay the bills alone or even get back what you put into the film. So we had many challenges and they were met. Working with Wolfgang Meyer now on back-to-back films has given life to so many possibilities. Our passion and commitment in making a beautiful film has grown to another level and we've become very good friends at the same time. We have the same expectation level and we both work very hard. Then of course there is Tim Hays [Tim Hays interview - click here] and Debra Lamb [Debra Lamb interview - click here]. A combined effort of cooperative investing with our skills and money. With all these inspirations around me I was able to find a way to shoot the film with the same expectations we had for the cinematography in our last film, Disciples. All this comes into play when writing the script. Knowing the strengths around you and seeing the structure and its potentials. All this gave me that fuel to dive into this thing and it just kinda took off. It allowed me to really make the script what I feel is something special and at the same time something we can shoot with this budget. I talk a bit about Camden Toy below and he as well as Debra Lamb are both inspirations. Their talents gave me tools. You cant paint without colors! And of course Tawny Amber Young. As a producer, Tawny was involved heavily in the early talks about this film. So I think this particular writing has many inspirations and all these elements I mentioned contributed as inspirations. None of the ideas or creativity was spawned from another film or creation. This painting came from my head with a selection of colors to work with.
How do you plan to approach your subject matter on a directorial level?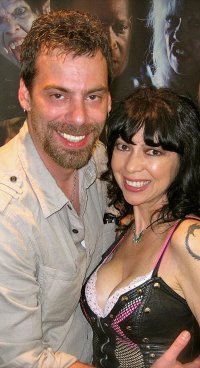 Joe Hollow, Debra Lamb
This is an area I can't discuss too much yet. The style of the film is being designed as a whole now. I have a pretty solid idea of the direction we are going in but since I've written the script and talking more and more with Wolfgang, the vision is not so much changing as much as it is developing. The script was written smart and I was able to connect with Wolfgang on this creatively. With that it raises the bar. So yes there is an approach but in lieu of saying too much, I can say that we are storyboarding now and the design is very original. Wolfgang is on a mission!! All this then trickles down to the talent. So my job as a whole here is pretty extensive and when we finish designing the film I'll be able to talk more about this area.
As far as I know, you have recently started a fundraiser for your movie. So what can you tell us about your fundraising efforts, and what will these funds go into?
We were able to raise the budget for the film but I felt we could do a little more for the film by bringing in a few people who can help in the films production office, PR and marketing. So these are the areas the funds will go. I have never run an indieGoGo campaign before. I've supported them and donated a ton but never ran one myself. It's a really good opportunity for honest projects whatever they may be to get a little help. So I figured for the first time, go ahead and run a campaign to bring a few of these people aboard and at the same time raise some cash for the many who are working for free on so many levels to see the project through including people like Debra, Tawny and myself. It's an honest campaign for all the right reasons, and I was able to offer some really great prizes for donations. Outside the average poster signings and such, we have one that gets you in the film as a dead body, and there are seats for producers as well. It's a low campaign raising $3000 and after a few days it has raised $1800. I expect it will simmer until the end and hopefully rise at the end and raise all its funds. It's guaranteed to be a film that will get done quickly and picked up quickly. I know you will never please everyone but for the most part I can say you certainly won't throw it in the trash or hide it at the bottom of your DVD collection, I can promise you that. If anyone wants to help out a really ambitious film with a lot of talent and beautiful people, please donate to our campaign on indiegogo.
www.indiegogo.com/projects/255761?a=20237
Once the fundraiser is done, how do you plan to proceed, and even the faintest idea when the film's going to be premiered/released?
It's so early to even really touch on this. The project is literally a month old. I can say there have been discussions with distributors and after the campaign is over and we secure those who will be taking the reigns in production management, PR and marketing areas, we'll then be able to move forward with discussing the premier and related topics.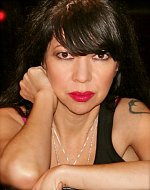 Debra Lamb
According to my information, A Blood Story will be produced by you in tandem with genre veteran Debra Lamb's Lamblight Productions, and Debra will also play a part in your movie [Debra Lamb interview - click here]. So how did that collaboration come into being, what part will she playing, how did you and Debra first meet, and the like?
Debra Lamb plays the role of Erzsebet Bathory. Better known as Elizabeth Bathory. She is a powerful character actor. This role following her epic performance in Disciples will be a good example of what "the return of Debra Lamb" will be offering filmmakers. Debra and I are also the greatest of friends. It was primarily Debra and I who gave this film life at the start. At least the vision of it anyways. We had been talking about doing a film on this budget level for quite a few months. So one weekend we did some writing. We both decided to each write a story. On that weekend A Blood Story was born. It just came together fast and we decided to run with this one first. It's guaranteed that Debra and I will do at least 2 films together in the very near future. So in the executive office is where we share a seat. Debra and I are the executive producers on the project and Michael J Schaefer is the films co-executive producer. We do have a little promo out that says "Joe Hollow Films and LambLight Productions Presents" but in the end I'm sure it will be more formal with "Joe Hollow and Debra Lamb", since we are actually funding the film and not our production companies. This here is another area currently being discussed. You've got some fresh off-the-press info here.
Besides Debra Lamb, A Blood Story will also star genre veterans Linnea Quigley, Robert Z'Dar and Camden Toy, most of whom you've already worked with before. What can you tell us about them, their contributions to the movie, and about working with veterans of their ilk in general?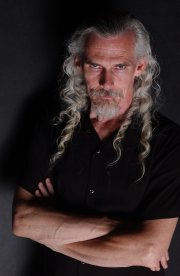 Camden Toy
I can't speak highly enough about Camden Toy. We worked together recently on Disciples and this will be our 2nd film together. He is just a wonderful talent and a true class act. I always had a high regard for his talents but after one particular day on Disciples that high regard escalated. It was a very complex day. The set hosted 11 actors including Brinke Stevens, Tony Todd, Debbie Rochon, Angus Scrimm, Debra Lamb and Camden, so the pressure was on. I saw something that day with Camden I'll hold close to my heart for all my days. He is just tremendous.
When I was writing A Blood Story, I had certain actors in mind as I was writing it soon became apparent to me the character was being inspired by Camden Toy. It was Camden the whole time. I can say that revision gave the script a bigger life. It allowed me to pursue areas and challenges I was now comfortable with taking on.
I experience somewhat of the same with Debra Lamb and Linnea Quigley on set. We have all grown up to them and used to the cliche term "scream queen". But a man like Angus Scrimm will tell you the same thing and on a few occasions he and I discussed this, they are much more than just scream queens. With Disciples I was committed to giving them something they have never done before. Wolfgang and I were committed to making them look better than we have ever seen them.
Why?
Because I feel this is how legends are born!! Not with just another stereotypical role but by seeing them in something epic!! Something bigger and making their fans proud! Taking the next step and going to the next level. These roles were not written and then cast, they were written specifically for them. Working with them is a tremendous honor for me. We've all grown to become wonderful friends and together now taking on some exciting projects. When it comes to contributions, well, the list goes on and on with Debra and Linnea. Disciples owes a lot to both of them. They were vital in giving the film life in so many areas, and now A Blood Story.
Robert Z'Dar who was recently inducted into the Independent Films Hall of Fame is obviously a very familiar face in both the indie world and mainstream. Famed for Maniac Cop and Tango & Cash with Sylvester Stallone and Kurt Russell. The move to bring Robert in was made after discussions of the films value and a need to artistically sew the film together. This is where the brilliant character "Gerry the Jaw" was created and again it was written specifically for him. Robert offers the film a unique character with hall of fame-credentials. I've yet to work with Robert and Im looking forward to our time together. He's a legend and I'm honored.
A few words about the rest of your cast?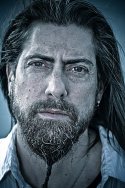 Mark Hanson


Tawny Amber Young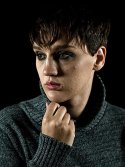 Melanie Robel
The rest of the cast is solid!! Starting with Mark Hanson. We first met on Cut. One of the many changes in Cut that I didnt touch on above was that I was originally the lead and I replaced myself with Mark Hanson. I was the casting director so its unfair to say "Mark Hanson stole my role" - but here again with A Blood Story it happened again. At first I had a lead role in this. For many reasons. It was designed around my strengths and to help save the film money. Well, the expectation level had risen and I felt I needed to keep my eyes behind the camera. So in short "Mark Hanson took my role again". I spoke with Mark after he read the script and we just about immediately began discussing ways to make it happen and of course, we made it happen!! He's an intense character actor and an intelligent actor. Mark and I have a strong chemistry and like Cut and A Blood Story, we're certainly going to do a few more films together.
In another lead role I'll be introducing Tawny Amber Young. She is no stranger to the indie film world and a former Playboy model. I think for Tawny, this is the one. Its a lead role built and designed around many of her strengths. I've worked with her on both Cut and Disciples. She had smaller roles in those films but our time together has developed into this working together now on a feature film where the roles are bigger for both of us. I'm proud of Tawny and proud to be working with her on this.
I think the same goes for fellow cast member Melanie Robel [Melanie Robel interview - click here]. I worked with Melanie on Disciples as well. She is perfect for her role in this film and I think for her this could be a statement film. This will allow Melanie to dig deep into a complex character and show her talents to the indie film scene. She's a talented and dedicated actor. It's a really solid cast all around. The film will also see Wolfgang Meyer, Tim Hays and myself among others.
Your cinematographer will be Wolfgang Meyer [Wolfgang Meyer interview - click here], whom you have worked with before frequently. What can you tell us about him, and what's your collaboration usually like?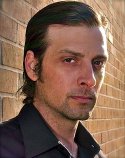 Wolfgang Meyer
Well it's everything I said above about him and so much more. Wolfgang and I met on a set a few years back and then again shortly after on another set. He was doing the same thing I was, contributing his time to help a film. We were both working on our own films at the same time as well. Difference was that I was just getting started and Wolf had already a number of years under his belt. We hit it off right away and I'm sure it was purely the cooperative passion at first but it grew to become much more. I soon started working on Cut and I wanted to take a big leap and shoot the film on the RED camera. It was a level of filmmaking I had yet to take on myself. The film was to feature high end talent such as Tony Todd, Kane Hodder and Michael Berryman. I myself at the time had a small role in the film as well. I wanted to do it right and I couldn't do it alone. I needed his help to direct camera and work with our cinematographer to meet the level of expectation. Wolfgang helped me get to that next level. Thankfully so, as it turned out, the film faced many obstacles that forced rewrites and it was a tough learning experience for me. As an actor, my role became much bigger through all of this and in the end to a success and I owe that to Wolfgang and a fantastic cast and crew. That film has a soul from the blood and craftsmanship that went into it. Long 18 hour days, freezing weather and multiple locations that included a 7hour road trip in a blizzard from upstate NY to the West Virginia State Penitentiary. Disciples on the other hand was a fantastic project from start to finish with a surreal high end cast of horror icons and legends, again, done with Wolfgang. He is a producer and the cinematographer on that film as well as A Blood Story. Working with him is a reflection of everything we've discussed in this interview. Together Wolfgang and I have done some amazing things and we've experienced a whole lot of magic in the process. Moments to last a lifetime with beautiful people, and it's only the beginning.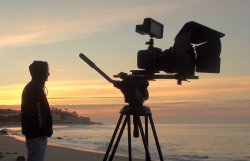 Since "blood" is already mentioned in the title - how much gore and the like are we to expect from your movie?
Its not a splatterfest or the typical gore flick. I love those films yes, but this is not that.
Will there be blood?
ABSOLUTELY!! It's everything you want from a horror film. It's ALL there but it goes back to some of what we've already discussed. The quality of the film, the cinematography and the level of talent and worth. So I don't want to say this is a statement film but ... it's a statement film. For an ultra low budget just over 10 grand it's going to look as good as Disciples. The film offers more than what today's distribution asks for. The guts of the film, the heart of it, the story itself. All this is what I feel makes the difference on this budget level. It's very challenging and we look forward to meeting that challenge as artists. It's a smart film that I think will offer much more than just blood and guts. Without saying too much, I can say it has epic qualities. It has moments that were meant to "live forever" as I like to say. It's certainly not the typical "fast forward until you see blood or boobs" film. Again, all these elements are there and plentiful but the style we are designing altogether with the level of talent cast for the project will make for a classy film with lots of blood that's both beautifully stylized and original. Then driven home with a powerful score from the great Harry Manfredini!
Any future projects beyond A Blood Story?
As of right now Cannibals is targeting the summer of 2013. There is a page at my personal website for that. No website or anything yet because its still early on. Wolfgang and I are discussing shooting Cannibals on super16. I've talked with various talent about this project and able to secure many I've worked with already including Bill Moseley, Mark Hanson, Priscilla Barnes, Michael Berryman, Lynn Lowry, Brinke Stevens, Debra Lamb [Debra Lamb interview - click here], Linnea Quigley, Greg Johnson, Tawny Amber Young and a few others. It's a big cast!! Just too early to talk about this one but it's a very ambitious project to say the least. There is also the script written by Debra Lamb I cannot discuss at all yet but yes, absolutely, future projects have certainly been discussed.
&nbsp

Feeling lucky ?
Want to
search
any of my partnershops yourself
for more, better results ?

The links below
will take you
just there!!!

Find Joe Hollow
at the amazons ...

amazon.com

amazon.co.uk

amazon.de
Looking for imports ?
Find Joe Hollow here ...
Something naughty ?
(Must be over 18 to go there !)

Your/your movie's website, Facebook, indieGoGo, whatever else?
Yes yes, thank you, there are quite a few websites indeed: ">A Blood Story: www.abloodstory.com
A Blood Story Facebook: www.facebook.com/abloodstory
A Blood Story IndieGoGo campaign: www.indiegogo.com/projects/255761?a=20237 ">Disciples: www.disciplesthefilm.com
Cut: www.cut-thefilm.com
Joe Hollow: www.joehollow.com, www.facebook.com/hollowbethyname
Debra Lamb: www.debralambfan.com, www.facebook.com/debra-lamb-extreme
Wolfgang Meyer: www.facebook.com/wolfgangmeyer
Anything else you are dying to mention and I've merely forgotten to ask?
I think we did good. Thank you for the opportunity to talk a little about A Blood Story.
Thanks for the interview!