You are currently putting the finishing touches on your debut feature film, The Bunker. In a few words, what's the film about?
The Bunker's about the teenage daughter of a New York City congressman, sort of a wild-child, who's disenchanted by the scrutiny that being part of a political family entails, so she runs away on the night he announces his bid for reelection. The congressman, knowing that a scandal could destroy his career and ambitions, hires some unsavory types to comb the streets and find her before the press gets wind of the story. What nobody's aware of, however, is that a sadistic killer has kidnapped the girl and secreted her in his underground bunker, where she's made aware of how long she has left to live. In some ways, the movie's a classic thriller, in others a gritty horror film. I like the way the two genres play off one another.
What were the main inspirations for making the film?
In 2003 I'd had a short story of mine, Chance Meeting, from the anthology Stuff Outa My Head, optioned for a TV pilot. I wound up getting the job to write the screenplay, and the pilot was produced, although not picked up for broadcast. The producers released it to the foreign market (Asia), as a direct-to-DVD release, and it did quite well. Being 1-for-1 in terms of screenplay writing, I started to write another, although not with the intention of directing it. That came about purely by happenstance. But given that most of my previous writing had been in the comic book field and world of short-story fiction - neither market being particularly lucrative - the appeal of reaching the kind of audience you can with TV and film was really the driving factor behind my shift in focus. I really enjoyed the filmmaking process from the writer's standpoint, so it was quite easy to find the inspiration to try and do it again.
How would you describe your approach to the horror aspects of your movie?
I try and take a lot of the traditional aspects, like what an audience is going to expect, and apply non-traditional means to achieve my goals. When I began making The Bunker, the torture-porn trend was in full swing. It would have been very easy to take my female protagonist, toss her into a hellhole, and have my main bad-guy (Terry M. West), abuse her for 90 minutes and call it a movie. Throw in some gory effects, some creative violence, and bingo, it would have been done. But that really didn't appeal to me, despite that sort of movie doing well financially. So, I reached points in my film where the audience had an expectation of what was going to happen, and I tried to surprise them. Sometimes, the film delivers precisely what's expected, and others, there's something the audience didn't see coming. I think that's why straddling the line between thriller and straight-up horror film set my film apart from other movies that have similar themes. Imprisoned, virtually-helpless characters, a limited cast, a claustrophobic location, etc. It could easily have made for a production-line kind of fast-food movie. I wanted to do something more than that, so I took the approach that people might expect to see A and B and C, and I would be happy to lead them to the edge of all three, but then give them W, Q and Y instead. Given the response from reviewers and distributors, I made the right decision there.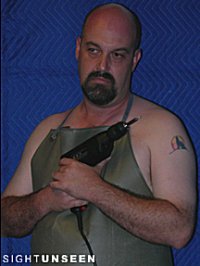 Terry M. West
A few words about your principal cast?
I wrote the kidnapper's role for Terry M. West, a fellow director who'd also been in front of the camera in Alan Rowe Kelly's The Blood Shed [Alan Rowe Kelly interview - click here], because I'd known him forever, going back to my days in comics. The decision surprised some folks, because while Terry may look like Mr. Bad-Ass (one of the reasons I chose him), if you know him, he's just the greatest guy. But I knew he had the potential to take over a scene, and to be larger-than-life. He has an intensity about him when he's in character that could make any co-star cringe. I'm grateful he took the role, because he brought something to the film you can only hope to get lucky enough to find when putting out a general casting call. He delivered in every take, of every shot, in every scene.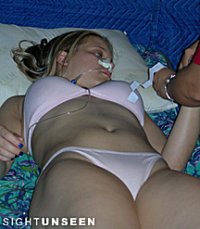 Saskia Gonzalez
As for my female lead, Saskia Gonzalez, I had to go with my gut. We held an open casting, and she impressed me the most. The only reason I was a bit reluctant to give her the role was because we were looking for a very slight, very young-looking girl who could pass for 16. Saskia was a little curvier than the girl we were initially going to go with, but in the end we went with her, and she surpassed everything I'd hoped for in an actress with very little experience. When this film is released, she's going to turn heads, and not just because she spends a good portion of the film in her underwear.
You are blind, and I bet you have been asked this a lot and I know this is a kind of stupid question, but I still feel obliged to ask: how can a blind man direct a movie?
Not stupid at all. It's everybody's first question, really. It'd be mine, too, if I weren't the subject. The thing is, I always had a visual sense. It's what helped me create successful comic books - I still thumbnail my own comic stories with cardboard templates and stick figures - and it's why I think I moved so easily into screenwriting. The key for me is, methodical planning and paying attention to details. I built the primary sets for the film myself. I knew every square inch of them. I built the lighting rig and the system for hanging our mics. I could walk every character through a scene, communicate to them what I wanted, and then, like any director, sit back and let them run with it. True, I did have a set of trustworthy eyes watching the monitor, but only in case something went wrong. If I have a character deliver a line conveying a threat, I don't expect him or her to be grinning or making goofy faces. No actor wants to be embarrassed, so it's not like I need to rely on somebody else to convey the facial expressions in any given scene. That's not directing, that's micro-managing. For that I could do an animated film and just tell artists exactly what to draw. I focus on the performances after going over the blocking and emotion of a scene in walk-thrus, and then I let them do what I cast them to do...make me look good!
How much influence did you have on the visual aspects of your film despite your blindness?
Almost 100%, believe it or not. For principal photography, if it wasn't a scene being shot in a set I built, it was in a room in my house I set-dressed. If it was an exterior location, it was a place I had scouted or knew from the past, when I still had my eyesight. When I went over things with my director of photography, I'd rattle off film examples so we'd all be on the same page, such as, "Okay, we have a three-shot here. I want the characters positioned like Brody, Hooper and Quint from the Indianapolis scene in Jaws, and when the camera angle shifts to focus on this character, I want to slow-creep in until we go from a wide to 3/4 medium shot." I'd do that, and my DP knew what I wanted, my cast knew their blocking and positions, my lighting guys knew where to set up the equipment, etc. I wanted the film to have an overriding, claustrophobic quality, and that meant I had to plan out how that would be best conveyed visually and in terms of physical space. You can't get more hands-on than that.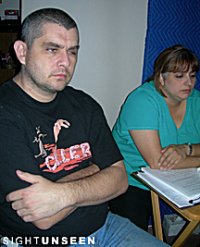 Joe Monks, Carmen Rose Socorro
What can you tell us about your crew?
Believers. The people who signed on for this were convinced from the get-go that it could actually be done. I had some people show up for the first crew meeting who never showed up again. But everybody else?
Carmen Socorro, my script supervisor, was tenacious about details.
Audra Pezza, who came to the project with almost no experience, developed into my right-hand-man (so to speak), handling propmaster duties, learning script supervisor details from Carmen, organizing our DV tapes and labeling everything so we could find it later, I mean, she just became a jack-of-all-trades in a very short period of time.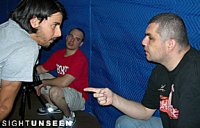 Vallo Lleo, Brian Mulder, Joe Monks
Vallo (Salvador Lleo de la Fe), my DP? Absolute gold. He showed up last-sec, because our original DP had to bow out at the last minute due to a family illness. He flew in from Los Angeles, spent two days before we began shooting getting himself acclimated and comfortable with the script, and when we geared up on Day 1 of shooting, he was as familiar with the movie as anybody who'd been on board since the beginning.
There's too many people who pitched in to go through individually, but despite some hassles, I had a tight crew that gelled on the first day of shooting and stuck together no matter what went wrong. Without them, this thing would've been a cinematic Hindenburg.
Making The Bunker was pretty much plagued by delays. What can you tell us about the lengthy process to get your film finished?
Yeah, that. It can pretty much be summed up in two words: Hart Fisher.
The Bunker wasn't finished in 2006 as planned largely due to problems with Hart. Almost from the very beginning, working with him on this project was a mistake. He wasn't even supposed to be involved with the film, to be honest. I'd hired an editor, Vince Azgurdsen (sorry, Vince, I know I am butchering that spelling!), and if he hadn't gotten an out-of-state job offer right before we began filming, I think The Bunker would never have been sidelined.
Unfortunately, Hart, who I'd been friends with for 14 years at that time, offered to do the rough cut, and it seemed an easy decision to make. He had the same equipment, he could assemble the scenes based on my script supervisor's notes and my screenplay (which was as detailed as an Alan Moore comic book script). No brainer, right? But Hart had the footage for nearly a year before his wife was diagnosed with cancer, and all he managed to get cut was four scenes and half the framing sequence. This is why I'm partly to blame for the ongoing delays. Misguided loyalty. I should have replaced Hart in the spring with a qualified editor who could actually get the work done, instead of relying on a friend to come through on the work he promised. I'm the one to blame for that. I gave him even more time after his wife got ill, and only in 2007 did I finally tell him I was bringing in somebody else. I did that because I didn't want him having the weight of my film on his shoulders while his wife was undergoing cancer treatment in Japan, because I knew he had too much on his plate.
But prying him out of the movie wasn't easy, and so when Liz Smith was hired, we started fresh. We dumped everything. Hart's footage - which I wasn't happy with to begin with - was discarded, and we started from scratch. By mid-summer, we had a festival cut ready to screen, which received great reviews at the Florida SuperCon, and we were invited to screen at the Halloweenapalooza Film Festival. Again, great reviews, critical praise, and screeners began going out to distributors. The film generated interest among the likes of Grindstone Entertainment, Galloping Films, Barnholtz Entertainment, Shoreline Pictures, and others. What everybody wanted, though, was the locked-down cut. A version with the final film look and stereo sound design, which I'd been promised for months.
By late 2008, though, I still had nothing to show for all my faith in Hart. On top of that, he refused to stop mucking around with my edit. He kept reintroducing shots that I had cut and continuity errors left and right. I finally had to get a lawyer involved and basically threw him off the project in October of '08. Three years, and he couldn't complete a rough cut, couldn't get me the paperwork for the bands I wanted to use for song licensing purposes, couldn't finish even a basic stereo sound mix and actually tried to cover some bad audio hum we had in one scene with the sound of chirping crickets. You know, I'm no sound engineer, but I did live in New York for the better part of 30+ years and guess what? You don't find many crickets on the streets of Lower Manhattan in the commercial district. Somehow, Hart thought loud chirping crickets was a viable solution, though. When I heard that, I couldn't believe it. He was claiming to have a sound pro on board to work on the sound design and this was what they came up with instead of simply suggesting an ADR session? It was a totally Ed Wood kind of solution, like so much other crap he tried to push on me, and that was one of the final straws.
There were a lot of other issues, to be sure, including him putting his director's reel on a The Bunker screener. He was supposed to send me a DVD with the film and my promo reel and clips on it, because he had my drive with the latest edit. This was going in a media kit that was being hand-delivered to a booking agent with the David Letterman show. The DVD showed up the day my contact with the booking agent was supposed to fly to New York, but her flight got pushed up, so I actually got to check the disc, which I wouldn't have been able to do otherwise. I don't believe that was an accident.
Why was his director's reel, and the opening credits for his TV show on my film? He had no answer.
Why did he include a music video he directed, too, and leave off my promo reel entirely? Again, no answer.
But by then I'd already decided. Hart was too insecure to accept any criticism of his edit as valid - despite me having a number of other filmmakers helping me screen the cut - and I could no longer ignore the fact that Hart was impeding my progress, not just slowing me up. You know the old saying, about how a difficult task seems to be two steps forward and one step back? Working with Hart Fisher was more like one step forward and two steps back. The longer he was involved with the film, the further it seemed to get from being release-ready. At some point, I had to face the fact that it felt intentional. This went beyond mistakes and differences of opinion about the film look or sound design or my preference of which cut to use. This began to feel like outright sabotage, and when I got that edit with the crickets and slo-mo effects put in for no reason and bad dialogue re-introduced that I'd cut out not once or twice but several times? That convinced me. Only later did I find out, via a post on his blog, that he was still talking to people about The Bunker, and that he laughed off an offer from a distributor. Again, no matter what Hart did to screw things up along the way, it was my decision not to dump him earlier. I should have, it would have saved me a thousand headaches and I'd be working on an entirely different film right now.
Your/your film's website, MySpace, Facebook, whatever else?
The film's official web site is:
http://www.sightunseenpictures.com
And I can be found on MySpace at:
http://www.myspace.com/joemonks1
And, we're Facebooking too, at:
http://www.facebook.com/JosephMMonks
The 64 Dollar question of course: When and where with The Bunker be released (tentatively)?
We've received an offer for international distribution from Galloping Films, an Aussie-based distributor which covers a number of foreign territories. They've been very supportive despite the delays, and I think we're looking at Down Under sometime by Summer 2011 at the latest. As for North American release, there are still a good number of distributors who have expressed interest, but it'll depend on the final cut and the new post-production efforts we're making. I'd like to see the film out by next summer, but it'll all depend on the release schedule a distributor sets.
The Bunker was your debut film as a director but not your first expedition into the movie world, you have also written the short Flowers on the Razorwire back in 2004. What can you tell us about that one?
Let's see, what can I tell you?
Well, I wish I'd gotten paid. Somebody got a production check from the foreign producers, and while I retain the copyright on the short story and the screenplay, I wasn't paid for it. So, while the process itself was fun, and I enjoyed being a part of it, I'm only dealing with reliable, honest filmmakers now. I understand the short is scheduled to run in Europe sometime in 2010 or 2011, but I've yet to see a contract, and since my company co-produced the film and my corporate logo is on it and I don't believe the thing can actually be sold anywhere without my consent, I'm waiting to see how that plays out. I don't expect to see any money coming from my work from the show's producer, though, let's put it that way.
In Flowers on the Razorwire, you also have a small role, actually playing a guy with eyesight. Now how did that come about?
Totally by accident. Originally, I wrote in this small part to build up some tension in the story by having a blind man, tapping a cane, approaching from off-camera, which was disconcerting to the lead actress, who was in an apartment building basement, all by herself. The unusual sound of the tapping, to her, was essentially coming from nowhere, until the blind man was revealed. Hart thought having me as the blind guy would be fun, and I agreed, but I was unavailable during his shoot dates, so he replaced me with quite possibly the worst blind-acting man ever to appear on film. Totally unconvincing, which was kind of surprising, since Hart had seen me operate a cane and should have been able to at least coach the guy to be a little bit believable.
But anyway, I couldn't be that guy, so when we decided to add the Flowers on the Razorwire wraparound, based on one of his comic book characters, he asked me to play the protagonist, a true crime writer who gets himself stuck in a bad fix. Trust me - I am no actor. But I hit my lines and all my cues and my prop work on-camera was good, and it was nice to get decent reviews. Being in front of the camera isn't something I aspire to. A walk-on or cameo in The Bunker was all I'd envisioned for myself, but I wound up replacing an actor who couldn't make it in one scene, which again required delivering a bunch of lines. I hope this is a trend that does not continue.
Besides making movies, you are also a writer, mainly for comicbooks. What can you tell us about your writing career?
Professionally, I've been writing since 1989, when I co-created the underground horror comic Cry For Dawn. That led to a number of other opportunities, from writing articles for some comic book based magazines to doing feature interviews, short stories for other horror publishers, that sort of thing. I've also written music reviews and film reviews for a number of publications, and a lot of adult fiction for men's magazines. The adult stuff is fun, and pays the bills a lot better than freelance short-story horror fiction does, but I still continue to return to the genre. In 2002, shortly after I went blind, I released my first paperback collection of horror stories, Stuff Outa My Head, which sold quite well for us and got a favorable reception from critics. Bernie Wrightson, who frequently collaborates with Stephen King - at the time he was coming off King's Dark Tower: Wolves of the Callah - provided the illustrations. I was quite happy with the way that turned out. Right now, I have two film properties sitting with the film production company Sometimes, Dead is Better Films out of New York, so we're hoping to get funding finalized for one or both of them sometime in 2011.
Comicbook artists you have worked with?
Oh, man, a whole lot. I've been fortunate enough to work with Bernie (Wrightson) on several projects, and Basil Gogos was a real treat. He and Ken Kelly and William Stout provided covers for the Zacherley's Midnite Terrors comic we did, which was a blast.
Ken Meyer's always a pleasure to work with, as is Frank Forte. I have a story that's going to be coming out in the near future that Frank illustrated for his Asylum of Horrors title, and we go back a long way.
Mike Koneful and Jeff Salisbury are two of the most talented guys I've thrown down with the past couple of years.
And I'm currently working with artist Shane Smith on an adaptation of my short story Walkers, from the Roadkills chapbook released in 2004 for the International Festival of Fantasy & Terror in Mexico City.
I'm also sitting on an unpublished (but not for long) story illustrated by Harry Roland, which I can't wait to see the light of day. I can't name 'em all here, but I'd gladly work with any of those guys again if the opportunity presented itself.
How did you get involved in the comicbook world in the first place?
I'd gone to grammar and high school with Joe Linsner, and we'd become great friends over the years, so we decided, well, I wrote, and he drew...why not do a comic book? The black and white indie boom was just beginning, and we came in at just the right time. Though the relationship didn't survive the business aspect of things, we produced some great books, and that's how I sort of fell into the industry.
Your main inspirations as a writer?
It's funny. I can find inspiration just about anywhere. A single line from an otherwise forgettable short story. A story from the newspaper or nightly news. A song lyric. After I released the Gardens of the Dead portfolio with Bernie Wrightson in 2004, I heard a lyric from the band Assemblage 23 (who I highly recommend people go see if they get the chance). The line is from the song Disappoint, and goes, "What pushed you down, into the soil's embrace." I was sitting there in my office one night, listening to the goth/darkwave college radio program, and I heard that line, and that night, I wound up writing four of the stories for the follow-up portfolio project, which will be out in 2011, with artwork by artist Rob Granito. The title and overriding concept - The Soil's Embrace - was perfect for the project, which is a series of zombie stories with large-format illustrations. Whenever you're having fun or enjoying something or something engages or challenges you, I think it's easy for the brain to start sending sparks flying. I tend to find inspiration in out of the way places as often as not.
Having quite a career as a writer, what made you go into movies?
I'd always thought that writing a screenplay would be something I tackled, but wasn't working on it actively at the time the Flowers on the Razorwire project came up. I think I would have gotten around to it eventually, but when my short story got optioned and they asked me to take a shot at writing the script - no easy task turning an incident that takes place in about 7 minutes into a half hour television pilot - that was really what opened the door. Once I'd seen what somebody else did with that short, botching the continuity and cutting corners and kind of settling for less, I decided I didn't want that to happen again. At the time, I didn't necessarily know that my very next screenplay would be the one that put me into the director's chair, but I did know that somewhere down the road I'd get behind the camera.
Your work as a writer as well as director is mostly of the horror variety. Why is that, and do you consider yourself a horror fan?
I'm a huge horror fan, and that love of the genre is why I stick primarily to it. Besides Chance Meeting (the TV pilot), and The Bunker, I've got 5 completed screenplays that are in the horror genre, and one that's more what I'd classify as urban fantasy. It has elements of horror in it, but I wouldn't call it a horror film. In fact, safe for one aspect, it would almost be a standard drama in a gritty urban setting. I'm really proud of the way that screenplay turned out, and once The Bunker is wrapped, it's a film I'm considering producing myself, with some investors, in South Florida. I think it'd show well at festivals and appeal to an entirely different audience than I've cultivated with my comic book work and first two film projects. I've also written a dark mystery novel, which I'm currently agent-shopping with, and I think it's one of the best things I've ever written. I could definitely see it on a shelf alongside some of my favorite writers in the genre, like Sandford and Connelly. We'll see what happens. I do stray out of my usual comfort zone from time to time, and I'll probably be doing it again in 2011 when I start working on my first fantasy novel. It's something I've been spending time outlining, which I'll be writing for my young nephews. That, I think, could prove to be the most difficult project I've taken on to date. Perhaps more so than directing a film I can't see.
Directors who inspire you?
Obviously, I haven't really done a lot of movie watching the past eight years. So my frame of reference tends to go back a bit farther, and even then, only to certain films. I mean, don't get me wrong, Spielberg's done a bunch of great stuff. But ET? Yeah, it's cute, and well done and all that, but I wouldn't sit through it again given the choice, while Jaws? If it's playing on cable? I'll find myself getting sucked in for the thousandth time no matter where I come in.
The original Texas Chainsaw? To me, still the best thing Tobe Hooper's ever done.
Carpenter's The Thing? I'd still say it's the pinnacle of his career.
Then, I look at somebody like Alan Rowe Kelly [Alan Rowe Kelly interview - click here], who cracks me up whether he's in a short or directing/starring in a film like The Blood Shed, and I know from talking to him that he's doing this on a real low budget, and still producing really good work, and that's inspiring.
Marcus Koch [Marcus Koch interview - click here], what he did with 100 Tears for the money he spent?
The guys behind Zombies! Zombies! Zombies!? That kind of stuff is inspiring because you know none of us have the budgets that a movie backed by Lionsgate does, so when they come out and they're that impressive, it's like a challenge. You get fired up because you've not only seen a good flick, you know these guys are in the same trenches you are, fighting the same battles, and when a movie like 100 Tears gets a distribution deal, it's like a battalion of soldiers in the same army takes a hill. You might not have been involved in that battle, but you feel a kinship because it's the same war, and you're on the same side. Don't get me wrong, it's not that the bigger-name directors can't be inspiring, plenty of them are. But I'm not quite as inspired when a studio puts up thirty mil or so and a movie like Zombieland actually turns out good, as I am when I come across a flick like Tears or Zombies! and they deliver the goods.

Feeling lucky ?
Want to
search
any of my partnershops yourself
for more, better results ?

The links below
will take you
just there!!!

Find Joseph M. Monks
at the amazons ...

amazon.com

amazon.co.uk

amazon.de
Looking for imports ?
Find Joseph M. Monks here ...
Something naughty ?
(Must be over 18 to go there !)

Your favourite films?
Well, I mentioned Jaws, that's one of my all-timers.
The Thing, Casablanca (which I put ahead of Citizen Kane any day), The Seven Samurai, Romero's Day of the Dead is a guilty pleasure, and I'm a huge fan of the 1954 film Them! I've told people before that if I ever find myself in the position of being asked to do a remake, that's the only film I'd want to do. I think that film is ripe for a modernization, and I once approached Time Warner about licensing the property for a comic book mini-series. Unfortunately, what TW wanted a small-time indie publisher to do in order to secure rights to a property that was doing absolutely nothing was prohibitive, but I'd love to take a couple of the CGI guys from Starship Trooppers, and bring in some top-notch practical guys, and go wild out in the desert with giant ants. I'd stay faithful to the original concept, but my version would be a lot more violent and the ants would play a much bigger part. That would be a hell of a lot of fun.
And of course, movies you really deplored?
I wish I could get back the two hours I wasted on Salo: 120 Days of Sodom. I was so flabbergasted that somebody at Criterion got huckstered into giving that a Criterion Collection release. I think that was on laserdisc, as I was a big laserdisc guy when they first came out. I went to college, I know all about fascism and all that, but Salo is nothing more than Passolini disguising his personal fetishes and distasteful exploitation of children as art, and somehow, he got enough critics to buy into that. Utter waste of time and celluloid. It pains me to think, we lost London After Midnight, but this piece of garbage survived.
I also can't understand how Joel Schumacher keeps getting jobs. I mean, after the Batman films? I know he's got A Time to Kill, but come on, after that last Batman-flick, who would give him $40 million to do, well, anything?
I'm also very down on sequels. I know that's an easy position to take, because more often than not they're not retaining the creator(s) who made the original flick good, or even great. But really, tell me...who green-lit Jason Takes Manhattan? Or the fourth Hellraiser? And Blair Witch 2? I understand, there's greed and the almighty Dollar has final say, but why not put in the minimal effort required to keep the fans happy and provide a decent story concept and screenplay? Bring in a guy with some writing chops, who's a fan of the original film, and let him do his thing. Don't just keep trying to come up with something crazier and crazier each time out. People love character-driven series. They'll stick with you for a while just because the horror audience is the most loyal fan base there is. But when you think taking Jason Voorhees into space is going to appeal to the faithful, or you simply trot out a handful of new Cenobites for each subsequent Hellraiser flick...you're just disappointing fans. They know when they're being rooked, so why not just take a little more time and do something that's not just steering the series or property in an entirely different direction. The Friday the 13th audience doesn't need Jason in space or underwater or in another dimension, they simply need him to have a viable reason to be on the move and carrying a machete and wearing the mask. You create some compelling characters, and cannon-fodder supporting roles the fans can care a little bit about? Then you'll have something that'll satisfy fans as opposed to turning them off or making your franchise a joke. Even a little story would go a long way when it comes to our faves, and yet, sequels continue to be awful and poorly-received. You'd think the desire for a good sequel and the built-in love of long-established characters would lead to a better end product. Think: James Bond. (not that they're all great by any means, but they're still acceptable if you toss out Moonraker). You don't see 1 star James Bond films getting made. The folks who stand to make a ton of money off better sequels should take note.
Anything else you are dying to mention and I have merely forgotten to ask?
The Bunker, despite it's having a distribution offer, still needs to wrap up some issues in post. Sight Unseen Pictures has launched a project on the crowdfunding site Kickstarter.com, so if readers feel like giving us a hand towards our goal, the project will be open until September 30th. I've provided the producers with a lot of signed merchandise, everything from comic books to portfolios to paperbacks and other hard-to-find and limited edition goodies. You can check it out here:
After that, my personal site http://www.joemonks.com will put the store back online, so folks who come across this interview later on can check out my work that way. There, my self-serving marketing for the day has been done. Beyond that, I'm very happy to respond to comments and questions from fans or those who are simply curious. You can reach me via e-mail through any of my sites. I answer all my own e-mail, and even if it takes me a bit, I will get back to you, so feel free to get in touch.
Thanks for the interview!