Your new movie Poetry Slammed - in a few words, what is it about, and what can you tell us about your character in it?
Hex Man is a skilled poetry slammer who must learn some tough lessons from a master slammer. It's kind of like Karate Kid with Viking Beatniks. Hex Man THINKS he is a master of slamming, but he comes to realize that true slamming is born from pain and anguish.
What did you draw upon to bring your character to life, and how much of Jonathan Hodges can we actually find in Hex-Man D-Lord?
There's always a little bit of me in every character I do, though I try to find many sources of inspiration for particular kinds of characters.
I thought upon the poetic violence of 1980s wrestling by such performers as Hulk Hogan, Macho Man, and the Ultimate Warrior. It's very silly but beautiful smack talk, where the wrestlers deliver a serious faced show, and their descriptions of victory in the ring are certainly artistic cartoon violence. I love how they make it sound like the fate of the world is at stake in the ring.
A little dash of William Shatner also goes a long way.
Have you ever actively participated in a poetry slam, and your honest thoughts on the scene as such?
I witnessed beatnik poetry in Louiseville back in 1993, and I never forgot the intensity of sitting in a smoky college bar where artsy types took themselves way too seriously.
To what extend does Poetry Slammed's brand of comedy correspond with your own sense of humour?
I like different brands of silliness. I enjoy the absurdity of the situation. British farce is an absolute joy to witness. There's an old 1980s B movie called Blades that exhibits surreal absurdity like Poetry Slammed. It's a remake of Jaws, almost scene for scene, but it takes place on a Golf course, and the shark is a giant lawn mower. A completely ridiculous movie, but all the actors play it dead serious. Very dramatic yet funny.
How did you get involved with the project in the first place?
The director Glenn Berggoetz thought I had the chops for the role of Hex Man, and I simply delighted in the energy that was going to be needed for this part.
What can you tell us about your director Glenn Berggoetz [Glen Berggoetz interview - click here], and what was working with him like? And since Poetry Slammed wasn't your first collaboration, do talk about your previous films as well, and how did you two first meet even?
Met Glenn when he submitted a film to the Northwest Ohio Film Festival in Van Wert. I was asked to be a judge by another friend, and Glenn's film The Worst Movie Ever Made was a charming homage to bad films. I love bad movies and could not wait to get to know this guy with an awesome sense of humor. The more we talked about movies, the more we traded ideas about film projects. Next thing we knew, I was helping with other films like Midget Zombie Takeover where I played the crazy old man that warns the kids of their doom. Working with him is a complete delight. Glenn knows exactly what he wants, but is flexible with ideas and suggestions by the actors.
Do talk about the shoot as such, and the on-set atmosphere!
Glenn is an efficient, easy going directors to work with. I've enjoyed each experience with cast and crew, and the atmosphere is relaxed. Much filming is completed in a weekend or two, so it's quick. We try to have our lines ready for the day of the shoot to not slow down production. I had a lot of poetry to recite, so it wasn't easy. I had a lot memorized, but I had to cheat a little bit as well. William Shatner once commented that his "style" was from when he tried to remember all his lines doing a Shakespeare production of Henry V, thus all the famous pauses he would do when he was acting came about. I had a little bit of that when trying to recite all the huge poems for this project.
Any future projects you'd like to share?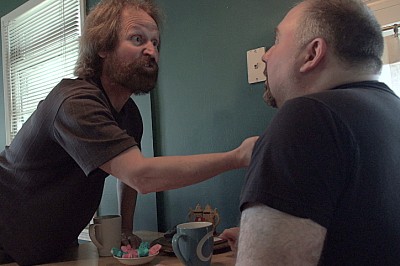 with Glenn Berggoetz
I finished helping him with Glenn's latest project, The Death of Ivan Nussbaum. I had a smaller role of a holy rolling preacher. It was a fun scene.
What got you into acting in the first place, and did you receive any formal training on the subject?
Mostly, I was involved with community theater since 1988. I trained with theater professionals at ONU and OSU, and every show I do at my local community theater is a good experience as well. I had to relearn how to act for the camera when I did my first Indie film Love Leaves by the Foot about 15 years ago. Stage acting and film acting are two different creatures all together.
Do talk about your filmwork prior to Poetry Slammed!
Worked on a dark comedy called Love Leaves by the Foot, about a man obsessed with his foot when it gets amputated in a lawn mowing accident. A weird movie, but I learned a lot from it. I also did a short horror film, Down the Stairs, about a creepy girl with a terrible secret. I played the creepy girl's father, a farmer who could not cope with crazed murders happening around his daughter. I helped with Glenn's Midget Zombie Takeover as the crazy man that warns the kids of their doom. I got to do a bit of improv with the role. One of my friends did his own variation of Batman called Sling Bat, a hybrid of Batman and Sling Blade. I played the Penguin, and I had a lot of fun filming for one day even though it was extremely hot during the shoot.
How would you describe yourself as an actor, and some of your techniques to bring your characters to life?
I try to learn my lines before allowing myself to have fun. I try to memorize lines according to the conversations, not just line-by-line. One thing I love to do in any project is find a prop to utilize, and one of my signature things to do is rubbing my hands, using or gesturing with hands.
I also believe that acting is 90% reaction to everything going on in a scene, so much of what I really do is react with facial expressions to other characters and/or situations. It's very challenging to do in film, much easier with stage acting. Stage acting is glorious exaggeration of expression, but I've had to really concentrate on how much expression is needed in film.
Another signature thing I tend to do, especially on a stage show, is have a scene where the dialogue is so flexible that it can be improvised, kind of like how Ryan Reynolds will improv a scene in Deadpool. When you find a magical scene like that, it's a gold mine of possibilities. With stage acting, you can alter a scene differently in each performance. With film, however, you have to be more precise for one take that will be immortalized and that can be more challenging.
Actors (and indeed actresses) who inspire you?
Christopher Lee is a childhood favorite, Bob Hope, George Clooney, Kurt Russell. The Monty Python troupe taught me the value of comedy timing. A dash of William H. Macy also motivates me once in a while. I am also inspired by Maggie Smith, Charlize Theron, and Cate Blanchett. I believe every actor/actress, whether they do Shakespeare or just ham it up in a cheesy B film, does at least one good movie in their career. Each has potential to be good if given the right role or opportunity.
Your favourite movies?
Science fiction/fantasy/thrillers. Way too many that are close to my heart, but some films that really shaped me include Patton, The Longest Day, THX-1138, Animal House, Monty Python and the Holy Grail, Star Trek II: Wrath of Khan, Scavenger Hunt (1979), March of the Wooden Soldiers, Kenneth Branagh's Henry V, Cloud Atlas, Mad Max: Fury Road, Hateful Eight, Get Out, Curse of the Demon (1957), Wonder Woman, etc. I have tons of favorites.
... and of course, films you really deplore?
It's a tricky thing, I can usually find something redeeming in most films. I'm sort of in the school of Roger Ebert film critiquing. He would say Garfield is a bad movie, but that fans of Garfield would love it so I try to judge a movie based on to whom it's supposed to appeal. Having said that, I tend to take issue with Lars von Trier movies as being dreadful, but on the opposite end are the God awful noise makers like Transformers 2 . Not a fan of nihilistic gore films like the Saw movies. Gore can be done like a cartoon, which I can enjoy in a campy fashion (like most zombie films), but I don't like the torture movies that overdo it (like Hostel). I don't mind a cliched fan service movie as long as it's fun to watch, and I can enjoy an edgy artistic movie as long as it doesn't yank me around.
Sometimes movies can be really good, but I hate them with a passion. Sophia Coppola is an excellent director, but I can't stand her movies. Then there are terrible films that I absolutely love. I very much enjoyed World War Z for what it was, but I suggest avoiding any critics who ever praised it as a great zombie film. They're lying.

Feeling lucky ?
Want to
search
any of my partnershops yourself
for more, better results ?

The links below
will take you
just there!!!


Your website, Facebook, whatever else?
I'm on Facebook, but I try to find inspiration from multiple sources.
Anything else you're dying to mention and I have merely forgotten to ask?
Big fan of H.P. Lovecraft horror. Reading his short stories and watching variations of his work in film is quite a thrill. I love watching bad movies and TV shows like MST3K that celebrate the audacity of making absurd film ideas into reality. I used to own a huge collection of obscure B movies that had to be seen to be believed.
Thanks for the interview!
It was a pleasure :)