You've recently scored the movie Defarious - so first of all, what's that movie about?
So without giving away too many spoilers, Defarious from R&F Entertainment, is about a young woman who we come to know as simply ďAmyĒ played by the award-nominated actress Janet Miranda. We learn that Amy suffers from a sleep disturbance, marked by vivid nightmares and sleep hallucinations. In Amyís case, her symptoms push her into a psychotic break with reality and we the audience are given a glimpse into her nightmarish world.
Do talk about your score for Defarious for a bit, its style and influences?
Orchestration aside, it was important for me to find a theme and distinctive feel for the film. The challenge was finding a way to both tie the audience into Amyís story on an emotional level while at the same time being relentlessly terrifying on another. The music had to tell a cohesive story or else it would just be background noise. I knew that I really wanted to do something experimentally evocative with the score and I also knew that I wanted it to be completely orchestral. The style is definitely what some would call reminiscent of classic horror films from the 80's and 90's. Some of my own personal influences have been films like Clockwork Orange, Jeepers Creepers, the Scream franchise, and of course the Chucky the Killer Doll franchise.
How did you get involved with the project in the first place?
Defarious' producer, director, writer and editor Chase Michael Pallante [Chase Michael Pallente interview - click here] and I worked on a feature length horror film together called Arisen (available now at www.ARISENTHEMOVIE.com), which I also composed the score for. Shortly after the conclusion of production, he asked me to come onboard to score Defarious and I happily agreed.
Now how did you (and do you usually) approach composing the score for the film, to what extent do you familiarize yourself with it (and its theme) beforehands?
I generally like to watch the film a few times through. For me itís very important that I have a chance to build a solid feel for the raw story and emotional story arcs. I like to take the time to imagine myself in the headspace of every character, really giving myself the opportunity to try and understand what theyíre feeling and going through. The next crucial step is finding the most basic way to communicate those feelings and thoughts in musical form. This could be a rhythm, a certain set of notes, a short melody, and even sounds you wouldn't necessarily think of as musical. All these aspects form the colours and building blocks for what eventually gives way to a full-fledged film score when you start to put it all together conceptually. I definitely did a lot of experimenting with different sounds and styles, trying to nail down the sound of Defarious.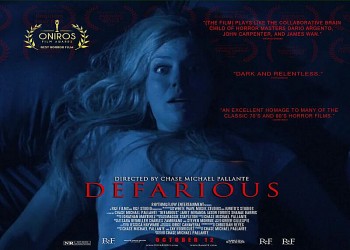 What can you tell us about your director Chase Michael Pallante [Chase Michael Pallente interview - click here], and what was your collaboration like?
One thing I enjoyed about working with Chase is that he really understands what he wants, in terms of the emotional impact, out of a scene, but at the same time he doesnít dictate which notes or instruments to use. He understands the power of creative freedom.
Any future projects you'd like to share?
Actually yes, thank you for asking. Keep an ear out for my music, in the feature horror production Arisen 2, by filmmaker Zay Rodriguez!
What got you into making music in the first place, and how did you get into scoring movies from that?
Iíve always been musically inclined since I was old enough to remember. But I didnít actually know that I wanted to be a film scorer until about nine years ago when I came across the God of War game series franchise. I remember being completely blown away by the gameís music. For me, it was pretty devastating considering up until then, I was certain that I wanted to major in computer science. After a few fan emails to the God of Warís original lead composer Gerard Marino, I got a chance to pick his brain on the topic of game scoring, which pretty much led to me diving head-first into music composition. I switched my major to classical voice and shifted my focus to scoring as many indie films as possible. Eventually I auditioned and got into the Berklee College of Music and began pursuing a bachelorís degree in film scoring.
What can you tell us about your filmwork prior to Defarious?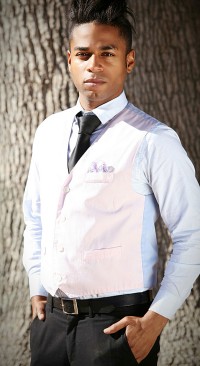 photo by Jonathan X. Martinez
courtesy of R&F Entertainment


Feeling lucky ?
Want to
search
any of my partnershops yourself
for more, better results ?

The links below
will take you
just there!!!


Prior to Defarious, I have not had the experience of working on a horror film that was both terrorific and intimate simultaneously. Defarious was definitely a great exercise in working within limitations. I had to be very careful not to command too much attention to the music at the wrong moments. But I also needed to give the monster a life of its own, making it seem larger than life in its own right, despite the rather intimate settings. There are also plenty of scenes that involve little to no dialogue, so a new challenge became finding ways to implement music that was both simplistic and unobtrusive at times but also evocative and hair-raising.

Musicians who inspire you?

Musicians who inspire me? That list may very well be endless. I guess for starters: John Williams, Brian Tyler, Gerard Marino, Bennet Salvay, Alfred Newman, Igor Stravinsky, Antonio Vivaldi ... for starters.

And since this is primarily a movie site, your favourite movies?

Some of my favorite movies are definitely the Scream franchise, Don Manciniís Chucky franchise, Jeepers Creepers, The Texas Chainsaw Massacre for startersÖ

... and of course, films you really deplore?

Thatís really a tough one. Honestly, if it doesnít have a good film score or at least tantalizing story telling, then itís safe to say itís probably not going to make it into my favorites.

Your website, Facebook, whatever else?

Fans of Defarious and anyone else looking to find out more about my work, or what I do, can follow me on Soundcloud at www.soundcloud.com/Johnnyarts and on Instagram @HisRoyalGrace

Anything else you're dying to mention and I have merely forgotten to ask?

Yes! Please look out for Defarious this Halloween. Pre-orders have already began and the film's official world release date is October 12! Go to DEFARIOUS.com to be able to watch it in your country.

Follow the film here:

Instagram: www.instagram.com/defariousfilm

Facebook: www.facebook.com/defariousiscoming

acebook.com/defariousiscoming" target="_blank">www.facebook.com/defariousiscoming

Website: www.DEFARIOUS.com

#rfentertainment

Thanks for the interview!