Your upcoming film Scavenger - in a few words, what is it about?
It's about a journalist and a group of people helping her go to the woods where a man has supposedly grown up to become a savage hunter killing any kind of food he can find for survival. There's more to it than that but that's pretty much the gist.
What were your inspirations when writing Scavenger?
I love 80's slasher films, so this is a bit of a tribute.
What can you tell us about your writing partner Jason Hughes, and what was your collaboration like?
Well Jason and I work well as a team. I'll generally come up with the concept and then write about 40-45 pages and he'll take care of the rest but we both work on the story together.
With Scavenger being a slasher movie - is that a genre at all dear to you, and some of your genre favourites?
I love the slasher genre. Ever since I was a kid and saw the Friday the 13th films on USA (back when they showed more horror than they do now). So I guess the original Friday the 13th would be my favorite. I also count Scream as the one that got me back into horror.
What can you tell us about the intended look of your film, and how will you approach your material from a directorial point of view?
Well we're planning to shoot on either the Red or a Red Epic. I do want it to have sort of a grainy 80s feel to it. It's not gonna be set in the 80s though, just kind of give that look.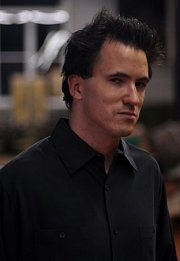 Jonathan Moody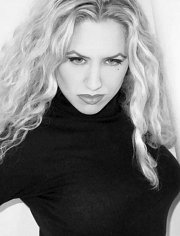 Melantha Blackthorne
As I know there are quite a few gorehounds among my readers: So, will there be blood, and is there anything you can tell us about your gore effects yet?
Can't say too much about the gore FX but I can say that I think you're gorehounds would approve.
You have cast yourself in Scavenger - so what can you tell us about your character, and about Jonathan Moody, the actor?
My character is the Deputy of the town. I wrote the character pretty much for me. I wanted to play a character who was very sweet, down to earth, had a good heart, but also had to have a bit of comedy to him.
The rest of your key cast features quite a few names well-known within horror cycles - so you just have to talk about your cast for a bit, and how did you get these people and what makes them perfect for their roles?
Well pretty much I just asked them and sent them the script. Everybody that has signed on has said they loved the script. Debbie Rochon [Debbie Rochon interview - click here] came on because David Marancik and her always wanted to play husband and wife. Now they'll get that chance. Melantha Blackthorne is going to be working with me on my film Dracula's War late next year and we've been talking about working together a lot. She's been someone who's really helped me out publicity wise. Jim O'Rear [Jim O'Rear interview - click here] and Scott Tepperman were people who heard about the project and had a lot of interest in it. Same goes with Eliza Jayne, Bob Bozek, and Paul Sieber. And Sierra Holmes and I have been working together for over a year now. We've done a few things together so it'll be nice to get back to working with her. And Andrew DeHart has been going crazy over how much he loves the script. Its awesome to have that enthusiasm!
A few words about your crew?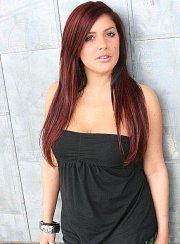 Sierra Holmes
Well Jason Hughes and I are stoked beyond my belief. Since this is our first real collaboration together we're excited to see where it leads. I love also that I'm giving Sierra her first chance to be a producer. She has worked a lot on films and this will be her chance to expand her horizons. And our First A.D. Danny Terry is tearing it all up and making it a lot of fun. Also great to finally work with Crystal Howell. And can't wait to work with Johnny and Mariah Johnson again.
Since your film seems to be what I would label an "outdoors slasher" - what can you tell us about your intended locations, and to what extent have they influenced your screenplay?
Locations are still being figured out. We're either gonna stay in VA or go to West Virginia. We'll find out more later but the script only has the woods in maybe 30 pages of it. So not even half is gonna be outdoor.
As far as I know, the movie is still in its fundraising stages - so what can you tell us about your fundraising efforts?
We just put out an Indiegogo you can see it here...
http://www.indiegogo.com/Scavenger/
Hoping to raise a budget of 30,000 at least. 50 grand would be great but I think 30 is enough to get it done the right way.
Once your funds are raised, how do you plan to proceed? And though it might be waaay too early to ask, any idea when the film will be out yet?
If everything goes according to plan we start shooting April 1st-17th. Then if we have the money we need for post we'll have the post start for a whole month in May-June with a premiere close to Halloween.
Let's go back to the beginnings of your career: What got you into filmmaking in the first place, and did you receive any formal training on the subject?
Well I always wanted to be an actor. And then I saw Clerks. and I thought if Kevin Smith could put himself in his own movies that was a cool idea to do. So I got a camera and started making my own little short films and then the rest as they say became history. And no I prefer to say I graduated from The Tarantino School of Filmmaking... AKA I became self taught. I still have a lot to learn myself but I'm hoping I can get better with every new filmmaking experience.
What can you tell us about your filmwork prior to Scavenger?
We have a movie out called Scary Story Slumber Party - also if you go to http://www.youtube.com/sickflickproductions you can see some of the shorts and teaser we've done in the past.
Any future projects besides or beyond Scavenger you'd like to talk about?
Next on the agenda will be The Farmer's Daughter, which once again Sierra will be the lead of. That's a rape revenge thriller. After that our main 2 concentrations are Dracula's War (a vampire war epic) and Scream Queen Campfire (a horror anthology).
One can't help but notice that your films tend to be of the horror variety - a genre at all dear to you, and why?
Yes of course. I love to be scared. Though it's been hard to scare me. Seems my own dreams scare me more than movies do these days... maybe I should make those haha. But yes I've always had a soft spot for horror.
A few words about your production company Sick Flick Productions, and the philosophy beind it?
Our philosophy: Making Horror Movies Fun Again. I tend to put some comedy in my scripts. It usually gets people mad at me because a lot of people like stuffy boring ultra serious horror films and that's just not me. I'm more in to movies like Scream where they do have comedy thrown in so you're not bored by it. That's what we're trying to accomplish. You would never call Scavenger a comedy but you would probably laugh throughout it (even if its laughing at something sick and disturbing haha).
How would you describe yourself as a director?
I'm pretty calm and I like to make sure my cast/crew are taken care of the right way. I guess that comes with the territory of being the producer as well. I'm not the best when it comes to fantastic shots but I'm learning as I go and getting better each movie project I do.
Filmmakers who inspire you?
Sam Raimi is one of my biggest influences. I loved the first Evil Dead a whole lot because some of the shots were very inventive of the time. Alfred Hitchcock is of course the master. And I also dig Dario Argento.
Your favourite movies?

Feeling lucky ?
Want to
search
any of my partnershops yourself
for more, better results ?

The links below
will take you
just there!!!

Find Jonathan Moody
at the amazons ...

amazon.com

amazon.co.uk

amazon.de
Looking for imports ?
Find Jonathan Moody here ...
Something naughty ?
(Must be over 18 to go there !)

Ed Wood is my number one favorite film. Ed himself was an interesting man the more I read up on him and if it wasn't for that movie I may never have watched any of his films [Ed Wood bio - click here].
... and of course, films you really deplore?
I try not to badmouth other people's films cause it takes a lot to even make a movie. Its so easy to call this person and that person the worst filmmaker ever. And some people these days are trying to win the title I think. However if I can watch your movie from beginning to end you've done a pretty good movie in my book.
Your/your movie's website, Facebook, IndieGoGo, whatever else?
Well you can find me on Facebook here
https://www.facebook.com/jonathan.a.moody
Scavenger's Facebook is here:
https://www.facebook.com/pages/Scavenger/205702699451476?fref=ts
And once again the Indiegogo is right here:
http://www.indiegogo.com/Scavenger/
Anything else you are dying to mention and I have merely forgotten to ask?
I think you pretty much got everything. Hope I didn't talk for too long. I tend to do that. Haha.
Thanks for the interview!