Your segment of The Horror Network, Edward - in a few words, what is it about?
I think it's about evil, and where it resides. Is it in madness, and the mind? In the spirit and the soul? Do we seek it out or are we taken in by it? Is it a disease that spreads from person to person, something both outside and inside of ourselves? How responsible are we for the cruelty and evil that we do? Or does evil even exist? "Evil" suggests there is an order to the universe. If there is no evil, there is no order. Only the Void, and the insignificant chaos and wailing of the tiny creatures on planet Earth. Yikes.
What were your inspirations for writing Edward?
I wanted to see if I could scare an audience. And we did! It is too much damn fun to watch people jump and grab each other and laugh, or to hear from a viewer that they were still spooked-out days later. And I have a strong fascination with psychotherapy, fantasy, dreams and the mind. And cruelty. Cruelty scares the shit out of me. But mostly I just wanted to work with my actors Artem Mishin and Nick Frangione again. And my brother Ben Gilbert, who DP'd and edited. They're the greatest.
With the setting of Edward being a psychotherapy situation, how much research did go into that part of your movie?
Some reading, my own time "on the couch", some improvisations with the actors. The best work came from my time talking with a therapist-friend who consulted on the script. She gave me some terrific pointers on how a therapist might phrase things, which led to fascinating conversations about the methods of the Talking Cure itself. That was the real research.
For the most part, Edward is set in one single room, with just two characters talking - so how limiting/challenging was that for you as a director?
It was great! Limitations bolster creativity. We didn't have any money, we just wanted to make a movie. So part of the reason for restricting the story to one room with two actors was pragmatic, and part of it was the challenge of making a simple conversation both cinematic and scary. The room gets darker and more claustrophobic as the characters get closer and closer, emotionally, physically, psychically. But the challenge was poverty. I was writer, co-producer with Artem, director, line producer, script supervisor and caterer for four long nights and it SUCKED. Luckily the student crew we hired were up-and-coming pros, so that helped.
Do talk about your cast for a bit, and why exactly these people?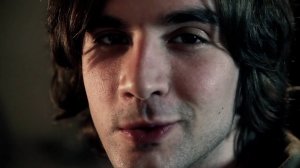 Artem Mishin and Nick Frangione and I had all just finished making my first feature, Strapped, and we wanted to keep working! I love those guys, I love working with them – I always just want to see what they're gonna do next. I'll do another take just to see what happens. And we're all kind of loyal to each other and inspired by each other so I just wanted to make something with them and see what making horror was like – or if I could even do it! It ain't no easy thing. So we met once a week for a few weeks and improvised around this vague idea I had about a therapist and his patient. I was re-reading Stevenson's The Strange Case of Dr. Jeckyll and Mr. Hyde at the time, and we talked about that, but mostly we just played and discovered, and that's the greatest thing ever. And we would literally try to freak each other out. Nick killed it. He always won. If the lights were low when Nick found something scary to play we always had to turn them back up again after. We went to some crazy places. So I wrote the script after those sessions. I really love their performances and hope very much to do something with them again.
What can you tell us about the shoot as such, and the on-set atmosphere?
As I mentioned it was tight. Despite appearances, it was actually a pretty ambitious shoot, and well out of my comfort zone. And night shoots take their toll. But the atmosphere was mostly pretty jovial and good, with all of us working to make the best little horror movie we could. Those kids we brought on to crew were not only into the picture, they were born filmmakers who just dig the work. And it was wonderful to work with my brother. It was his first time out as DP and he aced it. And there were so many challenges. Can we do this? I don't know, let's try. So the set definitely had a charge.
Was Edward actually shot specifically for The Horror Network or as a stand-alone film?
Stand-alone. Artem and Nick and I just weren't done playing in the sandbox together. And I needed to test my mettle as a horror storyteller.
What was your collaboration with The Horror Network-showrunners Brian Dorton [Brian Dorton interview - click here] and Douglas Conner like?
Most cool. I am so grateful to those guys for creating this project and taking us in and allowing our picture to be part of something really great. I am so blown away by the films in this compilations – a truly global compilation! – and proud that Edward is among them. Not to mention out there in the world now thanks to Brian and Douglas. We never made Edward with the intention of distribution. We just wanted to keep going. And Brian and Douglas saw something they liked and included it in this amazing compilation. We're Facebook friends now but I hope one day to meet them in the real world and give them both a big squeeze. Then go watch a movie together.
Any future projects you'd like to share?
Oh hell yeah! Working to develop a horror project called Revelations, about a young woman who discovers her fiancé and brother are not really her fiancé and brother, and they try and force her to make a baby that will bring about the end of the world. Rosemary's Baby and Invasion of the Body Snatchers are like part of a constant movie playlist in my home. And I just finished an early draft of a new script about a teenage werewolf whose father comes to claim him. Both stories are chock-full of my personal slant on favorite horror tropes while exploring deep fascinations I have concerning the limits of perception, of knowing, of alone-ness, of the body, and death – and lots of dancing around with incest, matricide and cannibalism. The Great Taboos. You know, for kids.
What got you into filmmaking in the first place, and did you receive any formal training on the subject?
Just a born storyteller and movie-lover. No formal training in filmmaking but some training as an actor. And I read and read and read anything I can get my hands on about filmmaking, whether it's about lenses and light or theory or history or analysis of a favorite director's work, I'm always reading about filmmaking. And watching movies. Obviously. Education and training are tops and get it if you can, especially film history and theory, but the real school is just being on a set, and taking a project from conception through completion. If you've actually finished a movie? Even if it's really shitty? You've learned a lot about filmmaking. And then you gotta go and sell it. Learn THAT.
What can you tell us about your filmwork prior to Edward?
Before Edward I had made a fifty-minute 'featurette' called Vanilla about a gay teenager who becomes obsessed with a dead serial killer and longs to become one of his victims. After that I made my first feature, Strapped, about a gay hustler who changes persona to match each trick he meets, but he can't find his way out of this apartment building one rainy night and he meets trick after trick. Kind of a highly sexualized, dream-like queer odyssey. We did a lot with very little and were able to really connect with our audience with Strapped. I'm very proud of the camera work and acting on that one. And proud that it's out there in the world. And that my investors made their money back.
How would you describe yourself as a director?
Anxious but playful.
Filmmakers who inspire you?
I'm a geek. It always comes back to Hitchcock and Lynch. They are my true cinematic artistic heroes who have inspired me the most, all my life. I also love Gus Van Sant. And John Carpenter.
Your favourite movies?
Too many to list; too many yet to be discovered.
... and of course, films you really deplore?

Feeling lucky ?
Want to
search
any of my partnershops yourself
for more, better results ?

The links below
will take you
just there!!!

Find Joseph Graham
at the amazons ...

amazon.com

amazon.co.uk

amazon.de
Looking for imports ?
Find Joseph Graham here ...
Something naughty ?
(Must be over 18 to go there !)

I'm not a fan of the current crop of horror remakes – except for the new Poltergeist. You can never touch the original but I thought the filmmakers and actors did a terrific riff on it. It had some amazing scenes that still linger with me. I suspect the studio execs muddled with the edit. I bet there's an even better film in there that we didn't get to see.
Your/your movie's website, Facebook, whatever else?
We're on Facebook but I'm not the most skilled with these things. We need a publicist we can afford to take on full-time, who gets what we're trying to do and is brilliant at his or her job.
Anything else you're dying to mention and I have merely forgotten to ask?
Yes. Buy This Movie! You'll have a good time being scared, I promise! All of the films are really something.
Thanks for the interview!
Thank you, Mike.