Your new movie The Joe Show - in a few words, what is it about? And what can you tell us about your character in it?
The Joe Show is a film about a lonely, anti-social cabdriver who scrapes by, any way he can, but likes to write poetry and spoken word about his experiences, which he performs at a local poetry reading. He may or may not be a serial killer. The film follows his everyday life and interactions as he reveals the dark details of his past through his poetry. It is based on a one man show that came together in 2005, literally a collection of poems strung together to form a loose narrative about my life. It starts with some cab driving stories, delves into some poems about hookers, then reveals some very painful details of my past
As The Joe Show is based on your poetry one man show, how much of that is based on your actual life, and what are some of your (other) sources for inspiration for your poetry?
The poetry is mostly true to life, with little embellishment. Every poem, except for the first, which is more abstract, is derived from an actual experience. The film's plot line is much more fictional, and delves into Joe as a somewhat separate character from myself, which is a weird dichotomy. I guess you could say my writing is Bukowski-esque, but without being entirely derivative of his style. It's raw, very emotional, and an accurate depiction of my life 10-15 years ago. My life was pretty out of control, especially with the hookers. I was sucked into this job that I hated, but couldn't seem to pull away from it. I lived in cheap motels, rooming houses, occasionally with my parents. I fucked A LOT of crack whores, which is represented in the poems. I was depressed and irritated constantly. But I would write these poems because I was inspired by Bukowski and the Beats and really, really needed some sort of outlet to keep from going completely insane. I was fortunate to find a poetry reading and a group of performance artists here in Grand Rapids. It garnered me a lot of notoriety, since I wrote all this crazy stuff with no filter. That changed my life. A few years later I joined Super Happy Funtime Burlesque, which is a nationally touring burlesque show with a live band and an avant garde sensibility. But I never was a serial killer. Not really. I would imagine some people thought I was. That part of the storyline was Dan Falicki's concession to his producer, who wanted a genre film. Otherwise, it's just a micro budget art house character study type drama.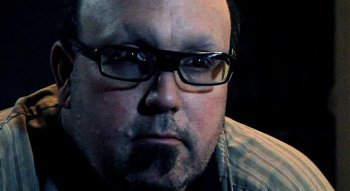 How did the movie actually happen, who had the idea to make your poetry into a feature film? And who came up with the film's actual pot?
I was sitting in the audience at a townhall meeting for a local Grand Rapids congressman when Dan texted me about the idea. I didn't think it was going to work at all. I thought it was nuts. He got a little pissed at me, actually. I was about to go on tour with Super Happy Funtime Burlesque, and I didn't think I could memorize all that stuff again in that short of a time frame. But I decided to quit second guessing myself and just jump right in. And I am so glad I did. Dan came up with the plot and fed us up quite a few lines, though there is a lot of improv in the film. The plot was woven around my poems, and follows the initial structure of the one man show. Dan tends to work fast and quick to meet the demands of his producer, but we ended up slowing down the schedule for this one, taking a little more time than he normally does. And I really didn't have to memorize anything. Thank God!
Playing Joe in The Joe Show - what did you draw upon to bring him to life, and how close is the movie's Joe to the actual Joseph McIntosh?
I basically just had to channel myself at my worst (and sometimes my best). And I had be that guy from 10 to 15 years ago, my younger, more fucked-up self. I'm more social than the guy in the movie. I do have friends and a social circle and a life. Much has improved since then. But I'm still kind of bum. I'm still desperately poor. I'm still dealing with mental illness. But I have more of a handle on life now. Also, I haven't actually driven a taxi in many years. I work part time at a med school as a lab monitor, babysitting students while they slice up cadavers. This is much preferable, for me, to cab driving. Very low stress.
What can you tell me about your director Daniel E. Falicki, and what was your collaboration like?
I had worked with Dan quite a bit before the film, so I found collaborating with him easy. I met Dan when I joined Super Happy Funtime Burlesque. He was this guy who did these weird funny video based skits at our shows. He joined the cast for while, but then left to pursue his filmmaking ambitions. When I did the 2nd Joe Show at this black box theater called Dog Story, he did the lighting and video. I was also in his second movie, GR30K. I played Emperor Grugor and an entire post-apocalyptic clone race called grugs. That was a lot of fun. But Dan really admired The Joe Show and kept it on the back burner. The run at Dog Story was pretty much a financial failure, which was devastating to me. I had mostly given up on it. But Dan talked me into giving it another try.
Do talk about the shoot as such, and the on-set atmosphere?
The poetry session was shot mostly in one day at Dan's studio. I just went ahead and did the show, plowed right through it, with a couple takes for each poem. The mood on that set was actually pretty light and I was cracking alot of jokes between takes. I guess that was necessary to ease the tensions that performing the poems build up. A few people on set actually broke down in tears at a couple of them. The rest of the film was shot guerrilla style whenever and wherever. And that is my actual apartment in the film, though the hallway shots were done elsewhere. The messiness was embellished. A little bit. And God, so many hallway shots. I thought the movie was going to be just me walking through hallways and opening doors.
A few words about audience and critical reception so far?
It basically has no audience at the moment. It is distributed by a company that specializes in micro-budget genre films and they really have no idea what to do with it or how to market it. It had a good reception at an art theater here in Grand Rapids, but it has played nowhere else. This is quite possibly the world's most obscure film. But it is on iTunes and should be on Hulu and YouTube sometime in the future. I have no idea how it's been received or how many people have seen it. It's a shame. It deserves to be seen. I wish it would play festivals. I wish I had the resources and know how to promote it and market it properly. Your kind review is the first I've seen.
Any future projects you'd like to share?
For the past 9 years, I have been a member of Super Happy Funtime Burlesque. We travel the country, bringing a unique form of live rock'n'roll tits'n'ass performance art to the country. That is my current commitment and it is really really amazing. I really have no writing projects planned, other than what I do with the show. I am a 330 lbs burlesque dancer. I also drive the tour bus across the country. I see myself now as more of a performance artist than poet. My life is so different than what it used to be.
What started you writing and performing your poetry, actually, and what's a stage show of yours usually like?
Well, to see me on stage now is to see me in a thong, doing comedy, some singing, some awkward dancing, and giving lap dances in the audience and causing general chaos. I have not actually performed my poetry for an audience in a very long time, though I do a spoken word/comedy bit for the show that is a mixture of American history and gay erotic fan fiction.
Some of your career highlights?
I've had highlights and lowlights, sometimes in the space of the same performance. Touring the country with the burlesque show several times has definitely been a highlight. Winning a poetry slam in Chicago at the Green Mill was an early highlight. Getting to collaborate with so many fantastic artists and meeting so many different is a highlight. Just being on film and being onstage and being as awesome as I can possibly be and growing as a performer. There are so many things that I am extremely proud of. It's so hard to narrow it down. I consider all of my life as an artwork. That may sound ridiculously pretentious, but I really feel it to be true.
How would you describe yourself as a writer, as a performer, and as an actor?
I am a poet at heart. And poets are very lazy. I like to be brief, but to be as evocative as possible. Short but sweet. Also, I don't do as much of it as I used to. As an actor and performer, well, I've come a long way. I feel that I have an enormous presence on stage and film. I'm a natural at it, but have a lot more refining to do. I'd love to do more acting and more of a variety of it. I'd be a good character actor. I'm a good physical comedian and I'm a really good scene stealer. I'm good at evoking subtle emotions, as well as histrionics. I'd love to do a role where I step outside myself completely. You know, real acting.
Writers, actors, whoever else who inspire you?
Writers who inspire me includ Bukowski, William Burroughs, William Blake, Steven King, HP Lovecraft, HL Menchin, Gore Vidal, Kurt Vonnegut, Sapphire, Hunter Thompson, and tons of heavy metal lyrics. I like genre writing quite a bit. I actually don't read much fiction anymore. Mostly, I'm reading history.
Too many great actors out there to narrow it down. I simply can't think of one that is a primary influence. I like, 'Oh, it's that guy' type actors. Recently, I liked Paul Giamatti in John Adams. But I also love how Steven Dillane stole almost every scene as Thomas Jefferson. I love Peter Capaldi in the Thick of it and Doctor Who. I love actors who are totally focused, totally absorbed, and totally believable as their characters. That's the sort of thing I'd like to do more of.
Your favourite movies?
Again, so hard to narrow down... Unforgiven, Shawshank Redemption, The Good The Bad and The Ugly, Cobra Verde, Modern Times, Limelight, all of Buster Keaton's silent short subjects [Buster Keaton bio - click here]. Those are the ones I can watch over and over again. But I love big budget super hero movies, Something Weird grind house type movies, and certain arthouse films, and documentaries. I love Werner Herzog. I sometimes think that The Joe Show is Dan's Herzog film, in a way. I like to think there is a big difference between a 'movie' and a 'film'.
... and of course, films you really deplore?

Feeling lucky ?
Want to
search
any of my partnershops yourself
for more, better results ?

The links below
will take you
just there!!!

Find Joseph McIntosh
at the amazons ...

amazon.com

amazon.co.uk

amazon.de
Looking for imports ?
Find Joseph McIntosh here ...
Something naughty ?
(Must be over 18 to go there !)

I hated the latest Godzilla movie. Bryan Cranston was the best thing about that movie. He was scarier than the actual monsters. And there is soooooo much to hate out there. Hard to narrow it down. Hurt to think about it. I can't believe what passes for entertainment, sometimes.
Your/your movie's/your show's website, Facebook, whatever else?
No actual website for the film. Here is the link to itunes: https://itunes.apple.com/us/movie/all-about-joe/id901626239
And my Facebook page: https://www.facebook.com/pages/Joe-The-Cabdriver/170008423250
Anything else you are dying to mention and I have merely forgotten to ask?
Just this link to the burlesque show that I am in: http://www.superhappyfuntimeburlesque.com
Also, I have a blog where I write about metal. A friend of mine does a fantasy story and there are pics and a video. It's 'this thing of ours': http://metalnight666.blogspot.com/
Thanks for the interview!
And thank you so much for paying attention to me.