Your film Warning!!! Pedophile Released has only recently been, well, released. A few words about the movie and your part in it?
Well letís see, the movie was written by Shane Ryan [Shane Ryan interview - click here] and myself. It was Shaneís story to start out, and I mostly wrote my character, and had some suggestions on our beautiful locations for shooting. The movie was a lot of fun to do, especially when Shane and I were able to just connect creatively and brainstorm on the next steps. As far as my part in the movie, my god! Talk about trying to change your personality, clothes, and makeup in Shaneís small car from location to location! One second I'm 15 years old, within a half hour I'm playing 18! That was the most stressful of all. We were trying to make sure that when we visited locations that would be shot for more than one of the ages I played, that we tried to get it all in one. Sometimes I had to go from being a bad-ass tough, well, prostitute, to the crying depressed 15 year old who just got kicked out of her house. Although I must admit, it not only challenged me mentally, it gave me room to explore the different faces I could play all at one. So to me it was a very invigorating experience!!!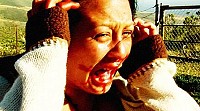 In many ways, your role in Warning!!! Pedophile Released is very unglamourous (and intentionally so). Did you have any problems with any of the stuff you had to do/endure in the film?
Honestly the worst was just when it was really cold outside!!! This was shot early in the year, when it tends to not only be windy but also a tad be chilly! Of course I would yell at Shane and he would say, "No no just hold it!" or "Let's do that again, I swear only one more time!" The other stuff was like when I was wearing my open ass pants. That was embarrassing, especially because everyone knows me, and if they didn't they sure do now. Funny thing, those are my favorite pair of pants that I've had since I was 14. I had borrowed them from a friend of mine, which I eventually just kept, and after so much wear and tear it started falling apart. At least I got to put them to use, since I don't wear them much anymore due to holes, but they still sit in my drawer unwilling to be let go. And at last the most embarrassing were the two scenes I, um, released my bladder outdoors... Not because it was outdoors, I'm a full-blown camper half the year and wouldn't think twice if I had to use the wilderness. No, it was because, well, I'm on camera obviously knowing that more than just Shane is going to see me doing the duty. Probably besides the cold, I really hated showing my stretch marks from having a child. Thatís very embarrassing for a woman sometimes, because a lot of men are close-minded and make comments about a woman being ruined by having children and what not.
You are credited as Warning!!! Pedophile Released's co-writer. How big was your creative input in the film, and is it true that part of the film is based on your own experiences living in the streets (though don't ask me where I read that)?
I love the parentheses of (though don't ask me where I read that) - no doubt it was Shane that has said something ha ha, although it makes me curious. I pretty much wrote my character, of course Shane had a lot of say in it, but I also helped out with the location-scouting and some of the dialogue. A lot of my character was improvised, save for when he was directing me in certain directions and places. Shane wrote what he wanted my character to express and I wrote my moves, actions and expressions.
Yes it is true that some of it was based on some of my own experiences. Not really the places but more in my actions. For example she finds out she is pregnant and ends up homeless. A month after I turned 18 I found out I was pregnant. I was actually living with my boyfriend and his parents at the time. This wasn't why I got kicked out, no, his parents wanted for me to have the child and I didn't. Anyways my boyfriend at the time was a major alcoholic and more than just abusive. He got drunk and attempted to yell and scream, beat up his own family, which they decided to kick him out if he didn't quit. Of course that included me. I was about 2 months pregnant sleeping in concrete pipes, ragged tents, and even under bridges. Let's just say it was easy to play a broken down girl.
None of the character in Little Girl Gone Bad (part 2 of the film) was me. I've never been a prostitute or on drugs, although I did smoke cigarettes up until a few months ago, because Shane wasn't going to deal with it anymore, but it does feel good not to. Although I must say I was rendered homeless once again at the age of 20 when I decided to leave my once abusive boyfriend. He had been sober for about a year and a half but the scars of what he did never healed. My son was 2 at the time and staying with his dad and grandparents and I had no family whatsoever. So whatís interesting is although I have never prostituted at the age of 17 I did become a stripper at the age of 20. Your classic single mom stripper, and a few times I even thought about going into porn. I didn't want to, but money was scarce and my job wasn't paying enough. So in a way it felt like the same concept, just not as dramatic. And even though I didn't enjoy being a stripper I actually really enjoy pole dancing!
As an actress, what inspired you to make your role in Warning!!! Pedophile Released work quite as well?
Well, as I was talking about earlier, some of my own experiences and just that the story was really interesting. Shane inspired me too by keeping me going and bringing me to films that he felt would inspire the character. One of the movies being Wendy and Lucy. I'm trying to think of other films but itís hard to remember when Shane is always wanting to watch movies. He'll say "Remember that one movie with blank blank blank?" And I'm going "Uhhh, maybe" He replies "I know you know it, we just watched blah blah time ago." Those conversations are fun. Shane really is my main inspiration, because I'm always working a regular job full time, and his endurance to work at something that he loves amazes me. I would love to work full time side by side with him on his movies, and my own art but don't have all the time. He keeps up and inspired when I'm at my worst.
In parts of Warning!!! Pedophile Released, your character is only 12 or 15 years old. What did you draw from to make these sequences work?
I wore no make up for one during these scenes, which I don't wear make up on a regular basis anyways, but it does give a younger experience. Another thing was I was going through some really stressful times and had managed to break out in my face, which sucked, but also gave that preteen/teen character. I messed with hair, clothing, and finally settled for braids for age 15. Actually the only 12-year-old part you see is during the interrogations and at the end where it shows the home video of them cutting their hair. So during the interrogations I actually had long hair but it was covered up by my hood so you couldn't tell if it was short or not. Except for my bangs, which are always kept long. For clothing; converse shoes, funky pants and a plain sweater, to show the simplicity. Of course in todayís world there are 15-year-old girls who walk wearing practically nothing.
How did your approach to your role in Warning!!! Pedophile Released differ from the one in the movie's director Shane Ryan's earlier Amateur Porn Star Killer 2?
Well in APSK 2 my character was kind of tough with an attitude. She was somewhat experienced though young. Whereas the character in Warning!!! Pedophile Released started off as childish and innocent, but did eventually move to a character more like the one in APSK 2 during Part 2: Little Girl Gone Bad. Even though Echo's character in Little Girl Gone Bad was similar to the APSK 2 character, Echo's character had a lot more depth and feeling. Whereas the APSK 2 character we didn't really get to know that deeply. So in approaching Warning!!! Pedophile Released I really had to feel every emotion and be able to express them through my eyes, actions and face. In APSK 2 most of the actions I played were between lust and anger, although a lot of Shane and my actions in some parts seemed almost romantic. But we did have a very strong connection and chemistry, which explains the naturality between the APSK 2 characters. Warning!!! Pedophile Released consisted of three different characters and one girl. It made this role challenging, interesting and definitely expresses Shane Ryan's mind in creativity.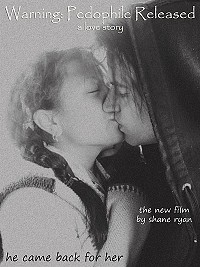 Kai Lanette with Shane Ryan
A few words about Warning!!! Pedophile Released's director Shane Ryan, to whom you seem to become more and more of a congenial partner (at least on screen)?
Haha. That is probably because we are boyfriend and girlfriend. Although we were not dating during the time of APSK 2 we did start to become close at that time and realized we had a good creative connection and worked well together. Now after a year and a half of dating we still hold the same creative connection and even as a couple are able to work well together. Occasionally a few bickerments on artistic differences but nothing serious. Shane and I continue to inspire each other and often get great ideas just talking on a normal basis. So it is likely you will see us on screen some more together, or at least see that we worked in some way together. Shane Ryan is the greatest guy I have ever known. Not just because we are dating, no, I felt that way when we were just friends. People are constantly judging him for his films. The truth is just because Shane might play a certain character doesn't mean he is that way in real life!!! Thatís why it's called acting people!!! He is quite the opposite from characters he has played in the past. I'm a very lucky girl for having him not only as a creative and artistic partner, but also as a loving and affectionate boyfriend. I believe that Shane has a wonderfully creative and artistic mind. He is a very intelligent and compassionate person. I told him once that for a while I couldn't believe that he was from this earth! Haha. What I mean is because he is such an interesting and different type of person from the rest, that he must be otherworldly! Also, he is great with children! Or at least my son, haha. We both hope to continue our artistic paths and make things happen for us in the future. Especially since we do plan on getting married one day!
Shane Ryan seems to shoot his films guerrila style with only a minimal crew. How is it to shoot films that way, and how does it differ from shooting with other directors?
With less people there is definitely more of a comfort zone. Of course I wouldn't really be the best person to ask because I am his girlfriend so shooting things with him one-on-one will always be more comfortable anyways. Although in some ways I wish we could get more people on crew because it can be stressful. I know Shane feels the stress trying to shoot, direct, act, create, write and edit his own films. At the same time he's always got people misjudging and misunderstanding the messages he is trying to send. And accusing him of just trying to cash in, which if they knew the half of it would find that completely untrue. So for the sake of my adoring Shane I do hope that we can involve more people eventually so that he doesn't have to try and conquer everything alone.
Kai Lanette in
Since I have last interviewed you on Amateur Porn Star Killer 2, you have acted in quite a few other films as well. A few words about them?
I had a lot of fun acting in Sean Cain's Silent Night, Zombie Night [Sean Cain interview - click here] because I got to be a zombie lol. Even though it was for a very, very short time, it was a lot of fun being made up with coagulated-looking blood and lots of make up. In Breath of Hate I was just a quick extra playing pool, and dancing on Shane's lap while the stripper danced on stage. That was fun but the weather was way too hot and sometimes we had to sit outside. But I love dancing on Shane's lap so thatís a perk haha. Violent Blue was a weird one because it consisted of Shane and I doing various sex positions and being fully nude with other people in the room. Awkward... Then of course Amateur Porn Star Killer 3D was fun because I got to beat up guys. Otherwise for right now too much to say except that I'm looking forward to any new projects in the future.
Any future projects you'd like to talk about?
I'm supposed to writing the film Abducted Girl: An American Sex Slave. Although we had put a halt on it, because the media thought that we were trying to make a film about Jaycee Dugard. Which we were not - trying to do the film about her. In fact Shane Ryan was already planning this film before she was discovered. But when she was discovered, and we read about her story it inspired Shane to doing something similar and meaningful. On sending out press releases, one got picked up twisted, and before you knew it the media was playing telephone. Shane had probably seen the most press he's ever gotten, but unfortunately it was all negative. The most interesting part is that when he tried to explain what his intentions were (which were good and that it wasnít directly about Jaycee) nobody wanted to interview him (this even included CNN, Fox, and one of the four ladies from the talk show The View). So basically he couldn't get any press for the truth, just for lies and schemes created by others. But now that it has blown over I guess we are back on track again. But to get more info on this film you will have to ask him. I say this because I think his idea has changed for the film and he is in the process of getting an outline ready.
Having shot quite a few movies over the last two years, have you ever thought about going full-time as an actress (if you haven't already)?
I think it would be fun, but I have a son to think about and rent to pay. From what I've seen in the acting world, making it isn't easy. If I didn't have to pay bills and rent consistently, I probably would be working full time at Shaneís side trying to get as much done as possible. Unfortunately all I can do is dream as I conform to the rest of the working world. Itís mundane but what can you do?
How did you get into acting in the first place?
I did plays from 1st grade til the end of high school. Then I never thought to be an actress because I got pregnant right out of high school. So I've just been a worker bee. Then back in 2007 Shane came along and approached me with Amateur Porn Star Killer 2. He was charming, and we connected instantly and on to film. We became really good friends after this, and almost a year later we were dating. Now I work with him as much as I can. I enjoy acting and wish I had more time for it.
Some roles you'd love to play, no matter how improbable?
A crazy person! Like a really trashy person who is borderline insane! That would be fun. Or some majorly demented person. I like challenges so the more intense the character the better! I'm not really sure how to categorize them.
A few words about your life off-screen?
Oh no.
Well being with Shane is incredibly awesome! Sometimes chaotic because he's in the film industry and is consistently moving around or getting stressed out. He works really hard at what he does. As far as working, I really really really REALLY hate my current job. I feel like a stupid robot building parts. I currently assemble medical cables using laserwelds, microscopes and blah blah blah. BORING - so I'm looking for a new job. I also work at the State Parks but I'm on my off season and they can't pay enough anymore. Nobody believes me when I tell them what I do at the parks! It consisted of washing out bathrooms and showers, tree trimming, driving a tractor, moving port-a-potties, digging, plumbing, electrical. Itís been the only job I ever enjoyed because I worked at a beach. Of course it shows how truly glamorous I am! Kai Lanette scrubbing toilets at a dirty campground! Ta Da! lol Anyways my life is great except for the strenuous job hunting and working at places I hate. But I really love Shane, and I really love my son. Both of them make me happy, brighten my day. I'm probably pretty boring to people. I don't party, drink, smoke, or do drugs. I like to go home, figure out a new recipe to make with Shane. Have some popcorn, watch a movie and cuddle up next to him and fall asleep! We do get out though, we love to go out! But other than that nothing too exciting. I go to the gym, I belly dance, I do arts and crafts, fashion design, anything artistic.

Feeling lucky ?
Want to
search
any of my partnershops yourself
for more, better results ?

The links below
will take you
just there!!!

Find Kai Lanette
at the amazons ...

amazon.com

amazon.co.uk

amazon.de
Looking for imports ?
Find Kai Lanette here ...
Something naughty ?
(Must be over 18 to go there !)

Anything else you are dying to mention and I have just forgotten to ask?
YES!!!!!!!!!!!!!!! Just remembered I am currently working on the novel (drum roll) to the movie Warning!!! Pedophile Released. The story is told from my characterís point of view. Since the movie itself was pretty silent aside from music, I thought it would be great to get into the characterís head. There will be sections of Malachi's (Ryan's character) point of view too! I have just started writing it and hope to finish it shortly! So my next step will be to find a publisher. I'm really excited, the writing is going well. Shane has definitely inspired me and I adore him even more for that!

Thanks for the interview!!!
BiteSizeKai
Thanks for the interview!