Your movie American Mary - in a few words, what is it about, and what can you tell us about your character in it?
American Mary is about a young medical student, Mary Mason, who - through a series of events - becomes disillusioned with the medial community and finds herself drawn into the underground world of body modification.
What did you draw upon to bring your character to life, and how much of you can be found in Mary?
To be honest, I drew upon the script: It's so well-written that it all felt organic. There's obviously a part of me in every role I play – especially the ones that tend toward the darker side. Ha, ha. Although we filmed in 15 days so – at some point – my exhaustion may have helped inform the portrayal a bit too.
The central theme of American Mary, bodymodification - what are your personal thoughts on it, and did you do any research on the subject prior to making the movie?
In the film, we explore the idea that perhaps the people that tend to be the most "normal" are often the most deranged. One should never judge a book by its cover because, in this film, those in the body mod community are the most normal, well-adjusted people while the doctors – those we are taught in real life to admire – are the most messed up.
How did you get involved with the project in the first place? And what were your initial thoughts when reading the script?
It got emailed to me. I read it all on Blackberry. It was 180 pages and when I was done, I just thought "What??? Am I crazy? I love this!" So I sent it to my dad because I knew that if he liked it then I wasn't crazy. And he loved it. I met with the twins [Soska-twins interview - click here] for what was supposed to be some sushi and we ended up talking until 5 in the morning about it!
You get covered in blood in American Mary quite a bit, and there are quite a few scenes of torture and mutilation - did you ever have the feeling that things are going too far?
No.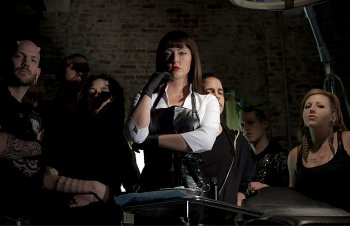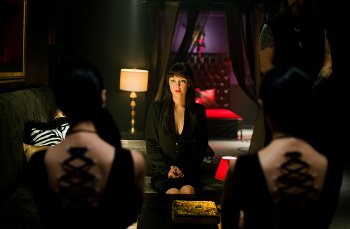 the Soska-twins frame Katharine Isabelle
What can you tell us about your directors Jen and Sylvia Soska [Soska-twins interview - click here], and what was your collaboration like?
We're all best friends and the collaboration... well, I didn't need to "collaborate" really because it's their script. They wrote it so well that it felt organic. I didn't have to alter it. The only thing we ever discussed was the hair – and I fought for that!
What can you tell us about the shoot as such, and the on-set atmosphere?
We didn't have a budget. The whole crew was basically there for free because they loved it so much – and loved the twins. It was my third film in a row and we filmed the whole thing in just 15 days. We tried really hard! Everyone did.
Let's for a moment go back to the beginnings of your career: You started acting at a very young age - so how did you get into acting, what can you tell us about your training as an actress, and can you still remember your first time in front of a movie camera?
I don't have any formal training and I honestly can't remember my first time in front of a camera. I was about 5 or something.
I've picked a handful of films from your filmography I'd like you to say a few words about if you don't mind:
The Ginger Snaps-series?
I was cold.
Knight Moves?
I was also cold. Diane Lane was lovely.
Bones?
Snoop Dogg got me into my first club ever!
I taught Kelly Rowland to cry and swear.
Victims?
Cold. Again.
13 Eerie?
I lived above a casino for the whole shoot – with my best friends.
Any other past films of yours you'd like to talk about, any future projects you'd like to share?
Past? No. But I'm looking forward to a new pilot for CBS/CW I just wrapped called Blink and, hopefully, there's more story to come on Being Human this year after the season finale surprise.
Horror is a genre you always seem to return to - pure coincidence or do you have a certain fondness for horror, and why (not)?
Coincidence really. I work my ass off on lots of different projects: independent features, horror films, bigger budget things. But I am really good at screaming.
How would you describe yourself as an actress, and what techniques do you use to bring your characters to life?

Feeling lucky ?
Want to
search
any of my partnershops yourself
for more, better results ?

The links below
will take you
just there!!!


I'm a working actress. I just do my best.
Actresses (and indeed actors) who inspire you?
Bette Davis for sure and Leslie Howard.
Your favourite movies?
Apocalypse Now, Annie, and The Black Stallion.
Your website, Facebook, whatever else?
Only legit thing is Twitter: @Katie_isabelle - there are a ton of fakes though so that's weird.
Thanks for the interview!