Your new movie Gravedigger - in a few words, what is it about, and what can you tell us about your character in it?
Gravedigger is a new horror thriller about a vigilante serial killer who is stalking, killing and burying those he has judged to be guilty and anyone who gets in his way could be the next to fall to his vicious swing of a pick axe! My character is the intense Steve Borden, head of the law firm who defends the indefensible.
What did you draw upon to bring your character to life, and how much Keith Collins can we find in Steve Borden?
Steve Borden is definitely a sly secretive attorney who is just lost in an extremely dark lonely world with no remorse once his mind is made up. Yeah there is none of Keith Collins in Steve Borden, Iím glad Iím not that guy, Borden gives me the creeps lol.
How did the project fall together in the first place, and how did you end up producing the movie?
Gravedigger has a very talented production team & cast. It all actually started after a film festival one year when myself, writers Joseph & Billy Pepitone [Joseph and Billy Pepitone interview - click here], director Doug Bollinger, co-exec producer Brandon Ruckdashel all happened to be together and in a nutshell, we basically were like letís make a movie. Writers Joseph & Billy Pepitone turned and said we have a script ready to go, and everyone was like ok letís check it out, & shortly after it was a quick go from all of us. John Stoerback, Michael Levine & Jeff Quinlan signed on to executive produce & production quickly started on Gravedigger.
Do talk about your director Doug Bollinger for a bit, and what was your collaboration like?
Doug Bollinger & I have been friends for years. He also had a long term background as a film director & we have always talked about working together. Doug directed the hit film Waltzing Anna & always wanted to do a horror film. After reading the script and knowing all who were involved, Doug was excited to be a part of Gravedigger & committed to sign on as director.
What can you tell us about the rest of your cast, and as a producer, did you have any say in the casting of this movie?
A lot of our cast was friends of mine for the most part. People whom I have known for years or worked together in the past on or prior projects with. I really like to keep everyone together and keep making projects and building it as a team. There were a few cast members we got from auditions but 95 percent of the film was through people we have all known personally. But I will say the cast and roles each person has in Gravedigger were exceptional everyone did a fantastic job, I couldnít be more pleased with their performances. We also were honored to have original music from the super talented Ron ďBumblefootĒ Thal of Guns Ní Roses. He is to thank for the soundtrack of Gravedigger, the music in the film is AMAZING!
What can you tell us about the shoot as such, and the on-set atmosphere?
Well that is one I definitely wonít forgetÖ we filmed in February in the quaint town of Point Pleasant Beach, NJ and other than it being so frigid cold, it was a few months after the devastation of Hurricane Sandy. Going around and seeing all the damage and just how much it completely affected so many of these peopleís lives was heart-breaking. We turned that energy into positive vibes as we were much honored that the town let us film there, we decided it was our duty to make a great film represent the town well and hopefully with some of the notoriety the film has brought that it will let people know that the Jersey Shore is back on track, in full swing and welcomes everyone to enjoy the places they have in the past.
The $64-question of course: When and where will Gravedigger be released onto the general public?
And the $64 answer is --- SOON!. We have premiered at the 2013 Downbeach Film Festival Atlantic City Cinefest, where Gravedigger won two awards Best Thriller Film, NJ & Best Actor. We just finished our NYC official premiere in January and it went fabulous. There are many who have expressed interest in distributing Gravedigger. so currently now we are getting the film out to distributors to find our best fit for the film.
You have worked with the writers of Gravedigger, Joseph and Billy Pepitone [Joseph and Billy Pepitone interview - click here] before. So do talk about your other collaborations with them for a bit, and how did you first hook up?
Joseph & Billy are geat. They wrote a comedy film Stuck in the Middle, which I had the opportunity of being in. Since then we have worked on two more projects together, they wrote the horror / thriller films The Meat Puppet & Gravedigger, and now back to a hysterical new comedy which is filming soon called The Jersey Devil [Joseph Pepitone interview on The Jersey Devil - click here].
Any future projects you'd like to share?
As of now my focus is the new comedy film The Jersey Devil, the script is fantastic, I play James Burnett, basically the new Devil in charge. After the old Devil retires then Burnett comes on board, isnít satisfied with the old Hell and wants a change. He ultimately finds out and decides what better place for Hell other than Jersey City, NJ Ö
As far as I know, you got into acting through modeling - so what can you tell us about that career of yours, what got you into acting, and did you receive a formal education on the subject? And how does modeling compare to acting?
Modeling was something that completely happened to me by accident. It literally just happened so fast and before I knew it I was modeling for so many of the top like Tommy Hilfiger, Calvin Klein, French Connection, Guess? etc. It was a fun time & led me to so many great people and amazing connections along the way.
Itís hard to compare them because they are so different from each other but modeling I can say made me feel more comfortable in front of the camera. I always was a performer since a young kid and wanted to pursue that. I went to NYCís School for Film & Television for quite some time and from there on after many years of hard work it all came together and paid off. I feel very fortunate & thankful.
Can you still remember your first time in front of movie or TV camera, and what was that experience like?
Yes my first real film was Games People Play: NY, it was directed by Emmy Award-winning film maker James Ronald Whitney. It was very nerve-racking, I remember when I was done all I kept worrying about was if I did a good job or not and if the director was satisfied. In the end it turned out very well & everyone was pleased. That film had a great run was in theaters and also led me to having a lifelong friendship with Whitney. He is like a family member to me now.
In recent years, you have also turned more and more to producing - what made you choose that route?
Producing I do enjoy , not as much as acting but I like putting things together I feel great satisfaction when I can bring people together see everyone working well and make be able to make a final product we are all proud of.
You of course have to talk about The Meat Puppet for a bit, which you also wrote the story for besides starring and producing?
Ohhh, The Meat Puppet. Thatís an extreme psychological thriller / horror which playing that lead character definitely took a few years off my life lol. It was a very intense role being Andrew Shelton. I had had that story put together for years, I wanted to do something that was completely original & extremely shocking. It's kinda like a cross between American Psycho & Silence of the Lambs. After working with Joseph & Billy Pepitone on Stuck in the Middle I had run it past them. They have always wanted to write a horror script and really liked the idea. A few months later they inked The Meat Puppet and it the rest is history!
Any other past films of yours you'd like to talk about?
I have enjoyed working on so many diverse projects & thankful of being able to do what I do and also play many different ranges of characters. Working with Jana Mattioli is always special to me, BIdentity Crisis, The Coffee Shop are greatly done comedies, Echelon8, The Great Fight, The Meat Puppet, Fight For Survival, Stuck in the Middle, Reunion 108, Avantgarde, Snapshot, Little Big Boy, Iíve had great experiences on them all and many others as well.
How would you describe yourself as an actor?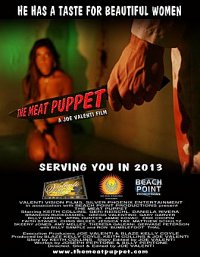 Feeling lucky ?
Want to
search
any of my partnershops yourself
for more, better results ?

The links below
will take you
just there!!!

Find Keith Collins
at the amazons ...

amazon.com

amazon.co.uk

amazon.de
Looking for imports ?
Find Keith Collins here ...
Something naughty ?
(Must be over 18 to go there !)

Extremely dedicated and nothing gets in my way. When I make the choice to choose that role I go full force and I always strive to be better and bring more to each character I take on. Whether it be very intense, comedic or drama I give 110% and nothing less. Feel like its my complete obligation to bring that character to life & to do the job I was given by the people who trust & believe in me to do so.
Actors who inspire you?
DANIEL DAY-LEWIS!
Your favourite movies?
American Psycho, Shawshank Redemption, original Psycho, Casino, Goodfellas, The Godfther, Jaws, Moneyball, & I love watching low budget films I really like when people are making their art no matter what level.
Your/your movie's website, Facebook, whatever else?
My website - http://keithcollinsmedia.com/home.html
My IMDb - http://www.imdb.com/name/nm1519500/reference
Gravedigger movie trailer - http://www.youtube.com/watch?v=X0RxfWlYm-U
Facebook - www.Facebook.com/GravediggerTheMovie
IMDb - http://www.imdb.com/title/tt2631554/reference
Anything else you are dying to mention and I have merely forgotten to ask?
Hmmmmm, ohh: Thanks Mom!
Thanks for the interview!
THANK YOU!!!! =]