First of all, why don't you introduce yourself to those of us unfortunate enough to not already know you?
Well, Iím Kelly Abbass. Iím a pin-up model, singer, and sometimes actress. I live in Ontario Canada with my husband Steve Dilts and my cat Cleopatra.
You have recently starred, as yourself, in the Italian zombie movie ChristmaZ - so what can you tell us about that movie and your role in it?
ChristmaZ is a really cool Italian zombie/comedy/horror! It takes place at Christmas during the beginning of a zombie apocalypse. Almost the entire movie was filmed using iPhones with some Super 8 footage thrown in, and my part filmed over the internet. The directors wanted to portray a worldwide zombie apocalypse, so they came up with the idea of communicating over the internet through chat, with someone facing the zombies across the ocean Ė thatís where I came in. They came up with the idea of me being a webcam model probably because Iím a model, although it might have been because they wanted an excuse to see my boobs. LOL
As you're playing yourself - how close is Kelly in ChristmaZ to Kelly Abbass in real life?
Similar, but there are definite differences. For one, although Iím a model, Iím not a Ďwebcamí model, at least not in a working sense, LOL. I do my modeling mainly for my website and magazines or books. I also think that Kelly in the movie is much stronger and braver than me. Iím not sure if I could keep the same composure or hack up zombies with a hatchet. However, we are similar in that I feel I have the same compassion for others thatís portrayed in the movie. Iím also a bit of a tease and a flirt like the ChristmaZ Kelly.
How did you get involved with the project in the first place? And is the zombie genre a genre at all dear to you?
I was introduced to Giovanni Pianigiani [Giovanni Pianigiani and Bruno Di Marcello interview - click here] through the composer Marco Werba. Marco was working on the soundtrack for Giovanniís movie Darkness Surrounds Roberta. He found me on MySpace through an old music profile I had on there, and he asked me to sing for the soundtrack. It was actually done in a similar fashion as ChristmaZ. Marco sent me the bed tracks and I went into a studio here in Canada to record the vocals. I sent the track to him in Italy and he mixed it there. Itís funny, Iíve been in two Italian movies and I never left my hometown. As far as the zombie genre being dear to me Ė truthfully, horror movies of any kind scare me, so I donít watch many. But I have seen a few zombie movies that Iíve enjoyed, mainly because the heroes in those movies really kill a hell of a lot of zombies! And it always takes someone who is extremely brave or extremely crazy to save the day.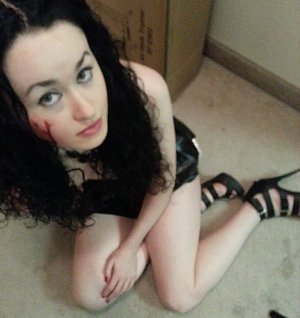 ChristmaZ was shot in Italy, yet your scenes were shot in your native Canada - so how did that work out, and what was your collaboration with the movie's directors Giovanni Pianigiani and Bruno Di Marcello [Giovanni Pianigiani and Bruno Di Marcello interview - click here] like under these special circumstances?
I think we all thought it was going to be much easier than it was. Gio and Bruno had software that was supposed to film straight off of Skype. So we thought that we would just chat and run through the scenes, and that would be it. We agreed to chat the day before and get things set up, but when we tried to film over chat, we discovered that the footage was unusable. Luckily my husband is brilliant when it comes to this stuff... he said he would buy me dinner if I said Ďbrilliantí in the interview. We got up early the day of shooting and ran around buying cables and stuff, and then we came home and he set up something I still donít understand, but it worked. I had Gio and Bruno on one computer chatting with me and we used another computer to film with the webcam. Iíd go through a section of a scene, then Steve would upload the clip to the internet for Gio and Bruno to watch. After they watched it, they would critique and direct, and then Iíd do it again and again until they got what they wanted. It was really an amazing experience!
What can you tell us about the shoot as such?
Gio and Bruno were amazing to work with! We shot this way for 12 hours straight, which meant that with the time difference between Canada and Italy, they worked all night long. But it didnít seem like 12 hours Ė it was just a really great time! The only thing that I didnít like about me shooting in Canada while everyone else was in Italy, was that I didnít get to spend time with the rest of the cast. They are all so amazing! I really feel privileged that they let me be a part of the whole thing. Thereís a lot of talent in ChristmaZ, but theyíre a great group of people as well. Theyíre my family across the Ocean, and I hope some day Iíll have the opportunity work with them in person.
As far as I know, ChristmaZ was your feature film debut - based on the experience, could you be persuaded to shoot any more movies? And how would you describe yourself as an actress? Plus, any other future projects you'd like to share?
ChristmaZ was the first to be released, but I actually worked on a Canadian film a month before shooting ChristmaZ, but itís still in post-production. Itís called Jackie Boy and itís a psychological thriller. I only have a small role Ė Iím ĎMassage Girl #1í Ė but I think they manage to get my boobs in that one too. LOL Iíd love to do more movies! My modeling and singing have always taken priority, but acting is something Iíve been interested in for most of my career. ChristmaZ was my first speaking role and thanks to Gio and Bruno making the experience what it was, Iím definitely more interested than ever to go after more roles. Maybe you should ask the rest of the cast of ChristmaZ how they would describe me as an actress Ė theyíre the ones that had to put up with my performance. Iím really comfortable being in front of the camera, and when it comes to playing a role, I just try to be an actress. When I step onto a photo set, I turn it on and do my job as a model. Thatís how I approach acting. Iím not a method actor or something like that. I approach acting like modeling Ė itís a performance. I had a non-speaking role in Jackie Boy, so to me it was exactly like modeling. I had to put a lot more work into ChristmaZ, and I discovered a great respect for the rest of the cast. I havenít any plans finalized for future projects, but I have been talking with both Gio and Bruno about certain projects, and Iíve also been given a script for a Canadian film called A Tear In The Paper which Iím very interested in.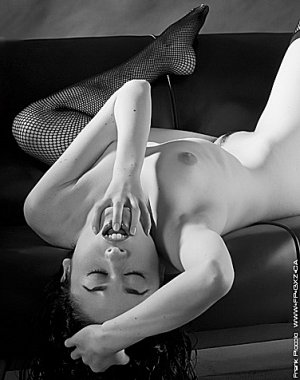 Movies aside, your main claim to fame is as a model, with a predilection for artistic nudes. So what can you tell us about that aspect of your career, and how did you get into that line of work?
I actually donít do as much artistic nudes as I did at the start of my career. Most of my work is more of a pin-up style. I shoot in sets of photos that start out in different outfits and/or settings, and then do a slow strip tease as the pictures progress. I find it much more exhilarating and Iím more free to be myself and pose the way I choose. I also like telling stories through the photos. In that way, itís very similar to acting. Modeling was a dream I had since I was really young, and originally I had started out thinking I would like to be a fashion model. However, when I stopped growing at 5 foot 4, I had to face the fact that I would never walk the runway. It actually turned out to be a blessing, as Iíve found the fashion industry to be quite brutal and regimented. I like to feel free to express myself in my way. Anyway, I posted a photo on a modeling website and things just sort of took off.
Can you still remember your first time naked in front of a camera, and what was that experience like?
I began receiving a whole lot of offers, but most of them were for artistic work. Posing nude was not something that I had ever considered Ė at that time, the only person who had seen me naked was my future husband. I received an offer to do a themed shoot Ė sort of a 1920s style with different outfits, but also would include some nudes. I decided that I really wanted to do this, so I went to the shoot. When it came time to shed my clothes Ė off they came, and I havenít looked back since. In the beginning I did mainly nude art posing. I loved being naked in front of the camera. However, for that modeling I didnít get much say in the posing, and I liked the idea of starting clothed and slowly revealing myself. That became my passion, and I still love it more than a dozen years later.
What kind of photographers do you look for for your shoots?
I like photographers that are open to collaborating with me. I try to avoid shooting with anyone that is only interested in telling me what to do. Iíve worked with some photographers who have their own vision, but theyíve been really good about it and treat me with respect, so Iím more than happy to shoot with them. But I wonít be bossed around or treated with any sort of disrespect. I mainly shoot for my website now, so collaboration is important. The photographers get great shots that they can use for themselves, and I get content for my website. Everyoneís happy. Which is what I like Ė fun, happy, relaxed photo shoots J
Do talk about your website www.kellyabbass.com for a bit, and the philosophy behind it?
Itís really just a website to show off my modeling and to highlight some of the other projects I work on, and a way for people to learn more about me. I started it about nine (9) years ago because I had done so many shoots and had so many photos, plus some videos, but only a few were being seen. Itís now approaching 5000 photos and dozens of videos. Itís gone through different incarnations to get where it is now. When I first started the website it was more like other sites with a monthly membership fee etc. However, now there is a one time fee for a lifetime membership. It helps to offset the costs of running the site, and doing photo shoots and videos. But I also have a free gallery and video each month to present some of my work for anyone that is interested.
On your website, one can also find quite an array of erotic video clips - do talk about those for a bit, and what's shooting them usually like?
At one point I wanted to do sort of a video blog that let people see a little more of my life, but I didnít want to just shoot boring ďthis is my lifeĒ videos. So, it became a bunch of short movies, with themes and music Ė mini productions. I did one video per week for a year. I enjoyed spending the first part of the week planning what Iíd do, and then usually have the video filmed and edited at the end of the week. It did become very time consuming, but it was a very fun and creative year. Some of the videos come from everyday life, like something as simple as taking a candlelit bath, or coming home from work and changing into my pjs before cooking dinner. Other videos are themed based on the season, like carving a pumpkin at Halloween or decorating the Christmas tree. Some videos are just for fun, like a game of strip poker or wearing a bikini and eating a melting ice cream sandwich on a hot summer day. Every video has at least a little naked fun, but thatís part of what I enjoy about making them. I also did some behind the scenes videos of photo shoots I was working on at the time. Even though Iím not doing a video a week at this point, I still like the idea of making videos whenever time allows. I guess it ties in with my desire to continue acting in other movies.
You of course also have to talk about your band Pristine for a bit, and your style of music?
My band is a labour of love. Iíve been singing since I was a child. My mom is a wonderful singer, and she was always playing piano and singing around the house and at church. She was a real inspiration and I followed in her footsteps, singing in church and school choirs, then eventually singing solo anytime I could.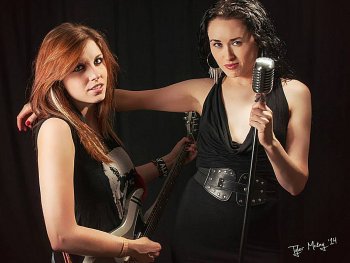 Pristine
It took a long time for me to find my place and what I really wanted to do musically, until I connected with my guitar player, Steph Dilts. I really got into singing jazz and swing, and Steph was playing with more of a rock and pop influence, but we were listening to very much the same music in a wide array of genres. I remember the first time we played together Ė I was wanting to record a song. I had heard her play and asked her if she would be interested in playing with me on the recording. After that we started playing some other songs together. Every time that we played a rock song it ended up with a jazzy feel, and every time we played a jazz song it had a pop sound. And when we wrote together, it was a Pristine sound, lol. So, I guess our style is Pristine-jazzy-rock-pop. We recorded a song and shot a video last year of our version of a Tom Petty song called ďSwinginíĒ. We called our version ďYer So SwinginíĒ, because Steph sings and plays an intro to the song which is a portion of another Tom Petty song called ďYer So BadĒ. It was an amazing experience doing the recording and the video, and I think weíve both found our direction musically, so weíll have to see what we do next J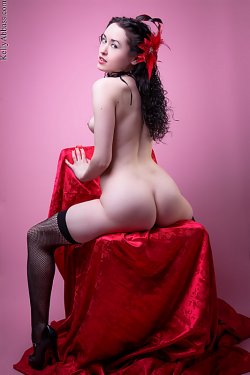 Any other talents of yours I might not be aware about?
Thatís probably the hardest question youíve asked so far. Iím thankful that people see some talent in all, or some of the things I do. Letís just say that Iím enjoying everything that Iím doing artistically, and at this point I canít see myself moving in any other artistic direction. And honestly, I feel like Iím already doing everything that Iím good at, and maybe a few things Iím not so good at, lol.
Actresses, models, pin-ups, musicians, whoever else who inspire you?
Iím always finding new inspiration, but some names that I always go back to are actresses Keira Knightley, Olga Kurylenko, and Marie Liljedahl; model Bettie Page; and musicians Billie Holiday, Eva Cassidy, Adele, Ninet Tayeb, Lzzy Hale, Heart, Nichole Nordeman.
Your favourite movies?
I really enjoy movies, so the list could go on forever! However, some of my all time favourites are Lie With Me, Snow Falling On Cedars, Wanted, Casablanca, Itís A Wonderful Life, Hitman, Domino, Pride & Prejudice, The Assassin Next Door, Lord Of The Rings, Never Let Me Go, The Princess Bride, City for Conquest, Atonement, Edward Scissorhands, V for Vendetta, Love Actually, Tipping the Velvet, The League of Extraordinary Gentlemen, Entrapment, Eternal Sunshine of the Spotless Mind, A Knightís Tale, Great Expectations, Garage Days.
... and of course, films you really deplore?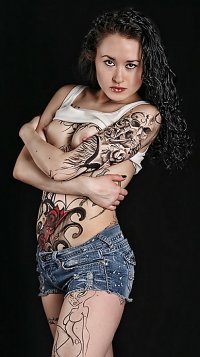 Feeling lucky ?
Want to
search
any of my partnershops yourself
for more, better results ?

The links below
will take you
just there!!!

Find Kelly Abbass
at the amazons ...

amazon.com

amazon.co.uk

amazon.de
Looking for imports ?
Find Kelly Abbass here ...
Something naughty ?
(Must be over 18 to go there !)

Thereís a certain style of horror movies that involves torture and mutilation. Itís a little too much for me. I prefer a good scare over all-out gore.
Your/your movie's/your band's website, Facebook, whatever else?
www.facebook.com/ChristmaZmovie
www.facebook.com/thisispristine
www.facebook.com/FromDawnTilMidnight
Anything else you are dying to mention and I have merely forgotten to ask?
I think you pretty much covered everything. Very good interview! Thank you J
Thanks for the interview!