Your new movie Family Obligations - in a few words, what is it about?
Family Obligations is about overcoming isolation and choosing to connect meaningfully with people in your life. The main character Peter seems pretty content to remain aloof from the people circling around him in life until he gets this sense that thereís more to it all. Then, once heís pulled into peopleís lives, he has to learn another difficult lesson that relationships are challenging and messy. So, for me, this film is about that moment of growth and the things that come with it.
Is any of Family Obligations actually based on personal experiences?
Thereís no specific event from my life that is portrayed up on screen in the film, but several things from my life inspired the overall story. For one, Iíve watched a lot of people in my life become caretakers of others at difficult points, and I think that reveals a lot about a person. How we treat people when theyíre most vulnerable, how we relate to people at the very end of their lives has always interested me. So I wanted to portray caregiving in the film the way I have seen it at points. Also, too often, we donít see the growing pains associated with this sort of reintroduction to peopleís lives, and I wanted to capture some of that, too.
Other sources of inspiration when writing Family Obligations?
There are two specific moments I think about as inspiration for the film. The first is a newspaper comic strip from Peanuts. Charlie Brown gets a call that Snoopy is in trouble, so he puts on his coat to go out and get him. As heís getting ready to leave, his sister Sally yells out, ďThat beagle is more trouble than heís worth!Ē Charlie Brown, ever so wise, calls back, ďMost of us are.Ē I thought that was brilliant. This ten year old boy gets something that we struggle with as adults: people are inherently difficult. They demand too much of us, they donít make sense all the time, and they just donít behave rationally as often as they should. However, the only thing that gives our lives context and meaning are our relationships. People, no matter how much trouble they may be, are really the only source of meaning and happiness in our lives.
The second is a moment I observed firsthand. I was sitting at a Chinese takeout restaurant (as it happens, the same one we used for a scene in the movie), and I was waiting for my familyís order with my two daughters. At the next table was an older man (maybe in his 70s or 80s) and his teenage grandson. The older man was teasing the boy about something, and the boy was taking it good-naturedly. Then he said something like, ďOh you kids just donít get it.Ē I looked at my two children, and I thought about the things that get lost in translation between generations, the sorts of things that we donít understand about our parents or our children donít understand about us. Those two elements informed a lot of the scriptwriting process for me.
To what extent can you actually identify with your film's lead character Peter and the situations he's going through - or with any of the other characters for that matter?
Itís funny to think about that, because Peter and I are diametrically opposed in many ways. Peter is a loner who manages to keep everyone at armís length all the time. I am constantly surrounded by my family. Peter has been alienated from his home for many years, and Iíve never really spent significant time away from the people and places I grew up with. However, I think everyone experiences feelings of alienation and loneliness in life, and I definitely connect with that. Peter talks about getting so lost in his own thoughts in the shower that he canít remember if heís washed his face or not. I feel like we can all spend so much time in our own head, in a world of our own construction, that we lose a sense of connection to the real world outside of us, so I identify with that. Iím a parent, so I think I identify with Melanieís sense of duty to her child. Iím fortunate to be in a better parenting situation than her, but I think that core sense of what we owe to our children is still there.
Even if your film is tackling some sad topics, you've managed to infuse some comedy every now and again - so could you elaborate on the humour in your movie for a bit, and how important is the occasional chuckle for a drama like yours?
This is a great question, because I think I approach almost every story Iíve told as essentially comedic. The comedy in it was absolutely vital in my opinion. I had a screenwriting teacher in college who would say, ďYou have to make them laugh before you can make them cry.Ē I wouldnít say I was trying to make anyone cry, but I think the principle applies. Thereís something about making people laugh that brings them in touch with their humanity, so I think it then becomes easier to ask them to invest in the characters emotionally. I think if I had gone about telling this story in an overly serious tone, it would fall flat in front of the audience. I think that, by laughing at the awkwardness of Peterís encounters, we acknowledge the discomfort and pain heís feeling. I also think that humor is vital to Frankís character, because this is definitely the type of person who would deflect most genuine emotion with humor.
Do talk about your directorial approach to your story at hand!
We had a very small crew, and we had an incredibly tight shooting schedule to bring this in, so I had to think really hard in preproduction about how I was going to approach getting what we needed with such constraints. So, in storyboarding and shotlisting, I made a conscious effort to strip down the number of setups per scene ó the number of camera angles, inserts, cutaways, etc ó so that I could give the actors the most chances to explore the performance. Basically, if it came down to offering the performers another take versus getting another setup, I was going to defer to the actors, because I knew that the success of the film would rely on story, character, and performance, not some visual wizardry that I honestly wouldnít have been able to pull off in the first place. So that was a guiding principle on set: get out of the way of the actors. Also, we did a table read before shooting, and I spent some time after that doing a final pass on the dialogue to bring the characters more into a natural voice for the actors, so that they could be as comfortable as possible with the material.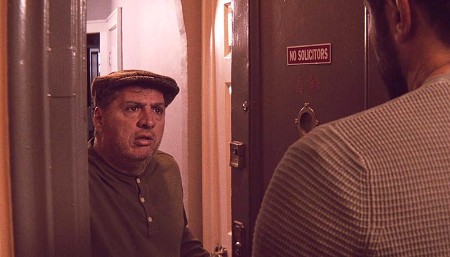 What can you tell us about your key cast, and why exactly these people?
So, we start with our main character Peter, played by Chris Mollica. Chris is my best friend, my brother-in-law, and my collaborator on numerous projects. I wrote this script knowing that Chris would play Peter, and that made life much easier. Chris is an incredibly talented actor, and I knew that I could write this part however I wanted, and Chris could pull it off. So, having that confidence that you could take the character wherever you wanted and it would play well on set really helped make this come to life. So having Chris meant we had to go out and find Frank. I needed an actor who could believably play his uncle, and we discovered Frank Failla. He is a retired cop who now acts, but I first saw him as a standup comic. That was great, because seeing his persona on stage as a comic, it fell right in line with how I conceived the character Frank on the page. The final major piece was Melanie. My assistant director Kevin Wolfring had just shot a short film with the actress Chandler Rosenthal. I had met her on his set. She gave a great performance there. Sheís incredibly smart, and I think she got what the script was trying to do right away. The extra wrinkle for these actors was that the character Mia was going to be played by my daughter Eleanor, so I had to ask these professional people to tolerate a complete beginner and a child on set. And, of course, not just any child, but the directorís child, so all kinds of lines would be crossed. To that end, they were all incredible. You canít have this film succeed with any weak spots in these roles, and the actors all worked under significant time pressure to make this film work. Iím very grateful to them for their professionalism and their artistic talent but also their warmth and their kindness.
A few words about the shoot as such, and the on-set atmosphere?
Well, as I said, we were tight on time, but we certainly had a lot of fun, as well. Shooting this was truly a dream come true for me, and I think about it all the time now that itís been a year since we shot. The title is Family Obligations, and it really is a family film. My wife is the executive producer. Our parents appear in the film. Both of our children appear in the film. Our lead actor is my brother-in-law. My assistant director is a former student of mine. Another of our actresses was a student. My kids were around the set on their off days. We shot some scenes in our familyís apartment, others in my mother-in-lawís apartment, others in a friendís house. So, the actors who were new to our set really got brought into the family very quickly. Meals on set were like family dinner (a lot of times actually at our dinner table). We managed to involve so many people in our lives, and I really feel like we got everyoneís support behind this film.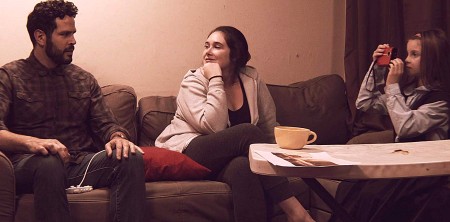 Anything you can tell us about audience and critical reception of Family Obligations?
Throughout our festival run and streaming distribution, weíve been able to pick up some very positive reviews from both critics and everyday viewers, which is great. Probably the most satisfying thing for me has been people approaching me after screenings and saying how the story resonated with them and connected to their personal experience. Theyíve taken care of a sick relative or reconnected with family after a long absence, and this film has rung true for them. Itís very gratifying to hear that the film has touched people in that way.
Any future projects you'd like to share?
We are about to start production on a new feature called Sofa King: or, No Man Is an Island, Even If He Has a Cooler Full of Beer. The script was written by Chris Mollica, the lead actor from Family Obligations. My assistant director on this film Kevin Wolfring will direct. I will serve as director of photography, and Shawna will be our E.P. again. Iím also writing another script that I hope to produce within the next year. That one is called My Sisterís Wedding and takes place at a dysfunctional familyís home on the day the youngest child is to be married. Both are more straightforward comedies.
What got you into filmmaking in the first place, and did you receive any formal training on the subject?
My undergraduate degree is in Screenwriting from NYU, so I got to work with great professors and learn surrounded by other talented writers. I always loved film, but I really thought it was something impossible to do on my own. I really did my undergrad degree because I was passionate about writing and wanted that experience, but I immediately went into a teaching degree after that and got a job in a high school. A lot of people I went to school with went into the industry in more traditional roles, but I taught and continued to write when I could in my spare time. Basically all the developments in digital filmmaking started making it possible for people like me to take the reins themselves and make films.
What can you tell us about your filmwork prior to Family Obligations?
We did the usual pursuit of some short films in the early days, but our first feature film was called The Mix, which played festivals in 2016 and was distributed on streaming platforms by Comedy Dynamics in 2017. I wrote the script for that with Chris Mollica, and he directed it along with a very talented guy named Greg Townsend. We shot that in Los Angeles, where Chris lives and works as an actor. With Family Obligations, my wife Shawna and I really wanted to bring production back to Long Island, in New York, where we live. This feels like a great time to be a small production company doing work that you love.
Do talk about your company In the Garage Productions for a bit, and the philosopy behind it! And what led to its creation in the first place?
In the Garage Productions started as Chris and me trying to make movies together. Really, the philosophy was ďletís do this ourselves.Ē We saw a growing opportunity to tell the kinds of stories we wanted to tell and share them in increasingly meaningful ways. That sounded ambitious back in 2000 when we were in college, but now the technology has really grown in that direction for us. When Shawna and I got married, she really took over the logistics of In the Garage, and she is our main producer. She handles contracts, paperwork, schedules, festival submissions, and a lot of the day-to-day operations. Several years ago, Chris married Shawnaís sister Brett, and she also produces with the company. So now the company is essentially the four of us, trying to launch these projects. Weíve managed to work with some great artists that weíve brought into the fold as collaborators. We hope to keep on moving.
How would you describe yourself as a director?
I approach direction from the writerís standpoint, since thatís really my training. I see the writer as the filmís first director and the director as the filmís first audience. In that regard, I think of directing as responding to what is working or not working with the script and making adjustments accordingly. The final piece of that is editing (there, the editor is the filmís final writer ó if I can abuse my own analogy). Basically, I see the whole process as being a good steward of the story youíre telling. Youíre responsible, at every turn, for making the choice that best tells the story. I believe in trusting my collaborators as much as possible ó whether those are your actors, your crew, your composer, whoever ó and then letting them deliver their work to you. I hope that lets everyone do their best work.
Filmmakers who inspire you?
Another great question. The high-minded answer would be Yasujiro Ozu. When the colorist for the film Jan Klier and I were developing the look of the film, I referenced Floating Weeds. That film really influenced me in previsualization when I was storyboarding, particularly his low angles and static camera. The more mainstream American answer is John Hughes. Movies like Planes, Trains, and Automobiles really form the way I think about comic characters with touches of sadness to them. He wrote the script for a movie called Career Opportunities, which is another reference point for me in creating characters like Peter and Melanie: people trapped in lives they wish they could change. I also really like Mike Mills and his work, especially Beginners. I think his films are very unique while still being accessible.
Your favourite movies?
Iím the type of person who can rewatch things endlessly, so Iíve really refined my favorites list over the years. Over the past few years, Iíve watched and rewatched a lot of George Roy Hill films over and over again, particularly The World of Henry Orient. He directs films in a very classic, old Hollywood style, I think. The director doesnít really come out and put his stamp on things. Everything is in its place, telling the story. On the other end of the spectrum, I love Wes Andersonís movies, particularly The Royal Tenenbaums, and he is about as individual and stylized as you get in todayís movies, so thereís that. Iíve mentioned the Hughes movies I love, and I should also throw Wong Kar-Waiís films in there, particularly Chungking Express, My Blueberry Nights, and In the Mood for Love.
... and of course, films you really deplore?
This gets me in trouble with people, but Iíve never been a ďgenreĒ movie fan. Iíve never connected with horror and sci-fi (which I would like to say means that I donít ďhateĒ them so much as I donít watch them because it doesnít do anything for me). I also have a problem with the only movies in cinemas these days being comic book movies. I think thereís a lot of missed opportunities there.

Feeling lucky ?
Want to
search
any of my partnershops yourself
for more, better results ?

The links below
will take you
just there!!!


Your/your movie's website, Facebook, whatever else?
Movie website: http://familyobligationsfilm.com
Social:
https://www.facebook.com/inthegarageproductions/
https://twitter.com/inthegarageprod
https://www.instagram.com/inthegarageprod/
Personally, Iím on Twitter at @KennethRFrank
Anything else you're dying to mention and I have merely forgotten to ask?
I would just like to say thank you for supporting independent film by reviewing the movie and having this interview. I would love if people could gain more access and become more aware of the great independent content out there available to them. There are a lot of great stories and voices out there that arenít necessarily found in more commercial, mainstream entertainment, and places like this celebrate them. Thatís a great thing, so thank you.
Thanks for the interview!