Your new movie Grief - in a few words, what is it about?
A grieving father struggling to end his own life.
What were your sources of inspiration when writing Grief, and is any of this based on personal experiences and/or research?
Parents who lost young children. I thought about them often during a time I was trying to cope with my own personal loss. The movie is not based on my personal experience, however, I did write some parts of the story with a "What would I do in this situation" point of view. I did extensive research on parents who lost young children - especially ones that ended with suicide, and I tried to fuse these different people into one guy - Kyle Harden.
To maybe put the last question on its head, to what extent can you identify with Kyle and his rather extreme actions in Grief?
I don't know that there is much of a correlation between Kevin Renwick and Kyle Harden, as I've never experienced that level of psychological torment, but I can definitely identify with that level of sadness, which most people that have experienced loss probably can.
Grief was almost entirely shot in one location - so what were the challenges shooting there, and to what extent was this limiting but maybe also liberating for you as a director?
The fact the movie takes place on a sunny day with natural light pouring in through many windows made our biggest challenge the weather (grey skies, rain, daylight). We lost 4 shooting days due to weather, which led to an obvious need to let go of some stuff and be able to roll with the punches. It was a great feeling when we wrapped to be able to see how well everybody adjusted to the obstacles and handled them.
What can you tell us about your overall directorial approach to your story at hand?
I knew from the very beginning that I wanted to merge genres in a way. Take this sad story on the surface and find ways to make it almost horror-like since this is real life horror, just a different spin than Michael Myers chasing you with a kitchen knife. Then, finding the real life moments of levity which felt organic.
You also play the lead in Grief - so what did you draw upon to bring your character to life, and have you written him with yourself in mind from the get-go?
I was not originally going to play Kyle Harden. It was something that just hit me one day… "Maybe I should play Kyle…" Once that thought happened, I became quite excited to take on that character. From there, I really submersed myself into the role of a father that lost his only son, and having a son of my own who I love dearly helped me to empathize with the weight of what that burden might feel like.
You appear in almost every shot of Grief, are the film's sole lead - so how much of a challenge was to carry the film pretty much entirely on your own?
This was hands down one of the most challenging things I've ever done, but so much fun. At one point, I believe we shot 8 days in a row. By the end of that stretch, I felt a little bit like Kyle Harden.
What can you tell us about the rest of your cast, and why exactly these people?
They are all talented, and I thoroughly enjoyed working with each of them.
Sean Russel Herman (Evan) has cracked me up since the day I met him, and I knew he would probably wind up playing Evan when I was writing the script. He made his scenes seem effortless.
Jackie Moore (Sherry) [Jackie Moore interview - click here] walked in the room and I immediately knew she was Sherry. Her level of commitment is off the charts.
Do talk about the shoot as such, and the on-set atmosphere!
It's interesting when you are on the set of a movie dealing with this type of depressing subject matter… It seems like it would be a little gloomy, but I'd say for the most part, everyone was positive and had a good time.
The $64-question of course, where can your movie be seen?
At the Dances With Film Festival on June 4th and hopefully distributed worldwide soon… It's also playing in Vegas at the Action on Films Festival in August.
Anything you can tell us about audience and critical reception of Grief yet?
Limited, but I am happy with the responses thus far which have been very positive and encouraging that the film is and will resonate with people.
Any future projects you'd like to share?
I have a couple irons in the fire - very different from Grief.
What got you into filmmaking in the first place, and did you receive any formal training on the subject?
I started out writing things that were interesting or funny to me. From there I started getting my hands on whatever equipment I could find and started filming which I fell head-over-heels in love with. Since then, the natural progression of obsessing over making films has lead me to Grief, my first feature film.
What can you tell us about your filmwork prior to Grief?
I wrote and directed several short films - acted in some of them. All learning and growing experiences. That was my "film school".
On your films, you usually wear many hats, in front of and behind the camera - so what do you enjoy the most, what could you do without?
Ohhhhhhhhhh man… this is like asking somebody to pick a favorite child. I really do enjoy all of it. But, gun to my head - writing is my favorite and the grueling tediousness that is editing is my least.
Filmmakers, actors, writers, whoever else who inspire you?
I'm a big Quentin Tarantino fan. I am inspired by everything he does. Paul Thomas Anderson, Christopher Nolan, Joaquin Phoenix.
Your favourite movies?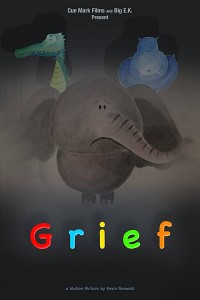 Feeling lucky ?
Want to
search
any of my partnershops yourself
for more, better results ?

The links below
will take you
just there!!!


Top 3 without thinking too much: Dumb and Dumber, Inglourious Basterds, The Master.
... and of course, films you really deplore?
I don't make a habit of watching movies I deplore, so nothing particular comes to mind. I will say this… I don't finish a lot of movies and I think the majority of films today are garbage.
Your/your movie's website, Facebook, whatever else?
IMDb: http://www.imdb.com/title/tt5421078/
Trailer: https://www.youtube.com/watch?v=jwAhgs4wZOY
Instagram: https://www.instagram.com/griefmovie/
Twitter: https://twitter.com/GRIEFmovie
Facebook: https://www.facebook.com/griefpicture/
Anything else you're dying to mention and I have merely forgotten to ask?
Not right now! This was great!
Thanks for the interview!
And thank you for the interview!