Your upcoming movie House of Spirits - in a few words, what is it about, and what can you tell us about your character in it?
I donít want to give too much away. Letís just say that I play a neighbor who borrows sugar, and should have never returned bringing them cookies ;)
What did you draw upon to bring your character to life, and how much of Krystal Stevenson can we find in Cinthia, actually?
I had to be more bubbly and cheerful than usual lol. I found Cinthia to be that way in my head. Baking cookies and borrowing sugar from the neighbors. So I brought that side of me out.
How did you get involved with the project in the first place, and with House of Spirits being a horror movie, is that a genre at all dear to you?
Horror has always been a favorite of mine. My best friend would stay the night and we would watch USA Up All Night! All the 80ís horror movies! I started watching horror at a young age and I never really got scared. I was more just into it, and once I found out that itís actually actors doing a job, then I knew I wanted to do it! Since Iíve done a few B-horror movies in the past, I had certain friends that either were in the movie or knew the director and contacted me about it.
What can you tell us about your director Reuben Rox, and what was your collaboration like?
Very down to earth and made sure I was good at all times. If I felt like I needed to retake the scene again, he had no problem with it. I kept messing up on one scene and he just kept telling me ďitís all goodĒ. We worked very well together and I hope we get to work together again in the future!
Do talk about the shoot as such, and the on-set atmosphere!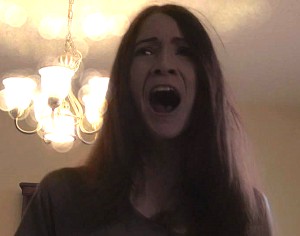 House of Spirits
It was great! Nice small rented house and not too far of a drive from where I live. I had a hard time not laughing at Jade LaFont [Jade Michael LaFont interview - click here], because of his faces and expressions during takes. I even stayed after I was done, and got to watch an awesome gory scene that Tony Brown [Tony Brown interview - click here] did great in! I loved the scene where I got to scream in! Reuben Rox had a fan blowing on my hair so that scene is going to be great! My character was supposed to bake cookies but the boys got hungry the day before. So no one knows of my magical oreo cookies in a cut out ice cream tub. Hey, you work with what you have lol!
Any future projects you'd like to share?
Not really at the moment. I am up for any as always. I did play a nonspeaking role in a local movie thatís not B-horror. Itís called Meanwhile in Mississippi. I canít talk much about it, but I just play a jogger sitting in a cafť.
What got you into acting to begin with, and did you receive any formal training on the subject?
Definitely no training except for I guess I grew up talking to myself and acting out scenes lol. Once I knew movies were just acting I knew I wanted to do that! Itís fun to play someone else, and definitely love getting to scream and get bloody! I started out modeling and that led to acting.
What can you tell us about your filmwork prior to House of Spirits?
I have been in a few local B-horror movies. Certain ones like Psycho Santa, Dead Clowns, Aberrations, Cadaver Bay, and more.
How would you describe yourself as an actress, and some of your techniques to bring your characters to life?
I think I am fun to work with. I have a great sense of humor and can be sarcastic. I just love doing it. Since I usually do it for free for fun, I just canít travel too far. Which sucks cause I would love to do more, but a lot are not close enough to where I live. With my characters, I try and think of how they would act. In Psycho Santa I was the older sister, so I brought out more of my sarcastic side. In House of Spirits, I brought out my more bubbly side. Usually, the directors are good with my take on it. I also will ask what they are going for as it is their character that they have pictured in their mind. They usually let me roll with it though and love it! Which I love!
Actresses (and indeed actors) who inspire you?
Ohhhh a lot lol! Robert Englund [Robert Englund bio - click here], Kane Hodder, Sandra Bullock, Jamie Lee Curtis, Tom Hanks, Sigourney Weaver, Jennifer Connelly, Johnny Depp, Tim Allen, Robin Williams, etc. There are so many and my mind is going blank lol.
Your favourite movies?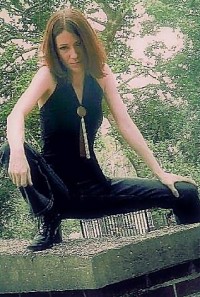 Feeling lucky ?
Want to
search
any of my partnershops yourself
for more, better results ?

The links below
will take you
just there!!!


A lot more!!! Thereís Nothing Out There, Howard the Duck, Drop Dead Fred, Chopping Mall, Friday the 13th, A Nightmare on Elm Street, Galaxy Quest, Jurassic Park and World, Ghostbusters, Labyrinth, Donít Be Afraid of the Dark, Avatar, Avengers, and most Marvel and DC movies. There are so many I canít list them all.
... and of course, films you really deplore?
Napoleon Dynamite and pretty much anything made by M. Night Shyamalan.
Your/your movie's website, Facebook, whatever else?
http://www.imdb.com/name/nm1516549/
https://www.facebook.com/krystal.akin
http://www.modelmayhem.com/kitty81
Anything else you're dying to mention and I have merely forgotten to ask?
Not that I can think of at least not at this moment in time.
Thanks for the interview!