Your new movie Candy Skin - in a few words, what is it about?
Candy Skin is about a man in a world that literally disappears before his eyes, and as he searches for people and answers to the jarring and nightmarish experience he begins to rot away in the empty suburb around him.
With Candy Skin being a post-apocalyptic tale of sorts, is that at all a genre that fascinates you, and some of your genre favourites?
For sure, I definitely love post-apocalyptic stories, though now that itís brought up I realize I donít really talk about them a lot! They tend to be very dramatic and I like drama in my horror! But I do still love straight-up horror as well. I admit I like watching deranged characters, or seemingly normal characters break down throughout a story, and post-apocalyptic films are ripe in that department! There are a ton of films swirling around in my mind right now, but a recent example would be The Divide, that was an intense, gut-wrenching film, and one that is beautifully shot and scored.
Other sources of inspiration when writing Candy Skin?
Though I wasnít really inspired by any one particular story or film when writing Candy Skin, the very first episode of The Twilight Zone, Where is Everybody, did come to mind, though that was not the initial inspiration, which was actually from a dream I had. Also the tone and themes of Lovecraftian tales relating to outer unknown forces beyond our control was definitely something that inspired me.
Candy Skin does feature its fair share of gore effects - so do take about the bloody bits of your movie for a bit, and how were they achieved?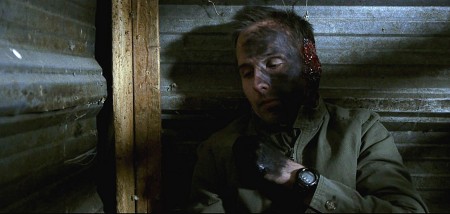 I was looking around for special makeup effects artists in the area and got into contact with a company here named On Scene FX. They had some great samples of their work and seemed like a company that could take on the job, since the film relies quite a bit on the effects! Michel Pennington, who created the practical effects did an amazing job, he put a lot of detail into them, they looked just as good in person as on film. We had to do a life cast of Rennyís head (our main actor) and created a mold from his ear separately. Michel does this for a living so he had all sorts of blood, bones and intestines we could use in the scenes. All the prosthetics were created and painted in the month leading up to filming and then applied over the course of a few hours during the shoot. The black rot that forms on the main character is different layers of paint and silicone I believe, to give it a peeled look. Michel would be able to go into much more detail about the process, heís the artist!
What can you tell us about your directorial approach to your story at hand?
I wanted to create a dizzying sense that seemed surreal, but that was established in a familiar environment. I wanted to create a feeling of unease and confusion, but also have the audience just as invested in learning the answers as our main character was. I wasnít going for classic scares, rather something more creepy and disturbing by being unexpected and lingering on a man mentally and physically falling apart.
Vast portions of Candy Skin were shot on deserted streets and the like - so do talk about your locations for a bit, and what kind of a challenge was it to get them as deserted as you did?
This is one of our most common questions! Really it went pretty smoothly Ė lucky for us! The neighborhood we filmed in, although densely populated, is pretty quiet most of the time. I feel like a broken record, but thatís the truth. If a car or a person was in a shot, weíd wait until they were out of view, or film around it, I guess it helped us get plenty of angles! We definitely didnít have the resources to close or block roads. Then things were creatively edited to keep it consistent. There is one road that is actually a main street and we just filmed in between the cars passing. In some shots the cars are seconds away from appearing in the frame, but we would just shoot until there was too much traffic and take shots as quick as possible when there were no vehicles in sight or far enough away down the road that they wouldnít be seen at certain angles. We never had to shuffle people away, they would look smile and keep walking.
What can you tell us about your key cast, and why exactly these people?
We are a very small production so we reached out into the local acting community and got quite a bit of interest and some great auditions. Renny Jachowicz, who played David, was actually the first person to audition, and I think I kind of knew it was going to be him when I saw it. I sent his tape to our actress Stephanie Moran, who played Lynne, because I was thinking wow weíre off to a good start and I was feeling excited! He brought a bit of a different angle to the character than I was envisioning and, a bit more aggressive and I liked it better that way. Steph (Lynne) and I had been friends for years and when I did my first short I cast her as a supporting character, and Iíll be honest I didnít even know if she could act, but now sheís been in my films ever since. In my two previous shorts before Candy Skin (Violet in Red Silk and Johnny in the Attic) she played the leads. The role Charles Alexander played, The Man, I had initially envisioned as someone much older, but his audition was so solid and eerie, I could picture him vividly in the role. Without hesitation I would work with each of them again.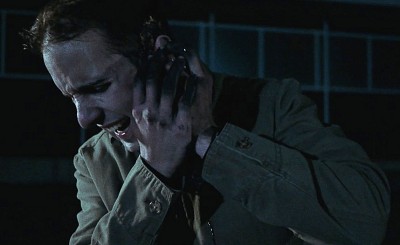 A few words about the shoot as such, and the on-set atmosphere?
Hm, I guess this is subjective, but fun! We had a lot of laughs, but also a very easy going group who knew when to get serious and get things done. It was pretty smooth, without too many hiccups, and everyone really took part in any way they could, which is usually how it is with such a small cast and crew. It was a supportive and energetic environment, everyone got along very well, we all just seemed to gel from the start and I couldnít have asked for better. Though it did get a bit chilly at night, but no one let it stop them!
Anything you can tell us about audience and critical reception of Candy Skin?
Weíve had a small number of reviews so far, yours included, and all have been positive to very positive so itís always great to hear unbiased sources giving their opinion and enjoying it! Iíve only personally been able to attend 2 screenings of the film, but both went over well, with a few nice reactions from the audience, nothing over the top, but done at the right spots. We can only hope more people continue to see it and hopefully like (or even love) what weíve created. I think weíre off to a great start and Iím so proud of what we have accomplished so far. Commenters seem to really love the music by William McTavish! He really did an amazing job.
Any future projects you'd like to share?
I just completed a segment for a feature anthology film, Monster Pool Chapter Two, the segment I produced is titled I Make Corpses and is about a zombie apocalypse, but from the perspective of a serial killer. The full feature is actually available to rent or buy at www.monsterpool.ca. 9 directors were chosen to create a short segment for the film and each segment had to have a different theme or monster. I chose zombies because I wanted to try something different with the sub-genre and the reception so far has been really cool! Weíre going to be submitting the feature to festivals over the next year, so hereís hoping!
What got you into filmmaking in the first place, and did you receive any formal training on the subject?
I always knew I wanted to work in film, and at first I thought it was in acting, but Iíve always had a penchant for creating stories and gradually I moved into writing and directing once the appropriate tools became available! I took a course for 3 years when I was a teenager, but after that I continued learning through hands-on experience, teaching myself and building on the foundation I had from those courses. Being on other filmmakersí sets also really helps you learn a lot, and having ďactedĒ in a few things previously I really tried to soak up everything I saw going on. I just love the whole process of filmmaking and I like to get involved in every aspect of it where I can.
What can you tell us about your filmwork prior to Candy Skin?
Iíve written, directed and edited 3 other shorts, but Candy Skin was the first film that I had planned to submit to festivals. That being said, we still worked hard on those shorts, with miniscule casts and crews ranging from 3-5 people, and we just did them because we loved to make films! Every short is a great learning experience and Iím proud of all of them, because without each one I couldnít have done the next one the same way. Each short has been totally different, our first one, Snapping Noises is about a mentally unstable woman driven violently by desire. The second, Violet in Red Silk, is an almost dialogue free film that came from the idea of having the final girl finish off the villain half way through the film and then keeping the horror going in some other way. The third one we did, Johnny in the Attic, was quick for a competition and is a more traditional spooky haunted house type of film, but we tried to push a creepy atmosphere through lingering camera angles and an eerie soundscape.
How would you describe yourself as a director?
Collaborative. I want everyone to feel important to the film, because they are. I also want everyone to have fun, as I keep saying, thatís why we do this, because we enjoy telling stories! Ultimately I have my ideas of how I want things to go, but I am open to hearing other team memberís thoughts on aspects of the film, and sometimes I like their idea so much I amend what I originally planned. But of course it has to be doable, and it has to work in context.
Filmmakers who inspire you?
When I have to make a choice like this I always find it difficult! But Sam Raimi is one for sure. While I havenít really created a film his style, his films aim to entertain and thatís what I hope my films do, of course. Iím inspired by Wes Craven for his wild ideas, John Carpenter for his beautiful cinematography and scores and by so many more, those who create great work despite their budgets and who continue to improve. Iím inspired by independent artists for giving a reputation to horror that makes people interested in even seeing our little films! And of course by local filmmakers who push themselves to do better every time they begin a project.
Your favourite movies?
I have so many, and I feel like they change depending on my mood, but how about I choose 5, one each from the last 5 decades! Also Iím going to stick with horror since weíve been talking about horror.
2010s Ė Maniac, a remake I know, but it has a beautiful score, superb cinematography and itís just so brutal!
2000s Ė May, I just really love how bizarre and dark it is while still being oddly charismatic, and a brilliant lead performance by Angela Bettis.
1990s Ė I Know What You Did Last Summer, it was my first slasher film, and arguably horror film, so Iíll always have a soft spot for it as it kick started my love of horror back in the 90s, and of course Sarah Michelle Gellar.
1980s Ė The Evil Dead, itís actually still pretty creepy despite some of the campier elements that they played up in the sequel, and itís so much fun!
1970s Ė Suspiria, super creepy score, beautifully filmed, and a nice eerie atmosphere with really great death set pieces.
(Full disclosure, I chose totally different films the last time I was asked this question because Iím trying to talk about all the movies I love.)
... and of course, films you really deplore?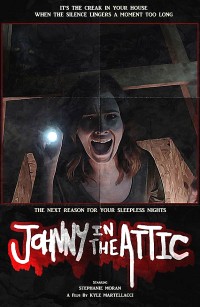 Feeling lucky ?
Want to
search
any of my partnershops yourself
for more, better results ?

The links below
will take you
just there!!!


Iím a pretty easy going critic, I can enjoy most films in some aspect. But Iíd have to say the films I usually donít like are the ones that just donít seem to try, whether the script is overly lazy or the actors just seem totally uninterested. If you know you might be lacking in one area, for example budget, you have to try to invest more energy and creativity in the areas that you do have more control over.
Your/your movie's website, Facebook, whatever else?
Facebook: www.facebook.com/RedRazorPictures
Twitter: www.twitter.com/RedRazorPics
YouTube: https://www.youtube.com/channel/UC0NYtpBw2eRNxG_iix4ggdA
Vimeo: https://vimeo.com/user14304437
Anything else you're dying to mention and I have merely forgotten to ask?
Yes, to investors, producers and studios: I am available to talk about my next project anytime ;)
Thanks for the interview!