First of all, why don't you introduce yourself to those of us who don't already know you?
Hi Iím Leonard Waldner from Canada. I was born on a farm around Winnipeg, Manitoba. I left the farm at 18 to go work in the oilfields in Northern Alberta. And then went on to pursue a career in acting.
What got you into acting in the first place, and did you receive any formal training on the subject?
Itís always been my passion. From a very young age, I enjoyed entertaining people. And I have always been fascinated with telling and listening to stories. Matthew Harrison from The Actors Foundry was my first introduction to professional training. That really opened my eyes to the process of learning the craft. Arthur Mendoza and especially Ivana Chubbuck from the Chubbuck Studio in Los Angeles have been a big influence in my training. Also taking Improv classes at Groundlings and UCB have really brought the fun of acting to another level.
How would you describe yourself as an actor, and some of your techniques to bring your characters to life?
Iím an actor whoís really all about the work. Doing enough research Ďtill it becomes an obsession. I love to dive into the circumstance of whatís happening around me. Where I am. How I feel in this environment. Really get into the space as much as possible. Whatís my relationship with the other characters? What do I need right now? And why do I need it so badly? Then, use whatever action it takes to execute it. Thatís when it can become playful. You can throw a child tantrum, be seductive, threaten, seduce. Whatever it takes to get what you want.
Any present/future projects of yours you'd like to talk about?
I am excited about the play weíll be putting up at the Complex Theatre in Hollywood, in the upcoming months. I will be playing a big time producer who gets taken hostage by a couple of deranged fans.
Iím very excited about some of my films that are coming out soon. Enter The Fire, where I play an abusive alcoholic father, will be completed January and at that time we will know where it will be distributed. At the very least, the movie will be available on Amazon Prime, iTunes, and other platforms.
Just a Little Bit Longer, in which I played the all-knowing nosey landlord, is in the final stages of post-production and is in negotiation for worldwide distribution. Iím very proud I was able to contribute as an actor on this film. As I found out on set, it was a seven year journey for the producers and director to make this film a reality.
Can you still remember your first time in front of a movie camera, and what was that experience like?
On one of my visits to my hometown of Winnipeg, I was asked to be an extra on The Arrow, a film that was being shot starring Dan Aykroyd. I was picked out to be the featured extra and had to use my facial expressions and imagination watching tests being done with airplanes some going well and some failing. I was very nervous because the camera was focused on me. And I wanted to do a good job. I guess I did a good job because they asked me back for a few more days and gave me lots of face time. The experience was awesome.
Going through your filmography, your most unusual film is probably A Tricky Treat - so could you give us a quick rundown what that movie's actually about, and the character you play?
Itís about this crazy family ritual, where they drug and kidnap me. Then the family proceeds to chain me up and cut my head off, and turn it into an annual Halloween lantern. I played the drugged out victim who gets his head cut off and turned into the lantern for the annual ritual.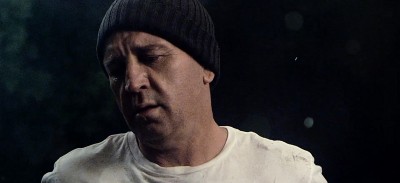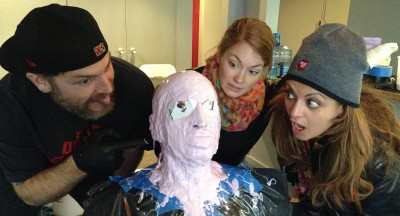 Leonard surrounded by Danny McCarthy, Gabrielle Giraud, Patricia Chica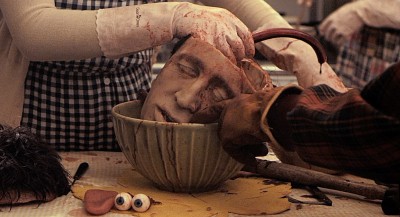 As far as I know, the process to "get into character" for A Tricky Treat was rather painful - care to elaborate?
Yes, director Patricia Chica [Patricia Chica interview - click here] and I went on a day trip to San Diego, from Los Angeles, to meet with the special effects supervisor Danny McCarthy of 800 LB Guerilla, who had to make a replica of my head. He put my whole face and head into a cast with only a couple of straws in my nostrils so I could breath. The special effects artistís concern was that I might panic because I was going to be completely submerged, not going to be able to see or hear for six hours. It went fine except it would have been nice to be able to spit. From the results of the finished product it was well worth the effort.
Do talk about the shoot as such for a bit!
The shoot was a lot of fun. Myself, the other actors and crew were very excited to see Patricia Chica the directorís vision come to fruition on this particular rare piece of art.
Other past films of yours you'd like to mention?
I guess Seven Times Lucky still stands out as my favorite master con film. And Clear Lake because of how it looks at love, loss and life choices. A great coming-of-age film. Award winning film Stroke Of Faith is about healing our past.
Actors, filmmakers, whoever else who inspire you?
Where do I start? I remember watching Al Pacino in an interview being Al Pacino. Then I watched him on screen. On screen there was no sign of the person who was being interviewed. He completely disappeared into his character. Wow.
I saw Out Of Time with Denzel Washington at the Toronto Film Festival. There was a scene in the movie when I thought it was all over for him. Then you see the look on Denzelís face as heís still fighting to overcome, fighting the overwhelming odds against him. Still desperate to win. That really inspired me.
Your favourite movies?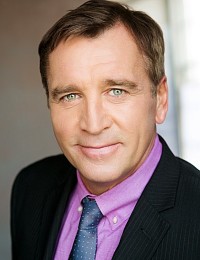 Feeling lucky ?
Want to
search
any of my partnershops yourself
for more, better results ?

The links below
will take you
just there!!!


The Godfather and Gone With The Wind are epic. The movie Iíve probably watched the most is We Were Soldiers. Very powerful.
... and of course, films you really deplore?
I deplore films with unsatisfactory acting. Just watched a movie lately which Iím not going to name. One actor ruined the whole experience for me. Sure enough, I found out from the producer he got the part by calling the director. He managed to convince her to give him the role without going through the audition process. So you can see why thatís an important step if the actor doesnít have a track record. I didnít mention my feelings to the producer. I didnít want to spoil her moment. Thatís probably my biggest turn off. When my friends invite me to see their play and the acting is dreadful. It really upsets me. I feel like saying ďwhy are you wasting my timeĒ?
Your website, Facebook, whatever else?
IMDb: www.imdb.com/name/nm1846291/
Facebook: www.facebook.com/leonard.waldner.75
Anything else you're dying to mention and I have merely forgotten to ask?
When Iím immersed in acting, Iím truly happy. When Iím away from it for a while, my friends remind me to get back in, as I get stressed and it really affects my mood and enjoyment of life.
Thanks for the interview!