Your new movie Diablo Rojo PTY - in a few words, what is it about, and what can you tell us about your character in it?
Diablo Rojo PTY is about a bus driver, Miguel, that is confronted by his past through a witch's spell. He and his companions are thrust into the jungles of Panama and faced with every Panamanian legend including La Tulivieja. It is filled with dark humor, and is a love letter to the classic B horror movies of the 70's and 80's. I play a priest, Padre Andres, who is… ok no spoilers…
What did you draw upon to bring your character to life, and how much Leo Wiznitzer can we find in Father Andres?
I approached the character from a non-religious viewpoint. As an elderly man who never progressed much in life and is at a point where he does not believe in much and is very skeptical of changes or new beliefs. How does he deal with having to face things he never expected to be true? I have lived a very full and interesting life, so when I read a script and look at a character, there is not much that I can't find a situation in my life that is a parallel in some way. That connects with the feeling. How the character reacts to the situation and how Leo would react is where the challenge comes in. In Padre Andres's situation, Leo would have run!
How did you get involved with the project in the first place?
I received a call from Jordi [J. Oskura Nájera interview - click here] and Sol [Sol Moreno interview - click here] two years before we started shooting. They were looking for a place to host a casting session for a movie they had written and were interested in using a theater that I am involved in. I must admit I was skeptical, didn't know them, and had never heard of them, which is unusual because Panama is tiny. When I met them, they gave me more details and they had obviously done their homework. They knew who I was and my work and asked if I would be interested in the role of the priest.
To what extent could you identify with Diablo Rojo PTY's horror theme?
It is very much the culture I grew up in. The Diablo Rojos were everywhere, they were the only form of public transport. When they wanted me to behave, they would always say, "if you don't, La Tulivieja is going to come for you." I had no idea what that was, but it was scary.
What can you tell us about Diablo Rojo PTY's director Sol Moreno, and what was your collaboration like?
Sol is very bright and has very determined and clear ideas. And yet when you first meet her, she is quiet and shy. It was easy to work with both her and Jordi. Always willing to hear your views and opinions, but definitely she is the boss.
Do talk about the shoot as such, and the on-set atmosphere?
The shoot is definitely one I will never forget. Everyone in the cast and crew became like a family. There was a lot of laughing and a lot of comradery. It was not an easy shoot. Almost all of it was at night, so we had to keep going until the sun came up and stopped us. The conditions were difficult, in the jungle with high temperatures and bugs, bugs, bugs. The things that were attracted to the lights were fascinating. There was one night that was "special"! I wanted to do all the work with no stand-ins, so that evening I had to lay on my back on the wet grass with ants all over me for about 2 hours while I was prepped for an important sequence. I was covered with fake blood which Sol [Sol Moreno interview - click here] had told me was water based and wouldn't stain… After we got that done, I was helped up, covered with more blood, and laid down at a 45-degree angle at the edge of a river face down with one hand in the very cold water. That was another two hours. When we were done I took all my clothes off and tried to wash all the blood off. It was impossible. As for not staining, I had pink hair for months. Several weeks later I had a doctor's appointment and when she checked my ears she freaked because my ears had dry blood. I just smiled.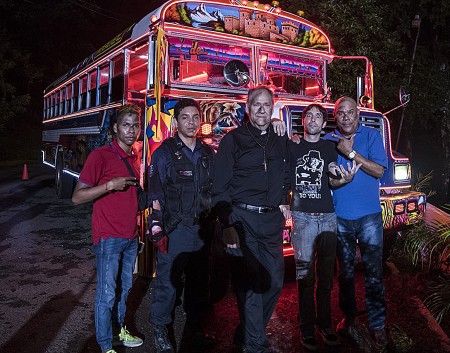 Any future projects you'd like to share?
We are finishing post-production on a short film I wrote called Shadows, which I hope is the pilot for a TV series I am developing. I have signed up for parts in two films, Unfollow and Panama Al Brown, as well as a TV series called La Caza de las Garzas. Unfortunately, the pandemic struck, and everything is put on hold. We will see what happens.
What got you into acting in the first place, and did you receive any formal training on the subject?
I started acting in high school and got some training then but didn't follow up on it. I went to Tulane University and got a degree in Architecture, but never worked as an architect. In the late 80's they were shooting the pilot for the first attempt at a TV series in Panama called Panama Jackpot. On a lark I auditioned and got the lead. The series never went anywhere but I did get noticed and offered roles in theater productions. I enjoyed a lot of those in English and in Spanish, but there were no professional opportunities, so I stopped. In 2014 I was offered a part in a TV series. I did that and from there the opportunities started coming.
What can you tell us about your filmwork prior to Diablo Rojo PTY?
The movie I worked on was Historias del Canal, a film about several different periods in the history of Panama and the Canal. It was a very small part but got noticed. I had another small part in Hands of Stone but got to be opposite Robert DeNiro. Last year was great. I was in three movies with important roles, Locos al Poder, Operacion Causa Justa and of course Diablo Rojo PTY. My complete filmography is on my IMDb page.
How would you describe yourself as an actor?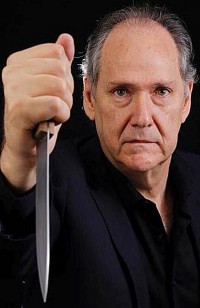 Feeling lucky ?
Want to
search
any of my partnershops yourself
for more, better results ?

The links below
will take you
just there!!!


That is a tough question. I think I am easy to work with. I have the ability to memorize things quickly. I usually don't like to see my work on screen because I always see things I should have done differently. Ask somebody else! What I love about acting is I can become someone else and do things I would never do and not have to suffer the consequences of those actions.
Actors (and indeed actresses) who inspire you?
Many inspire me but I don't copy anyone. I think trying to copy someone is a mistake. I absolutely love the work of Anthony Hopkins. One of the best ever is Meryl Streep. She can become anyone anywhere and not be the same.
Your favourite movies?
Memento, The Curious Life of Benjamin Button, Sunset Boulevard, The Deer Hunter and Alien are among my favorites. There are so many more I could watch over and over.
... and of course, films you really deplore?
None. I can watch absolutely anything and find something there that interests me.
Your website, social media, whatever else?
My fan page is not active. I don't do Twitter. I have a personal Facebook - Leo Wiznitzer - and an Instagram account - @leowiznitzer - and an IMDb page under my name.
Thanks for the interview!