First of all, why don't you introduce yourself to those of us who don't already know you?
My nameís Liam Edwards, and Iím an actor from South Normanton, Derbyshire.
What got you into acting in the first place, and what can you tell us about your training as an actor?
I donít really know how I got into acting, I was always into film and theatre, but I was dead-set on joining the police upon leaving school, but literally in the last month or so, I just decided ďIím joining a drama course insteadĒ. I went to West Nottinghamshire College and earned my HND before moving on to Sheffield Hallam University, where I earned my Performing Arts degree. Most of my training was theatre oriented, but I learned a wide range of techniques for character development, a lot of method and naturalistic acting, but also a lot of improv and physical theatre techniques too. I also learned some musical theatre and dance, though I havenít often used them.
How would you describe yourself as an actor, and some of your techinques to bring your characters to life?
Iíve played a wide range of characters, so Iíve had to be versatile, although a lot of my roles have been some real unsavoury characters. It depends on what the schedule is before filming, I sometimes go over the script and make notes on what I perceive to be important character points, sometimes I keep little diaries - as the character. Iíve even dressed like a character and gone out as them, spoken like them, behaved like them. Example, I once had a vampire character (best way to describe him) called Aegeus for a film called The Culled - I went out as him, I never let people see my face under my hood, if someone spoke to me, Iíd whisper back, I sat on the back seat of a bus, in the middle, watching the other passengers under my hood, it was 6pm on a February evening, getting dark, then the lights went out at the back so I was in shadow, for me it was like gold, because nobody came within two rows of me.
Most of all, when I get a script, I like to put it on its feet, so once everyoneís out of the house, Iíll take over the living room and start acting it out, just to get used to doing the scenes - first of all, Iíll gain an understanding of the characterís motivations from that. I donít like to just sit and read lines, they never sink in that way for me. In my early theatre roles, I found that Iíd pick it up a lot faster by getting up and doing it. When I was in Uni, my teachers (who were actors themselves, and/or ran theatre companies) would comment that I could deliver any dialogue in such a naturalistic way that one wouldnít know I was part of a scripted scene, practise makes perfect.
As far as I know, you started your career in theatre, right? So what can you tell us about your stagework?
This was back in college, I discovered the local community theatre. They were putting on an original comedy piece called A Site for Sore Eyes written by a local writer, Kevin Fegan, and directed by Louise Wildish. The show was written to raise awareness about the old Mansfield General Hospital, and itís derelict state. I played one of the pesky former residents of the hospital, a poltergeist, ďPolĒ for short, who cunningly manipulates the local residents into action, to get the hospital knocked down. That was with Mansfield Palace Theatre, I went on to do The Crucible and Brechtís Caucasian Chalk Circle with them. Iíve played Macduff in Shakespeareís Macbeth Twice, first version based on the idea of a modern gangster Macbeth, the second time was the classic play in costume, with swords, so Iíve shot him and chopped his head off respectively.
My most recent stage production was Family Circles by Alan Ayckbourn, directed by Rob Goll at the Nottingham Arts Theatre. I played the hypochondriac David, permanently stressed out and fretting, it was so much fun to play and we all had a great laugh. Iíve met friends for life every time Iíve been involved with a stage production.
Eventually, you also drifted into film and TV - now how did that happen, and can you still remember your first time in front of a film/TV camera?
When I left Uni, I was like ďOk, gotta find work, put my name out thereĒ I eventually met OTT Productions, a company in Nottingham looking for actors for Dawn and the Dead, their zombie apocalypse comedy. I played Nigel, a young soldier, part of a four man squad, who were just the most inept group of soldiers on the planet, so I quickly discovered that anything went with this role and I could have fun. But I tried to push the boat out all the same. Most of Nigelís dialogue was as the puppy dog of the group, all fun and games, Sarge hates his guts and makes him responsible for the little girl they find. But then at the end, Nigel dies to save her, I sold that scene so well that OTT have had me back for about 8 more films, each one with a more challenging role than the last. Itís been awesome, so I must have done something right.
Performing on stage vs acting in front of a camera - now how do the two compare, and which do you prefer, actually?
Iím just now venturing back to stage work after about two and a half years, in that time I think Iíve done about six films and countless other small roles. On stage, obviously you have to project your voice a lot more, everything has to be bigger and that much louder. Back in Uni, the teacher would go right to the back of an auditorium and say, ďhit this back wall with your voice!Ē To the camera, you can be more subtle, I enjoy being subtle, I enjoy saying something with a look, an expression, when youíre on stage, obviously, the audience canít see every facial tick, expressions have to be that much more visible, so Itís more body language. On camera, you can explore a more subtle range while still putting across tonnes of emotions. Itís taken time to master, Iíve stood in front of the mirror with scene directions before, trying to work out what expressions convey the most, obviously the eyes are a big part of that. I enjoy the process of putting on a stage show, though I tend to only go for comedies, I do so much dark stuff that I need that comic release every now and then, to be able to laugh at what Iím doing. Having had so many awesome times on both stage, and in films, I really canít say which I prefer more.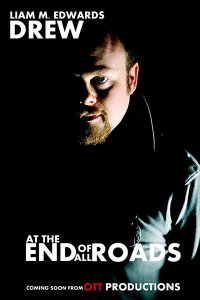 Do talk about some of the films you were in for a bit, and what made these experiences special?
Well, Iíve done a lot of films for OTT in Nottingham, most recently, Iíve done Waiting for the Rain, At the End of all Roads, My Garden Forever and Legacy. Some of them arenít out yet, but they're gonna be awesome when they're ready. In At the End of all Roads I played Drew, a real nutter, I shaved my head and grew a beard, Drew and his mates were on a revenge mission. At one point, during a scene, a woman started shouting at us to leave the guy alone, then two plain clothes policemen came to check on the guy I was supposed to be beating, you know youíre doing it right when that happens. In Legacy, I played a Cop, DC Ward. The film's not out yet so I canít give too many details away, but Ward is sleazy and corrupt as they come, but a real Badass at the same time, also smart and manipulative. Even catching a hard beating and having guns pointed at his face donít faze him. Yeah, Iím looking forward to that one.
It was a pleasure to be part of Molly Crows, I was in the flashback scenes as a Puritan, one of the accusers of poor Molly Leigh. I was also part of a spooky hanging scene in the woods. I loved hanging out with Ray [Ray Wilkes interview - click here], Tony, Layla, Phil and all the others. I keep running into witchcraft as a subject matter in my career, Iíve loved it every time. It was also so intriguing to work on because we cannot forget, Molly was a real person, delving into the dark past is always exiting.
Iíll also be appearing in a Webseries soon, itís called Waterside, directed by Allan Rafferty. First episode is done now and itíll be ready soon. In this, I play ďMercyĒ he had a traumatic early life and as a result, is now a psychotic madman out for revenge, delivering ďMercyĒ to anyone he perceives to be weak. Iíve also done a short called Dragons, which will be really funny when it comes out, and most recently I played a ďDaddy PigĒ in Three Little Pigs, it was filmed like a stage show, and we were in masks, so it was a perfect blend of the stage and film experiences.
Any future projects (in whatever medium) you want to talk about?
Iíve just started rehearsing for Granny Must Die with a local theatre company, Iíll be playing The Devil in this one and itís a comedy, so Iím really excited about that, thatíll be showing in January. Iíll also be appearing at Twin Lakes as a butcher in the Scare Fest Pie Factory, thatís gonna be awesome and I canít wait for that, thatís for Halloween. Iím on the shortlist for a couple more so fingers crossed on that front.
Your dream roles (however improbable)?
Iíd really like to play motion capture CGI role at some point, either for a film or a game, thatíd be awesome, as Iím a big gamer. If they ever make a film based on the Space Wolf series of books, Iím your man for Ragner Blackmane, picked the omnibus up once for a flight and got hooked. Heís just someone I really identify with, just in the way his mind works. Really though, any badass character in a sci-fi/action will do me, thatís my favourite genre.
Actors (or indeed actresses) who inspire you?
Daniel Day-Lewis, for someone that follows method, the dedication the man puts into every role is astounding, thatís where the bar is set. Of course Iím also a fan of Liam Neeson, the man trained Batman and Obi-Wan after all.
Your favourite movies?

Feeling lucky ?
Want to
search
any of my partnershops yourself
for more, better results ?

The links below
will take you
just there!!!

Find Liam M. Edwards
at the amazons ...

amazon.com

amazon.co.uk

amazon.de
Looking for imports ?
Find Liam M. Edwards here ...
Something naughty ?
(Must be over 18 to go there !)

Iím a big fan of the Riddick movies, also Star Wars and Lord of the Rings. Dredd, Hot Fuzz, The Guard, Centurion, Dog Soldiers, District 9, the list goes on and on.
... and of course, films you really deplore?
Name any romcom.
Your website, Facebook, whatever else?
My Starnow Page: http://www.starnow.co.uk/liamedwards2
My Facebook: https://www.facebook.com/liam.m.edwards
Website http://lmedwards.co.uk/
And my Xbox Live gamertag is Jagrider, if anyoneís on there, feel free to look me up.
Anything else you are dying to mention and I have merely forgotten to ask?
Well, Iím working on my own stories at the moment, and when they're done, Iíll be sure to let you have a look. All Iíll say right now is that oneís an action-sci-fi that Iím refining and Iíve got a few ideas for a straight up horror which are still in the notes stage. Soon as they're done, Iíll be sure to send you a synopsis.
Thanks for the interview!
Cheers!