First of all, why don't you introduce yourself to those of us who don't already know you?
Firstly, good morning/afternoon. Thank you for inviting me to be interviewed. My name is Louise Illingworth, I am 40 years old, (the years go quick donít they!) currently working my way back into the acting industry. I am also a mature Acting performance degree student, studying at Calderdale University Centre, as part of the Open University. I am from West Yorkshire in the UK. I have 2 caring wonderful teenage daughters who are my life. I was a young mum, 20 (well, 20 years old isnít too young I guess, I felt young at the time). My eldest is to be 18 this August 2019 and my youngest went 15 in February 2019.
So what made you want to become an actress in the frist place?
What made me want to become an actress, I love entertaining people and enjoy the boost of satisfaction when I know I have played a character well and audiences have enjoyed what they have seen. It gives me a sense of happiness, not just for me, but the people watching. The ultimate reason is because when Iím acting I can be someone else, bring a character to life, enjoy escaping out of my headspace for a while into a whole new life. Itís a wonderful feeling when you can connect with a character.
In the past, I was lucky enough to be involved in dancing and performing professionally on stage since the age of 3. I was a dedicated dancer and attended The Dorothy Stevens School of Dance, 6 days a week involving myself in various forms of dance classes. Unfortunately, at the age of 13 I became critically ill, leaving me with little energy and no choice but to give up what had been my whole world - dancing.
Eventually, I decided I couldnít let my illness stop me so I started the acting school Stage 84, I had a very low self esteem because of the way my illness made me feel and look, I didnít think I would Ďfit iní. I eventually let my mind take over and stopped doing the one thing I had always done and wished I could continue to do Ė be in the TV and film industry to be involved in projects that inspired and entertained people.
Now from what I know (and I hope I don't get too personal here), you started acting in your teens, but then serious health issues put you on a looong hiatus - so would you like to elaborate on that?
Health issues that put me on this long hiatus - when I was 13, I became critically unwell to the point where the doctors couldnít understand how I was still alive. I was becoming increasingly tired, had a yellow tinge to my skin tone and was becoming snappy with no patience Ė I was completely out of character. My mum had been putting it down to my age and hormones, we had just been on holiday, so she thought I had developed a golden tan. In the end she took me to the doctors and they diagnosed me with jaundice, but took some blood to be on the safe side. The next day I was rushed to hospital and put on dialysis. My kidneys had completely failed. I was on CAPD dialysis until I received my first transplant when I was 14, I had my own that lasted 13 years and was a really good kidney. But because I was in steroids, I had what is known as a Ďmooní face, which is a bloated face, which going through teenage hormones and feeling like I had a huge head gave me low self-esteem.
What was it that eventually got you back into acting, and what can you tell us about your training on the job?
20 years later and after having four kidney transplants I thought enough is enough, since the age of 13, I have being defined as Louise with kidney/dialysis problems or Louise thatís poorly, I want to be known for me, who I am, for my talent and what I have always wanted to do. This leads me to where I am now. I started the acting degree for something to focus on to help with my anxiety and depression, the minute I started doing the work I was hooked back into it straight away, I caught the bug! The feeling and buzz I feel when acting is like nothing I have ever experienced other than when acting in my early years. That was it, I had to find some adult classes to get some training to get back into professional work alongside my degree. In January 2019 I started Northern Star Acting in Leeds, owned by Christopher Torretto [Chris Torretto interview - click here], who is also my coach. Since then I have been in a theatre production called Shoot/Get Treasure/Repeat written by the playwright Mark Ravenhill, cast in 2 short films that will be sent off to film festivals, and just recently being personally asked to be interviewed to be an ambassador for kidney organ donation, as well as a personal invite to be an ostomy style ambassador. I am working with Chris, completing workshops alongside my daily coaching to give me more skills to help me get back into the acting industry.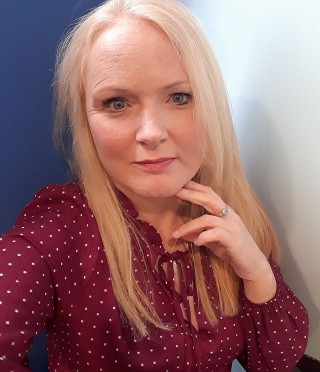 How would you describe yourself as an actress?
I would describe myself as determined strong and passionate, willing to do whatever it takes to achieve the goals I have in this life. I want to be able to show people that even with complicated health issues you can be who you want to be, it doesnít have to stop you. Why should it? In my case that is for me to be a successful actress. Acting is the one thing that helps me escape my health conditions. I have been defined for 27 years now as Louise the dialysis/kidney patient or Louise thatís poorly, but no more! I am determined to be known for me, for what I am good at and passionate about, acting. My aim then is to inspire people to be who they are and not let anything get in the way of that.
Thanks for the interview!