Your new movie Dead Eyes - in a few words, what is it about?

MM: I think it's mostly about the power of vision and the fear to be observed by someone unknown. Can you imagine to find yourself, during a hike, observed by a distance by numerous persons, who hide in the bushes and follow you everywhere? And then, once they get close enough, you also discover they don't look exactly "normal"... The story is pretty straighforward, a group of friends discover an ancient relic during a hike in a remote area of Italy, near an abandoned monastery built by the Templars. From that moment, the people of the ghost town surrounding the monastery come back to life to hunt them down, lead by a blind priest. We wanted to recreate the atmosphere of various tales by Lovecraft, like "he Shadow Over Innsmouth, the idea of a whole town possessed by older divinities that may be evoked in the contemporary world by ritual magic.

What were your inspirations when writing Dead Eyes, and could you talk about your collaborative writing process for a bit?

MB: At first we thought about presenting everything like a real life event, like something happened for real, but the legal consequences stopped us from doing so! :) I like the idea that something that may be defined as "pure" or "good", like the help from the Church, embodied by the blind priest, changes into its opposite, the lust for the power given by an old relic, that destroy the peace of the town. The abandoned location we used helped in writing a story really terrifying and in giving a sense of claustrophobia to the movie, that proceeds without pause or relieves. It's a tight script, written by exchanging numerous blood dripping emails, it has been a perfect creative collaboration.

MM: I agree, it has been very easy and funny too to write the script together. Regarding writing influences, beside Lovecraft, the location itself, a real abandoned monastery, was very inspirational. I think that shows up in the footage and will give added value to the movie.

Why did you choose the found footage approach when making Dead Eyes?

MB: My initial idea was to shoot all the movie like a POV of all the characters, continously changing from character to character, but we agreed that it would have been much too chaotic, so we opt to use simply a single POV of the camera, to simulate a sort of documentary, found by the police on the location of the massacre.

MM: I know that the found footage approach is over-abused in these times. We calculated the risks of proposing another horror movie shot in that way, but we decided that it would have been the best way to direct this story for three reasons. The first is the fact that we were dealing with a sort of real-life haunted location. We thought we didn't even need production design, we could just enter there with a camera and shoot what was inside the building and it would have been scary enough by itself! Secondly, we had restraint of both money and time about using that location for long times, I doubt that it would have been logistically possible to shoot the movie in a traditional way. Third, the story required the most realism possible and only this genre can grant the illusion to be watching something happening for real.

What can you tell us about your directorial approach to your story as such, and what was your collaboration like?

MB: It has been a wonderful collaboration. We did numerous location scoutings and rehearsals before the shooting, creating a common detailed storyboard, where our characters slowly would have descent into total despair until they end up dismembered, like we wanted! We were on the same wavelenght, since the first emails until when we were on the sets building the project day by day, without conflicts or discussions.

MM: The whole shooting phase has been very collaborative. We listened also to all the suggestions of our actors and crew members, talso rying to incorporate their ideas in the movie, in the limited time we had. I believe filmmaking is a completely collaborative art, it's not possible to make good movies just imposing all the decisions on the others.

The synopsis of Dead Eyes at least suggests quite a bit of violence and gore - so what can you tell us about that aspect of your movie, and was there ever a line in that respect you refused to cross?

MB: Blood and gore! We really wanted gallons and gallons of blood, now I've become an expert of animal entrails, found in the meat department of the supermarket. Among others, we used a lamb tongue, guts, intestines, the more they looked disgusting, the more we liked them! Our actors agreed to being covered with this revolting stuff without complaint, so, blood and gore!

What can you tell us about your cast, and why exactly these people?

MM: I knew already some of them from my previous short movies. It has been a real pleasure to work again with great professional actors like Diego Riccobene and Paolo Riva. Their choice has been natural since we started to think about the story. It has been demanding to find the female character, our final girl. We had numerous auditions, until we found Sveva Raimondi. When we saw her audition performance on screen, we immediately knew she was the right one. Her whole performance throughout the shoot has been very intense. Orsetta Borghero is another great actress that we enjoyed working with. In general, all the cast has been not only perfectly fit with their roles, but they also have been real troopers, ready to walk an extra mile for this project. Sveva also hurt herself really bad during the shoot, cutting her hand for real with a rusty nail in the old church of the town (we laughed about her real blood falling on the pavement of the church and resurrecting the corpse of the monks buried there).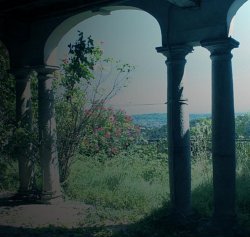 MB: We were looking for competent and simple professionals, not for snobs or queen bees. For us it was very important the realism, they had to play without following the script word after word, we asked them to improvise and to be more natural as possible. Everybody has been up to the task, they really entered into their characters.

You of course also have to talk about your location and why you've chosen it?

MM: It's an old abandoned monastery dating to the XV century. It has also a church annexed and another huge building. All this surrounded by a wild and dark forest. It was the perfect location for our story! We both have known that location for various years, we always wanted to shoot a feature movie there! I think that the fact that it's an authentic creepy location, not something built in a studio or a new house "refurbished" like a dark manor, really shows!

What can you tell us about the actual shoot and the on-set atmosphere?

MM: We had actually some problems relating to theh abitants of these buildings. Not the resurrected villagers, I'm talking about the giant spiders and the bumblebees that nested there! I've been bit by one of them on the head! Our DP was also kind of arachnophobic, you can imagine that this old building was covered by thick layers of spider-web and we didn't want to clean it because we wanted to maintain its original creepiness, so sometime it was difficult to convince him to enter some rooms with the camera! After a little while he got used to it, but the other Marco started making him jokes, using plastic spiders and hiding them near him... at the end, it was a lot of fun!

MB: The atmosphere on set was fantastic, everyone was friendly and in peace, a peace only broken by the threats of the location, like broken glasses, rats, giant spiders, supersized bumblebees. The funny thing is, when we were on pause everything was quiet, but anytime we screamed "action", everything could happen!

The $64-question of course: When and where will the film be released onto the general public?

MM: We expect the movie to be ready for delivery by the end of May. It will be released for sure in US and Italy. We hope also in other territories. Release date is not set yet, but should be by the beginning of next year.

Let's go back to the beginnings of your careers: How did each of you enter the film business, and did you receive any formal training on the subject?

MM: I took a directing master degree at the Academy of Art University in San Francisco, but I started shooting short movies before moving there. When I moved to California I had already shot 15 short movies and various videoclips (mostly for metal bands). After school, I founded Dolce Mare, LLC with a partner, and then opened EuroObscura, the sales agency branch of Dolce Mare, specialized in horror and cult movies.

MB: I had no formal training, I entered this business thanks to my friend Marco Magni, we realized some short movies together before this one. I made also a short by myself but it has not been released yet.

How did you two first hook up, actually?

MM: We've known each other since the time of primary school! Living both in a small town in the countryside of North Italy, and being both interested in this genre and this kind of movies, it was just natural to wind up working together!

What can you tell us about your filmwork prior to Dead Eyes?

MM: Between the other things, I shot some horror shorts. One has been distributed by Troma Ent., Merry Xmas Motherfucker!. It was a very cheap but entertaining splatter short. One of my latest short movies is Zombie Connection - on that set I met Diego Riccobene and Paolo Riva, now starring in Dead Eyes. This one had to do with a cocaine so powerful to bring to life the dead!

MB: I wrote and directed a thriller short called The Eleventh Day, but it's still in my drawer.

Any future projects you'd like to share?

MB: I've tons of ideas, it's a matter of time and money mostly, I'm always available to work on new projects.

MM: At Dolce Mare we are developing three different feature movies at thr moment, even if they have nothing to do with horror! I wrote one of them, The Lion and the Ring, it's a more ambitious project, it's a war movie set during the Russian campaign of 1943 and based on some real life events that happened to my grandfather. For now, it's more of a dream project as it would require a budget substantially larger than a movie like Dead Eyes, it's more likely that before to finally produce and direct that one I will come out with another horror. At this moment though I'm really focused on completing the postproduction for Dead Eyes...

Almost all of your movies are of the horror variety - a genre especially dear to you, and why (not)?

MM: This is the genre that I know better and that I'm more passionate about. When I was a kid, I founded a sort of horror club, I used to invite all the kids of the neighbourhood and screen horror movies recorded with my old VCR... I still have all those VHS...

MB: I always loved to hear terrifying fairy tales, where everybody dies at the end. I loved horror literature, comic books and obviously movies. I grow up with the scifi movies of the seventies and the splatter movies of the eighties. It's something that has always been within me.

How would you describe yourselves as directors?

MB: Expert, capable, intelligent, handsome? :) A good brain for a hungry zombie!

MM: I like most to work with actors. I regret that with Dead Eyes we didn't have too much time for rehearsals. Sometimes when I shoot I'm over-excited but always manage to be patient, even in the more adverse situations, and to avoid screaming towards anyone. I'm very collaborative and listen to everybody, even if at times it's difficult when you've a schedule to follow...

Filmmakers who inspire you?

MB: David Cronenberg, Ridley Scott, Quentin Tarantino, Kenneth Anger, Brian Yuzna, John Carpenter, Roger Corman [Roger Corman bio - click here], Pupi Avati.

MM: I would add Amando De Ossorio, I think that his Blind Dead-movies have been a major influence on Dead Eyes. I would also add Alejandro Jodorowski, Alfred Hitchcock, Takashi Miike, Werner Herzog, Pasolini, Terry Gilliam, and obviously the Italian masters of horrors: Dario Argento, Lamberto Bava, Ruggero Deodato, Mario Bava [Mario Bava bio - click here], just to name the first that pop into my mind.

Your favourite movies?

MB: The Fly, Zeder, Shining, Blade Runner, Scanners.

MM: Videodrome, Rosemary's Baby, Shining and most that Kubrick did, Holy Mountain and Santa Sagre, Suspiria, Big Trouble In Little China, Salò, Nosferatu (both the Murnau one and the remake by Werner Herzog). And I have to also mention The Walking Dead, even if it's a TV series, can't wait to see how it ends!

... and of course, films you really deplore?

Feeling lucky ?
Want to
search
any of my partnershops yourself
for more, better results ?

The links below
will take you
just there!!!

Find Dead Eyes
at the amazons ...

amazon.com

amazon.co.uk

amazon.de
Looking for imports ?
Find Dead Eyes here ...
Something naughty ?
(Must be over 18 to go there !)

MB: All Disney movies, Stallone movies and the movies with animal protagonists (except when the animals are killing animals).
MM: Twilight saga, they made of the myth of the vampire and of its primordial force a brand for teenagers!
Your/your movie's website, Facebook, whatever else?
MM: You can check out the Facebook page of our movie here: facebook.com/DeadEyesMovie. You can also check out the EuroObscura webpage, to see what other movies we have in catalogue: www.euroobscura.com.
Anything else you are dying to mention and I have merely forgotten to ask?
MB: We passed more time thinking about the name to give to the location in the movie than to write the whole script! We made this to protect the location, that is haunted and still looking for young blood!
Thanks for the interview!