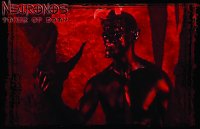 Mike Weishaupt as the Devil
Your latest movie is called Necronos: Tower of Doom - in a few words, what is it about?
Don't want to give away too much in advance, but as the title suggests, it's about the demon Necronos, who tries to assemble an army of the undead for the devil. Whoever likes his movies featuring witches, demons, zombies and of course tons of gore effects will enjoy Necronos.
What were your main inspirations writing Necronos, and is the mythology of your film based on any actual myths or completely made up by yourself?
Basically, I wanted to make a movie that tells its story through the eyes of evil, through the eyes of the demons. And I just love castles, old masonry, dungeons and so on - and this is how Necronos fell together. But of course, the whole mythology is only made up ... I hope ;)
How would you describe your directorial approach?
I put my heart and soul into it ... and tons of fake blood.
You were also responsible for most of the special effects of Necronos. So what can you tell us about your special effects work?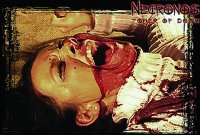 Saskia Neumüller
Of course I always try to pull as much as possible out of my bag of tricks. And the more realistic an effect, the better. This takes a lot of determination and love for detail, which makes the whole thing rather extensive. It's always a challenge to make every effect as realistic as possible, and that's hard to describe, because every time it's a game of trial and error, and I always learn something new.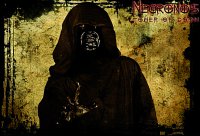 Thomas Sender as Necronos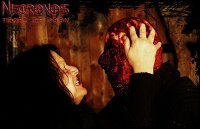 Manoush and Timo Fuchs
A few words about your main cast?
They all did magnificent jobs, I was more than satisfied, and I'd like to give a big shoutout to all of them!
In Necronos, you have also cast quite a few big guns of the German indie horror scene, like Andreas Schnaas, Timo Rose, Jochen Taubert, Andreas Pape, ... How did all these collaborations come into being, and what can you tell us about the German indie horror scene as such?
We've all known each other for many years and supported each other on numerous occasions, so for Necronos I just asked who's willing and able to be slaughtered for us, and fortunately, quite a few prominent faces of the German independent scene accepted the invitation. So thanks to everyone once more!!! The German indie horror scene is like a little family! ;)
Kim Sønderholm, after lobotomy
Danish cult actor/director (and good friend of this site) Kim Sønderholm [Kim Sønderholm interview - click here], on whose Little Big Boy you also had a hand or two, is condemned to die a particularly gruesome death in Necronos. A few words about him?
The collaboration with Kim Sønderholm was just great! He was willing to take everything we threw at him, and he gave a great performance. It was great fun working with him, definitely something worth repeating.
The castle you use as your Tower of Doom's exterior looks particularly nice and brooding. What can you tell us about it, and was it chosen merely for aesthetic reasons or does it indeed have a dark past?
The castle seen in the film is an old ruin with a tower fitting our purposes. But it was only used for exterior establishing shots, we didn't shoot there with any of our actors. And I don't know anything about it having any kind of dark past.
Actually, we filmed in all in four castles, but most of it was done in bricked vaults, and these shots were combined with those of the castle locations. We've also built many sets outselves and redesigned rooms - actually on a constant level. The production designers Mario Zimmerschitt and Dominik Ruf did a great job here, as well as the rest of the team. We also built all the dungeons ourselves ;)
I described Necronos as "not the most intellectually challenging movie, but an old-fashioned gorefest" - a judgement you can at all live with?
Actually, we wanted to make an old school trash movie with lots of gore effects, and I think your statement couldn't describe it any better! So thanks a bunch!
Let's leave the present behind us for the moment and jump head on into your past: What got you into movie making in the first place, and what can you tell us about your initial filmmaking experiences?
My very first cinematic "experiments" date back approximately 10 years. Back thenm I filmed on Hi8. I never finished my first movie.
A few words about your first feature film Dungeon of Evil?
Happy happy times. I have nothing but fond memories of making Dungeon of Evil. What can I say, it was my first time! ;)
Just can't watch it anymore ...
Next came Graveyard of the Living Dead. What can you tell us about that one?
Party flick: Punk music, summer, blood! Basically a little zombie movie with tons of splatter. And more fond memories.
Actually, Graveyard of the Living Dead was a sort-of stepping stone for us, we learned a ton making it, and we had tons of fun. Great team, too!
A few words about Dark Awakening?
What can I say, one has to make a short eventually, right? ;) With Dark Awakening, we entered psycho-territory - quite a challenge, but who dares wins. Happy times though, unfortunately shorter than usual ;)
What can you tell us about your production company Infernal Films?
Founded in 2004, Infernal Films was concieved as an idea by five horror film fans, Christian Reckert, Ramon Kaltenbach, Martin Rüdel, and the brothers Lars and Marc Rohnstock. Our first film Dungeon of Evil was released soon after inception, and thanks to the priceless support of Yazid Benfeghoul and Peter Beppler (Dark Eys Promotion), it became a big success, for which I cannot be grateful enough. Over the years, Christian Reckert has left the company and Dominik Ruf has taken over his spot - well, the times they are a-changing, and so is Infernal Films.
Right now, we can call ourselves lucky to have several freelancers working on our team, because without people able to tackle things head-on, we wouldn't be able to make a single film. So thanks to our team currently consisting of Timo Fuchs, Mario Zimmerschitt, Nadine Trautwein, Thomas Sender, Dirk Glücks, Alexander Scheiber, Martin Rothbarth und Tanja Haas!
Besides your own directorial efforts, you have also worked on films by other people in various capacities. What can you tell us about this aspect of your career?
Rather hard to do, because over the time, I've worked on quite a few. Suffice to say, I enjoyed every sinble one of them and have fond memories of them all.
Pretty much all the films you have worked on are horror movies. Is horror a genre especially dear to you, and why?
Besides science fiction and fantasy, horror is one of my favourite genres. These genres fascinate me because they are so incredibly versatile. Pretty much everything is possible, and the less realistic, the better!
Directors who have influenced you?

Feeling lucky ?
Want to
search
any of my partnershops yourself
for more, better results ?

The links below
will take you
just there!!!

Find Marc Rohnstock
at the amazons ...

amazon.com

amazon.co.uk

amazon.de
Looking for imports ?
Find Marc Rohnstock here ...
Something naughty ?
(Must be over 18 to go there !)

Oh God, there are way too many, would take too long to list them all. But it all started with the good old monstermovies by Jack Arnold, that's for sure!!!
Your favourite movies?
Again, answering this question could take a while. There are just too many and it's difficult to be selective now! ;)
... and of course, films you really deplored?
2010: Moby Dick.
Your and your films website, Facebook, whatever else?
www.facebook.com/pages/NECRONOS-Tower-of-Doom/333779993932
www.myspace.com/necronos_movie
Anything else you are dying to mention I have merely forgotten to ask?
I want to do a shoutout to my team and horrorfans the world over! ;)
Thanks for the interview!
And thank you!