Your new movie Mask of Thorn - in a few words, what is it about, and what can you tell us about your character in it?
I would describe it as like a horror, sci-fi action adventure film. Not sure how much Iím allowed to say about the storyline but without giving anything away itís based around a group of teenagers, one being in a bit of a Ďchosen oneí style predicament, called Bethany. I play a character called Mia Adams who has come to seek out Bethany and ultimately try and stop her from being killed. Mina and Thorn have some awesome fight scenes and thereís a lot of emotional scenes for my character too.
What did you draw upon to bring your character to life, and how much Maria Lee Metheringham can we find in Mask of Thorn?
Mina Adams has been through a lot of pain, anguish and torment throughout her life . She has been in hell and has come into this world very hardened to her emotions. I like to play characters like Mina as Iím very much "get on with it, get stuff done, no excuses, no moaning", thatís the way I am as a person so I could easily bring that into Mina. Nothing fazes her apart from Thorn who is her biggest weakness as well as Bethany for certain reasons you find out in the film.
You play quite a badass girl in Mask of Thorn - so how did you prepare for the more physical aspects of your role?
I love playing a badass, and the more fighting and stunts I get to do the better! I train on a regular basis anyway with fitness and martial arts just to keep myself at a basic level all the time. If Iím playing a badass role I just increase that training and practice more in areas I know Iíll need for the characters.
How did you get involved with the project in the first place, and to what extent could you identify with the film's slasher theme?
I actually got in touch with Mike regarding Slasher House 2, I thought the style of their films is visually very cool but the character I applied for needed to be younger. However when Mike was planning Mask of Thorn I happened to drop him a message before the casting and he pretty much straight away knew what character he wanted me to play. Iím a big fan myself of 80s horror movies such as Halloween, Friday the 13th, Nightmare on Elm Street, Fright Night and more recent horror like I Know What You Did Last Summer, Wrong Turn and Scream. So Iím pretty up with all the horror stereotypes and clichťs involved in a good traditional horror movie.
What can you tell us about Mask of Thorn's director Mj Dixon [Mj Dixon interview - click here], and what was your collaboration like?
Heís great fun to work with, heís like a super professional big kid. He knows what he wants to get in terms of shots and what he wants from the characters and sticking to the time frames set but at the same time heíll run around set with toy guns and have swords strapped to his utility belt. I hope Iím allowed to say that! Haha, secret's out! So yes, an enjoyable director with awesome ideas.
Do talk about the shoot as such, and the on-set atmosphere!
Great on-set atmosphere, even when all your energy has drained from your body and the sun is rising after a long night shoot everyone was still in high spirits and looking forward to the next shoot the following night. Atticus who plays Thorn was a good laugh, doesnít take himself too seriously. Eve who plays Bethany is an absolutely lovely person and always smiling and willing to give anything a go. Mike and Anna are an awesome team, just backing each other up all the time to get stuff done. We were shooting on a roof one night and had all sorts of stunts going on up there, it was great.
Any future projects you'd like to share?
Iíve just wrapped on another feature film titled Remember Remember, which is an awesome horror action movie about Guy Fawkes versus vampires. Again I get to play the baddass role of sergeant Katherine Parsons, the second in command of the female vampire hunters. Iíve also just finished post production on my own horror feature film Pumpkins, which has just started going around film festivals beginning 2018. Now thatís complete Iím working alongside Kat Clatworthy on an amazing feature film project called V vs V (working title). Itís going to be an amazing action/horror/adventure which weíre making for a good cause, raising awareness and working alongside cancer research and Alzheimer's.
What got you into acting to begin with, and did you receive any formal training on the subject?
I got into acting when I was at college studying dance. I was asked by media students to appear in their short films and I was pretty clueless at the time but after I gained more and more experience I started to figure out my character types and what I enjoyed doing. It turns out I was more interested in acting than dance and I went on to do an acting degree following my dance diploma.
Besides acting, you are also stepping behind the camera quite frequently - why is that, and do you see yourself an actress or a filmmaker first?
Iíve always had an interest in the filmmaking side because I take a big interest in all the elements involved in getting the end project together when Iím on set, rather than just being immersed solely in the acting. Iím not one of those actors who will try and make suggestions or tell the director how to do his job unless Iím asked on my opinion but I love to watch how others work in the low budget industry and pick up tips and pointers for making my own films. Itís so cool seeing your script turn into a living working picture. Iím definitely an actress first but I will always make my own films when I can.
What can you tell us about your filmwork prior to Mask of Thorn?
I started out as I said doing student films, moved onto low budget shorts and music videos, then went onto low budget feature films. Iíve always gone for the main roles, if Iím going to be in film set doing what I love then I want to be right in the middle of it getting stuck in. I have done fight choreography and stunt work for teaser trailers too which I would to do again as I think Iím pretty good at choreography due to my dance background. Iíd actually just finished playing the lead female cage fighter Kat in Enter the Cage just before I starting on Mask of Thorn, so was great timing.
How would you describe yourself as an actress, and some of your techniques to bring your characters to life?
Fearless. I will literally throw myself into any role concerning any topic. I have no hold backs mentally or physically. I actually said this to a writer/director recently and he took on the challenge of writing a script that was so wrong and would gross people out but when I read it I thought it was awesome. So hopefully Iíll the doing something pretty shocking next year!
Besides making movies, you're also a musician with the band Great Northern Hotel - so do talk about your music and your musical influences for a bit, and how did the band first start?
Iíve been involved in Great Northern Hotel for about 10 years. I started off as just a keyboard player when the sound was more quirky and alternative but now I do lead vocals alongside Carma Ray and the sound is very synthwave/80s/alternative. The band was actually named after the hotel in David Lynchs Twin Peaks due to the unusual style and the head of the band is actually my partner in crime Will Metheringham. Weíve been working with a lot of other musicians at the moment with vocals and mixes such as James Atkins from EMF, Tim Muddimun from PWEI, Katherine Downham, Lilly Krupa and Jessica Jay (QVC presenter).
Actresses, filmmakers, musicians, whoever else who inspire you?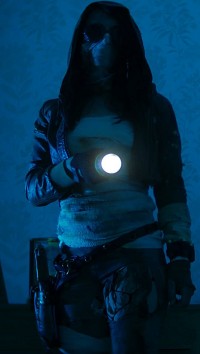 Feeling lucky ?
Want to
search
any of my partnershops yourself
for more, better results ?

The links below
will take you
just there!!!


Very much inspired by filmmakers such as David Lynch, Michael Mann and John Carpenter. Actors I like to follow are Ray Liotta, Milla Jovovich, Jamie Lee Curtis, Jason Statham and Michelle Rodriguez. Notice most of those are action film related
Your favourite movies?
Oh I love all the classics! Donít get me started, Iíll try to keep it brief ... American Werewolf in London, Terminator 1 & 2, Die Hard, Gremlins, Escape from New York, Aliens, Big Trouble in Little China, Lost Boys, Resident Evil. Iíll stop before I go on forever!
... and of course, films you really deplore?
I donít think I deplore any films. Being in a low budget industry I can appreciate any film efforts even if itís bloody awful. I will say though the type of films I donít like to watch are usually romantic comedies, chick flicks, dry teabag drama (I call it teabag drama when itís just pretentious boring drivel).
Your website, Facebook, whatever else?
https://www.facebook.com/FeatureFilmGame
https://www.facebook.com/marialee.metheringham
Take a look at Maria L Metheringham (@Actress_Maria_M): https://twitter.com/Actress_Maria_M
Anything else you're dying to mention and I have merely forgotten to ask?
I think Iíve probably gone on about myself enough ... I like to collect film figures and display them on my shelves like ornaments.
Thanks for the interview!