First of all, why don't you introduce yourself to those of us unfortunate enough to not already know you?
I'm the MOnster that is MOnsterworks66, lol! Also known as The Irritating Blonde and Fearless Actress…
And I'm Maria Olsen – actor, producer, casting director, writer and director – originally from South Africa and now living in Los Angeles!
As far as I know, you have only very recently been attached to the horror film Haddie - so what can you tell us about that one, your character in it, and how did you become involved?
Haddie happened solely due to Facebook…or that's how I see it, anyway :D
A good friend of mine, the awesome Dawna Lee Heising of Eye on Entertainment, put me in touch with the Haddie production team, Wain Bradley and Jimmy Jett Westmoreland [Jett West interview - click here], on Facebook, and it wasn't long before they sent me the script. I liked what I read and so was happy to accept their offer to play Haddie when it came thru to me a week or two later. Their original offer email somehow got lost in cyberspace, actually, so the first I heard of it was when I received a follow up email saying "um…are you not interested…?" Of COURSE I was interested, lol, and I made real sure they got to know that real quickly!
Here's where you can find all things Haddie: https://www.facebook.com/haddiemovie
Another future project of yours is Happy Endings, which you also co-produced - so obviously you have to talk about that one?
I'm co-producing Happy Ending along with the mastermind behind the project, Phil Condit of Sick Puppy Pictures. Phil wrote the script and will also direct the film, and, at present, I'm assisting with casting, marketing and publicity. Happy Ending stars the awesome Ange Maya, and is a hilariously racy and fast-paced horror/scifi comedy where a large and broody alien invader attacks the ladies of the night at the local bordello, who suddenly find themselves fighting for their lives and the fate of mankind! This should be a super-fun project to work on, and I can't wait to start shooting… I also get to play Dominique the Dominatrix, where I'll be cracking my whip while trying not to hit myself in the face!
You can follow us on Twitter at @HappyEndingSPP and here's our website: http://happyendingmovie.com/
We also have this cool Facebook page: https://www.facebook.com/HappyEndingSPP
Blood Angel - anything you can tell us about that one?
Blood Angel is a dark, psychological horror with S&M overtones that's written, and going to be directed, by Carl Lindbergh of Bunnyman franchise fame [Carl Lindbergh interview - click here]. It will be an ANOC Productions – Carl's company – and MOnsterworks66 co-production, and we're thrilled to have the great Bill Oberst Jr attached in the leading role of Icarus. At the moment, we're finalizing funding, and we hope to shoot in the first half of 2014.
You can learn all about the project here on Carl's website: http://anocproductions.com/Blood_Angel.html
Our Zombie Mother - another project you helped to produce - just sounds too nice to not talk about ... so please do!
Patrick Griffin of Griffin Studios LA and I teamed up to make Patrick's creation – Our Zombie Mother – into a web/TV series starring siblings Tyler Griffin (Insidious Chapter 2), Naomi Griffin (A House Is Not A Home) and little ol' me. The pilot episode, which we shot in June, is aaaaalmost out of post-production (and is looking fabulous) and, in our downtime(!) we found time to create the off-shoot zombie actuality series OZM NewZ. We're thrilled to say that OZM NewZ now has its own channel on BLIP TV, and the feedback we're getting is awesome! Our Zombie Mother is a zom-com / horrormedy that's aimed at kids and that asks them the question: what would YOU do if you woke up one day and found your mother was a zombie???
More information can be found here:
Our Facebook page: https://www.facebook.com/OurZombieMother
Our Website: http://ourzombiemother.com/
Our Youtube channel: http://www.youtube.com/channel/UC_UYjIrRU65p3y_bitsiJNQ?sub_confirmation=1
The BLIP TV OZM NewZ channel: http://blip.tv/ozmnewz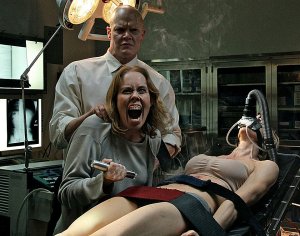 Lost Time
Any other current/future movies you'd like to talk about?
Movies that I'm in that will shortly be released (in no particular order!):
The Bunnyman Massacre (Carl Lindbergh of ANOC Productions [Carl Lindbergh interview - click here])
The Levenger Tapes (Mark Edwin Robinson of Castlight Pictures/Lionsgate)
Another (Jason Bognacki of Destroy Rock Music)
Lost Time (Rochelle Vallese of King Kai Productions)
Starry Eyes (Dennis Widmyer and Kevin Kolsch/Snowfort Pictures)
Way Down in Chinatown (22mm Productions, Lionfish and MOnsterworks66)
Faraway (Soliloquy Films and MOnsterworks66)
The Scarlet Samurai: Incarnation (Tara Cardinal of Reel Heroine Productions [Tara Cardinal interview - click here])
The Cohasset Snuff Film (Edward Payson of An Anti Hero Production)
Movies that I recently wrapped and that are presently in post-production:
The Conduit (Rock Soup Productions)
A Better Place (Digital Jungle Productions)
Something Sinister (Dyenamic Films and MOnsterworks66)
Live-In Fear (Iodine Sky Productions and MOnsterworks66)
Cockroaches (Christoffer Aldell of Roachtown Productions)
The Broken Legacy (Miguel Garzon Martinez)
Whew….time to breathe I think!!!
Movies that I'm co-producing include Barry Morgan's The Covenant, which is based on a true story. This is a MOnsterwork66 / Hanged Man Productions co-production, and we're presently involved in casting (with callbacks to be held early in the new year). This is – even if I say so myself – a unique film: it's a found footage thriller with more twists and turns than you can shake a stick at!
What got you into acting in the first place, and did you receive any formal training on the subject?
I guess what got me into acting at the very start was wanting to be like the great ladies I saw on-screen: Jane Fonda, Sigourney Weaver, Kathleen Turner, Jodie Foster…THOSE great ladies… But years before I started acting, I was performing on stage in dance reviews, and that was completely my mother's fault!
Apart from a couple of years' drama classes in high school, no, I've never received formal training. As far as technique is concerned, I do whatever feels right to me to get the desired effect.
Can you still remember your first time in front of a movie/TV camera, and what was that experience like?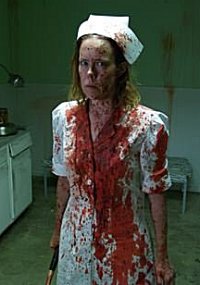 Shellter
Absolutely! My very first on-camera role was Nurse Kelly in the horror feature Sam Hell, a stunning film made under the experienced eye of Michael Bayouth of Son of Jason Productions. I remember not being sure what to do with my hands – who knew what I normally did with my hands while I walked down a corridor! – and I must have looked so odd that Michael was forced to solve the problem by stuffing a clipboard in my hot little grasp… This was also the time that my-now-trademarked intense creepiness appeared on screen… I didn't know that was happening at the time either! I obviously enjoyed the process enough to come back, tho…
Some past films of yours you'd like to talk about, and what can you tell us about your evolution as an actress?
Yes, I have learned a few things over the years… After I wrapped Dan Donley's Shellter – my third feature – for instance, I inadvertently retained traces of my character in my mind, and this did affect my later behavior. As the woman I played had been incredibly damaged, this proved not to be the best thing I had ever done, but, since then, I've figured out how to back away from the precipice, so to speak, when someone yells cut… From my taking over an extremely complex role in the Zombie Joe's Underground Theater production of Poe's The Tell-Tale Heart and The Bells after having but one rehearsal, I learned that I could basically do anything I put my mind to if I just tried hard and believed in myself. Overall, though, the best things I've learned to do are learn my lines and try to not fall on my face. Listening to your director and doing everything he or she asks also helps… And: oh yes… be grateful for every opportunity… that's real important.
Also: Try not to sneeze when you're wearing a face prosthetic…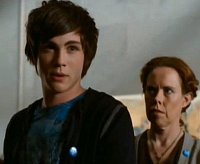 Percy Jackson & the Olympians: The Lightning Thief
You've been in dozens of indie features, but also big budget movies like Percy Jackson & the Olympians: The Lightning Thief - so how do the two approaches to filmmaking compare?
The best way I can describe the difference is by metaphor: working on the big budget moves is like working for a corporation while working on the indies is like working in a mom 'n' pop store. The overall objective is the same, but, while one is rather impersonal due to the sheer number of cast and crew on set, the other creates a family in a very short amount of time. Both are epic, though, and both have their place.
Quite a few of your movies are of the horror variety - pure coincidence, or is this a genre you're especially fond of, and why (not)?
Nope, it's no pure co-incidence. For whatever reason, I have an extremely intense on-screen presence, which I discovered after the first couple times of seeing myself on screen. Once I had realized that, I figured the best way to get ahead was to accept what I had to bring and use it to get ahead. I DO love the genre, though, which is a good thing, I'm thinking! I still, for instance, have my dog-eared collection of Fangoria from the early 70s or so… I distinctly remember thinking "oh THAT was how they turned Regan's head around… cool!".
How would you describe yourself as an actress, and what do you draw upon to bring your characters to life?
I would describe myself as committed, a perfectionist, confident but not cocky (hopefully lol!), intense, willing to take risks and incredibly open emotionally. I also know which roles work for me and which don't, and I generally stay away from those in that second category. Yes, I've turned down a role that was offered to me because I thought I was too old… I actually think I irritate my manager and agent sometimes by asking not to be submitted for younger roles.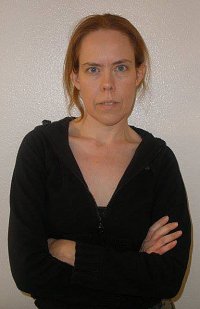 I draw upon a combination of the character's back-story and my own personality and experiences to bring a character to life. I feel that every role I portray is merely a specific portion of my own personality that's let out to play and put under a spotlight. Yes, I play very dark roles, and, yes, there is that portion of my personality that IS dark, but I see no reason whatsoever to indulge it in real life, and I'd much rather play on set or on stage. Interestingly enough, when I'm told to smile for the camera, I find it hard to do, and I feel fake…that's the ONE thing I've had to practice: how to smile for pictures!
Actresses (and indeed actors) who inspire you?
Meryl Streep, who is beyond amazing. Marilyn Monroe, who is greatly underestimated. Brigitte Helm, who has a physical presence like no other. Lon Chaney, who I've been told I take after!
Your favourite movies?
The Music Man, Chicago, Gone with the Wind, The Sound of Music, Nosferatu, A Symphony of Horrors (yup, the original), Metropolis (both Giorgio Morodor's version and the longer, fully restored version).
... and of course, films you really deplore?
Um…nope, nothing coming to mind right now… I guess I forget the bad and remember the good!
Oh yeah… here's one… and this is sure to create controversy: Kubrick's The Shining… I. Just. Can't. Connect. With. It…
Your website, Facebook, whatever else?
My IMDb page: http://www.imdb.com/name/nm1864017/
MOnsterworks66's IMDb page: http://www.imdb.com/company/co0361544/?ref_=fn_al_co_1
My Facebook fan page: https://www.facebook.com/MariaOlsenFanPage
The MOnsterworks66 fan page: https://www.facebook.com/MOnsterworks66
Anything else you are dying to mention and I have really forgotten to ask?

Feeling lucky ?
Want to
search
any of my partnershops yourself
for more, better results ?

The links below
will take you
just there!!!

Find Maria Olsen
at the amazons ...

amazon.com

amazon.co.uk

amazon.de
Looking for imports ?
Find Maria Olsen here ...
Something naughty ?
(Must be over 18 to go there !)

I own my own production company called MOnsterworks66.
I co-host, along with Barry Morgan & Edward Payson, the 1313 Blood Lane horror podcast. Here's where you can find us: https://www.facebook.com/1313BloodLane
I like cats and knitting.
I recently had my first ever short story published, and I'm working on my first book.
I'm the 8th great-grand-daughter of Dutch painter, Rembrandt van Rijn.
It is believed I was almost kidnapped by aliens when I was a kid.
I grew up in a hotel and, consequently, am majorly domestically challenged!
I worked for accountants for twenty years and practiced as a bankruptcy trustee.
I'm a cancer-leo, an empath, a lightworker and classed as profoundly gifted (I have an IQ of 181).
And I'm usually very modest (altho that might be a bit hard to believe right now lol!).
I like licorice… salty licorice… :D
I sign all my emails "me"; I mean…who else would they be from???
Me
Thanks for the interview!