Your new movie Poetic - in a few words, what is it about?
Poetic is an intense, sexy, character driven psychological horror film that centers on a world full of deceit, passion, and revenge. One couple finds themselves caught in the middle of this when they are kidnapped by Cowboy, a mysterious and merciless renegade killer who takes karma in to his own hands. Now prisoners in their own home, the couple is turned against one another and forced to relive their dirty little secrets. Their domestic quarrel turns in to a nightmare they might never awaken from.
Your initial inspirations when writing Poetic?
Poetic came about from a conversation I was having with associate producer Jonathan Wright. We were talking about victims of circumstances. Something bad was happening around them and through no fault of their own they were somehow sucked into this unfortunate situation. The idea stuck with me and I kept thinking of a way to turn that into a screenplay. The key, to me, was using that concept in a more character-driven story. I knew that people had to care about these characters or the film would ultimately fall flat. I believe we accomplished that with the film. There is no good versus evil. No black and white. Everything and everyone is one big shade of gray - much like real life.
What can you tell us about your directorial approach to your subject at hand?
There were many, many conversations on how we were going to shoot this film. The subject material is very sensitive and knowing that it had to be shot in a way that not only hooked the viewer, but also didn't take them to places they were not meant to go. Meaning we didn't want to go too far, shoot it a certain way just for the sake of doing so. I felt that would lose the integrity of the story we were trying to tell. Initially we wanted to take the film in a different direction. The original idea was to use the shaky cam, where the camera is constantly moving and you, as the viewer, almost feel as if you are a Peeping Tom in the room with these characters. As we neared production I started to feel as if the shaky cam was going to ruin the performances of the actors. The raw emotion, and story, the actors told through facial expressions would be lost with the more stylistic camera shots. It was essentially being flashy for the sake of being flashy. So in an effort to focus more on the characters and the emotional aspect of the film, we opted to go with a very straight forward, in your face steady shot. That way we truly kept all of the raw emotion the story needed, but we also force the viewer to face the unthinkable things our characters endure head on. Trust me, this will make much more sense when you view the film.
In my opinion, with films like Poetic it's important to find the right balance between psychological and physical violence - so how did you go about that in your movie, and (since there are gorehounds among my readers) how far do you go in terms of blood and guts, to what extent do you restrain yourself?
This was probably the hardest decision we had to make when it came to this film. How far can we go before we go too far? Poetic is definitely a character driven suspense flick at heart, but when you are making a home invasion, or revenge film, both of which are aspects of Poetic, the audience is expecting something bloody to happen, and truthfully, the story does require it. But the question we had to focus on was "How far can we take this before it becomes over the top and not as grounded as the rest of the film is?" We tried to keep the film as real as possible. So we didn't do any "over the top" slasher film deaths, but with that said, we did have someone get stabbed nearly ten times in a row. After all, it's a horror film, and we had a very talented special FX artist in Travis Legge [Travis Legge interview - click here]. He had a vision for the death scenes as well. He knew what he wanted, and I knew what I wanted. Eventually we were able to find that balance, but it wasn't easy, I'll say that.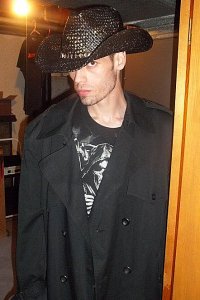 Ty Yaeger
The central character Cowboy - what was he based on, and to what extent was the role (trans-)formed by Ty Yaeger [Ty Yaeger interview - click here]? And a few words about Ty Yeager to begin with, and how did you get him?
Ty Yaeger is such an amazing actor. I've worked with him on three other films before this one so I knew when writing the script I wanted to work with him again. I didn't know, however, it was going to be as Cowboy. I originally had the character of Cowboy based more in the old school western style. Think a very pissed off and sinister John Wayne. But the original actor and I couldn't really make that vision come to life, so we parted ways. Don't get me wrong, the original actor is great, but I think the vision I was going for just wasn't realistic or modern enough. So we made a few tweaks to the character, made him even darker than before and brought in Ty for an audition. I immediately knew that he was going to be great in the role. He took what I had written and made it so much more. Not only did he bring the dark and sinister side of Cowboy to life, but he added this dark humor to the role that comes out so effortlessly and just works perfectly. It really takes the character to a level I didn't even imagine.
What can you tell us about the rest of your principal cast?
The other two primary leads were Marc Edwards and Talena Caza. If I told you how much I loved working with them I'd probably be here all day. I can't say enough good things about them, not only as actors, but as people. There were times, like on any other film set, things were not going as smoothly as we would have liked, but they were constant professionals and were always doing whatever they could to ensure the film looked the best it could. That was always the number one priority. Not only for them, but for everyone on set. It didn't matter what we had to do, we were going to get the film to be the best it could be. I am so thankful for the entire cast because they really brought out the best in the script. From the lead role down to the cameos. Even the smallest roles come off as great. Two of my favorite scenes involve actors who are barely in the film. Just wait until you see Tony Lee Gratz. That guy is really, really good at what he does.
What can you tell us about the actual shoot and the on-set atmosphere?
The funny thing about the set is we were shooting a horror film, but you'd think we were shooting a comedy the way we all acted. It was non-stop laughs on set. Like many other independent films, we went way over budget and our shoot ran much longer than we originally anticipated, but again, that comes back to us not willing to settle for anything less than perfection. I know that sounds so egotistical, but it's really the truth. From me, as the director, down to the lowest of crew members, every single person wanted this film to be perfect. But the key was for us to keep our sanity, we had to make sure everyone was having fun on set. Good meals, good laughs, good times. The rule of thumb for me has always been 'the day this starts to feel like work, I'm done.' Luckily, the set never felt like that. Sure there were a few moments here and there that were stressful, but what film set doesn't have that? When I look back on the shoot, all I can remember is laughing and having a good time and making a feature film I am extremely proud of.
The $64 question of course: When will Poetic be released onto the general public?
Poetic will be having it's World Premiere June 30th in Rockford Illinois. More information on that, as well as a place to buy tickets, can be found at www.PoeticMovie.com. After the premiere the plan was originally to send it out to different film festivals, but we actually already have four different distributors interested in viewing the film. So God willing we'll have the film out nationwide by year's end, in either theatrical or DVD release.
Let's go back to the beginnings of your career: What got you into filmmaking in the first place, and did you receive any formal training on the subject?
I never had any formal training, but honestly, I don't think you really need it. I think filmmaking school is a bunch of theories. I can learn how to use the equipment by myself. I self-teach myself everything so filmmaking was no different. But for me, I've always been what some would call a dreamer. I guess you could say as a child my head was always up in the clouds. I always felt like there was something else out there for me. So I think it was only natural that I eventually found my calling in writing screenplays - living in a fantasy world I could create. Things could be as good, or as bad, as I wanted. It was natural progression, I think, to want to see these stories lived out in some capacity. Unfortunately being from Rockford Illinois no one was going to make my movie for me. It just doesn't happen that way. So as the old saying goes, if you want something done right ... do it yourself! So I did.
What can you tell us about your directorial prior to Poetic, and how would you describe your evolution as a director?
I directed my first short film back in 2006. I was very inexperienced, but gave it everything I had. Unfortunately it didn't turn out the way I had hoped. A lot of things went wrong on that production, but it was a good learning experience. Shortly after that I was signed to a company in Chicago to work on a horror film for them. They had a nice sized budget and I wrote them a new script to produce. Of course when something seems too good to be true, it usually is. It was a con job of sorts and never panned out. Probably for the best, because right after that I went through some serious personal problems and I didn't step behind a camera for another four years. It was June of 2010 when I got back to directing, writing two short films, Innocent Looks and Famous. Both turned out exceptionally well, given the lack of resources and considering I had not done anything since four years earlier. The best thing about those two films is I was able to pick them apart after production had ended. I analyzed them down to the smallest detail and found ways to correct the things I had done wrong as a director and as a writer. I wanted things to be perfect next time around so I spent nearly a year after that learning new tricks to the trade. As a director I think we need to always evolve. Always work to improve in our craft. I have improved so much since my first short film in 2006. It's like that was a completely different life.

What can you tell us about your production company Never Submit Entertainment?
Earlier I mentioned how I quit filmmaking after a rough start in 2006. I was pretty burned out with the way my first two efforts failed and then going through personal problems didn't help much either. As far as I was concerned I was done with filmmaking. After all, it was a dream, and not all dreams come true, right? Only a select few ever really make it and why would I be any different? So I just called it quits. The problem with that is, my motto my entire life was too never tap out. That means, metaphorically, you never give up. And after a few years I knew I had given up on one of the only things I had ever truly been passionate about. I had walked away from my dream. And I'm not going to preach to you, or anyone else, but I'll say this: When life brings you to your knees, remember you are in the perfect place to pray. Through the course of many actions, and perfect timing, I was given a sign that it was time to follow my dreams again. And I knew that this time I would succeed because never again would I count myself out. I was never going to tap out ... never going to submit to failure. Hence the name, Never Submit.
Any future projects you'd like to talk about?
Absolutely. I've got a few films in the works right now. Not certain which one will take precedent and be the next one we shoot though. We're waiting to see how Poetic does before we make a decision on that. Without giving too much away, I can tell you I do have plans for a sequel to Poetic. A much more action-oriented film than the first, but that's really all I can say about that. Also, I am planning on taking my short film, Famous and turn it into a feature film. It's called InFamous and it brings back the lead character from Famous, Jimmy Stevens, but the rest of the story is completely different. The film focuses on the underworld of Hollywood, namely the "casting couch" and how far inspiring actresses will go to get their big break, and what happens when the director takes them one step too far. The character of Jimmy Stevens is one of my favorite characters. He is so much fun to write because he is everything I never would be, nor do I want to be. He's egotistical and self-indulgent, but he's got that "IT" factor that makes it impossible to turn away from him. I'm hopeful to do that film sometime in 2013.
Filmmakers who inspire you?
I actually don't have a favorite director. I know that sounds funny considering the field I am in, but it's true. I don't really look to any other film for inspiration or for ideas. I pride myself on being a very creative individual and with that I look into my own creativity for my ideas, concepts and thoughts. Most of the inspiration I find comes through my own life and things I have been through. The people around me inspire me in different ways though. It's amazing what you can take and use as inspiration. A certain moment in your life can inspire a specific camera shot. My mind works crazy like that. I see most things like I'm watching a movie. To me, my life is one big movie.
Your favourite movies?
Okay, I'm going to lose any and all street cred I had right now. My favorite movies are like a melting pot of films. It ranges from horror to comedy to even chick flicks. I've always divided my favorites into two categories. Films I find fascinating and are just beautifully shot and have top notch stories behind them, and then the films that are my guilty pleasures that, no matter what, I will always watch them if they are on TV. GoodFellas, Pulp Fiction and A Time To Kill are three of my favorite films from the first category. They are just terrific films in every way imaginable. Now here is where I lose my street cred. My guilty pleasure films would be Out For Justice, Harley Davidson and The Marlboro Man, The Heavenly Kid, No Holds Barred, Friday the 13th Part VI and VIII and City Slickers. Yes, the Billy Crystal flick.
... and of course, films you really deplore?

Feeling lucky ?
Want to
search
any of my partnershops yourself
for more, better results ?

The links below
will take you
just there!!!

Find Matthew Cichella
at the amazons ...

amazon.com

amazon.co.uk

amazon.de
Looking for imports ?
Find Matthew Cichella here ...
Something naughty ?
(Must be over 18 to go there !)

The Ninth Gate! Hands down. I HATE that film. I was so excited to see it on opening day and it was such a huge disappointment. One of the worst films I have ever seen. Anything by M. Night Shyamalan can go in this category too. With the exception of The Sixth Sense, that guy can't write his way out of a paper bag. He's horrible. I hate to do it, but I'd have to throw Jason Goes to Hell in there too. I absolutely love the Friday the 13th-flicks, but Jason Goes to Hell is beyond help. Nothing could save that piece of crap.
Your website, Facebook, whatever else?
You can find me at www.Facebook.com/MatthewCichella, www.Facebook.com/NeverSubmit, www.PoeticMovie.com and www.Twitter.com/MatthewCichella.
Anything else you are dying to mention and I have merely forgotten to ask?
I think we've about covered everything I could imagine. I just want to take a moment to thank you for allowing me to do this interview. It's been a real pleasure and hope to be able to do another one with you in the future. Oh, and don't forget to check out Poetic when it comes out later this year!
Thanks for the interview!