We have talked about this at quite some length before [click here], but do bring us up to speed: Your new movie Poetic - in a few words, what is it about?
Poetic is a character-driven psychological horror film. A couple is kidnapped by "Cowboy", a mysterious and merciless renegade killer who takes karma into his own hands. Now prisoners in their own home, the couple is turned against one another and forced to relive their dirty little secrets.
To what extent do you actually identify with the Cowboy, whose actions, however wrong, are not entirely unfounded - and related to that, with which of the four main characters (the Cowboy, his wife, her lover, the lover's wife) do you identify the most?
I can identify with Cowboy to a certain extent. I, like Cowboy, have been on the receiving end of someone being unfaithful. And when it is someone who you truly love, such as Cowboyís wife, there is a pain that is unexplainable. So I can see where Cowboy was coming from. Granted, Iím not a psychopath so I would have just ended the relationship and not did what he did, but to each their own. Cowboy has a very old school mentality and that mindset played heavily into his actions. For relating to Cowboy, you should talk to the actor who portrayed him, Ty Yaeger [Ty Yaeger interview - click here]. There is a unbelievable story there, but Iíll let him tell you about it as itís very personal.
As for who I identified with, Iíd have to say Riley. The reason I identified with Riley was she made a mistake, she was unfaithful in her relationship, but she has been bending over backwards to make things right. Iím not perfect either and have made my fair share of mistakes, but I always own up to what I have done wrong and tried to make it right. Thatís what Riley did and I appreciate that quality in her.
Much of the main action of Poetic is confined to one single room - what are the advantages but also challenges to pretty much reduce oneself to one location only, how do you keep things interesting within the confines, and could you ever be persuaded to do another one-location shoot?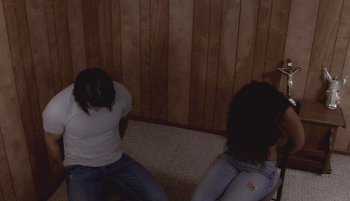 There are definitely more challenges than advantages, thatís for sure. The advantage we had was from a production stand point, we could pretty much leave things as is while not shooting. We didnít have a set to break down at the end of the day. That is a strong plus when youíre shooting twelve to fifteen hours a day. The disadvantage, like you mentioned, is trying to find a way to keep it interesting. With Poetic, this really wasnít an issue because I felt that the story was so strong, and the twists and turns we captured, strictly through dialogue and brief actions, were enough to hold the audienceís attention. Judging by the response we have received, I am lucky enough to be able to say I am right. But we didnít know for sure if the audience was going to respond the way we had hoped.
While Poetic is far from being a gore movie, it does contain some scenes of graphic violence. So what can you tell us about your gore effects, and how important is gore for your movies in general?
Honestly, for me, gore is just an added tool. Itís something that you use when it works for the story. Films that focus highly on gore are trying to over compensate for the lack of script or story. With Poetic, I felt the story was strong enough to carry itself on its own merits. I truly believed the actors we had could and did bring the film to life the way I imagined it. So the gore was used because it fit the scene. It was needed. We didnít need to add gore for the sake for adding it.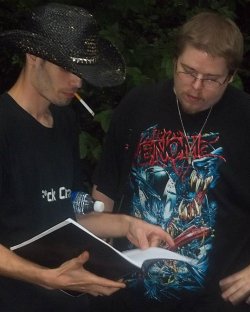 Ty Yaeger, Matthew Cichella
Do talk about the shoot a little, and any good on-set anecdotes?
Itís always interesting with a serious film like Poetic, because on screen everything is so intense and dark and twisted, but behind the scenes the cast and crew were always laughing and having a great time. I was blessed to work with some truly amazing people. There are some great stories to be told, but honestly, so many of them are inside jokes that I donít think they would hit the mark if I told them now. That and I really donít want to bust any actors out because I do love them all, but letís just say everyone loved to walk around set saying ďhello darlingĒ and leave it at that.
Poetic has only very recently been released - so what can you tell us about critical and audience reception of your film so far?
Weíve been very lucky so far. The reception has been great. The premiere, which was last year in 2012, had a little over three hundred people there and we had an amazing response from all of them. To date, I have only heard one or two people who disliked the film, and thatís mainly because it is not their taste in genre. Poetic is a movie that makes you think and itís in a slow paced, character driven style. Itís not for everyone, and we knew that going in to it, but for everyone who likes a good movie, with great character development and the ability to make you think about what you just watched several hours after the final credits have rolled, this is the movie for you.
Based on the experiences you had on the movie, could you ever be persuaded to do Poetic II - and any other future projects you'd like to share?
I absolutely want to do a Poetic-sequel. Iíve actually got the story already and itís just a matter of writing out the script at this point. I canít say exactly what the story would be, as I donít want to spoil the original film for those who havenít seen it, but some of the characters from the original would be returning for the sequel. Some probably not.

Feeling lucky ?
Want to
search
any of my partnershops yourself
for more, better results ?

The links below
will take you
just there!!!

Find Matthew Cichella
at the amazons ...

amazon.com

amazon.co.uk

amazon.de
Looking for imports ?
Find Matthew Cichella here ...
Something naughty ?
(Must be over 18 to go there !)

Currently we, meaning Never Submit Entertainment (my company), are working on a romantic comedy tentatively titled Begin Again. Weíre still very early in the casting stages with it, but please do LIKE us on Facebook for more information as it becomes available.
http://www.Facebook.com/NeverSubmit
Your/your movie's website, Facebook, whatever else?
The big thing to mention here is that Poetic is NOW AVAILABLE! The DVD can be purchased on Amazon.com or directly through the Poetic-store at https://www.createspace.com/356656
Also, please LIKE the Facebook page at http://www.Facebook.com/PoeticFilm for more information. The film should be available On Demand soon as well and weíll be updating the Facebook page with that information when we have it.
Anything else you are dying to mention I've merely forgotten to ask?
I think weíve pretty much covered everything here, but I do want to thank you for the interview. And I also want to thank everyone who made Poetic happen and who has purchased a DVD of the film. Without the support of our families, friends and fans we could have never made this possible, so I am very grateful to everyone involved.
Thanks for the interview!