Your movie Tied in Blood - in a few words, what is it about?
A medium investigating the deaths of a family in a haunted house discovers a horror far more real than any ghost story.
How did the project come into being in the first place?
The idea behind Tied in Blood started out as a script for a short film that revolved around a haunted house. Then the idea expanded and we considered making three separate short films, each one a different characterís interpretation on the same set of events, which when played together would make an anthology feature. But as the script developed we became more ambitious and decided to shoot it as a complete feature film, retaining elements of the original idea and focusing on the theme of guilt. We brought in another production company, Rotunda Films, to handle the finance, production and distribution.
A few words about your writer David Ross, and what was your collaboration like?
Working with David has been a real pleasure. We bounce ideas off one another really well and each of us is able to challenge the other to get the best out of him. David will defend his work where necessary, but at the same time heís always willing to take on suggestions if they will improve the story.
I suppose the biggest difference between this and our previous films is that Davidís job didnít just end when the script was finished. Making a feature film is a massive challenge and as one of the co-producers he had to roll his sleeves up and help out! Weíve gotten to know each other even better during the making of this film and have become such good friends that I was best man at Davidís wedding as he was best man at mine. They say never mix work and friendship, but what do they know? It seems to work for us. Maybe thatís because we donít see making films as work!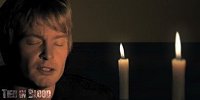 Paul McEwan
Among other things, your movie is about spiritualism. Your personal take on the subject?
I am not a believer in spiritualism but would never knock anyoneís spiritual beliefs as I feel that the quality of most peopleís lives is determined not just by events but by the meanings that they attach to them.
Some of the basic principles of spiritualism tie in well with the themes of Tied in Blood. Spiritualism has a strong belief in free will; the responsibility for any bad deed is placed with the individual and nobody but the offender can put right the wrong. Also, the spirit is thought to develop through different levels of the spirit world, improving as it learns in an aim to achieve perfection. The theme of guilt and ultimate personal responsibility is central to the story, as is the possibility of forgiveness and redemption when someone takes responsibility for their actions.
David Ross did a lot of research into spiritualism when working on the script, and he shared some of this with the cast and me. I also remember attending a sťance at a spiritualist church near where I was living at the time. Unfortunately, I felt that this particular medium was a fraud playing on other peopleís misfortunes. When I relayed this story to David Ross he was able to bring some of it out in the character of Pete (Robertís boss).
I'm sure you have already grown tired of people likening Tied in Blood to Rashomon due to its similar basic structure. Would you at all care to touch the topic nevertheless?
Myself and David Ross (Screenwriter) only became aware of Rashomon months after completing post production on Tied in Blood. That might sound a bit ignorant because itís a great film, but for me itís been a late introduction to classic Japanese Cinema; something I hope to see more of!
The concept for Tied in Blood came out of the idea of making three short films which when assembled would form a feature, essentially showing the same story from different viewpoints. In the end we decided to just shoot is as a feature but kept the three perspectives.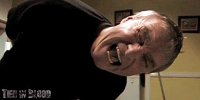 Kenneth G. Hodgson
How would you describe your directorial approach to your subject at hand? And did having to tell a story from three different perspectives pose any special challenges?
I knew my limitations and tried to keep things simple. I had a very clear idea of what each scene is about and that formed the basis of how we approached the scene both on set and in post-production.
Much of the story is told in flashbacks as different characters recount the events that sealed the fate of Georgeís family. There are similarities and differences in each tale and Robert (and the audience) must decipher the clues to work out the truth. This was challenging to shoot (particularly when youíre shooting out of sequence) as I had to think about the impact of each flashback not just on the overall film but also on the other flashback scenes.
What can you tell us about your cast and crew?
I think the strength of the script helped us attract a strong cast. We had no track record as film makers but we did have a good story, so we gave out a short synopsis and script segments to anyone interested in auditioning. Literally hundreds of people turned up to read so we were able to be very selective.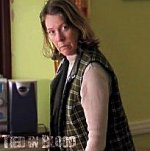 Denise Cooke
Chris Leach and Laura O'Donoughue, who play siblings Tamsin and Stuart, auditioned together. Although they had not met each other before the auditions there was a good chemistry between them. You felt that they had a strong relationship and this grew throughout the shoot.
A number of very good actresses read for the part of Gillian and I felt there were two or three who could have played the part. We went with Denise Cooke as her take on the character was the most subtle and interesting.
Paul McEwan was the last person we auditioned for Robert. I knew as soon as he started reading that weíd found our man. There was no need to see anyone else!
David Beaumont introduced me to Kenneth G Hodgson, an actor heíd worked with on a short film called Frank. I got on well with Ken and I liked his reel, so we cast him as George.
Most of the production crew were people David Beaumont had worked with on previous films. They were talented, hard working and gelled well as a team. Most of the post-production team were people none of us had worked with before but they all shared a similar vision for the film. I was very happy with the post-production work, particularly the score, sound design and mixing which really sell the atmosphere.
I think one of the key elements of Tied in Blood is its location - so what can you tell us about yours, and why was it chosen?
In the early treatments, the story was set in a city and the family had recently moved into the house. However, a feeling of isolation was important for the story and the idea of having the characters physically isolated reflected their mental state and felt just right for the script.
Several members of the production team set about scouting for locations and adverts were placed on several film-making forums such as Shooting People (http://www.shootingpeople.org), saying that we were looking for something slightly run down. We saw some real dives. I remember going to a place in Bradford which was empty, smelly and sparsely furnished. The landlord told me heíd tried to rent it out to students but even they wouldnít take it. After seeing what looked and smelt like pooh smeared on the walls we got out of there as quickly as possible!
Eventually we found a holiday cottage in rural Yorkshire which was perfect for the interiors. The exteriors were shot in the moorland around my parentís farm in West Yorkshire, which is only accessible by navigating an off road vehicle through a mile of dirt track. Being so remote was great for the story but it proved a logistical challenge to say the least. It was also early December and the weather laid rest to some of our more ambitious plans for tracking and jib shots. We ended up having to cut down the number of exteriors but that made the finished film tighter and faster paced. However, the scenery in that area is absolutely spectacular and itís a shame that we didnít really get to make the most of it. Given the opportunity I intend to revisit it on later projects, although maybe Iíll opt for a summer shoot next time!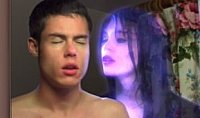 Chris Leach, Amie Morris
What can you tell us about audience and critical reception of Tied in Blood so far?
So far it seems to have gone down really well. I havenít seen any bad reviews and the audience have been really responsive at all the screenings Iíve been to. It seems to have a wider appeal than we expected. Iíve had people who you wouldnít normally expect to watch a low budget horror film come up to me and say they loved it.
Before Tied in Blood, you have directed a bunch of shorts. What can you tell us about those, and what motivated you to accept the challenge to tackle a feature? And in what way does directing a feature film differ from making a short?
After graduating I was still living in Bradford (my old university town) and working for a creative agency in Leeds. David Ross moved in down the road and we started going drinking together. We talked a lot about films and then he showed me some of his scripts which were all really interesting takes on traditional horror; a genre that we were both big fans of. We decided to make a short film which turned out to be the first of several and led to us forming the production company Macabre Pictures. A feature film was a natural progression.
Making shorts is a great way to learn about film-making but nothing can fully prepare you for a feature film, which definitely requires a lot more stamina. Tied in Blood was my first time directing professional actors as my previous short films had just featured mates. Luckily there were no big egos, but the actors did ask more questions than I was used to. To get the best out of them, I couldnít just say; ďDo thatĒ. Iíd have to explain why; to convince them it was a good idea. This meant I had to be at my best and I was relieved that Iíd prepared so thoroughly! Even though I storyboarded everything, sometimes theyíd come up with suggestions which I thought were really good and weíd tear up the original plans and start again. Often these were some of my favourite moments in the film.
What got you into filmmaking in the first place, and did you receive any formal training on the subject?
My childhood fantasy was to be a special effects artist, inspired no doubt by the live-action/puppet series The Storyteller and Ray Harryhausenís stop motion creatures in Jason and the Argonauts. Seeing that I was developing a keen interest in films, my dad used to take me to the cinema regularly, something we still do together even now.
Apart from a Film Council course on script development, I havenít had any sort of formal training. My parents never wanted me to be a filmmaker, so I didnít go to film school. Instead I studied marketing and advertising. But I spent a lot of time helping out on student films and probably read more books on film making in my university years than I did on marketing! Iíve worked briefly for the BBC and been a crew member on shoots for features and television ads. But ultimately most of what I learned about filmmaking came from just doing it. I made several short films before attempting to make a feature. Tied in Blood has been a huge learning curve but Iím extremely proud of the way itís turned out.
You have also produced two movies by Jemshaid Ashraf, Murdered and Skyggen. Would you care to talk about those for a bit, and how did these films come into being?
To be honest I think of these much more as Jemshaidís movies than mine as I had very little creative involvement. Jemshaid and I go back a long way and I agreed to help him with the logistics and organisation on these films as they were on a very tight budget. Jemshaid was kind enough to credit me as producer and Iím very grateful to him for that, as without these movies under my belt I donít think I would have been able to get Tied in Blood off the ground.
Any future projects you'd like to talk about?
Iím working on a script at the moment called Eternal Darkness alongside a talented young screenwriter called Joe Harding. Itís about a girl who doesnít need to sleep. Needless to say, being a horror film, she soon finds herself living a waking nightmare. Iím hoping that Tied in Blood will be my next feature, providing we can raise the money to make it.
What can you tell us about your production company Macabre Pictures?
Weíre a UK-based company specialising in horror films and psychological thrillers, co-founded by myself and David Ross. Our first production was the short film Deprivation in 2005. We then went on to make two other short films: The Wild Card and High Heels in High Places. The company incorporated in 2006, trading as Slate One Productions Ltd. Our first feature-film Tied in Blood is out now.
http://www.macabrepictures.com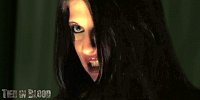 Laura O'Donoughue
Many of your films are of the horror variety. A genre especially dear to you?
I absolutely love horror films but Iím also a fan of many genres. However, when it comes to making films and marketing them Iíve found horror lends itself to a low-budget better than other genres.
Directors who inspire you?
I enjoy a really diverse range of films. Iíll go and see Tim Burton films for their visual spectacle but also love the work of Scorsese as well as the great classics from the likes of Hitchcock and Orson Welles. In terms of my inspiration to make films, that came from reading about other filmmakers who have started off making their own films outside the system and gone on to achieve great things. The stories behind filmmakers such as Peter Jackson, Sam Raimi and Christopher Nolan have certainly been a great source of encouragement.
Your favourite movies?

Feeling lucky ?
Want to
search
any of my partnershops yourself
for more, better results ?

The links below
will take you
just there!!!

Find Matthew Lawrence
at the amazons ...

amazon.com

amazon.co.uk

amazon.de
Looking for imports ?
Find Matthew Lawrence here ...
Something naughty ?
(Must be over 18 to go there !)

I do have a really broad taste in films and I always find it hard to pick just a few. My favourite horror films are Psycho, The Exorcist, Rosemaryís Baby, Carrie, Alien and Jaws (if you count that as a horror film). Other films I really like are Citizen Kane, Apocalypse Now, The Godfather and Goodfellas. In terms of blockbusters my favourites are Terminator 2 and the original Star Wars.
... and of course, films you really deplore?
Some of the worst films Iíve seen are actually great fun to watch, Tommy Wiseauís The Room and Claudio Fragassoís Troll 2 being two great examples.
Your website, Facebook, whatever else?
http://www.facebook.com/tiedinblood
http://www.imdb.com/title/tt1027755/
http://www.chemicalburn.org/horror_and_gore.html
Anything else you are dying to mention and I have merely forgotten to ask?
I just wanted to say thank you to everyone who helped bring Tied in Blood to the screen. I feel very fortunate to have had such a great bunch of people and an amazing script to work with for my first feature. Although this was the most challenging thing Iíve ever done, I enjoyed every minute of it and Iím very proud of the way it turned out.
Thanks for the interview!