Your new movie Book of Monsters - in a few words, what is it about, and what can you tell us about your character?
Book of Monsters is a fun comedy horror about some kickass girls fighting off a bunch of monsters. I play Mona who is the fiery rebel of the group.
What did you draw upon to bring your character to life, and how much of Michaela Longden can we find in Mona?
Mona is extremely independent, she stands up for what she believes in and is a true free spirit. She has a good heart and a lot of fight and all of these things I think are strongly mirrored in my own personality. Her friendships mean the world to her and itís her energy and passion that drives a lot of her scenes.There is another side to Mona where, when forced to fight alone, we see more vulnerability and we realise that perhaps she isnít as strong as she makes out. She depends on her friends just as much as they do on her, and I can definitely relate to all of these aspects. Sheís a normal teen testing the boundaries and I think we have all been there at some point.
How did you get involved with the project in the first place?
I was the supporting lead for Dark Riftís first film The Creature Below and I was overjoyed they called me back for this project. We created a little family the first time round and it was such a lovely, warm and welcoming experience I was delighted to be asked to return. Paul Butler [Paul Butler interview - click here] and Stewart Sparke are a dream to work with.
To what extent could you identify with the film's horror theme, and is horror a genre at all dear to you?
Horror is a genre that challenges current anxieties in an arena that can shock and get a strong emotional reaction from people. That is something I am passionate about - telling stories that are current and that matter. Book of Monsters is female-led and reverses the stereotypes of the damsel in distress to tell the story of a modern group of girls who do just fine fighting their own battles. The horror genre does so much more than just entertain and scare, it highlights areas of concern.
What can you tell us about Book of Monsters' director Stewart Sparke, and what was your collaboration like?
Iíve worked with Stewart for two films and known him for nearly five years. He is a wonderful super hard-working director and has become a very close friend. He is a positive ball of energy to be around on set, but he is efficient and a great masker of any fears or doubts internally going on. To be a great director your team need to have faith and trust in you, for me this is easy with Stewart. He works hard to create a shared vision with his actors and there is a mutual trust and respect of any ideas put forward. His passion, energy and commitment is what drives every project he does. As an indie filmmaker he understands that collaboration with his team is key and alsoÖ putting yummy food in everyoneís belly makes everyone happy! He is and will continue to be an inspiration to work with.
Do talk about the shoot as such, and the on-set atmosphere?
The shoots were so much fun filled with banter but professionalism as well. There was a time I blasted lead Lyndsey Craine [Lyndsey Craine interview - click here] in the face with a blood gun by accident when trying to help Ďblood her upí before filming - it is a real friend who laughs and immediately forgives you for this. The team are a family and I have made some best friends. Everyone worked so hard on set but it was also a warm and relaxed atmosphere. Even in the long hours and early mornings of shooting, where my tiredness potentially took over my sanity, I have the fondest memories and some brilliant stories.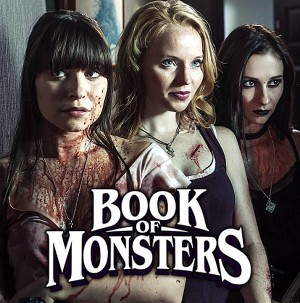 Michaela (center) with Lyndsey Craine, Lizzie Aaryn-Stanton
Any future projecs you'd like to share?
I have recently played lead character Kim in the short film Terminal, which is running the circuits right now, we just won ĎBest Short Film at Starburst Film Festival, which was incredible. There are a few more projects in the pipeline but I am unable to say too much about these at the moment. I have also started to write my own short film which I am excited about as itís my first time attempting to write.
What got you into acting in the first place and did you receive any formal training on the subject?
From a young age I wanted to be an actress, for me it was something I felt couldnít be achieved as I was from a single parent working class background. I finally after some persuasion applied to drama school (The Academy of Live and Recorded Arts) and got in with full scholarship. The rest is history. I never looked back, I love what I do - donít get me wrong it can be very challenging but I am grateful for every day I get to wake up and say that I am an actress and I do what I love for a living.
What can you tell us about your filmwork prior to Book of Monsters?
Prior to Book of Monsters I appeared as supporting lead in The Creature Below, which was Dark Rift's first feature film, I have also appeared in a few of the UKís well known television soaps - Hollyoaks, Coronation Street and Doctors - and I have appeared in a range of award winning shorts including Choice. Regret., Headless: The Ed Shales Story and Demented.
How would you describe yourself as an actress, and some of your techniques to bring your characters to life?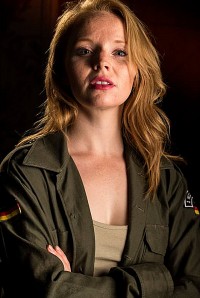 Feeling lucky ?
Want to
search
any of my partnershops yourself
for more, better results ?

The links below
will take you
just there!!!


For me staying motivated and having a positive attitude is everything in this industry. Building strong relationships with people and working hard is a must. I approach my characters with thought and imagination, actively trying to find the strands that I can relate to and the areas that I need to source. I love to use actions and objectives, to find out what my character's motives are throughout and how these might change. I live in the moment when filming, listening is everything.
Actresses (and indeed actors) who inspire you?
Many actresses/actors I find inspirational: Rachel McAdams, Emma Stone and Rachel Weisz are to name a few. Not to mention the likes of Judy Dench, Tom Hanks, Matthew McConaughey and Meryl Streep - the list is endless. I am inspired by local talent I watch in fringe plays and I am inspired weekly by the kids I teach in my acting school. Inspiration comes in various forms for me, writers, directors, cinematographers all inspire me to stay motivated and have passion for the wonderful industry that I am in.
Your favourite movies?
Favourite movies: Shawshank Redemption, Get Out, Harry Potter (absolute fave), Moulin Rouge, The Emperorsí New Groove and of course Book of Monsters. Thereís quite a mixed bag for you!
... and of course, films you really deplore?
I donít deplore any movies in particular, if I donít appreciate a movie I usually turn it off before I get change to hate it. I can respect every movie for the hard work and effort that has gone into it. However saying that, (Iílll try not to be too boring), when at the cinema I never walk out and two movies that were not entirely my cup of tea were Mother and Teeth. This was purely because I just felt anxious throughout the films however, this was probably intended.
Your website, Facebook, whatever else?
Facebook: Michaela Longden
Twitter: Michaela_Liz
Instagram: Kaylaginge
Thanks for the interview!