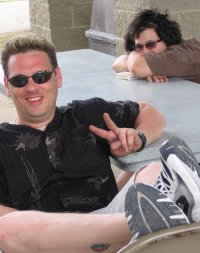 Michael J.Hein and R.Zoe Judd
Your film Devil's Grove - in a few words, what is it about?
Michael J.Hein: Torture! The script didnít start out that way in the original treatment, but it sure went that way fast as soon as I got involved. My only real contribution to the script was adding a lot of gore gags. Since Zoe and Rick Amburgy wrote the storyline, Iíll let her give you plot points.
R.Zoe Judd: This was my homage to the slasher films I grew up watching and loving, but with a twist. The script that made it to the screen was the third incarnation of the original script that Rick and I co-wrote. Itís about your stereotypical high school students who find themselves failing a class needed for graduation. The ďsmart girlĒ hatches a plan to shoot a documentary about some murders that took place in the park several years before. They sneak into the park and then eight gallons of blood, yards and yards of barbed wire, and some sharp implements later, the movie ends!
How would you describe your directorial approach?
MH: Iím a big believer in structured cinema veritť (a contradictionÖ I know). In other words: Stick to the script, but always try and let your actors say the lines naturally and let different things happen on set. I also like to play with scenes in different takes (changing things slightly each time). New things happen that you might not have expected. On Devilís Grove, Zoe tended to stick to the script because we had so many first time actors working on it, but a lot of cool little things happened as we went that werenít scripted.
ZJ: I like to stick to the script, but Iím flexible as well. If I hear a bit of dialog that I like better than what I have written, Iím not afraid to change it. I like to spend time with my actors listening to how they feel the character they are playing would approach something and then seeing if it fits with what the character in my head would do. Sometimes things come up that are outside of my control, so I try to roll with those things and with Devilís Grove, some of the unexpected, unplanned things, made it a much better movie.
What was your collaboration like?
MH: I loved working with Zoe and would do it again in a second. On set it was definitely a love-hate thing. So many things seemed to go wrong just a few days before we started shooting (actors not working out, losing locations, etc), so it was very hard to keep the production on track while trying to fix problems we already had and others to deal with as they came up (and they always do come up). The funny thing is: sometimes the way problems get resolved on set has a way of making things better. However there was NEVER any doubt we would finish the film and eventually get it into distribution. Just about everyone involved was very dedicated to the overall project so we were lucky in that respect. Zoe and I just had to keep working together to keep it all flowingÖ and we did.
ZJ: This is the first time Iíve worked with someone who was my friend before we worked together. Weíd been friends since the first TriBeca Film Festival and I respected Michael and loved his previous work. Iím looking forward to working with him again one day. Not to say we didnít butt heads, we did. We are both very strong-minded, which helped us push through some of the rougher times on-set when things seems to be going wrong. We were both determined to get the project done and distributed. Our determination along with the cast and crewís determination made Devilís Grove the film it is now.
A few words about the rest of your cast and crew?
MH: Zoe cast and crewed the film, so Iíll let her field that one. I will say that just about everyone involved was completely dedicated to the project and hung in there with us when things got tough. That is always a big help when making a movie at any budget. Iím extremely grateful and have a lot of respect for everyone that pitched in.
ZJ: Iíve never worked with a more dedicated group of people. Everyone was on board for the project. When days were long and tough, everyone pitched in to make sure the project got finished on time and on our very tight budget.
I've read somewhere that Devil's Grove was shot almost entirely in Ohio - in a word, why?
MH: Devilís Grove was and is Zoeís baby from the start. It was sort of a twist of fate and my helping a friend (Zoe) that got me involved in the first place, so Zoe is an Ohio girl and most of the cast is too, so it was the natural progression that we shoot there. I LOVED shooting in Ohio! Everyone was so friendly and happy to see us shooting a movie in their towns.
ZJ: Iíve worked in Ohio most of my career in filmmaking, so it only seemed natural to me for my first non-documentary feature to be shot in Ohio. Plus, on the budget we were working with, Ohio was more economical that going elsewhere. We had a great relationship with the city where we did most of the principal photography. They were behind us 100%.
What can you tell us about Devil's Grove's amusement park location, and to what extent did it influence the film's atmosphere?
MH: Zoe had more to do with getting the park then I did, but I can say it was a lot of fun to shoot there and added much needed production value the film.
ZJ: I came up with the initial idea for the script when driving by a local amusement park, Americana, that closed down in 2002. Most of the park is still standing, and I drive by it on a regular basis. One night, I was looking at the skeletal remains of the coaster, and thought ďThat would be a crazy place to die.Ē From there I started forming the idea that eventually became Devilís Grove. When it came time to shoot the movie, that particular amusement park was too far gone to use, so we used another local park for shooting. Some of the rides at Strickerís Grove, the park we eventually used, had a very creepy feel to them, which added to the ambiance of the movie.
Your film has been dubbed one of the most brutal horror films of the last decade. Would you like to elaborate on that?
MH: Personally I love that! When Zoe approached me about working together on the film, the first thing I did was to amp up the blood and gore in the script a lot. I said to Zoe that Iíd come on board if we could make this the most nasty, mean spirited, gorefest we could. She agreed and off we went.
ZJ: I think we got exactly what we wanted in our little gorefest. All in all we used 8 gallons of blood. I think that in itself speaks for the brutality of the film.
What can you tell us about audience reception so far?
MH: We first screened it in a ruff cut at the NYC Horror Film Festival a few years back (added an extra screening and kept the film out of competition obviously because I run the festival). The reception was great! Of course an ultra low budget gore fest like Devilís Grove isnít going to be for everyoneís tastes, but so far the user reviews have been very kind and weíre happy to hear people are enjoying it.
ZJ: We played to a packed house at the New York City Horror Film Festival and the audience was very receptive. I got a lot of feedback afterwards, several people mentioning they didnít expect that much gore from a female director. But Iím a firm believer when it comes to gore in a low budget flick, go big or go home!
Let's leave the present behind for the moment and head forward to your past: What got you into filmmaking in the first place, and did you receive any formal education on the subject?
MH: I have been in and around the entertainment industry my entire life. My brother Howard and I both acted as children (movies, commercials, etc). When I was 13, I saw a double feature of George Romeroís Creepshow and Dawn of the Dead. That experience made me want to make horror films. I started off doing special effects; Tom Savini was my hero as a kid. And I worked as an EFX artist on a ton of films. Around the age of 27 is when I started to think about Directing and Producing. In short; I grew up in and around the industry, so no formal school was ever needed.
ZJ: The film bug bit me my freshman year of high school when I took a film communications class. After that, I knew I wanted to be involved in the film industry. I was fortunate that my dad owned a video camera and we had a VCR, so I had the opportunity to make movies and edit them at home. They werenít the best (or even close) but I learned how to make the audience see what I wanted them to see. When I finished high school, I went on to college, getting my degree in Mass Communications with an emphasis in filmmaking. After college, I started working in documentary filmmaking and continuing to write, direct, and produce short films on the side. I directed my first feature documentary in 1996.
Michael, your first feature as a director was I believe Biohazardous. What can you tell us about that one?
MH: Biohazardous was my natural first step into Directing. A no-budget zombie flick and a loving homage to the films that I loved growing up as a kid. I learned a LOT making that film, had some great experiences, and a hell of a lot of fun making it. A few of the actors (no-names at the time) have gone on to do some big stuff these days, Like Kathryn Winnick - Hellraiser: Hellworld, Killers (with Ashton Kutcher), etc., etc. Sprague Grayden was top billed recently in Paranormal Activity 2, etc. Eleven years later the film is still in print, so we are very happy about that.
A few words about your production company Moodude Films and the movies it has produced?
MH: I started the company in 1998 to make out first feature film, a no-budget zombie titled Biohazardous, which we shot in 1999. The name ďMoodudeĒ is my motherís nickname, so it is kind of an in-joke. The film went on to gain a small bit of notoriety on the underground circuit, so we just kept the name. Since then we have done a bunch of films including Devilís Grove, Red Hook, Spiker, etc. We also founded and run The New York City Horror Film Festival, Now in its 10th year!
Zoe, what can you tell us about your production company Frankly Zoe and the movies it has produced?
ZJ: I started Frankly Zoe Productions in 2002 when I decided to change my focus from documentary filmmaking to narrative filmmaking. I wanted to make films that werenít like the mainstream ďeverything works out in the endĒ type films. I wanted films that were more than likely to NOT have a happy ending. So Frankly Zoe Productions was born, with our tag line ďCan we be frank?Ē. Devilís Grove is Frankly Zoeís first non-documentary feature film. I also run a youth filmmaking project during the summer through Frankly Zoe Productions.
Michael, besides producing and directing, you have worked on pretty much every aspect of filmmaking over the years. What were jobs you especially enjoyed, which could you have done without?
MH: Funny, there wasnít any gig in the film industry that I havenít loved doing. From a young age I have lived for filmmaking (mostly horror too). Every aspect of it has been fun for me. I love what I do and Iím very lucky to have found my niche in an industry that I love.
Any future projects?
MH: Of course! As long as Iím alive there will always be a new project on the horizon! I canít talk much about it now, but the next feature Iím Directing and Co-producing is a remake of an absolute cult classic with some name talent attached. Iím incredibly excited and think when we announce the title and stars, the horror fans will be too.
ZJ: Always! I love what I do and canít imagine doing anything else. I just recently optioned a paranormal thriller and am working on securing funding for it. Also, Iím co-writing a drama with another Ohio writer.
Michael, apart from making movies, you are also founder and director of the New York City Horror Film Festival. A few words about the festival as such?
MH: I founded the festival in 2001 as something to give back to the independent horror film community that I have been so heavily involved with and lucky enough to have had a small amount of success in. Back then there was only two other genre film festival in the U.S. and both of them were on the west coast. So I gathered a group of great likeminded people working in the industry, brought on some sponsors, and off we went. Ten years later we are still going strong and I like to think we are among the best horror film festivals in the world.
Highlights in your festival's history so far?
MH: Oh, itís different every year, but for me the part I most enjoy is The Lifetime Achievement Award. I love getting to meet and hang out with some of my heroes growing up. Guys like George Romero, Robert Englund [Robert Englund bio - click here], Roger Corman [Roger Corman bio - click here], Tobe Hooper, Bill Lustig, Tom Savini, Mick Garris, Frank Henenlotter, and Herschell Gordon Lewis [Herschell Gordon Lewis bio - click here]. All have come to the festival to accept the award, screen the films, and most importantly meet the up-and-coming filmmakers. Itís really a special night.
What does this year's New York City Horror Film Festival hold in store for fans?
MH: Great movies, great parties, great guests, and lots and lots of booze. (There is a bar inside our theater!)
Quite obviously, horror is a genre dear to you. Why, and some of your genre favourites?
MH: Dawn of the Dead (Ď78) is probably my favorite horror film of all time. John Carpenterís The Thing (Ď82) made me want to become an effects artist, but The Exorcist was the only horror movie to ever truly scare the crap out of me. Of course I could go on and on. Jaws was also a huge influence on me.
ZJ: Iíve always loved movies, especially horror movies. I remember staying up late to watch USA Up All Night and planning my Saturday mornings around old horror movies instead of cartoons. I remember renting the Friday the 13th movies to watch with my dad. My favorite horror film of all time would have to be S.F. Brownriggís The Forgotten. It was one of the first horror movies that I remember seeing at the drive in. Also, Bill Nortonís Gargoyles is a favorite. I remember watching it on TV. I have them both on DVD and watch them quite often. The Omen-movies as well as the Friday the 13th-movies are a favorite of mine. My list is rather extensive, so Iíll stop there.
Directors who inspire you?
MH: The obvious ones working in the genre that had major influence on me (and still do) are George Romero, John Carpenter, Wes Craven, and Tobe Hooper, all of their early work. Other directors I love are Alfred Hitchcock, Martin Scorsese, Clit Eastwood, Sam Rami, Steven Spielberg and the fabulous Coen Brothers.
ZJ: Horror Directors would be Dario Argento, Clive Barker, John Carpenter, Don Coscarelli, Tobe Hooper, George Romero, just to name a few. Jennifer Lynch, who directed one of my favorite movies Boxing Helena. Non-horror directors, Quentin Tarantino, Robert Rodriguez, and right now Iím really digging Neils Arden Oplev.
Your favourite movies (non-horror, please)?
MH: I love mob flicks, westerns, independent dramas, comedies and war movies. So: Goodfellas, The Outlaw Josey Wales, Saving Private Ryan, The Unforgiven, Living in Oblivion, The Godfather, High Planes Drifter, Animal House, and Caddyshack. Again, I could go on and on. Thereís just too many films I love.
ZJ: I love action flicks, show me some car races and some explosions and maybe some hot people in skimpy clothes. Those are the movies I pop in when Iíve had a rough day, just blow some stuff up and I smile. I also am a big fan of arthouse and foreign films. My latest addiction has been the Girl with the Dragon Tattoo series, the Swedish versions. I donít mind subtitles if itís a good story.
... and of course, films you really deplore (horror films allowed here)?

Feeling lucky ?
Want to
search
any of my partnershops yourself
for more, better results ?

The links below
will take you
just there!!!

Find Michael J. Hein
at the amazons ...

amazon.com

amazon.co.uk

amazon.de
Looking for imports ?
Find Michael J. Hein here ...
Something naughty ?
(Must be over 18 to go there !)

MH: I have hated most of the recent remakes. I donít mind that these modern classics are being remade, but I hate that most of them are terrible!
ZJ: Iím with Michael on this one. Iím not against remaking a film, but at least give me a good movie when itís done.
Your/your film's/your festival's/your company's website, Facebook, whatever else?
MH: The festival is: NYCHorrorfest.com and my production company is Moodudefilms.com.
ZJ: My production company is Franklyzoe.com and weíre under Frankly Zoe Productions on Facebook.
Anything else you are dying to mention and I have merely forgotten to ask?
MH: Just want to say thank you for the interview and helping us spread the word about us Devilís Grove! I hope the fans enjoy the film.
ZJ: Thank you for the interview and for helping us get the word about Devilís Grove out there. Looking forward to hearing what the fans have to say about our little splatter-fest!
Thanks for the interview!