Your film Drive-In Horrorshow - in a few words, what is it about?
It's an anthology of five horror stories - basically Creepshow or Tales from the Crypt in a post-apocalyptic drive-in.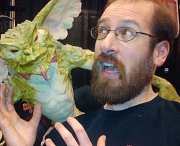 Michael Neel
Why did you choose the anthology film format for Drive-In Horrorshow?
For a few reasons. For one, we thought that putting several short films together would give us a greater chance of success in the overall film - we could make something for everyone. If someone doesn't like a story, then there's another one coming up in fifteen minutes or so.
One advantage of the anthology format is that it allowed us to make each story unique. Pig is more of a serious revenge tale, The Closet is in the vein of The Twilight Zone, Fall Apart draws from David Cronenberg movies like The Fly, The Meat Man is an urban legend, and The Watcher is an early-80s slasher. We didn't want to make the stories too much like each other - I think the two that are closest in tone are probably The Closet and The Meat Man, because they are both told from the perspective of young boys. But other than that they are all pretty different.
One disadvantage of making an anthology film is that instead of making one movie, we really making six (the five stories and the wraparound segment at the Drive-In). This means six times the casting, six times the props, locations, etc. We had to create six separate scores as well - it would be pretty weird if the music from one story ended up in another! Each story needs to feel different, which was a big undertaking logistically.
Your favourite/least favourite segments of your film, and why?
I love them all for different reasons, and I can't pick one over the other.
The segments in Drive-In Horrorshow vary in tone from dead serious to highly ironic. How do you personally prefer your horror, actually?
I like all kinds of horror - serious, ironic, comedic, you name it. I think the holy grail of horror films are the kinds that strike to the source of true terror, the kind that stare death right in the face. It's a short list for me: Martyrs and Cannibal Holocaust. It's just so rare to find a movie that accomplishes this. So many films try but fall short. I think you have to make a flawless film to resonate with people this strongly. Those aren't necessarily my two favorite horror films, although they are among my favorites.
Your main inspirations when writing the movie?
Greg Ansin and I co-wrote the film. We often write out lists of one or two sentence movie ideas - a simple plot, a title, a tagline, a line of dialogue. Greg wrote the line "There's something in the basement freezer that dad doesn't want us to touch." I read that and something clicked. We talked out the story very quickly and it pretty much wrote itself. From the beginning we thought of it as an urban legend.
Pig draws a lot on I Spit on Your Grave and other 70s-era revenge pics. It's a very simple story, which is part of what appealed to us. When you only have ten to fifteen minutes of screen time, simpler stories with a few characters are often the best to do. The trick with this one was deciding the best way to tell the story - we toyed with telling it as a flashback, but decided that keeping it linear was the most effective technique.
The Watcher is inspired by 80s slashers, especially the Friday the 13th movies. We embraced the formula of those films - like Pig, the story is fairly simple and straightforward, and we thought it would be a good fit for a short film.
For The Closet, we were heavily influenced by the tone of Creepshow and Tales from the Crypt, whose stories draw from fairy tales - you know, the bad get punished and there's a strong sense of moral justice. The idea of a monster that you could feed your enemies to came right from the Creepshow tale The Crate, although The Closet goes in a different direction and is more stylized.
Fall Apart was one of the last stories we wrote. We thought that we needed a darker, more serious and intensely gory tale and we didn't have one yet. This one was definitely influenced by David Cronenberg, in particular The Fly. The Fly does a great job of getting you to care for the characters, so when Brundle, played by Jeff Goldblum, starts to transform into his mutated fly you really care for him. It's a very tragic story. Fall Apart is kind of like The Fly in fast-forward.
How would you describe your directorial approach to the film, and did you intentionally alter your approach from segment to segment?
I believe that a huge part of directing is casting. Greg and I made sure that we had the right people for the right role. If you cast well, then the actors will do a lot of the work for you. If you don't then your film won't reach its potential.
In each segment I tried to create a good environment for the actors. If they're uncomfortable or don't trust you then you're shooting yourself in the foot. I think sometimes directors hear stories about famously overbearing filmmakers, such as Stanley Kubrick punishing Shelley Duvall with endless takes while filming The Shining, and think that they have to do the same thing. Now I'm not knocking The Shining because it's a great film, but I don't think that's a good way to operate - especially on an independent film where you might not have the resources of a Hollywood production and you can't afford to have unhappy people ruin your movie.
Each story in Drive-In Horrorshow is different, and we tried to be aware of what each called for. In general, we wanted the acting in The Drive-In segments, The Closet, and parts of the The Meat Man to be somewhat stylized and over-the-top, because they weren't supposed to be realistic. By contrast, we thought that the acting in Pig and Fall Apart needed to be more realistic and dramatic but not overly so, because if they strayed into melodrama then the stories would become comical. The Watcher called for performances that started out more fun-loving and shifted into the serious as the story progressed. Personally, I'm more comfortable with comedic directing - I used to act a lot and I've always felt at ease in the genre. So a story like Pig, that had no room for humor whatsoever, was a big challenge.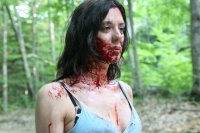 Personally, I found the last segment of Drive-In Horrorshow, The Watcher, the weakest due to its formulaic nature. Your thoughts about the segment, and why did you put it to the movie's very ending?
I'm glad that you asked that. As I mentioned earlier, we tried to make five different stories from different kinds of horror. We thought that a classic killer-in-the-woods slasher would be the most inherently scary - you know, people creeping around the dark, being stalked, etc. Of all the stories we had, we thought that this was our ace in the hole.
What we've found is that The Watcher is easily our most polarizing story - people either really like it or don't. There doesn't seem to be much middle ground. What's interesting to us is that the formulaic nature is usually what people respond to - positively or negatively.
One thing you see when you do an anthology is the wide range of the audience's tastes and opinions. Every story has been someone's favorite and least favorite, which is fine with us. We're happy that there isn't one story that's universally loathed - where we didn't succeed at all.
The order of the stories is: Pig, The Closet, Fall Apart, The Meat Man, and The Watcher. We wanted to start with Pig, because we thought it would grab people from the beginning and make them want to see the rest of the movie. The Closet and The Meat Man both have kids and are slightly similar in tone so we didn't want to put them next to each other, which meant that they'd be either 2 and 4 or 3 and 5. We didn't want to end on a comedic note, so we put The Closet second and The Meat Man fourth. Which left Fall Apart or The Watcher for segments 3 and 5. Fall Apart is gross but we didn't think it was that scary, and we thought that we should go out on the scariest one, so Fall Apart was placed third and The Watcher was the finale.
Drive-In Horrorshow's wraparound segment is a (highly ironic) take on the death of drive-in cinema. Would you like to share any fond (or not-so-fond) memories of this bygone era of movie-watching?
I grew up in the 80s during the VHS boom, and I watched the majority of horror films on my VCR. I actually hadn't been to a drive-in until right before we started production, but so many of the movies I loved on VHS were staples of the drive-ins. I remember watching Texas Chainsaw Massacre for he first time. I was about seventeen, and I watched it on a date. I had to walk home afterwards, and even though I was only a five minute walk through a Boston suburb - nowhere near as scary as the setting in Chainsaw - I was so terrified that I ran all the way home. I think I made it back in about two minutes.
Besides having made Drive-In Horrorshow, you have also recently worked the animated web-series Infinite Santa 8000 - which looks wild, to say the least. You just have to talk about that one for a bit?
Infinite Santa 8000 is an animated web series about a half human, half cyborg Santa Claus battling mutants in the year 8000. No, really.
Infinite Santa is a mix of action/adventure, sci-fi, and horror. Santa is a badass but we wanted him to still act like Santa - good natured, jolly and all that. He kills when he has to, but he doesn't want to if he can avoid it. Santa is the protector of a young robo-girl and battles an evil mad doctor who's obsessed with Santa.
We wanted to do something that was holiday themed, because it would be relevant each year when the holiday came around again. It could live on the web and hopefully get a life of its own. We've had a great response to it so far. It's free on youtube.
In comparison to Drive-In Horrorshow and Infinite Santa 8000, your documentary Growing Old seems to be an enormous change of pace. What can you tell us about that one?
This is the first film that Greg Ansin and I created together. We'd worked a lot on other people's documentaries, and we thought that we'd tackle one of our own. We were trying to profile aging in America, and we focused on three subjects - a waitress still working in her 70s, a man who was living with colon cancer for years and had a unique perspective about life and aging, and a doctor who makes house calls and goes out of his way to treat homeless elders who can't help themselves.
We wanted to show different aspects of aging - living with good health, dealing with illness, and what happens when you can't afford the care you need. It's a bittersweet film, and we're very proud of it.
Any other movies you'd like to talk about, any future projects?
We've written a bunch of new Drive-In Horrorshow stories, and we'd love to do a sequel. They could also be turned into comics, which would be really fun. I think Drive-In Horrorshow lends itself well to comics - after all, we were inspired by Tales from the Crypt, which is one of the best horror comics of all time.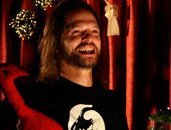 Greg Ansin
A few words about your constant collaborator George Ansin?
Greg and I have worked together since 2002. We've worked on documentaries, music videos, TV, feature films, and animation. I'm credited as director of Growing Old, Drive-In Horrorshow, and Infinite Santa 8000 but Greg and I are equal filmmakers on all of three films. We come from different backgrounds - Greg's from sound recording and music, me from acting and cinematography - and I think our different skills complement each other because we both have very similar tastes in movies and what we want to create.
It's a very satisfying collaboration and I'm really happy that we've been able to do so many things together - recording gory sound effects, editing, writing, being on set, you name it. And it's nice to still be able to do a documentary shoot - Greg with the audio and me with the camera - and do what we've done so many times before. It's very simple, basic filmmaking but it keeps you on your toes, because you need to keep a sharp eye to look for what's important to film and what isn't. It's the first kind of filmmaking that we did together, and I'm glad that we still can.
Having made everything from documentary to animated web-series to feature film, what do you actually prefer?
It's hard to say. There are things that I love about all of them. There's no limit to what you can do in animation - you can make a giant army of mutants, or a vast wasteland, intricate gore, or anything else. You're only limited by your imagination.
I love how simple documentary production can be. For a documentary shoot you find some interesting people, a topic you're interested in, and you just go with it. You're trying to turn real life into a film, to find the story in what you've shot. Of course shooting is only part of the process - you create the film in the editing room. What you leave out of the film can be just as important as what you keep in.
I love the challenges of shooting a feature film. It's kind of the opposite of a documentary - you're trying to inject a sense of real life into a story. I love the things that happen on a set just the way you planned them, and the things that happen by sheer luck too. You have a lot more control over the cinematography, and you can do some pretty fun things with the camera. It's also really fun to work with special fx and gore.
How did you get your start in filmmaking anyways, and did you recieve any formal education on the subject?
I acted in The Watertown Children's Theater in Massachusetts as a kid, and I went to Vassar College to be an actor. When I got there I realized that acting wasn't quite right for me, and I fell into flimmaking. I got a great foundation of filmmaking, and it's helped me grow and learn over the past 12 years.

Feeling lucky ?
Want to
search
any of my partnershops yourself
for more, better results ?

The links below
will take you
just there!!!

Find Michael Neel
at the amazons ...

amazon.com

amazon.co.uk

amazon.de
Looking for imports ?
Find Michael Neel here ...
Something naughty ?
(Must be over 18 to go there !)

Directors who inspire you?
John Landis, David Cronenberg, Billy Wilder, James Cameron, Frank Henenlotter, Stanley Kubrick, Alfred Hitchcock, Mike Judge, and all the writers and directors of the first fourteen seasons of The Simpsons.
Your favourite movies?
Robocop, Creepshow, The Thing, Hellraiser, Airplane!, The Fly, Martyrs, Cannibal Holocaust, The Lord of the Rings trilogy, The Apartment, Salesman, Gimme Shelter.
Your website, Facebook, whatever else?
You can find out all you need to know about my projects (including social media) at:
Drive-In Horrorshow - www.DriveinHorrorshow.com
Infinite Santa 8000 - www.InfiniteSanta.com
Growing Old - www.GrowingOld.info
Anything else you are dying to tell us and I have merely forgotten to ask?
I don't think so, but if I think of anything I'll let you know!
Thanks for the interview!