I know we've talked about this before [click here], but do bring us up to speed: Your new movie My Friend Max - in a few words, what is it about?
My Friend Max is the story of a misunderstood and bullied young girl, Theaand the imaginary friend, Max, who's always been there for her since her father passed away years ago. It's a coming-of-age story about growing upand making very difficult choices, something that everyone has had to deal with in their life. Unfortunately, Thea has had to make some very difficult choices at a very young ageand as a result she is a bit socially withdrawn and defensive. Max is a reliable, non-judgmental confidant that helps her put life into perspective in the absence of her father.
When we last talked, My Friend Max was still in pre-production - so has the project in any way changed since then?
That's both a challenging and simplistic question. Of course, during the pre-production process, you always have grand visions of a film being everything you want it to be and then some. Securing Doug Jones to star was the pinnacle of our excitement and a top priority. We were so fortunate to have such a solid script, that Doug fell in love with the character and story and wanted to be a part of our little indie film. Then once you have your star, you start to look at other aspects of the shoot and start to realize 3 things: 1.) What you have to have 2.) What you'd like to have 3.) What you absolutely can't have.
There's always things that you want to do, but simply can't pull off for any number of reasons (scheduling, budget, resources, etc). In the end, yes the film changed many times, but not enough to prohibit us from telling a very precise story. I'm still a firm believer that if you surround yourself with capable, confident and positive people that you can accomplish anything. When problems arise, you gather your team and find a solution.
With My Friend Max being about an imaginary friend - did you do any research on that aspect of your movieand honestly, did you ever have one yourself?
The imaginary friend story line was an inspiration of my personal solitude as a young child and even through adulthood. I find that I am so much more complete when I am by myself. I think more clearly, I focus more clearly, I comprehend emotional complexities faster and more clearly. I think I do this in part by talking to myself and walking my brain through the pitfalls and success of my life. In a way, I am my own imaginary friend. I am my own support person and confidant. So the idea was spawned on my own, enhanced by my love for the movie Drop Dead Fred and brought to life by myself and co-writer Chuck Mittan.
What can you tell us about your directorial approach to your story at hand?
My strength as a director has always been with the actors. I've done shot lists and directed DPs closely before, but I'm not very good at those technical aspects that I tend to lean heavily on my crew, who does a phenomenal job. I prefer to help the actors tell the story convincingly. In My Friend Max, when you have such an amazing talent as Dougie on board, I gave a lot of focus on his young co-star, Kaylynn Burgin. The relationship between them both had to be solid, the bond needed to show. I did that by creating opportunities for Kaylynn and Dougie to have fun before we started shooting and during the shoot. It helps that Doug is the kindest soul on the planet earth and made Kaylynn the center of attention at almost every moment of the day. I don't believe that Kaylynn ever felt intimidated in performing with Doug and it shows on screen. She definitely holds her own with such a seasoned Hollywood talent, and watching them on screen you would easily believe that they'd been friends forever.
With My Friend Max starring your daughter Kaylynn - what was it like working with her?
Well, this marked my 3rd time directing my daughter, and each production produces new challenges. Kaylynn is wonderful to work with. She takes things so seriously and works so hard at delivering a quality performance. She's grown up around acting & film making, so she naturally "gets it". Of course, she's getting older now (turning 14 in April) and as such she's got a lot more confidence and has started to realize the importance of focus and dedication of each new shoot. On my productions, she struggles sometimes to find the motivation to memorize her lines and work on her character before we begin shooting. Luckily, she has a producer/director in the house who constantly keeps reminding her that she has work to do. On productions that aren't mine, I think the challenge now is the anxiety of not knowing what to expect with the crew and director that she's never met before, which is usually extinguished quickly once she arrives on set and sees that things are done relatively similar to my sets and everyone is generally pleasant to be with. Next year if you ask me the same question, I'm sure the answer will be different. That's how it goes with someone her age. Otherwise, she's a director's Etch-A-Sketch dream actor... whatever they imprint on her will stay there until she's wrapped and can shake it off.
You of course also have to talk about the rest of your castand what was your collaboration like?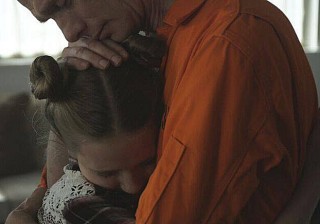 The cast was stellar from top to bottom. A wonderfully talented actor, Madison Wells, plays Thea's mom. Madison is someone I've known for a while and is super sharp in her delivery and maintaining her composure during difficult scenes. Always on cue, always professional and she's just an all around wonderful person off camera as well. I love working with Madison. Cooper Pierce plays the young lad, Billy, who has an interest in Thea. Cooper came to us through a great lady, Kar Gustafson, out of Des Moines area. She does some great things out there with an acting program for younger performers and helped me connect with a few of her students. We did some auditions and they were all great. Cooper was a lot of fun to work with. He has a lot of energy and took direction really well. His star is going to burn bright for a long time. Then there was Jim Von Dolteren who plays Dr. Hitler. I had never worked with Jim prior to My Friend Max but he just encompassed the look and feel of the character so well. Jim and I had many discussions over the phone regarding the Doc who was, himself, a little socially inept, but extremely wise on how social situations were supposed to work. Jim was such a great sport and really developed a very complex performance out of one very important scene. Can't wait to work with him again in the future.
Do talk about the shoot as suchand the on-set atmosphere?
Well, Doug Jones was on the set, so it was perpetually happy and pleasant. Doug just brings this positive atmosphere to the movie set that can't be denied. He is so incredibly cordial and interested in everyone and everything. He truly touches your soul in every interaction and makes you want to be a better person. In addition, I had such wonderful people to work with behind the camera. My gaffer Dan "Swat" Hampel is top notch and worked directly with DP Sean O'Connell to generate warm and friendly visuals. Then there was my amazing AD Pat Atkinson who helped keep us on track, which is not easy to do under such fun circumstances. Of course my script supervisor Megan Fleming was sensational as always. It was one of the few productions that I can say we wrapped early almost every day. Everyone just clicked, knew their job and knocked it out of the park. Can't say enough good things about them all.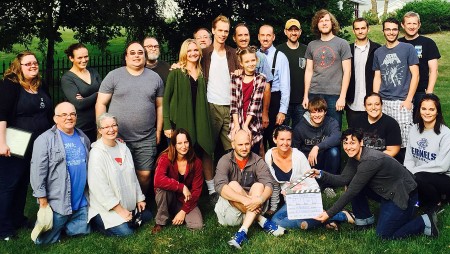 The $64-question of course, when and where will your movie be released onto the general public?
As soon as one of the handful of film festivals we've submitted to is wise enough to pick us up and screen it. Once we're done with our small festival run, I'll release it online for free. It's a film that needs to be shared with everyone.
Anything you can tell us about audience and critical reception of your movie yet?
We had a test screening that went over really well, many tears being shed by audience members. There are a few things that we purposely left unexplained in the film, and those things sparked a lot of conversation with the audience, which is a good sign for me. Everyone seems smitten by Max & Thea's relationship and we're getting some positive online reviews. I really can't wait to show it to a live audience.
Any future projects you'd like to share?
Just shot another short last October called I'm a Gun, which is an action/horror film. Think of it as a cross between Leon The Professional and Texas Chainsaw Massacre. I also have a creature feature that I would like to shoot eventually, but time and money will be the key to that one. Otherwise, I just wrapped an acting gig on a WW2 movie called Wunderland that starred Tom Berenger and Steven Luke. One of the best experiences I've ever had acting!
Your/your movie's website, Facebook, whatever else?

Feeling lucky ?
Want to
search
any of my partnershops yourself
for more, better results ?

The links below
will take you
just there!!!


Please be Max's friend on Facebook: https://www.facebook.com/myfriendmax/ or "like" him on IMDb: http://www.imdb.com/title/tt4136286
Anything else you're dying to mention and I have merely forgotten to ask?
I'd just like to say thank you to everyone who's ever supported me, or my films, or my daughter. It means the world to us. Also, many thanks to you, Mr Haberfelner, for the coverage over the years. You're a true gentlemen to indie filmmakers and we need more wonderful people like you help bring attention to some splendidly talented artists in the world. Keep doing what you're doing! As Doug would say to you all... "huggles!"
Thanks for the interview!