Your movie Nacho Mountain - in a few words, what is it about?
Nacho Mountain is an adaptation of a Charles Dickens classic, where a young girl with a whooping case of spina bifida meets an older aids patient (who's actually a ghost) and they fall in love over a bowl of amish potato salad.
However, originally Nacho Mountain was about a slacker who starts an underground eating competition and has to battle a health crazed mayor in order to stay awesome. We should've stuck to the first idea.
Blunt question: Why on earth competitive eating? And have you done any real research on the subject, been to any competitive eating events?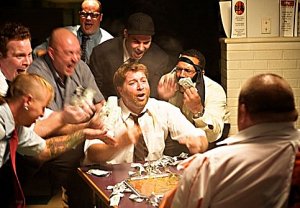 I really can't name anything more American than competitive food eating. It's a big "Fuck You" to people that are starving all around the world. I really find the sport of competition eating very fascinating and genuinely hysterical, there is a whole network of these events all over the country and it really is something to watch. Before filming a bunch us did do a wing eating competition (I actually got third) and it was funny as hell. Plus Philly is a town known for stuffing its face full of food, and there is an annual Wing eating comp in the city, WINGBOWL. It's freakin huge. Literally an arena filled with screaming, wasted people that have been tailgating since 4am cheering on these people stuffing their faces with wings. It's awesome. Lots of boobs and lots of puke. I think last year the winner ate over 300 wings. Think about that, that's friggin INSANE!!! So what better groundwork for a comedy.
(Other) sources of inspiration when writing Nacho Mountain?
Honestly, most of the inspiration for the film came from the great 80's comedies that we love. Police Academy, Revenge of the Nerds, also Naked Gun and some modern day comedies like Step Brothers, Broken Lizard Films, and the Farrelly bros, plus theres a bit of Bloodsport thrown in there. There should be a bit of Bloodsport in everything.
Why don't you talk about Nacho Mountain's very own brand of humour for a bit? And what sort of humour strikes a chord with you, personally?
Nacho Mountain's humor is very childish, it's sex jokes, shitting, farts, puking, boobs, and blatant disrespect to authority. Almost all the characters are assholes.
Personally, I love simple and well executed humor. Farts are always funny and anybody that doesn't think farts are funny are either liars or terrorists. Actually, I bet even terrorists think farts are funny, if one of the 9/11 hijackers would've really ripped a loud fart on the loudspeaker before hitting the tower, I bet everyone would've atleast had a good laugh before crashing. I also really like uncomfortable situational comedy, such as Borat or even Tim and Eric (those guys are fucking legendary dicks!!!). Anytime you can capture somebody else's discomfort on film I find it very funny.
How would you describe your directorial approach to your subject at hand?
Shitty.
Trust me Ive learned a lot about working with actors after Nacho Mountain and the importance of read-thrus and working one on one with actors and their scenes. Ya see, I've never been able to just direct a movie. Every film we've done, especially this one, I'm not able to just concentrate on the performances of the actors or the scene at hand, I'm also driving in film gear, working with lighting, talking about audio, figuring out where to rent a donkey for the day, etc. That's one of the many problems about low budget filmmaking, you're all working together to make the best film you can for the resources you have.
In a big budget production you have producers to deal with these issues or an art director to deal with specific set issues or a caterer who just deals with food, ya know. With something like Nacho Mountain where our budget is small, I can't just be a douche and show up, bark out some orders, and leave for the day. It's my film as much as everybody else's that's working on it, so if the grip truck needs to be somewhere at 5 am and we don't have a driver, guess I'm the one driving that in.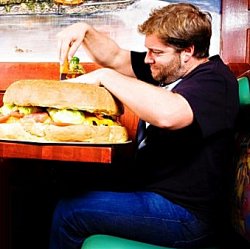 Jay Larson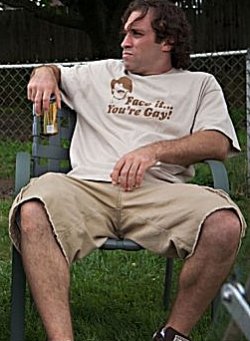 Kevin Interdonato
Your lead Jay Larson - why him, what made him perfect for the role, and how did you find him?
Larson rules. A friend of mine, his brother was working for Adam Sandler at the time (funny enough, if youve ever seen Grandma's Boy, theres a shot of some posters on the one wall, next to a "gay Robot" poster there is a poster that says "Fadrians Quest" and it has a dude at a bar with some fat chicks around him, that poster was actually made about my friends brother Adrian). Anyway, I contacted him when we were in preproduction asking if he knew any good comedians wanting to work on a feature comedy, obvisouly for little pay. After I talked with Larson, I knew he'd be cool to work with and I think he ruled in the movie. For it being his first time in a film, he was casual and comfortable as hell and it was great to have him on set, he's funny as shit and extremely humble and he's been doing standup for a long time now. I don't know if he thought the movie would turn out be as dirty as it was but hey, he nailed the part of Keefer and that dude couldn't have been cooler.
Would you like to talk about the rest of your key cast for a bit?
I couldn't have been happier with the key cast.
Kevin Interdonato as Meegosh fuckin owned it. The dude is as nice as possible, seriously weirdly polite, served in the military and a true professional, but when the cameras were rolling, he turned into the cocky funny asshole that is Meegosh.
Dude had us all dying, some of his outtakes are gold. Mayor Fingstal, the legendary John Charles hunt, man this dude, again, another great local actor that made the role of the shitty mayor what it is, a real prick (the mayor not John).
I also give huge props to Christina Pazcoguin who played Georgia Brown, here you have an absolutely gorgeous talented girl, coming to a small PA town from New York for a week with a bunch of degenerates, to work on a gross-out comedy about underground food competitions. She was a pleasure as well to work with, always smiling and giving it her all. you gotta remember, it sucks not being able to pay people what they deserve, it sucks, and these extremely talented people put their time and energy into our production and actually carry the film. It's badass.
Except for Dangler (officer Slivjack), that dude is actually a millionaire, think he started out in porn, now he just does these bits for fun. I'll put him in anything we film.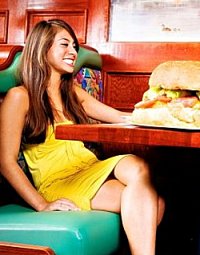 Christina Pazcoguin
Your supporting cast is made up of mainly loveable eccentrics - so how did you find all these people, and how easy/hard was it to cast your movie to begin with?
The rest of the cast are made up of local drunks and drug addicts, and some of them are the real highlights of the film. There's some real funny things happening in the background to a lot of these scenes that you don't get at first. Jensen Bucher, who plays the deaf girl, really nailed the hot deaf chick as well. I mean having somebody actually take you seriously when you say that you want them to play a deaf girl who runs a phone sex line, is just awesome and she nailed it. Since most of the characters are based on my friends in real life, a lot of my friends actually play more ridiculous versions of themselves. Except for Matt Benner who plays Big Pig, that dude wasn't acting at all and I'm pretty sure Malone was smoking designer drugs before his scene. He needs help.
What can you tell us about the actual shoot and the on-set atmosphere?
Honestly, the atmosphere during the shoot was awesome. Once we were filming, the hardest part was not laughing our asses off out loud. I mean, it was stressful for our production team because we were cramming in what should have been at least 3 weeks of principal photography into 1 week so we were rushed, but the atmosphere was like a party and Ii think that comes through on film. However, the last thing we shot was the final food battle and that was brutal. We tried cramming way too much into one day of shooting and it really should've been pushed off for another day. Everybody was fucking tired, all we wanted to do was finish the shots, so we compromised and you should NEVER compromise quality or important scenes for any reason. Lots of lessons learned there. People were beat, we were beat and we know to never pull shit like that again.
What can you tell us about audience and critical reception of Nacho Mountain so far?
Most "critics" tear it apart. I can see why - for some reasons, ya know, we never had any rewrites on the script, we went into preproduction immediately and we were filming in about 2 months after, so it was a bit rushed. I didn't get the time I needed to work with the actors in some scenes, but on the other hand people are pricks these days and never satisfied. Everybody thinks they're a critic.Ya know when you get a movie called Nacho Mountain and it's got a cover of a half naked chick holding a big plate of chili nachos, you should be fuckin smart enough to know you're not getting Shindler's List here, it is what it is. I think that a good critic can find the good and the bad in a movie, and a shitty critic just slams it and I say to the shitty critics where the fuck is your movie? It's great to be honest, but if we made you laugh a few times or you discovered some good music from the soundtrack or whatever then we did our job. Besides, ultimately we're doing this to entertain ourselves, honestly I could give a shit if Wayne from Upper Darby, who runs a blog site in his mom's basement doesn't like our flick. With us, we're not bullshitting the audience and we're not charging an arm and leg for this thing. We're just trying to contribute to what we see as a lack of good films out there, and Nacho Mountain undeniably has a ton of heart, we put a lot of effort into this and given this is our very first comedy, there are still a ton of laughs and funny scenes. But hopefully on our next one we'll hit it out of the park. Live and learn brother.
Since competitive eating has quite a fanbase, apparently - will there ever be Nacho Mountain II? And even if this has never before crossed your mind: Where would you take the story next?
That's awesome. If we would do Nacho 2, Keefer would be hugely obese with type 5 diabetes. Georgia Brown would've ditched his ass and become a Jersey stripper, but a stripper with heart and the whole movie would be very dramatic with Keefer having to train in Thailand or Vietnam to try to tap into his old ways of power eating. He'd have to go on some long peyote induced journey, like a road movie through the Asian land - and we'd definitely have to hire Burt Young to show up as his long lost alcoholic brother who blows all of his money. I'm pretty sure we could get Nic Cage to play a fat Chinaman as well. Man, I should get started on that.
Any (other) future projects you'd like to talk about?
We've finished filming our bbq documentary, American Smoke, which is just gorgeous High Definition Slo mo barbecue and the people that compete in bbq competitions. It's a great look inside the world of competitive bbq. So we're beginning to edit that now.
I've also just finished 85 pages of our next feature length horror film, Centralia. This thing is great, classic, suspense horror and we're going all out in this one, we're gonna give it our all and really nail this one. It's loosely based on the town Centralia, where a coal fire is burning underground, all the townspeople had to evacuate. Of course we put a twist on it and have some mentally insane people that were buried alive in the mines that are starting to creep out and feed. I'm telling you, this one is gonna be good, think of Seven, The Exorcist 3, The Strangers, and They Live all wrapped into one, and lots of good practical effects and makeup. We're getting back to what we're good at and where we started - horror. We're raising funds for it now and we're hoping to start shooting in 2013. It's looking good. For us, this is the big one, if this doesn't deliver than I'm going back to growing weed and selling pottery at the local flea market.
If this does well then we'll be doing our dream project after that, Community Pool. Another feature comedy about a group of slackers who need to raise money to save the local pool from Jersey douches. This one is really funny, filled with tons of drugs, bikinis, sasquatch hunting, and jenkum. Hope we get to do this one, this would be fun as shit.
Oh and we'd love to do some more music videos. We just finished one that turned out awesome, so if you're in a good band or a bad band but you have money, then give us a ring.
How would you describe yourself as a director?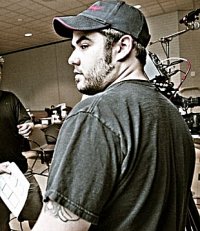 Mitch Csanadi on set
Shitty. But I'm trying. I'm still learning what makes a great director, and I'll always be learning that. In my opinion, a good director understands the material, the scene, the final goal and of course the actors and their characters. I used to be a shitty actor so I know it sucks to go to auditions, basically walk into a room filled with people judging you and have to relate to a character that you've just read about. That sucks. But I also know that to get a good performance out of an actor you either need to pay them a lot (which we can't) or you need to supply the actor with a level of comfort and proper backstory and reasoning to the character they're playing.
There are way too many ego driven tools out there claiming to be directors and filmmakers for that matter. Most of these people are useless turds who were given money or bullshitted their way to a position of power and don't have a goddamn clue what they're doing. These people get figured out immediately and deserve to be shit on. I can't tell you the amount of disillusioned assholes that I've met and have even worked for that make horrible shit and think they are fucking awesome. You can see in their eyes the enjoyment of the abuse they give out on set because outside of that shoot they are sorry sacks of shit and their motives are hollow. And this is on a purely local level, I can only imagine the level of asshole that's ripe in the Hollywood scene.
But ultimately, as a director the whole thing falls on your shoulders, if a scene sucks it's the directors fault, hell if a whole movie sucks it's the directors fault. I say, if you are genuine in your work, humble, realize the hard work of everybody busting their ass, then it's your responsibility to make sure the movie doesn't suck and make sure nobody is wasting their time. I owe it to the audience for us to do our very best and not serve them a shit sandwich. We'd rather create 1 awesome quality kickass feature length film every 5 years than to create a whole bunch of bullshit every few months. Quality over quantity.
Filmmakers who inspire you?
Kubrick, the man was in full control of everything he filmed and hyperaware of every aspect of his scenes. The performances in The Shining alone are worthy of calling this dude a legend. Carpenter is another one who I think is legendary. Aside from making some of the best movies ever, he also edited a majority of his own movies and contributed awesome soundtracks to them as well. There aren't any directors like that anymore. I do like Nolan, mainly for his emphasis on story, cinematography, and soundtrack, however I think a lot of his films are way too bloated. Danny Boyle is pretty badass and to look at Peter Jackson's history starting from a bunch of crack smoking sex crazed puppets to making the incredible Lord of the Rings movies just shows you that he's got his shit together, lots of other people would have shit their pants and run for the hills.
Your favourite movies?
Nacho Mountain, The Dead have Risen, NothingFace, Freaks, The Shining, Nacho Libre, Carpenter's The Thing, Jacob's Ladder, EraserHead, StepBrothers, Hooper's Texas Chainsaw Massacre, Airplane, Day of the Dead, The Blues Brothers, Easy Rider, Halloween 1 & 2 (Carpenter's, not Rob Zombie's bullshit), The Big Lebowski.
... and of course, films you really deplore?
Remakes. With the exception of The Hills Have Eyes, almost all the remakes that have been shit out the last 10 years have been fucking horrible. Even worse is the idea that it won't stop and that people STILL pay and go to see these pieces of shit. How the fuck can you remake the original Texas Chainsaw Massacre, put Jessica Biel in it as the hero and film it like a Nickelback music video. And people fucking defend it. Blows my goddamn mind. In the history of cinema there are a ton of well deserving remakes, remake Citizen Kane for fuck's sake, that movie is freaking BOOORING! I'd watch Citizen Kane everyday if it had Jessica Biel in a wet T-shirt dry humping a shitty snowglobe, but leave the classics alone. I mean Rob Zombie took the most badass iconic killer in the history of horror and turned him into a fat goth kid that listened to Journey and got picked on! I mean after you do something like that, your "famous"-card should be burned and you should go back to blowing truckers in parking lots for $10. They remade Hellraiser without fucking Doug Bradley?? They remade Maniac with Elijah Wood as a sexcrazed serial killer, the dude looks like he's 14???? Come on man. And Platinum Dunes needs to all kill themselves in a mass suicide. They singlehandedly took huge shits on all the classics. Hell, they made Voorhees into an angry pot farmer. Fuck these people. I think these execs in Hollywood are actually just being dicks and trying to piss people off for the fun of it. I'm serious, give us a fraction of the budget these chodes get and watch what we can do, instead of "remaking" a classic let us continue these great stories and characters and give 'em the respect they deserve. Ya know why this is happening? Because the toolbags are in charge and have been for a while and nobody has the balls to knock 'em down a peg by creating something that's both marketable and unique/original. We're trying.

Feeling lucky ?
Want to
search
any of my partnershops yourself
for more, better results ?

The links below
will take you
just there!!!

Find Mitch Csanadi
at the amazons ...

amazon.com

amazon.co.uk

amazon.de
Looking for imports ?
Find Mitch Csanadi here ...
Something naughty ?
(Must be over 18 to go there !)

Your/your movie's website, Facebook, whatever else?
You can check out our work and future projects/updates on DirtProductions.com - plus feel free to drop us a line on the contact page, plus if you're local to the Northeast and have something to contribute, get in touch, like us on Facebook and be sure to check out www.fartfantasy.net for all your farting fantasies. And our own officer Slivjack says to please visit his website www.hiddenfootfetishpics.boontape.org.
Anything else you are dying to mention and I have merely forgotten to ask?
Thanks for the support, especially from searchmytrash.com. We do appreciate it but not as much as we appreciate a good shaved beaver and a cheesesteak stromboli.
Thanks for the interview!
We'll see ya down the road. Quit eating those shit sandwiches. Cheers.