Your new movie Lilith's Awakening - in a few words, what is it about?
It's about a repressed woman, who embraces her dark side, and experiences her wildest fantasies.
With Lilith's Awakening being a vampire movie - is that a genre especially dear to you, and some of your genre favourites?
I love vampire films with female protagonists. Since I was a little girl I always wanted to be a vampire, fly away and have powers over nature. I grew up watching this films. There's a kind of forbidden sensuality in this films that always attracted me.
All of your film's character names are lifted from Bram Stoker's novel Dracula - care to elaborate on that?
I used the line "what if...", as in: What if instead of a prince of the darkness, that seduces Lucy and take her away from her beloved Jonathan and society - it is a woman in his place, a princess of Darkness? What if ... that princess lives inside Lucy's head? In her dreams? What if she was Lucy's shadow, her hidden part? Vampire tales are all about sexual repression. The Victorian times of Dracula can be easily found in the American Midwest nowadays.
Thinking about the character of Abraham Van Helsing - what kind of a person would dedicate his life to hunt vampires and what vampires represent? Vampires are certainly associated with lust - so much lust that only a cross can stop them. So the one who hunts the vampire in our story was transformed into Abe, the controlling father who listens to the preacher's words and tries to make his daughter behave as all the other
women in town.
What kind of man is Jonathan in Dracula? A pretty regular guy who wants a better life for him and his beloved Lucy. He travels to Transylvania because he wants a raise and of course, he doesn't believe in anything supernatural like vampires. Jonathan means "the son of…" - which could mean the one who follows the tradition. That's exactly the kind of guy our Jonathan is in Lilith's Awakening. And we did a twist in the resolution of the story, of course. This time, Lucy (we used the name Lucy instead of Mina cause it means "Light" - same thing was done in Nosferatu) might want more than have a regular family with kids in the end.
(Other) sources of inspiration when dreaming up Lilith's Awakening?
Repulsion from Polanski and The Hunger.
You've chosen a deliberately slow pace for Lilith's Awakening very much opposed to most modern horror movies - so do talk about that aspect of your movie for a bit!
The slow pace gives space for sensuality. Also, as it is not an obvious film, the slow pace allows the viewer to think, come to his/hers own conclusions and wonder what's the film really about.
What can you tell us about your overall directorial approach to your story at hand?
The film never ends until it ends.
From what I know, Lilith's Awakening was your thesis project for the David Lynch MFA Program - so do talk about the program for a bit, and to what extent was the good Mr. Lynch involved with your movie personally?
I developed the screenplay of Lilith's Awakening at the MFA, but it's actually a co-production from my film company, in Brazil, Ganesha Filmes with Outsiders Arts. While I was developing the screenplay we had 3 Skype sessions with David. We could ask him anything, but there was a condition. We could never tell him what the story was about. In my particular case, the problem I was having with the screenplay was that I was getting blocked with the story. I tried to write it 3 times, with different characters the same story, and again and again I would get blocked in the same place. So I asked David, "what should I do?" He said something like this: "Don't worry, Monica. It's just like that. You are going the right way. Imagination doesn't exist. Your brain is connecting with an idea in the universe, and it's trying to bring that idea into real life, into a story that you will tell. And the brain needs to try it with different characters until it finds the right ones. But why are you getting blocked?" he said. And then he said, "You are lying. In some point of the story you are lying." So I went back home thinking where could I be lying in the story. And I found out what was the problem. And when I fixed it, boom. The story evolved and I could finish the screenplay. Receiving the guidance of Lynch was a remarkable experience. He helped me see that we have to stick true to our story, no mater what.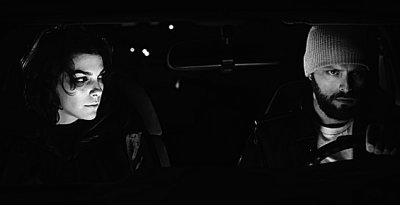 What can you tell us about your key cast, and why exactly these people?
I was watching a reading from a TV series directed by a friend and Sophia Woodward was among the actors, reading, in a café. When I first laid my eyes on her, I had the immediate feeling that if God had had a daughter, she would have been Sophia. She has an aura of light and virtue coming from her, the same light that the character of Lucy should have. Working with Lucy was amazing. She gave herself to me, and totally trusted my vision all the way. She was brilliant.
Lilith, played by Barbara Eugenia, is the perfect opposite of the character of Lucy. She should transmit sensual dangerous beautiful darkness with her eyes. And I think no one could do that better than Barbara. Actually, I first found Barbara - and then I searched her opposite, Sophia.
Do talk about the shoot as such, and the on-set atmosphere?
I like small crews with people you can trust. When I get that kind of environment with a good DP as Gregor Kresal and a great actress like Sophia I am happy and creative, and everything flows as it should.
The $64-question of course, when and where will your movie be released onto the general public?
On June 11 we will have our premiere at Dances with Films. We still have at least 1 year of the film festival circuit to do, and I hope we can find a good distribution deal to release it as soon as possible.
Anything you can tell us about audience and critical reception of Lilith's Awakening yet?
We are having our world premiere still. But we had a private screening in Fairfield to the ones who worked in the film, or rented their places to the shooting and it was quite remarkable. A lot of people would talk to me afterwards and say the film wouldn't leave their heads, that it was haunting them. I guess that's the best I could hear, cause I love when films have that effect on me.
Any future projects you'd like to share?
I'm working on the screenplay of a triller in a music conservatory.
What got you into making movies to begin with, and what can you tell us about your filmwork prior to Lilith's Awakening?
I would not say I pursue filmmaking - I would say I am a filmmaker. It's part of me. I have no other way in which I can express myself better, without it I would be lost.
I have a couple of awarded short films, Halloween was the one who took me to the MFA, awarded in Spain and in the US, and awarded by Lynch himself. The other one is a Spanish short called Now you should be Punished, that travelled more than 100 film festivals all over the world. It was screened at the National Museum of Modern Art of Spain, Museo Reina Sofia, and it was also awarded in Spain.
I have also shot documentaries, directed actors in 5 different countries such as Argentina, Colombia, Venezuela, Brazil and Spain, and have shot some publicity in Spain.
How would you describe yourself as a director?

Feeling lucky ?
Want to
search
any of my partnershops yourself
for more, better results ?

The links below
will take you
just there!!!

Find Monica Demes
at the amazons ...

amazon.com

amazon.co.uk

amazon.de
Looking for imports ?
Find Monica Demes here ...
Something naughty ?
(Must be over 18 to go there !)

I guess my language is transcendental and sensual. And I love to make my actors shine.
Filmmakers who inspire you?
Lynch, Bergman and Polanski.
Your favourite movies?
Repulsion, Mullholand Drive, Nadja.
... and of course, films you really deplore?
Ahahahaha… don't know what to say.
Your/your movie's website, Facebook, whatever else?
Our Facebook is https://www.facebook.com/lilithsawakening/
Thanks for the interview!