Your new radio show Mythos on a Train - in a few words, what is it about?
Lee Bronson, a former marine helicopter pilot turned English teacher, is just going home on a subway train with her friends. An incident happens which incapacitates the train and it's up to her to solve a very involved plot and stop a very suspicious individual who just carries a back pack with a frying skillet attached to it.
Now how did the project fall together in the first place, and how did you all become involved?
Mythos on a Train was a rejected script by my last audio drama company that I was involved, in and I left that company due to creative differences. The thing was I had a cast, and I had most of the lines recorded for the show and I believed in all my actors, that I just didnít want to disappoint them. I believed in my story and my character Lee Bronson - Lee is a woman that does things, she doesnít sit in her bedroom watching TV or pretending she is something she is not. She doesnít care about titles or what is before her name. She does the job. Lee Bronson is played brilliantly by Ms. Katherine Black - I couldnít have done it without her.
Carl, what were your sources of inspiration when conceiving Mythos on a Train?
It is based on every 80ís horror/action/sci-fi flick that came out during that time. From Aliens to Predator, I wanted something over-the-top but scary and something where the listener is along for the ride trying to figure out the mystery. I conceived of the ďmythosĒ from mythology, mainly Greek mythology which is prominent in this show. I like taking mythology or urban legends and tilting the stage with them and trying to present them in a way thatís transparent but also surprising. In other words using an old trope but putting that trope in a place where itís not expected (like a subway train).
Do talk about Mythos on a Train's approach to horror for a bit, and how can the lot of you indentify with horror as such?
There is real terror and horror in the world and it doesnít come from any mythological creature, not from Cyclops, Frankenstein or Leatherface. Humans are the scariest thing on the planet, the things that they will to other humans is inconceivable and incalculable. Terrorism is the scariest thing right now. Domestic and foreign, it doesnít matter, to think of the horror of tribes of people who commit acts of violence on rhetoric, religion or for profit. It just stops me cold, and I used that principle in a way with ancient mythology in Mythos on a Train. Itís a mix of real fear of what happens if you are stuck underground in a tunnel in the dark with the element what if there was somebody or something on the train that meant to do you harm.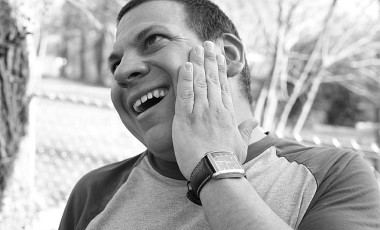 Carl J Grasso
Katherine, what can you tell us about your character in Mythos on a Train, and what did you draw upon to bring her to life?
What drew me to my character was how a strong badass of a woman she is. Lee Bronson sets a very good example to woman everywhere how she could be like the guys.
Katherine, how did you get into acting in the first place?
Thatís a tough question because I always loved acting since I was a kid, but when I looked more into the art of it, it drew me in a lot more at the age at 13. Playing someone else for a bit and heading to a dream to escape reality helps me now develop myself as a human being. For example when a director tells what to improve on more, I donít think ďoh no I suckedĒ but more of how to better myself in life and how to be careful about it in life.
Carl, I do suppose you'll be part of Mythos on a Train's cast as well - so what can you tell us about your character?
I as a rule, do not act in things that I write (if it can be avoided). I donít mind doing a one-line cameo, but it's more fun and its more rewarding to collaborate with people and find the right person to be the character you created.
Lee Bronson went through three potential people before Katherine, and I didnít think Katherine would have been interested in that kind of character at the time (she was voicing a lot of sci-fi when I met her). She loved the script and we kept talking about it and discussing making it scarier and more exciting. When I worked with her one on one, I just sat back and watched Lee Bronson take over - it was amazing, Katherine Black is amazing.
The rest of my cast, put me to shame as an actor: Marie France Louis, who plays are mysterious stranger, Skillet, is mesmerizing. When sheís on stage, you stop and listen because youíll be to afraid to move, the woman is that good.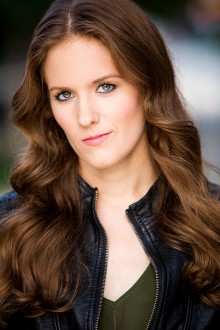 Katherine Black
Suzanne Clergen-Siler, who plays Sandy, is so versatile that I know she could play any role at the snap of a finger, I was blessed to have her part of this.
Chris Perry, who plays Freddy the train operator, has a gift of comedy and I swear I should do a spin-off of just his character.
Cara Weldy, who plays Pamela, played this antagonist against her normal type, and she launched it to the moon, itís good to get somebody against type. Great work from her.
Thea Schwartz plays Officer Penelope, a last minute replacement but she is a VERY hard worker. I was kind of hard on her and I pushed her to get to where I needed her to go, and she went there and beyond. I am very proud of her.
David Stair, who plays Officer OíConnor, he is a gifted actor, who voiced a couple of video game characters in the 90ís(Titanic: Adventure in Time), has a cameo because the majority of the cast was female, but I love David so much as an actor I wanted him to make an appearance. David is spot on every time.
Erinn Dearth plays Martinez the EMT, and Dan Beckmann Murphy the pilot. I met Erinn very recently but realized that she is one of the most talented people I ever met. Dan has the drive of a Ferrari 458 Speciale, her and Dan do a lot childrenís theater and patriotic shows that honor retired veterans, so of course I wanted them for an action pack horror radio show. I love them and I think they know that!
Courtney Holly, who plays Commander Frost, who has so much energy, she is like a soda bottle with Mentos in it (EXPLOSIVE). Courtney that has all this energy she could be a superhero. I am honored that she said yes to me. She is featured in the podcast Boom - https://www.facebook.com/BoomPodcast/ - which is available on all platforms.
And what makes are show complete is Mr. Jerry Schultz, a very accomplished theater actor and podcast actor (he play Long John Silver the pirate - https://publicdomainplayers.podbean.com/), you just hear the guy's voice and... just listen to the show.
See I donít need to act. I got them and I love them. I think they think Iím adequate.
Now the real heroes are Max Ofosu my head audio engineer, Casey Arbogast, assistant editor, Carrie-Leigh Dickey my poster creator, and Stephanie L Carlin, my goddess of a music composer.
Max, what were the challenges of bringing Mythos on a Train from a sound editor's point of view?
I would say the biggest challenge of Mythos on a Train from an editing point of view was trying to reimagine and define the mythological monsters into a more modern 2020 environment. The questions I would ask myself are, how would the monsters sound? What would the creatures sound like? All these guiding questions helped me to bring a different perspective into this collaborative effort.
Max Ofosu
Max, I've heard you've got a background in music - so what can you tell us about that aspect of your career, and what got you into sound editing in the first place?
I've always been interested in music. From making beats when I'm supposed to be in class taking notes, to sharing snippets with my friends, music has always been a part of my life. I guess the most fascinating thing I love about music is the relative correlation between sounds and emotions. I love the fact that we can be transported into nostalgia or a place we've never been through sounds alone. I would say that is one of the predominant reasons I got into sound editing.
The $64-question of course, where can Mythos on a Train be heard?
Columbus Day weekend here in the States, which that is the weekend of October 9-10, and it will available everywhere - Google podcast, Apple, Spodify.
After its initial run, are there any future plans for Mythos on a Train, and other future projects you'd like to share?
I would love to continue Audiophiles Presents podcasts. In fact I have a Patreon Page: https://www.patreon.com/join/5139075/checkout
My next show for Audiophiles is called... The Zombie. And is in development and is cast (I hope). I never stop creating or producing. I am working on a new film called Faces of the Dead 2: Exorcism, which Iím really excited about - https://www.imdb.com/title/tt13004044/
Your/your show's website, social media, whatever else?
Just follow me at https://www.facebook.com/audiophilesNC/, where you can be updated on all my real adventures - and subscribe to (re)Search my Trash, thatís an awesome website. AND Mikeís an author check out his book Tales to Chill Your Bones to (see I plugged you too) [Michael Haberfelner interview - click here].

Feeling lucky ?
Want to
search
any of my partnershops yourself
for more, better results ?

The links below
will take you
just there!!!


Anything else you're dying to mention and I have merely forgotten to ask?
I could have not done this project without the help and support of Jacob and Liz Mrozowski, Will Hodis and Krista Scavron. They all stood with me in the dark and lifted me up when I needed it. I love them all.
Stay frosty everybody, Columbus Day weekend the MYTHOS will mythos you - whatever that means.
Thanks for the interview!
NO, THANK YOU!