Your new movie Imitation Girl - in a few words, what is it about?
The film is really an exploration of identity and how we interact with the world around us, told through the lens of two different characters, or, as I like to think of it - two different sides of the same coin. We wanted to interweave the stories in a way that is (hopefully) entertaining, but also in a way that explores the profound difference between those perspectives. Half of the story revolves around an alien who arrives on Earth and takes the shape of a real woman, whose story we also follow.
What were your sources of inspiration for writing Imitation Girl? And since your movie's quite a genre mix, was this blend at all intended from the start or did it just happen while writing?
I wouldn't say that we set out to fit into any kind of genre 'box' - I love science fiction and the freedom it allows the storyteller, so I always knew that the film would have a sci-fi bend to it. We definitely had a lot of foreign influence, including the early films of Wong Kar Wai, especially with the way the characters' storylines interact. I found myself going back to early Scorcese as well, especially while putting together the NYC sequences. For the more lyrical, alien sequences that take place in the deserts of the American Southwest, our shots were really informed by the environment, and we were mostly inspired by the natural beauty of the location.
To what extent can you identify with your titular imitation girl, actually - and to what extent with her alter ego Julianna or any of the other key characters for that matter?
I think some days I'm a little more Julianna than Imitation, and other days I'm feeling a little more like a newborn alien! I definitely believe that every writer has a bit of themselves in all of their characters, but I'd say the supporting cast of characters are mostly pulled from people in my life, more of a collage of friends, family, and folks I've encountered through the years. When it comes to Imitation and Julianna, I do think that they live within each other - that Imitation, while not necessarily child like, has a sense of wonder and exploration. Lauren Ashley Carter and I spoke often of Imitation as being a creature that is driven by her curiosity. And I think all of us can relate to that - even if, as adults, we often don't give ourselves permission to tap into that deeper part of our identities.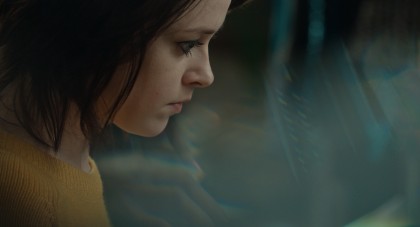 What was the exact idea behind your title character being picked up by a brother-sister duo of Iranian immigrants of all people? And on the flipside, why did you make Julianna a porn actress, of all professions?
The brother-sister duo is inspired by my own family, who immigrated to the United States during the Iranian Revolution. Their theme really has to do with being away from your home, the feeling of being a stranger in a strange land. I liked those two characters as a mirror for Imitation, who has found herself very far away from her home. This whole section of the film feels very much like a fairy tale, and there was so much sweetness in the scenes between the sister (played by Sanam Erfani) and Imitation. Their bond is one of a deep understanding of solitude, change, and the bittersweetness of finding a new life.
Julianna's profession was always obvious to me - we wanted to show adult entertainment in a non-sensational way, so that was a big part of the writing, and for me it was also a slightly humorous statement on how we all feel about our day jobs. It's a stand-in for whatever your "9-5" might be. Julianna is a character who is trying to change the path she's on, whether it's work, or her relationships, or how she's seen by the world. She's bored and frustrated, longing for that elusive "something more".
How would you describe your directorial approach to your story at hand?
I think the approach is really a balancing act - you're balancing the logistics alongside the creative, and you don't want one to take over from the other. It's not always the most glamorous way of doing things, but it's important to try to divide your energy equally across all the departments, actors, and resources.
What can you tell us about your key cast, and why exactly these people?
I was very lucky to work with an amazing cast. Many of the characters, including Neimah Djourabchi and Sanam Erfani, were cast from my own personal network of actors with whom I've worked with in the past, and then we also worked with casting directors Karlee Fomalont and Erica Hart to fill out the rest of the cast, including the super-awesome Marsha Stephanie Blake and Adam David Thompson, who play Julianna's love interests. We were really excited to have Catherine Marty Stewart with us in the role of Julianna's former piano teacher, and of course we have the singular Lewis Black in a very fun cameo. Everyone came with their own ideas and were game to work on a smaller scale.
A few words about the shoot as such, and the on-set atmosphere?
Despite all the limitations of being an independent film I have to say we really had a smooth shoot, and that is entirely due to the amazing group of people who came together to make it happen. From the technical crew to the actors, everyone was on board and focused on accomplishing our goals for each shoot day.
Anything you can tell us about audience and critical reception of Imitation Girl?
Sharing the film with audiences has been a really incredible experience. I love hearing how viewers interpret the story, and there's been some beautiful film writing from critics that has been a pleasure to read. I think one aspect of independent filmmaking that is especially exciting is the connection and direct interaction with audiences - and of course social media gives us a great platform for discussion as well. We love to hear from folks after they've seen the film!
Any future projects you'd like to share?
Yes! We have a new genre film that we're putting together currently, a period piece that we will be shooting in the UK! We are very excited to share news soon.
What got you into filmmaking in the first place, and did you receive any formal training on the subject?
I grew up around artists and creators and also had a lot of support from my parents early on to pursue a career in film and television. I attended NYU's film school, which was intense but ultimately the place where I met my team, with whom I still work with to this day.
What can you tell us about your filmwork prior to Imitation Girl?
After graduating from NYU, I worked mostly in a commercial "branded" sphere for several years, all while making short films as well as some very small music videos.
How would you describe yourself as a director?
Well, I hope to always be considered a professional, first and foremost. I have great respect for "The Work" and for the craft of directing, and always try to keep a clear head while tackling the inevitable onslaught of challenges that come up during a production. Ultimately I think professionalism is about balance - an actor once described me as an "iron fist in kid gloves," which I found very poetic and flattering!
Filmmakers who inspire you?
I find myself constantly inspired by artists and creators of all types, not just filmmakers - I love reading and listening to music and find myself often diving into a new novel or a new album when I am working on a new project or trying to solve a problem. As far as filmmakers go, I always find new ways to watch and experience the masters like Kubrick, Kurosawa, and Tarkovsky. I also love being around my contemporaries, other filmmakers - it's important to have a community of creators to be a part of and collaborate with!
Your favourite movies?
This is such a tough question to ask a filmmaker! I love science fiction, obviously... from 2001: A Space Odyssey to Terminator..! I love all of Andrei Tarkovsky's films, especially Solaris which is a personal favorite.
... and of course, films you really deplore?
I plead the fifth! In all seriousness, I'd say that I really don't enjoy films that are needlessly cruel just for the sake of shock value.
Your/your movie's website, Facebook, whatever else?

Feeling lucky ?
Want to
search
any of my partnershops yourself
for more, better results ?

The links below
will take you
just there!!!


You can find me at www.natashakermani.com or @natashakermani on social media - you can also get updates by following our production company @illiumpictures on all platforms!
Anything else you're dying to mention and I have merely forgotten to ask?
Hmmm, let me think. I'd like to mention that if you enjoyed the film Annihilation that came out earlier in March, go pick up the books by Jeff Vandermeer! Spooky and cerebral science fiction. You won't regret it. Thanks for reading!
Thanks for the interview!