Your new movie Hell's Kitty - in a few words, what is it about?
Hell's Kitty is about a Hollywood writer whose cat is possessed and very, very possessive of him. As he tries to have a love life, the cat gets involved in a very mean way. Eventually, the protagonist, Nick, has to figure out a way to get rid of the evil spirit possessing his cat. As he tries, he comes to discover itís possessed by someone from his past with a real axe to grind.
Basic question: Why a cat, and your personal feelings about our feline friends?
The idea for the story came from my real life experiences trying to date in Los Angeles with a cat that was very possessive of me. I actually dated Lisa, the actress who plays Lisa in the film and we basically reenacted our scene together of her meeting the cat for the first time but added a little bit more blood.
(Other)sources of inspiration when writing Hell's Kitty?
Adam was a real neighbor who had a fun sense of humor. I emulated our conversations about our personal love lives and his comical responses watching various women come and go in and out of my life; he really blamed my cat for much of it as well. I suppose taking inspiration from real life experiences and people and the pet Iíve known was a good part of it. I also wanted to do something that I could use to promote various non-profits that help animals. I used the web-series and to some extent now the film to help promote those causes as well.
Hell's Kitty started out as a webseries - so what made you eventually turn it into a feature film, and what are the main differences between the series and the film (if any)?
I decided to turn it into a film because it was an opportunity to get the attention of a whole new audience. Not everybody watches webseries. And some of the people watching the webseries, especially the younger audiences, may not be watching feature length movies either, too distracted by the time away from their video games. The movie essentially is the webseries pieced together with about 25 minutes of a never-before-released ending. Thereís an interstitial interview scene with Nick and his publicist played by Robert Rhine, the real life publisher of Girls & Corpses Magazine, in the movie that does not appear in the webseries either. This way, those who watch the movie will have to watch the webseries to see some of the footage that was cut out. And those who watch the webseries will have to see the movie to know how it all ends. In fact, thereís a part where Angel the antagonist and cat runs away in both the movie and the webseries. The comic book available on amazon.com called Lost Angel in Los Angeles tells the story of what happens to Angel the devilish cat on the streets of LA for those few days she is gone.
What can you tell us about Hell's Kitty's approach to horror?
Itís a homage to the genre as a whole but it also has fun with the formula. I try to satirize nearly every type of horror from slasher and ghost story to even the more recent found-footage type horror film. At the same time, I tried to comically present iconic characters from popular horror movies in parodies of their roles but couched in an original story about a horror writer who finds his greatest story in writing about his real life possessed cat. The story is essentially a comedy horror along the lines of Joe Danteís The Burbs or Wes Cravenís Scream. I think Decay Magazine made a comparison to Scream. Of course Scream had a much larger budget, Iím sure. That said, Wes Craven is a great genre bending director and Iím a big fan and honored by the comparison.
Also, you of course have to talk about Hell's Kitty's brand of humour for a bit!
Itís a combination parody with satire with a sort of self-reflective nostalgic humor. Itís every type of genre film wrapped up in one with satire and goofiness. Joe Dante meets Sam Raimi meets Lloyd Kaufman. Iím hoping folks that enjoy horror will enjoy the mysterious comic ride I take them on in the film.
Do talk about your directorial approach to your subject at hand!
I would give an image and background for the character and let the actors take it from there. If I noticed some of the acting felt too forced, Iíd have them try it again a different way. I didnít have a lot of time to work with the talent so I relied on a little early direction and then took what I could get along the way in production. I remember one particular image I gave to Lisa was a young Cruella de Vil. I told Michael Berryman to imagine himself as a rubber band that was being stretched, and then suddenly released. The way he came at us, I think it worked.
You also play the lead in Hell's Kitty - so what did you draw upon to bring your character to life, and have you written Nick with yourself in mind from the get-go?
I wrote the story based on my real experience with my cat. As I thought it so fun to use a real cat, I used my cat Angel because she didnít have to act. She really was that way and so she was being herself. If somebody got too close, sheíd attack them. If they didnít, she was pretty cool. There was nobody else that could have played the part with Angel in it. Angel would have killed them. Even my production insurance would not have covered that one!
Do talk about your key cast, and why exactly these people? And especially talking about the name performers among your actors, how did you get them even?
We basically got more horror icons in Hell's Kitty than any movie in history. These include Courtney Gains and John Franklin, Dale Midkiff, Adrienne Barbeau, Lynn Lowry, Kelli Maroni, Michael Berryman, even Doug Jones from the 2018 Academy Award winning film The Shape of Water, and a real killer klown! It took us probably twenty times as long to make Hell's Kitty as a result of trying to placate to their schedules. I would write their scenes to fit the specific actor in a way that parodied the role that they were most famous for in the horror genre. Iíd start by pitching their managers. Once I get a few of them and word spread I started to get managers and talent contacting me asking how they can be a part of Hell's Kitty, too.
What can you tell us about the shoot as such, and the on-set atmosphere?
The set had a real spirit and energy. People had a lot of fun. Mostly, they were working for free so I wanted to keep it that way. We shot mainly on weekends between peopleís regular paying jobs and projects. The fact that we had a real live cat on set helped, too. I also think because we released most of the footage relatively quickly online, as part of the webseries (within weeks of production), people were happy to be part of something that was actually likely to get seen. There are so many projects that take years to make and many that never see the light of day. The sheer absurdity of some of the scenes really helped to add to the excitement and enthusiasm. Watching Courtney Gains running down the hallway full of corn fields, or Doug Jones and Bill Oberst jr [Bill Oberst jr interview - click here] get hissed by my cat as they attempt a mock exorcism on her, and of course a killer klown creeping around the apartment all added to the surreal enthusiasm and fun. But donít get me wrong, the crew worked fast and furious, even the post team, and we didnít have a lot of downtime either. The production crew changed nearly every set, too, so this helped to keep it fresh for everyone. Our post team was more consistent (Richard Albert, Johann Martinez, Gustavo Sampaio, Sarah Grace, and Andrew Franks). On a film that essentially took six years to complete you can imagine a few days on set is not a high percentage of the overall time spent to make it happen. This is why the credit list is nearly as long as Amazonís subscription list!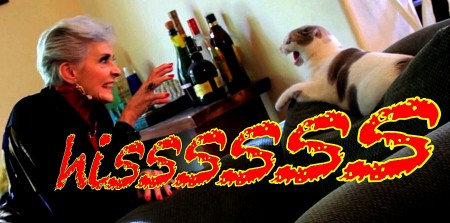 Anything you can tell us about audience and critical reception of Hell's Kitty?
The audience has been mainly receptive; comprised of horror fans who are open to indie film and experimentation. If youíre a straight horror fan with no appreciation for comedy and bending the rules, you may not enjoy it. Iíve noticed a few very angry, negative critical reviews on the shaky camera or special effects. We did this on what most major films spend on meals alone for a day so it's impossible to make orange juice out of pulp. I think for what we had to work with itís a miracle what we managed to achieve! I think a comedy is the only way to approach such a low budget production; this way, you can have fun with it and not take anything too seriously; it allows you to really let go and experiment with something new and forces you to be very creative just to make it happen at all. The dialogue and over all look and feel is great as well; and so many fun performances. We didnít have any rehearsal time. We ran with it fast and furious. Those who get the film really seem to love it. Iím inspired everyday by their comments and they give me the fuel to want to make more movies.
Any future projects you'd like to share?
Yes, Iím always working on new projects. Iím trying to turn Hell's Kitty into a musical, and I plan to pitch it as a TV show idea, too. Iím also working on pitching a feature length thriller that I wrote, which is very related to all these school murder suicides (a much more serious subject), as well as a dark comedy based on some real mob history, set in the 1920s Harlem renaissance. I also have a comedy horror script called Hillbillies vs. Alien Chickens, too. Iíll let you guess what that oneís about. Iím hoping now with two solid films under my belt that Iíll be able to get some great collaborations going as well. I was recently chatting online with the great horror writer, Mort Castle, about turning some of his work into moving pictures. I think Charles Chiodo (Killer Klowns from Outer Space) and I talked a little after the Hell's Kitty premiere about working together. I just love to create, and I look forward to working with other creative folks, too.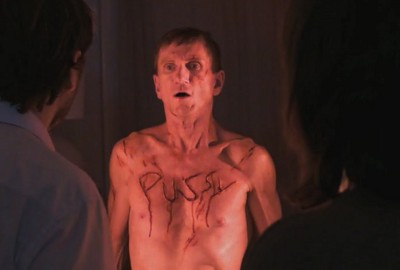 What got you into the filmworld in the first place, and did you receive any formal training on the subject?
I started in college with a paid internship as part of the Walter Cronkite School of Broadcasting program with KAET Channel 8 at Arizona State University. I worked on their local shows starting as a PA doing studio make up, cameras, teleprompter, character generator work, even floor managing. When I graduated, I worked as a PA for ESPN and within six months moved into being an associate director on international programs (I speak Spanish and Italian so this helped). I later started my own production company for which Iíve been shooting commercials, industrials, documentaries, webshows, and now movies, too. Hell's Kitty is my second movie technically, my first being a documentary on masturbation called Sticky: A (Self) Love Story, starring Janeane Garofalo and Larry Flynt, which was an Amazon Award winner in 2016, and is currently on Amazon. It screened at Harvard last year in fact. This all helped me to really understand production on many levels. If you can make Hell's Kitty on what I made it on, you can do anything.
Working both in front of and behind the camera, what do you prefer more, and what can you tell us about your approach to each?
I really like them both in different ways. When Iím acting I can immerse myself in one piece of the puzzle and not worry about the rest of it. I only worry about my wants and goals and needs as an actor, and the other actors with which I am relating to in a scene or story. To be authentic as an actor, I have to immerse myself in the performance, and try to disconnect from the omniscient viewpoint of really knowing what I plan to say, and what the person in the scene is going to say or ask of me; knowing how it all ends. Itís really about letting go and just being, not performing or acting at all. This is why Iíll approach a character wanting to know what the big picture is and the goal of the director and then figure out what I need to do to almost trick myself into tapping into something real inside of me that makes the experience real too ,and forget that I know any of it. As a director, I find that I have to always keep a myriad of other things in mind. I canít hyper-focus, not if I want to see the big picture and guide it to fruition. I have to be aware of every piece of the puzzle. Itís more cerebral and omniscient in this way. I have to immerse myself in a performance, but then shift gears to watch it again looking for other aspects like lighting and sound, editing, etc. I have to learn to motivate and keep my performers on target, while I keep the crew active and engaged, and focused on the task at hand. As a director, Iím really involved with everything; I even helped to score much of the music in both of my films. Itís like being the captain of Star Trek's Enterprise, where the ship goes is entirely up to you in the end. If you have not checked out the Chainsaw Kitty song, please do! The music video is hilarious thanks to Richard Albert the composer and Gustavo Sampaio, our film editor, who helped edit the music video, too.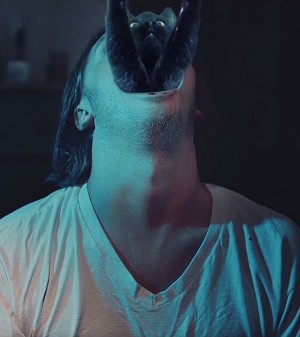 What can you tell us about your filmwork prior to Hell's Kitty?
Iíve mainly been involved in a few short film, a ton of commercials and industrials, and a feature length documentary. Iíve written a number of feature length scripts and even had one optioned. I sold a kidsí animation show raising finance for production. Iíve been involved in production for many years now since I started in my teens working for a PBS TV station branch and later in production as an associate director for ESPN. My feature length documentary, Sticky: A (Self) Love Story starring Janeane Garofalo, Nina Hartley, and Larry Flynt was an Amazon Award winner and top seller in 2016, and is still getting attention. It screened at Harvard last year. I hope to obtain a similar if not even greater success with Hell's Kitty and my future projects. Iíd like to get involved with writing, directing and even producing TV shows soon, too.
Filmmakers, writers, actors, whoever else who inspire you?
Iím inspired by so many both alive and dead. David Lynch, Terry Gilliam, Alfred Hitchcock, Stanley Kubrick, Igmar Bergman, Elaine May, Steven Spielberg, Blake Edwards, Federico Fellini, Dario Argento, John Cassavettes, Luis Bunuel, Nicholas Ray, Joe Dante, Sam Raimi, Martin Scorcese, Louis Malle, Akira Kurosawa, Adam Kaufman. As for horror comedy, Joe Dante, Sam Raimi, and Tom Holland are the big three. I love the writings of Stephen King, Ray Bradbury, Neil Gaiman, Clive Barker, H.G. Wells, Philip K. Dick, on a more ďliteraryĒ genre bent I like Langston Hughes, Flannery OíConner, Anthony Burgess, William Blake; as for non-fiction: Alvin Toffler (non-fiction). I read as often as possible. Iím really enjoying Tom Wolfís The Bonfire of The Vanities at the moment. As for actors, I like Sean Connery, Peter Sellers, Christina Ricci, Giovanni Ribisi, Bruce Cambell, Monica Belluci, Alain Delon, Grace Kelly, Willem Dafoe, Isabella Rossellini, Tom Hanks, Robin Williams, Jodie Foster, Marcello Mastroianni, Steve McQueen, John Cassavetes, Peter Falk, Kim Novak, Forest Whitaker, Edward Norton, Eddie Murphy, Gael Garcia Bernal, and Marlon Brando. I am keeping my eye on Regina King, Jason Mitchell, as well as Gonzalo Valensuala.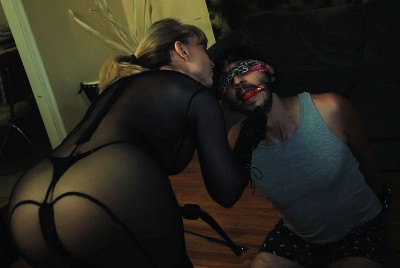 Your favourite movies?
Excalibur, The Godfather, Big Trouble In Little China, The Wanderers, Hitchcockís Psycho, Time Bandits, The Road Warrior, Clash of the Titans, History of the World Part I, The Elephant Man, The Seventh Seal, A Clockwork Orange, Blade Runner, Pale Rider, the Good, the Bad, and the Ugly, Star Wars, The Chinese Connection, Monty Python and the Holy Grail, The Princess Bride, Escape from New York, The Graduate, Neighbors, Army of Darkness, Gremlins, The Shining, The Exorcist, The Night of The Living Dead, Young Frankenstein, Annie Hall, Ghostbusters, Bugsy Malone, Le Semourai, but not necessarily in that order!
... and of course, films you really deplore?
Cloud Atlas, the Psycho remake from 1998 (what was the point of that one?), most of the new Star Wars movies (theyíve lost their force), almost all the new Marvel movies (I find them formulaic, and boring, though I am a comic book collector), and Titanic, which was too sappy for me, and I knew where it was going ;-)
Your/your movie's website, Facebook, whatever else?
@mypetspossessed
www.facebook.com/HellsKittyTV/
hells_kitty on Instagram

Feeling lucky ?
Want to
search
any of my partnershops yourself
for more, better results ?

The links below
will take you
just there!!!


Anything else you're dying to mention and I have merely forgotten to ask?
We appreciate the love and support. There are so many folks who helped to make the film happen from an army of volunteers to the audience and fans who encouraged us along the way. The film is dedicated to my cat Angel who passed away a few years back. She was the muse behind the project. We like to use Hell's Kitty to promote non-profits that help animals. Weíd love any donations and support to be sent to fixnation.org or any other of your favorite non-profits that help the animals, especially cats who tend to get a bad rap. Hell's Kitty is not about a bad cat. If you watch the movie, youíll see itís really about a bad and jealous, selfish person. The cat is one of the most redeeming characters in fact!
Thanks for the interview!
Thanks for spreading the word!