Your upcoming movie Castle Boulevard - in a few words, what is it about?
Dominic is a little odd. Easy-going and naive, an artistic photographer from a remote village, the city holds wonder and magic for him in the form of trendy jazz clubs, quirky friends and limitless opportunities for finding his 'perfect picture'. Unfortunately, his move into the city has come at a price, and that debt is already pursuing him.
What were your inspirations when writing Castle Boulevard? And quite honestly, how much of yourself can we fid in your lead character Dominic?
I've always had a soft spot for jazz music. Though I'm by no means a sort of expert in it, so I did my research into as much in the way of the unique musical techniques of the genre, and its greatest legends such as Miles Davis as a focus point, and the people he played with in the earlier days such as Bird, Dizzy Gillespie, Thelonius Monk and so on.
The 'feel' of the film was inspired by Woody Allen films such as Manhattan and Annie Hall, who is a great jazz enthusiast himself (he plays the Oboe, I think). They were very much my starting point in terms of styling, but the story grew out of the elements of this jazz scene, and the character Dominic. I hope that you can't find much of me in him, to be honest, what with him be socially inept, outwardly slow-witted, and almost constantly smiling! The only similarity we share is our passion for photography, and in that I wanted Dominic to be someone who openly shuns digital photography, and instead embraces the dying art of 35mm and traditional processing and developing (he's goes so far as to build a homemade enlarger on which to develop his pictures).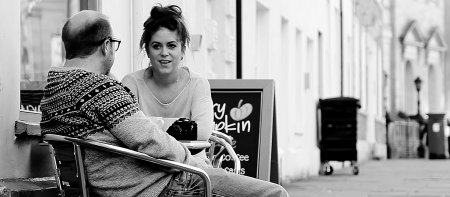 Liam M. Edwards
Somewhere, your film is described as being "set against the smoky backdrop of jazz club nightlife" - you just have to elaborate on that aspect of your movie!
I love low key lighting, smokey atmospheres and ambiance, and that just has jazz club written all over it. I've always wanted to create and photograph scenes like that, so when Castle Boulevard started to develop as a concept, I had the ideal opportunity to really recreate that hazy late night blues feel in a modern film. Our characters will inhabit this underground jazz club Little Mintons, hidden behind a nonchalant door to the street, sitting at barely lit tables and watching jazz musicians play their bluesy melodies across the smokey expanse. That's the vision we're trying create during these scenes.
What can you tell us about the look and feel of your movie?
I like to shoot in a very simplistic way, long mid to wide shots that allow both the audience to appreciate what they're looking at, and the actors lots of room to perform. This, in this film in particular, harks back to films of the 60's and 70's, and we really wanted to give this project and real retro or vintage feel. Hopefully, when coupled with the score, the sets and the styling, people will feel a little bit transported back in time.
Do talk about the movie's cast for a bit, and why exactly these people?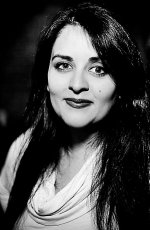 Bushra Greaves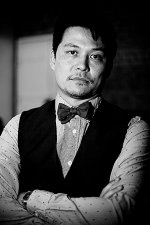 Daemian Greaves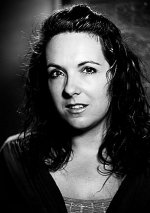 Katie Richmond-Ward
We've been extraordinarily fortunate to have been able to build up a group of actors who wanted to work with us time and time again, and then been able pile even more talent on top of that! The majority of the main cast is made up from our own production team, many of whom are hardwoking and very talented actors. Liam M. Edwards [Liam M. Edwards interview - click here] takes the leading role of Dominic. Having worked with me over dozens of short and feature projects since about 2007, he's lent his incredibly versatile ability to perform to roles as nerdy zombie-killing soliders, to gullible social workers, volatile thugs and moody assassins, to name only a few. Each one has depth, credibility and is fun to watch. Dominic is Liam's most colourful role to date, and he is bringing a fantastic sense of both innocence and odd insight that, as seen in recent scenes that we've shot, is truly bringing a truly oddball character to life. Daemian and Bushra Greaves are the most incredible (husband and wife-)producer team that I have ever had the pleasure of working with. They have built this production from the ground up with such determination, ambition and energy that I've found it incredibly motivating. They also take 2 lead roles, as Henry and Cecilia, and have injected such colour and crediblity to the characters that they have literally jumped off the page down the lens of the camera! Katie Richmond-Ward [Katie Richmond-Ward interview - click here], who is a tremendous, and VERY busy actress, is playing Kathleen and also taking on the role of casting director/human resources. Her vast knowledge of the casting process and the industry as a whole has been invaluable. Also starring we have the fantastic Becki Lloyd as Miriam, along with supporting roles from Craig Canning (taking a break from martial arts films for this), the charming Peter Radford, our regular SFX artist, has taken on Nathaniel, and theatre director Simon Ward (Katie's husband) is playing Gene. And we can hardly forget Anthony Webster, playing the villainous Ted. On top on this we have an army of willing and dedicated extras whose participation can't be thanked enough.
Got to mention our incredible crew, Keith Morrison, our head of sound, working with Rob Jonston and Liz Carlyon, our composer and music director Tom Rackham, and senior production coordinator, Claire Edwards, and AD's Lucy Young and Harry Wilding.
Think I've got everybody!
With the film being almost entirely shot in and around Nottingham, what can you tell us about the Nottingham filmmaking scene?
Nottingham (and Derby, for that matter) is literally saturated with filmmaking talent! There is a real wealth of men and women who are deeply passionate about the medium of film, and especially independent film. With the onset of accessible technologies in the past fews years, we've really seen a change in the face of indie filmmaking. People with little or no budget can now really create in their films what they see in their heads, and at the standard once reserved only for higher budgeted productions. But even this technology would mean nothing if not for the terrific support the Nottingham/Derby filmmkaing community shows one another, moving between productions on a weekly or monthly basis, sharing skills, talent and vision. It's an exciting time to make indie films in the region!
As far as I know, you're currently running a fundraiser for Castle Boulevard - so do talk about that one for a bit!
Well, it's a slow burn! We're trying to spread the word among our Facebook and Twitter followers, and encourage people to get involved by donating and getting hold of our fantastic perks, such as production DVD, CD featuring the original score music and jazz songs from the film, photo shoots and even special effect makepup sessions. Our film's quite unique in the sense that it's not horror, or action or comedy, but kind of sits between genres; it ended up in a little niche, which certainly makes it original, but difficult to identify where exactly we need to go to drum support and interest for it!
https://www.indiegogo.com/projects/castle-boulevard
You have already started shooting Castle Boulevard though - so what can you tell us about the shoot so far?
Yes, we started shooting in early September, doing all the 'easy bits'. Our schedule then slowly ramps up to the more complicated bits towards the end of November. Scenes such as our jazz club and bistro locations, which has lots of extras and things going on, and take a little more organizing and cost a bit more than the lower-key scenes that we're shooting right now.
Any idea when and where the movie might be released yet (though it might be waaay too early to ask that)?
Our aim is March 2015, though there is every chance that we will overshoot this! We ARE optimistic however, as we are using what we've called a 'rolling production', in which we have a stepped-schedule where we are still in pre-production on some remaining aspects of the project, whilst rehearsing and shooting, week on week, and are also putting together rough edits and sound syncing. Because we are only shooting a few days a week, we wanted to make sure we weren't spending the next 18 month in post! It also means that by the time that we have wrapped principle photography, the initial edit will be 95% complete, the sound syncing will be around 50% finished, and the score chugging along at about 20-30%. So yeah, if we can keep ti all moving along, March 2015 should be fine... but as always, there are unforeseen complications, and it's the tidying up that takes the most time!
Any future projects beyond Castle Boulevard you'd like to share?
We have more scripts and ideas than we have time to shoot! After we've wrapped Castle Boulevard and are getting it through what remains of post-production, we'll be sitting and down and discussing project options. There'll be up to half a dozen shorts in 2015, as well as another feature, though have haven't yet decided what. I can say that one our favorites to start looking at is rather ambitious, and quite different; a dark sci-fi thriller called Basilica...
What got you into filmmaking in the first place, and did you receive any formal training on the subject?
I've always been interested in stories, and always in the visual, so when I realized that these elements combined in film, there was no going back for me! I played around in secondary school with the school's camera (which we filmed something in black and white, then forgot to turn it back. Consequently, we got into trouble...), then went to do a BTEC Media course at South Nottingham College. This was very practical, and I learned a lot of the fundamentals from some excellent tutors. After that, three of us teamed up to created a small production company and continued to make dozen of shorts and featurse over the next 10 years. That group eventually grew into the current form of Coalescent Films, and I hope we are producing films of a standard higher than ever before!
What can you tell us about your filmwork prior to Castle Boulevard?
I'm (currently) fortunate enough to be able to work in film and photography for a living, as a solo independent, shooting music videos for bands, artists and recording studios, from Nottingham, the UK and New York. I also photograph for families, portfolio and commercially, usually for online fashion boutiques. Before Castle Boulevard, I'd worked with the team on our 2014 short films, directing Time, Broken and Postcards, and DPing Council Housed and Violent. The year before that, we all worked together (and met) on the set our our feature Legacy (Coalescent Films was born from that project), and 1 or 2 shorts a year, on a off for years before, including a shlock-zombie film that I co-directed with Harry Wilding, Dawn and the Dead.
How would you describe yourself as a director?
Still trying to work that out! In fact, it's a very difficult question. You'd need to ask the people I work with really, but at the very least I would try to be personable, decisive and motivated, able to to inspire and communicate what I want to the people around me. I know that I do have a very specific vision of how I want each film to look, sound and be paced, but like to think I am a great collaborator and encourage ideas from EVERY person on set.
Filmmakers who inspire you?

The list of filmmakers I love is every growing! It was Ridley Scott who really inspired back when I was 17-18, with his Alien, Blade Runner and Black Rain, and then Gladiator, which was new then. These films were visually breathtaking, and I adored thy way they drew me into their atmosphere. As times moved on, I discovered Sam Mendez and was mesmerized by American Beauty and Road to Perdition (but actually later realized it was the Conrad L. Hall that I truly inspired by, his method of composition and movement in the frame still is perhaps amongst the strongest influences on my work). I began to watch foreign films, Jean-Pierre Junet and then a bit later Lars Von Trier. VERY different directors. I loved Junet's oddball world, both narratively and visually, and Von Trier's vocation of pushing the audiences to the absolute limit through provocative (and usually pretty horrendous) visuals and themes. Fincher, especially recently (Zodiac,The Girl with the Dragon Tattoo), has been a great influence with his pulsing, writhing movement of the film that I find utterly gripping.
Then there are the real greats, PT Anderson, whom I've been drwn to a lot recently. I found Magnolia's relentless forward motion, from the camera, the actors movement and especially the score, FAR more exciting than most multimillion dollar action movies I've seen!
Of course the heaviest influence is Kubrick. Although I was aware of The Shining I really 'discovered' and understood his work when I was about 25, and have been enamored ever since. Every frame is perfection, the atmosphere is thick, the stories deep and moving, the envelope pushed in every film.
Your favourite movies?

Feeling lucky ?
Want to
search
any of my partnershops yourself
for more, better results ?

The links below
will take you
just there!!!

Find Nick Archer
at the amazons ...

amazon.com

amazon.co.uk

amazon.de
Looking for imports ?
Find Nick Archer here ...
Something naughty ?
(Must be over 18 to go there !)

Impossible question! Films mentioned above, I guess, but new films are added every week! Not just new films, but I'm working my way through as many older films as possible, To Kill a Mockingbird would be a recent addition to that list, and Jean-Luc Godards Weekend. But I'm no film buff, and love watching a great film for the first time. I'm in no rush to get through them all!
... and of course, films you really deplore?
Nearly anything by Paul WS Anderson (or Evil Anderson). Event Horizon was passable, I suppose.
Your/your movie's website, Facebook, IndieGoGo, whatever else?
http://www.coalescentfilms.co.uk/castle-boulevard/4584832736
https://www.indiegogo.com/projects/castle-boulevard
@coalescentfilms
@CastleBoulevard
https://www.facebook.com/coalescentfilms?fref=ts
Anything else you are dying to mention and I have merely forgotten to ask?
Nope, methinks I've rambled on far too much anyway! Sorry about that!
Thanks for the interview!