Your new movie The Covenant - in a few words, what is it about?
The Covenant is about demons. Not only literal demons (it has some of those) but also metaphorical demons. It's about real life demons like cancer, suicide, alcoholism, the loss of a child, caring for a mentally ill family member, the struggle with Faith, etc. This movie is about how we face these types of demons in our day to day lives.
What were your inspirations when writing The Covenant, and how much research did you do regarding the mythology it is based on?
Demonic possessions are a very ancient idea. Most of our influences came from Robert's and my Catholic upbringing. But we also took a few liberties with the mythology.
For me, the main influence was the original The Exorcist. The way that film dealt with the supernatural in a grounded and human way was what made it so terrifying and ultimately so moving. My favorite scene in that film is the scene at the end when the little girl kisses the Priest's collar. It's still (in my opinion) the scariest movie of all time, but I think people often forget about its emotional depth.
What can you tell us about your co-writers Robert Conway [Robert Conway interview - click here] and Christopher R. Smith, and what was your collaboration like?
It seemed each time one of us brought a new idea to the script, it added another layer of depth. I think we all were ultimately after the same thing and that's why the movie works so well.
With The Covenant being a horror movie, is that a genre you can at all relate to, and why (not)?
Well, I've certainly worked in horror an awful lot, lol.
I guess for me, true horror has always been the stuff grounded in an emotional reality. One of my favorite things to say when working on these types of projects is that Hamlet is a ghost story.
Not that I don't love a good slasher flick, but the grounded, more poignant stories that ask existential questions through the prism of the supernatural are the ones I always prefer.
You also play one of the leads in The Covenant - so have you written the character with yourself in mind, and what did you draw upon to bring Richard to life?
I think Robert had me in mind for Richard from very early on. But as we were writing the script, I wanted to simply focus on the story as a whole without getting caught up in which character (if any) I would wind up playing.
When it became clear that I was going to play Richard, in a way, my work started all over again. I think Richard's defining characteristic is his lack of purpose in life. He has no career and no family of his own apart from his sister. He's also a freshly sober alcoholic, and as many of them can tell you, leaving the "party life" behind can create a real sense of emptiness if you don't have a proper support network. And Richard is very much alone. On top of that, he's in way over his head caring for his sister. That sense of feeling lonely, overwhelmed, and without purpose was the bedrock on which I built the performance.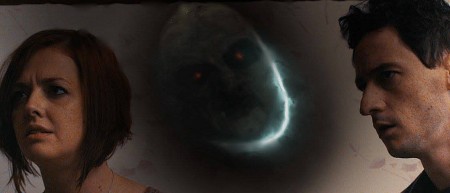 with Monica Engesser and Jon Alexander
What can you tell us about your collaboration with your director (and brother) Robert Conway [Robert Conway interview - click here] during the shoot?
Working with Robert is like going home. He's been pointing a camera at me since we were children so it's always very comfortable. As director and actor we have a shorthand between us that makes things much simpler. Also, taking on a character of such depth and weight was a really intimidating task for me. And In that type of role, a deep trust for your director is absolutely essential. I was lucky to have my brother there guiding me through this performance.
Do talk about the shoot as such, and the on-set atmosphere?
Despite the grim subject matter, we all had a lot of fun. We rented out a large house and the whole cast and crew essentially lived together. It's a great pleasure to work with not only incredibly talented people, but people who are also your friends. When things got too heavy for me (as they often did) there was always someone to make me laugh. When I felt insecure about one take or another there was always someone to slap me on the back and say "you're doing great." That sort of support was a real gift and I do not think I could have played this role without it.
Any future projects you'd like to share?
Several but unfortunately, I'm bound by non disclosure agreements from giving away too much detail. That being said, feel free to check out my IMDb page (wink, wink). One upcoming project I can discuss is a drama from director Irin Daniels that I begin shooting next month. It's a hell of a character and something very outside my wheelhouse.
What got you into acting in the first place, and did you receive any formal training on the subject?
I've really been acting in one way or another (albeit, not professionally) as long as I can remember. It wasn't until after high school when I played a small role in Robert's first film Redemption that I realized that this was the field I wanted to go into. I trained at the incomparable Stella Adler Academy in Hollywood CA. The training I received there not only made me the actor I am today, but it made me a better man. I'll be grateful forever for the guidance, knowledge and support I got from my amazing teachers and fellow students at Stella Adler. If you're a young actor looking for training, I could not more highly recommend that you seek out the Adler. They're the real deal.
Do talk about your filmwork prior to The Covenant!
During my years at the Adler, I did a lot of indie theater. Since then, I've booked some TV work, some commercial work and a few short films. One of which is a beautiful short written and directed by Carrie Carnivale called Beside Her. It's a gorgeous film and I strongly recommend checking it out. It showed me what can be done with a simple ten minute story. Most of my feature film work has been with Robert which has been incredibly rewarding.
How would you describe yourself as an actor?
Obsessed. And maybe a little masochistic, lol. For me, full immersion into a character is the only way to capture the truth required to give a convincing performance. I'm not one of those actors who never breaks character on set because unless you're Daniel Day Lewis or Meryl Streep, I find that type of "method acting" a bit self-indulgent.
I follow a very simple guideline: Never stop working on the character. You should always be reaching further and deepening your understanding of the character. If you do that, the work will always be good.
Actors, writers, whoever else who inspire you?
Daniel Day Lewis to me, is the pinnacle actor. Perhaps only matched by Meryl Streep. Robert De Niro particularly in his early career has always been a huge inspiration and Mark Ruffalo is a bit of a personal hero of mine. But it was watching Harrison Ford as Han Solo and Indiana Jones as a kid that made me want to be an actor one day.
As far as writers go, David Milch, George R.R. Martin, Cormac McCarthy, Tony Kushner, David Chase, Martin McDonagh, Arthur Miller and Eugene O'Neill are all on the list. But my biggest inspiration I would say are the Coen Brothers. Other than of course William Shakespeare.
Your favourite movies?
Walk the Line, The Big Lebowski, Raising Arizona, No Country for Old Men, Hollywoodland, Goodfellas, Raging Bull, the Star Wars saga, Lord of the Rings... those are only a few. I could go on all day, lol.
... and of course, films you really deplore?
I don't like to trash other people's work. I learned a while ago that no matter how crappy a movie is, with the amount of people who have to come together to make a movie happen, someone, whether it was the writer, or the editor or one of the cast, SOMEONE at some point loved that movie and believed in it enough to want to bring it to the world.
Your/your movie's website, Facebook, whatever else?

Feeling lucky ?
Want to
search
any of my partnershops yourself
for more, better results ?

The links below
will take you
just there!!!


You can always check out my latest reel on my IMDB page. The Covenant's Facebook page is at https://www.facebook.com/thecovenantmovie2017/
Anything else you're dying to mention and I have merely forgotten to ask?
This film was the most challenging, exhausting, grueling and rewarding project I've ever been a part of. And I mean that in the best possible way! I just want to thank my brother for trusting me with this character and I want to thank the whole cast and crew for their hard work and dedication. It was an amazing experience and I'm honored to have been a part of it.
Thanks for the interview!
Thank you! And I hope you enjoy The Covenant!