Your new movie Massacre - in a few words, what is it about?
A girl wakes up at the site of a bloody mass murder and canít remember what happened!
How did the project fall together in the first place?
Through a lot of synchronicities really. That and a lot of hard work!
What were your inspirations when writing Massacre?
It came to me in a very vivid, bloody and violent dream!
What can you tell us about your movie's approach to horror, and is horror a genre at all dear to you?
Itís a slasher flick with a strong female lead character and yes I love the horror genre, especially slasher movies - serial killers are my favourite!
Since there are quite a few gorehounds among my readers, you obviously have to talk about the gore effects in your movie for a bit!
Thereís certainly a lot of blood in the film! In fact we shot at my director Erik Boccioís apartment and there was just so much blood everywhere - we even wrote the title of the film on the wall in blood - that we had to get him new carpet and repaint the whole place. It looked like a real murder scene, it was great! All the FX were practical in Massacre, our amazing FX artists were husband and wife team Sierra and Josh Russell and they created some great, gory FX where knives go through heads and stomachs and more. Thereís a lot of stabbing in Massacre!
You also play the lead character in Massacre - so what can you tell us about your character, what did you draw upon to bring her to life, and have you written Marianne with yourself in mind from the get-go?
I didnít have anything in mind for Massacre when I wrote it as it came from a dream not a conscious thought but it just made sense to play Marianne seeing as I created her!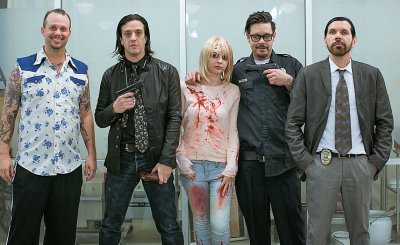 Jeff Hilliard, Jeordie White, Pandie, Rob Patterson, London May on set

photo by Cris Jan Lim

What can you tell us about your director Erik Boccio, and what was your collaboration like?

Erik Boccio is a really talented director who has directed over a hundred videos for the website FunnyorDie.com under the name Weirdfellas. Heís also directed multiple other amazing shorts and music videos, including Pussy Riotís video for Putin Lights Up the Fires. Heís really good at getting a story told in the visual medium. Collaborating with him on Massacre was great because he really shared the same kind of vision that I had for the film and he really, really delivered I feel in bringing that to the screen. I plan to collaborate with him again in the future. Erik Boccio's definitely a director to watch.

You also were in charge of casting Massacre - so what can you tell us about your key cast, and why exactly these people?

Honestly most of the key players involved in Massacre came to me! London May I already knew and he heard I was making a film and asked if there were any parts for him in it, so we auditioned him for the role of ĎThe Detectiveí and he just was so perfect in the audition that we had to cast him. London did an amazing job bringing his character to life. He has some other great things coming out soon I hear too so look out for more from London May.

Billy Morrison who played the role of ĎThe Paramedicí was introduced to me by our mutual friend and fellow Suicide Girl ĎMoxi Suicideí at Jeordie White, one of our two amazingly talented composersí wedding and Billy read for the role, killed it and it all went on from there. Iím very happy with our casting decisions, everyone involved did such a great job!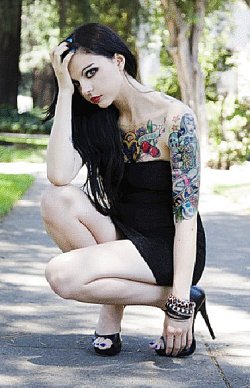 photo by Kim Millard

Do talk about the shoot as such, and the on-set atmosphere!

The shoot went really well, it was over about three days in Los Angeles. The first day we shot all the police station scenes, and the second day was all the blood! Third day was some other smaller shots.

One thing that was funny that happened on the first day was when Billy Morrison, who is a really great actor and put his all into the character, was dressed up in his paramedics uniform for the part, not one, not two, but three of our other actors who have all known Billy for a long time walked straight past him without recognizing him! Now thatís a true transformation!

Anything you can tell us about audience and critical reception of your movie yet?

We had the Los Angeles Red Carpet Premiere on September 17 at Busbyís East and we had a great turn out. The audience seemed to react pretty well to the film so we were very lucky there! Massacre has also been an official selection at several film festivals so far such as the Fantasmagorical Film Fest, Horror Hound Weekend, Puerto Rico Horror Film Fest and more. It won an award for the soundtrack at the first festival it played and got nominated for Best Short Film at the second festival it played which is fantastic.

The $64-question of course: Where can the movie be seen?

Next the film is going to be playing in the Fangoria Magazine Online Film Fest which Iím quite excited about as itís being judged by some pretty amazing judges including George A. Romero, Tom Savini and Tom Holland. Iím not sure of all the details of that festival yet but itís online so people should be able to tune in on their computers, tablets and devices to see it. After Massacreís festival run we are looking into some form of digital distribution, so stay tuned for more info on that!

Any future projects you'd like to share?

I have a lot of future projects going on, I never stop! Currently Iím writing the feature version of Massacre, I have another horror short Iíve written called Blood Bath which Iím looking to start getting into pre-production on soon, and a TV series Iím developing called Teeth. I also am about to release my debut novel Seraphim Song under the name ĎPandie Jamesí on Amazon. Pre-orders are available now and it officially releases November 16 worldwide. The novel is a bit different from my usual horror fare in that itís more in the urban fantasy / paranormal romance genre, but donít worry it's not too different - I mean the Devil himself makes an appearance in various forms in the story! I actually wrote Seraphim Song a very long time ago, when I was a teenager even, and forgot all about it. I found the file on an old hard drive a few months ago and decided to edit and update it a little for 2015 and release it as my debut novel!

What got you into acting to begin with, and did you receive any formal training on the subject?

I studied film theory and script writing at university when I was getting my BA Degree in Media Studies. I also took classes in television studies and more so I learned a lot on the other side of things there, whilst also taking drama and music classes in high school and then later when I moved to Los Angeles I took some quite intensive acting classes to help hone the craft. Iím not sure exactly what got me into acting, itís just one of the things Iíve always been drawn to, creating and telling stories whether through writing, acting, playing music, drawing or modeling and more. I do remember creating and putting on a lot of my own plays by myself or with the neighboursí children or my cousins as a child though, I was already writing, directing and producing as well as acting!

What can you tell us about your filmwork prior to Massacre?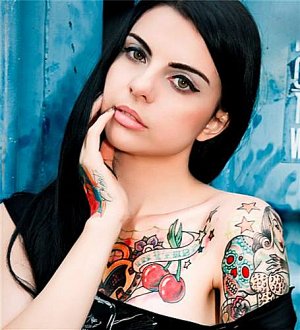 photo by Jenna Kraczek
I wrote, directed and played the lead role in my first film when I was in high school. It was a vampire flick that I made for one of my creative tech classes. It was very, very edgy, in fact so edgy that I couldnít turn it in or I might have been expelled!
After that I did all kinds of things movies, TV, music videos and more.
Besides making movies, you've also been in a host of music videos, including one by David Lynch - so what can you tell us about those, and how does shooting a music video compare to acting in a movie?
Shooting a music video can be very long hours all at once because generally theyíre trying to get it all shot in 1-2 days and are basically going for broke, whereas with a film thereís a lot more leeway in that itís usually being shot over a lot more days, weeks or months so they donít have to cram absolutely everything into the one or two day shoot. Having said that, shooting movies can be really long hours too. One of the main difference with music videos as opposed to film is that usually thereís a lot less dialogue, if any at all and itís definitely all about telling a story in the visual medium. I mean all film is about that but music videos take it to another level, using only the image and its accompanying soundtrack to tell the story, little to no dialogue to help it along, itís quite an art.
As your name readily suggests, you're one of the Suicide Girls - so what can you tell us about your work with them?
I became a Suicide Girl in 2005 when I was living in New Zealand, which is where I grew up, though currently I am in Los Angeles. There were no Suicide Girls in the country at the time so I thought Iíd apply and they accepted me. Becoming a Suicide Girl is one of the best decisions Iíve ever made. Itís an amazing community to be a part of.
What not quite that many people might know, you have a Bachelor of Arts degree in Media Studies and are a music journalist on the side - so what can you tell us about that aspect of your career?

Feeling lucky ?
Want to
search
any of my partnershops yourself
for more, better results ?

The links below
will take you
just there!!!

Find Pandie Suicide
at the amazons ...

amazon.com

amazon.co.uk

amazon.de
Looking for imports ?
Find Pandie Suicide here ...
Something naughty ?
(Must be over 18 to go there !)

It's not really something I do on the side, I do everything always all at once, you know? I'm always acting, modelling, writing, filmmaking etc, it's all always 100%. It's just at the moment I'm taking a slight hiatus from the music journalism due to other projects absorbing all my time but I am probably going to change that up very soon!

Actresses, filmmakers, writers, whoever else who inspire you?

I have many, many inspirations in my life but one of them is the French writer Anais Nin not just because of her way with words but also because of everything she represents - being a strong, unique voice and a definite badass for her time among other things. I have her portrait tattooed on my left thigh.

Your/your movie's website, Facebook, whatever else?

You can find Massacre at: www.facebook.com/massacrethemovie or @massacremovie on Twitter/Instagram, plus there's www.massacrethemovie.com

Or you can find me on Instagram/Twitter/Tumblr/Periscope at @pandiesuicide or www.facebook.com/pandiesuicide

Thanks for the interview!

Thank you!

-Pandie