Your upcoming movie 207 - in a few words, what's it going to be about?
207 is a film about teens victimized by & escaping human/sex trafficking. A teen friend group skips school and is catfished. The teens land into dire circumstances, keeping secrets from their parents. Shedding light upon this global issue. LAPD Code 207=KIDNAPPED. Who will LIVE? We start filming 06.27.20.
207 is based on a concept of yours - so what can you tell us about that concept and your inspirations behind it?
About a year ago, I saw a news piece on NBC LA Channel 4 in Los Angeles, about kids skipping school to go to the Santa Monica Pier. The teens never made it home; as they were kidnapped and put in a sex trafficking ring. At that moment, I looked at my mom and said "Teens need to know about this, Santa Monica Pier is a hot bed for these kinds of things. I need to educate and bring awareness to the perils of social media, texting and friend group peer pressure." Santa Monica Pier is locked down right now, so we have had to modify it to more of a home and school location.
So from your concept, how did the project fall togehter then?
My concept came together by speaking with my talented friend Daniel Rivera [Daniel Rivera interview - click here]. As a teen, most adults don't always hear us and our point of view. Daniel sat with me, heard my ideas, my vision. I needed help and thought of making a teen version film, that this would be a way that a teen can educate and inform other teens and kids. Lessons to help others for a lifetime. Daniel said "Let's do this!", gave me a fist bump, and literally in 24 hours he had the base script written. After a couple of table reads and rehearsals, we had the FINAL script - and now filming on June 27th!
You also play the lead in 207 - so what do you draw upon to bring your character to life, and how much Paris Bravo can we find in Olive?
Olive is a good citizen, a student and person; always wanting to do the right thing. Olive falls into the peer pressure of her friends, longing to be cool. I have definitely felt that way.
I am a 2nd Degree Black Belt in Tae Kwon Do (ATA) and a Black Belt in Extreme Martial Arts under the tutelage of Mike Chat (Blue Power Ranger - Lightspeed Rescue) and Caitlin DeChelle (Wonder Woman/Gal Gadot main stunt double). I train in many disciplines that help bring out the "tough side" of Olive.
Do talk about 207's director Mico Saad [Mico Saad interview - click here], and what's your collaboration like?
Mico Saad the director has been a pleasure to work with. He is very creative and has an artistry to the way he works on the films and with the cast and crew. He consults with me to ensure he is bringing my vision and message across on the screen. Mico is very kind and compassionate. Mico has made this project a collaboration with the script writer Daniel Rivera, actors, crew, the cinematographer and sound engineer. Mico allows ideas and feelings to flair during the moment of the scene to ensure the scene comes across authentic and true. Mico knows that the message, and education of the project is paramount to me. Staying true to the script, yet allows us to ad-lib at times - he sees the creativeness in each one of us and values our skill sets.
According to my information, you're presently in the middle of shooting 207 - so what can you tell us about the shoot so far?
Casting is complete, and all pre-productions and rehearsals are done. We were able to film 2 scenes this past Tuesday, June 23. 2020. We officially start filming on Saturday, June 27th at 8am. I am super excited - there will be some pretty awesome stunt/action scenes in the film as well. It has been a true collaboration and we are all thrilled to bring this movie out as soon as possible. I have had 207 t-shirts made to help raise money for Ashton Kutcher's charity Thorn and Operation Underground Rescue - Human/Sex Trafficking and Child Exploitation.
Any future projects beyond 207?
My next project is a feature film - we are awaiting the information of when production can start back up again - COVID stopped Hollywood at this time. I have been lucky enough during COVID to still take classes virtually and have had a lot of auditions via Zoom or self tapes for TV shows, commercials and major movies.
What got you into acting in the first place, and did you receive any formal training on the subject?
When I was 3 years old, I was watching The Little Mermaid (Broadway version) on TV and jumped up on the coffee table and started singing "Part of Your World" and knew right then I wanted to be an actress, singer, dancer. Funny enough at age 4 my dad put me in Karate, I started competing. We moved to LA to train with Mr. Mike Chat (Blue Power Ranger) of XMA, and he helped me start the process of acting and submitting to auditions. I have received coaching and acting lessons to better my acting craft, just as I train just as hard in martial arts and stunts. My passion of making people happy and becoming a character that I can bring to life has now become a career; I hope for the rest of my life.
You entered the filmworld at a fairly early age - so do you still remember your first time in front of a camera and your early days in acting?
I started acting at age 9/10 years of age. My very first acting experience was a My Little Pony commercial - I fell in love with being on set, hair and makeup, and learning all aspects of acting and directing. The first feature film was The Cursed Man, where I played the daughter of one of the main characters. It was exciting and a lot to learn from James Perry, who had worked with George Lucas, and the movie was filmed with one of the cameras used by George Lucas on Star Wars.
Besides acting, you also do some stuntwork and are a skilled martial artist - so what can you tell us about that aspect of your career?
The reason I train in various disciplines like martial arts, weapons, parkour, high falls, dancing and gymnastics is to be able to perform the majority of my own stunts. This will allow the director to capture me doing as much of the scene as possible. My stunt work in Vindicta, Resurgence, Between Worlds, Disney's Dream Big and Nickelodeon's Be You campaigns is something that I have dreamed of doing. I never thought training in Tae Kwon Do earning my 2nd Degree Black Belt and earning my 1st Degree in Extreme Martial Arts would allow me to work in so many areas on TV and in movies. In Vindicta I play a daughter of a crime/mob type dad. My father gets killed right in front of me because – my father killed her father. In Resurgence I get to fight my abductors to get to my parents that are like CIA agents. I was able to use fight choreography, tactical maneuvers using prop guns and take falls in this movie! My stunt team Brazen Action Design keeps me busy training and perfecting my craft.
What can you tell us about your filmwork prior to 207, in whatever position?
I have been fortunate to be cast in multiple national commercials, as well as vignettes for both Nickelodeon and Disney commercials. I was in the first Dream Big Disney campaign as Mulan/Disney Princess. I played Gabby on Henry Danger, and as far as movies: I have played "Young Julie" in Between Worlds with Nicolas Cage and Franka Potente. I was "Zooey" on BAD Therapy with Alicia Silverstone, Rob Corddry, and Haley Joe Osment.
Between Worlds is a psychological thriller - where Franka drowns as a child and in the water comes back to life. She realizes that she can get choked out almost to the brink of death and walk with the "almost dead' and guide them back to the living. Nicolas Cage played a truck driver that lost his family in a fire. He meets up with Franka/"Julie" and she shares her powers so that he can see his family again. There is a major surprise at the end… his wife burned the house down to seek his attention off the road, but they died. Nicolas Cage/Joe got to see the truth of what really happened through Julie's powers. When I played young Julie, I had to go down 16 feet in water weighted down to "drown" and then show the powers come inside of me. It was scary down in the water for long periods of time. BUT it was a crazy stunt scene that I will never forget!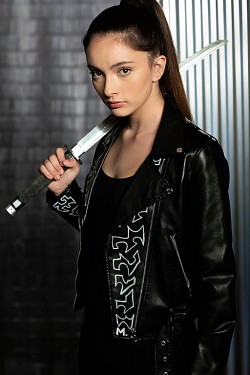 BAD Therapy is a fun movie about a couple seeking Judy Small, a marriage counselor, but the counselor is more than what meets the eye. I play "Zooey", the best friend of Louise (daughter of Susan who is Alicia Silverstone) This will be a super fun comedy for all to love. I had a great time on set and enjoyed learning from the director. By the way Alicia Silverstone and Rob Coddry are so down-to-earth, they made me feel so confident on set. They are funny and normal human beings. There were no ego's on set! BAD Therapy came out on all digital platforms 04.15.20.
Actresses (and indeed actors) who inspire you?
Johnny Depp and Jim Carrey have influenced me to try every genre and many different characters. Not to be boxed into one role. They play very complex characters and I love it! Angelina Jolie is also a favorite actress that has influenced me to become an action actress. Angelina is an award-winning actress that can do her own stunts and can conquer so many different types of roles because of her skill sets, Dove Cameron is absolutely talented being able to play two characters at the same time - and is an amazing singer. She is incredibly multi-talented.
Your favourite movies?
Hairspray, Ace Ventura, Star Wars, Breakfast Club, Pretty in Pink.
... and of course, films you really deplore?
Uncut Gems.
Your/your movie's website, social media, whatever else?
To follow my fun and exciting adventures on social media:
Instagram: @parisbravoofficial
Twitter: @BravoParis
SC: bravo.paris
Facebook: @parisbravoofficial
TT: @paris.bravo
YouTube: Paris Bravo
You can check out my projects on IMDb: https://www.imdb.com/name/nm6611397/
My website: www.parisbravo.com
You also devote time to charity and volunteering work. How important is that work to you?
Charity work is majorly important to me. My parents have taught me you must give back and give your time, talent and treasures to the community that supports you. I support and raise money, donate time and perform throughout the year for: Talent for Epilepsy, American Heart Association, American Diabetes Association, Thorn and Operation Underground Rescue, Olive Crest for Foster Children, Salvation Army, Saffyre Sanctuary, East Valley Animal Shelter, Flying Hero's Club & Operation Gratitude.

Feeling lucky ?
Want to
search
any of my partnershops yourself
for more, better results ?

The links below
will take you
just there!!!


Anything else you're dying to mention and I have merely forgotten to ask?
What are your friends and parents' thoughts on your career in acting? - My parents and family have been super supportive! They help me study my lines, get me to auditions and training after working a full day – my extended family are totally excited for me and are proud of me crushing my goals. It's a family effort! My friends that are actors are very encouraging and supportive. Some friends that are not in the business can be a bit mean about it. Bullying definitely happens with being in this business. You have to turn that part off and keep moving forward. I am grateful to those who help and guide me to pursue my goals.
Thanks for the interview!